Shampoos have long been full of chemicals added to offer thicker hair, anti-frizz, and many other results.
But now, consumers are looking for products with natural ingredients free from SLS, parabens, and other chemicals, to replace their usual shampoo.
Best Natural Shampoo in the UK
Here are some of the best natural, organic, and chemical-free shampoos in the UK.
By "chemical-free" we mean free from harsh artificial chemicals – no substance is literally chemical-free – everything is made up of chemicals!
1. Palmer's Coconut Oil Formula Shampoo
Coconut oil is a wonder ingredient that is found in so many beauty products, including this shampoo from Palmer's.
Coconut oil is accompanied by vitamin E to really treat your hair and scalp – replenishing moisture and leaving your hair shiny.
Using this shampoo in conjunction with the Palmer's Coconut Oil Conditioner or hair masks is said to yield the best results.
The soothing effects of coconut oil are great for dry and itchy scalps and it is suitable for those who suffer from eczema.
Pros
Paraben-free
SLS-free
Relatively well priced
Pleasant coconut scent
Good for dry scalps
Lathers relatively well
Cons
Scent may be too strong for some
May not be suited to all hair types
Thick consistency can leave hair feeling heavy
This low to mid-priced shampoo is a great option for any household and would be spot on for a larger family who just needs a simple shampoo to suit everyone.
Palmer's Coconut Oil shampoo is a product that would be very well suited to those with damaged or colour-treated hair. The restorative abilities of coconut oil can be applied daily in your morning shower.
2. Faith In Nature Tea Tree Shampoo
Faith In Nature Tea Tree shampoo is good for normal to greasy hair types as it is a great cleanser, cleaning deeply whilst improving hair and scalp health.
Essential citrus oils create a revitalising and uplifting wash, while the tea tree's antiseptic and antibacterial properties keep any harmful bacteria at bay.
Although tea tree is normally a strong smell, this product has been made with the aim for that to not be too overpowering.
It actually has hints of lemon from the citrus oils and keeps hair smelling fresh for longer.
Pros
Paraben-free
SLES-free
No artificial colours
Good for scalps prone to dandruff
Makes a good lather
Cons
Tea tree can be a little medical smelling
Runny consistency
May need to use a lot of product for each wash
Can make oily hair look dull (and still oily)
This tea tree shampoo is one of the most affordable products on our list and comes in a decent-sized bottle, so it would make a good choice for a family looking to save some money on their toiletries.
If you have problems with overly oily hair, it may be better to look at a different product as the results may not be as you would expect.
Faith in Nature also has multiple other options such as avocado, aloe vera, blue cedar, jojoba, and more. They also have shampoo bar options.
3. 2 in 1 Shampoo Conditioner Bar by The Solid Bar Company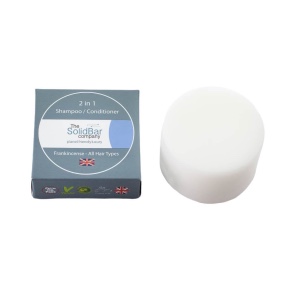 If you're looking to reduce your plastic waste and make your life even simpler along with shifting to an SLS and paraben-free shampoo, this shampoo bar is perfect for you.
The Solid Bar Company's frankincense bar is both a shampoo and a conditioner. It is simple to use, cost-effective, time-saving, and easy to travel with.
The handmade bar is palm oil-free, vegan, and cruelty-free. It won The Green Parent Natural Beauty Awards 2021.
Pros
SLS and paraben free
Easy to use and carry
Saves water
Cost-effective
No plastic!
Cons
May not be suited for longer hair
May cause dryness
It is available in two sizes and in a sweet orange variant too. You can buy it with or without a container.
It's recommended to gently brush your hair before washing it. The small bar lasts up to 20 washes.
4. Aveda Shampure Shampoo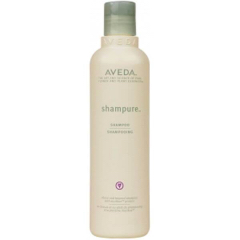 This 'shampure' by Aveda is 96% naturally derived, made with an interesting and soothing mix of 25 pure flower and plant essences.
Free from silicone, parabens, gluten, synthetic fragrance, mineral oil, petrolatum, formaldehyde, and animal ingredients, this shampoo is suitable for everyday use and for all skin types.
The shampoo is also cruelty-free and has never been tested on animals.
Pros
The mix of flower and plant essences are nourishing
Cruelty free
SLS and paraben free
Suitable for all hair types
Cons
Relatively expensive
May need a larger quantity of shampoo to clean hair properly
Aveda uses 100% wind power for manufacturing. The shampoo is also sold in 100% recyclable packaging.
5. ArtNaturals Organic Moroccan Argan-Oil Shampoo
ArtNaturals Organic Moroccan Argan-Oil shampoo is said to have anti-aging properties for all hair types – helping keep your tresses looking healthier and younger for longer!
Moroccan argan oil is hydrating and soothing to repair the damage that can be caused by sun, heat, and colouring, while jojoba oil assists with natural, healthy hair growth.
Ingredients also include peach, avocado, and almond oil as well as aloe vera and carrot extracts, all of which help to create shiny, frizz-free hair which looks and feels nourished.
Pros
Paraben-free
Sulphate-free
Cruelty-free
Good for dandruff reduction and soothing dry scalps
Organic, natural ingredients
Cons
Smell may not suit everyone
May not be suited to naturally curly hair
Hair may look shiny, but a little limp after use
This is a relatively expensive shampoo option but has some great ingredients to help keep your hair smooth and healthy-looking.
ArtNaturals shampoo would be a great product to take away on a sunny holiday as it can help to fight frizz and the drying effect sun can have on our hair.
The large bottle size would make this a fab choice for a larger household.
However, it may be worth testing out the product with a sample before investing in a whole container, just in case that it isn't suited to your hair/scalp.
6. Green People Neutral Scent Free Shampoo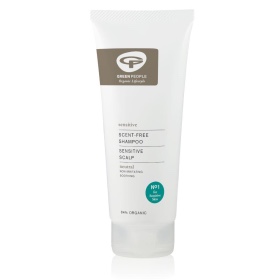 This scent-free shampoo from Green People is great for people who may suffer from a sensitive or dry scalp, as soothing ingredients include aloe vera and yucca.
Besides these two plant-based ingredients, other natural ingredients include green tea for added shine and pineapple extract for gently removing any flakes of dandruff from the scalp.
The scent-free shampoo is a good choice for anyone sensitive to strong fragrances and for those undergoing chemotherapy.
This shampoo can be used on a regular basis and it is recommended to use more than a 10p piece size amount only if your hair is particularly dirty.
Pros
Paraben-free
SLS-free
Lathers relatively well
Good for sensitive scalps
Reduces itching and soothes irritation
Suited to those with eczema
Cons
No scent – could be a pro for some
Relatively expensive
Could dry out some hair types
Positive results could take time
This Green People Shampoo is one of the more expensive on our list, so may not be suited to those with large families who tend to get through a lot of products very quickly.
However, it is a shampoo that can be used by anyone (for children under 18 months, there is a baby-friendly product available), so no worries about it being family-friendly. They also have an intensive repair option.
7. Shea Moisture Jamaican Black Castor Oil Strengthen and Restore Shampoo
Shea Moisture's shampoo has been developed using Jamaican black castor oil which has lots of omega fats to help restore damaged hair.
Many of us use heat-assisted tools to style (or tame) our hair and this shampoo is said to work wonders in repairing hair and keeping it healthy and protected.
It is also super for naturally curly, kinky, or wavy hair textures.
Other ingredients include apple cider vinegar, which helps to balance the pH of the scalp and peppermint, giving your scalp an invigorating sensation as you wash.
This family-run business has continued to use natural ingredients since the 1900s and has since developed a wide range of hair products to help many different hair types.
Pros
Paraben-free
SLS-free
Organic, fair trade shea butter
Lovely natural scent
Thick, creamy formula
Produces a good lather
Cons
May not be suited to very dry hair
Hair will likely need conditioning after using this shampoo (this is many people's routine preference anyway)
It may be better suited to darker hair only
Can make highlighted or bleached hair look dull
It would also be a superb choice if you have curly or wavy hair, as it can help to tame your tresses into neat and smooth curls.
If you have highlighted or bleached hair, this may not be best suited to you.
They have many more options such as coconut and hibiscus for curly hair, shea and cupuacu for fizzy, virgin coconut for hydration, and more.
8. Burt's Bees Baby Bee Shampoo and Wash
Burt's Bees have created a gentle, tear-free shampoo that is perfect for washing your child's hair and body.
The Baby Bee formula is made from 98.9% naturally derived products, using the cleansing powers of soy proteins and many plant-based ingredients.
A baby's skin is 20-30% thinner than that of an adult's, so taking care not to use chemical-filled products seems like the right thing to do.
Burt's Bees shampoo and wash formula is naturally foaming and non-irritating, so your kid can be squeaky clean and happy during bathtime – no more tears! This product can also be used by adults.
There are lots of other Baby Bee products available too for looking after your little one from head to toe.
Pros
Paraben-free
SLS-free
98.9% natural ingredients
Paediatrician-tested
Pleasant honey scent
Cons
Natural ingredients are not clear in ingredients
Relatively watery consistency of product
Might not be suited to use on longer hair
Does not lather much (often the case with SLS-free)
Burt's Bees is a brand that many people choose to use due to its natural ingredients and extensive range of products.
This shampoo and wash is a great product for families with new babies but also seems to suit adults who like gentle shampoos for themselves.
If honey isn't one of your favourite scents, this may not be the product for you.
What Are Parabens?
When choosing a natural shampoo, parabens are one of the many chemicals to avoid.
Parabens are preservatives used in pharmaceutical and cosmetic products. Parabens are used to stop the growth of fungus and bacteria, so they can help prolong the life of such products as suntan lotions, moisturizers, and shampoos, among many other products.
According to Scientific American, about 90% of grocery items contain a measurable amount of parabens (source).
If the products you are using contain ingredients ending with the suffix -paraben (this includes butylparaben, ethylparaben, and propylparaben), then it has parabens.
So, even if you actively try and avoid parabens by choosing paraben-free products, it can be difficult to avoid them altogether.
Are parabens harmful?
Although most products only contain small amounts of parabens which are well within the legal limits of how much parabens a product can contain, if you are using lots of products that contain parabens, the total amount adds up. Collectively the parabens in all the products we use could be doing us harm.
Parabens mimic estrogen, binding to estrogen receptors on cells in our body.
This can mean that the body sees this as an influx of estrogen and this can trigger dangerous reactions. One of these reactions can increase breast cell division and tumor growth (source).
In 2014, the European Union banned parabens in certain products and reduced the maximum concentration of certain parabens in cosmetics.
This currently applies to products sold in the UK, but it's still best to avoid parabens where possible.
How to Get Healthy Hair Naturally
Haircare is an overwhelming and confusing topic.
There are thousands of products on the market all claiming to work miracles on your hair, and a lot of conflicting advice about how to take care of your locks.
We've researched what damages your hair and what helps it and put together this guide to achieving healthy-looking hair naturally.
These tips apply to both men and women since men's and women's hair actually isn't very different.
What Damages Hair?
The first step in getting healthy hair is to avoid things that will damage your hair. Here are 9 things that can damage your hair.
1. Dyeing & bleaching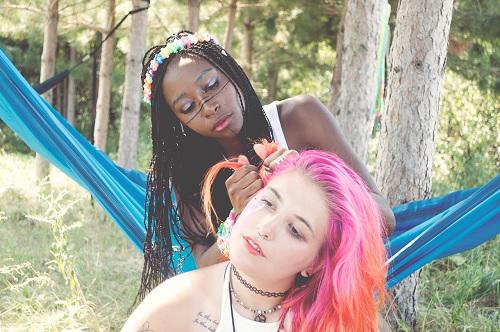 Hair dyes usually have a high pH and contain harsh chemicals such as ammonia and hydrogen peroxide, which is a very unhealthy combination for the hair.
Peroxide and ammonia usually work together to prepare the hair for dyeing: Ammonia lifts up the hair cuticle (the protective outer layer of each strand of hair) to allow the peroxide to enter, which then strips the hair of its natural colour.
This process involves literally destroying the outer layer of your hair, so it's not difficult to conclude that ammonia and peroxide-based hair dyes are bad for your hair.
Peroxide also dries the hair and repeated dyeing can cause the hair to lose keratin, causing it to become fine.
The harsh chemicals in hair dyes can also strip the scalp of its protective oils, making your hair less shiny and leading to symptoms such as red rashes on the scalp and/or an itchy scalp.
Hair dyes that contain paraphenylenediamine (PPD) can also cause severe allergic reactions in some people.
If you're worried about this, you can see some PPD-free hair dyes here. Hair dyes can have other negative effects on your health such as causing conjunctivitis and aggravating asthma.
Henna-based hair dyes are much safer alternatives to synthetic permanent hair dyes as they merely stain the outer layer of the hair rather than stripping it off entirely. See some recommended henna-based hair dyes here.
2. Heat
Applying excessive heat via hair straighteners, blow-drying and curling irons can damage the hair.
In particular, temperatures over 140 °C are very damaging to the hair cuticle (source). Hair straighteners and curling irons are usually used above this temperature and can get as hot as 230 °C.
It's not so clear whether or not blow-drying your hair damages it. Hairdryers aren't anywhere near as hot as hair straighteners and curling irons—they are usually around 50-60 °C.
Some people argue that the heat from a hairdryer can cause moisture in the hair to evaporate, creating bubbles in the hair that damage its structure and make it more brittle.
However, others such as Dr. Tim Moore writing in this article believe that allowing your hair to air dry is actually worse for it as when hair is wet it swells, causing the cell membrane complex to crack, damaging the hair.
This study found that blow-drying caused more damage to the hair's surface but that overall gentle blow-drying caused less damage than air-drying.
Washing your hair in hot water could also be damaging. Hot water is good for reducing greasiness, but it also removes moisture from your hair as it opens the hair cuticle and washes away natural sebum.
If you wash in lukewarm or cold water, the cuticle will stay closed so it can retain moisture.
3. Harsh chemicals
We have already discussed harsh chemicals in the section above about dyeing and bleaching. In addition to hair dye, lots of other hair products such as shampoos and conditioners contain harsh chemicals.
Here are some of the main chemicals to avoid:
Sodium Lauryl Sulfate (SLS) and Sodium Laureth Sulfate (SLES) – Strip fats and oils from the hair and can cause a dry, itchy scalp.
Silicones – Make hair look artificially shiny at first but dull hair and weighs it down over time.
Cocamidopropyl betaine – Can trigger eczema and psoriasis.
Isopropyl alcohol – Can dry out hair.
Mineral oil – Can irritate the scalp (source).
Polyethylene glycol (PEG) – Make it easier for other ingredients to penetrate the skin (source).
Chlorine – Can dry hair and irritate the scalp. You can also be exposed to chemicals such as chlorine through swimming pools.
DEA (diethanolamine), MEA (monoethanolamine), and TEA (triethanolamine) – Can irritate the scalp.
There are also other chemicals that may not damage the hair or scalp directly but could impact your health in other ways. These include the following:
4. The sun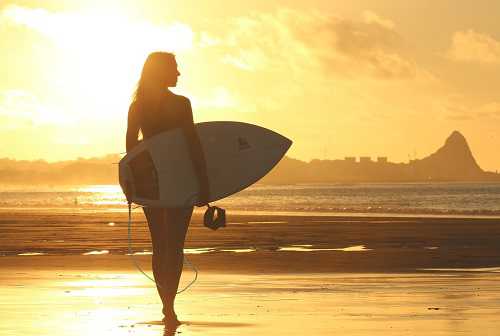 Excessive exposure to UVA and UVB rays from the sun can damage the outer layer of the hair, the cuticle. UVA radiation changes the colour of the hair, while UVB radiation results in hair protein loss (source).
Too much sun can be bad for your hair, but you don't want to avoid the sun altogether as the sun also gives you vitamin D, which is necessary for healthy hair. Hair loss can be a symptom of vitamin D deficiency (source).
5. Salt
Like the sun, salt can have both positive and negative effects on the hair. Saltwater sprays are popular among people wanting to get a wavy 'beach hair' look.
However, salt has a drying effect on the hair because water molecules are attracted to salt, so salt draws them out of the hair. This can make the hair look and feel brittle and straw-like and can also cause split ends and breakages.
Using a saltwater spray won't necessarily damage your hair as long as you use it sparingly and the formula contains protective ingredients such as oils to counteract the drying effects of salt.
6. Smoking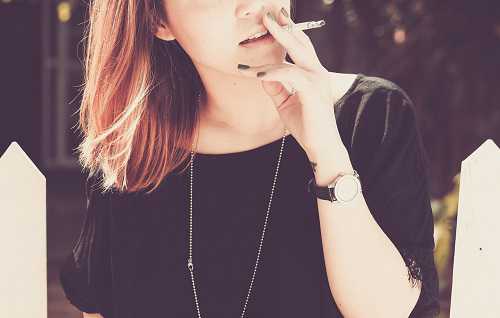 Smoking has been linked to hair loss and premature balding (source). It's thought that the carbon monoxide and nicotine in cigarettes could stop blood and oxygen from flowing to the hair follicles, leading to the hair falling out due to a lack of nourishment.
This study also found a link between smoking and hair going grey before the age of 30.
The 5,000+ chemicals in cigarettes also reduce the body's ability to absorb vitamins and minerals (source), which ultimately affects the health of your hair.
7. Air pollution
Some studies have found a link between air pollution and increased hair shedding as well as scalp conditions such as dandruff.
This can be mitigated to an extent by consuming antioxidants and applying coconut oil to protect the hair.
8. Stress
Stress has a lot of negative effects on the body that can indirectly result in hair loss.
Fortunately, hair loss from stress is usually only temporary.
Here are some of the ways in which stress can contribute to hair loss and poor hair health overall:
Telogen effluvium (TE) – This is a particular type of hair loss that occurs temporarily when stress or trauma causes hair follicles to enter a resting phase and stop growing hair. TE is reversible, and hair usually grows back once the stress is reduced.
Alopecia areata – Stress can trigger alopecia areata, an autoimmune disease in which your immune system attacks your hair follicles, resulting in (usually temporary) hair loss.
Lack of sleep – Sleep is vital to having a healthy immune system and healthy hormone levels. A lack of sleep can affect the hair indirectly weakening the immune system and disrupting hormone levels.
Weakened immune system – Stress can weaken the immune system, making us more likely to get ill. When we're ill, the body's resources are directed away from less essential functions such as growing hair.
Trichotillomania – This is the medical term for scratching the scalp and pulling at the hair. If you're so stressed you're literally tearing your hair out this obviously won't be good for your hair!
9. Washing hair too frequently
Washing your hair every day is likely to dry your hair out and make it brittle as it removes the natural moisturising oils in your hair.
However, it can also have the opposite effect as using harsh shampoos that contain sulphates can encourage the scalp to produce more oil, making the hair greasier.
When you do wash your hair, you should use a gentle shampoo that doesn't dry the scalp or remove natural oils.
If your hair is naturally dry, you will want to wash it less often than if you have naturally greasier hair.
What's Wrong with Regular Hair Products?
Why use natural hair products rather than more popular products that contain artificial chemicals?
Here are some of the problems with regular hair products:
1. Harsh surfactants
Shampoos contain a type of chemical known as a surfactant (a more scientific term for 'detergent'), which removes grease from the hair. Surfactants in shampoo reduce the surface tension between grease and water, allowing grease to be removed.
Two of the most frequently used surfactants are sodium lauryl sulphate (SLS) and sodium laureth sulphate (SLES).
In addition to removing grease, surfactants also strip the hair of its natural oil, which is produced in the scalp.
This oil is called sebum and is produced by the sebaceous glands in the scalp.
Sebum helps moisturise your hair and scalp and protect them from damage, though too much sebum can make your hair look greasy.
The problem with harsh shampoos can be summarised as follows:
Shampoos strip the scalp of sebum
The scalp reacts by producing more sebum, making the hair greasy
You wash your hair with shampoo again to remove the grease, perpetuating the cycle
2. Harmful chemicals
As well as SLS and SLES, hair products often contain other potentially harmful chemicals such as parabens and phthalates, which are both endocrine disruptors and disrupt natural hormone levels.
SLS or Sodium Laureth Sulfate can be an irritant and when used in shampoos, it can cause itchy scalps and sometimes dandruff. It can also dry hair out and make it look and feel less healthy.
SLS is used to create the foaming/lathering effect that we get quite used to when washing our hair, so shampoos free from this ingredient often don't lather very well. However, this doesn't mean that your hair isn't being cleaned.
Parabens are still undergoing tests and scrutiny in the cosmetics world and are used as preservatives to keep products from going mouldy and prevent bacteria from growing.
Since parabens are used to preserve products, paraben-free shampoos typically have a shorter shelf life, but this shouldn't be a problem unless you only wash your hair occasionally!
3. Pollution
Hair products can contribute to pollution in a number of ways:
Air pollution – Hair products such as shampoos and hair sprays can create air pollution in the home as they release dangerous VOCs (volatile organic compounds) into the air.
Water pollution – Chemicals from products such as shampoos and conditioners that are washed down the drain can also enter the water supply as there's a limit to how effectively water can be treated.
Plastic pollution – Almost all hair products on the market are packaged in plastic, which can't always be recycled. See our guide to reducing your plastic use here for some plastic-free hair products.
Natural Haircare Techniques
In recent years, there has been a bit of a backlash against synthetic haircare products as people become more aware of their potentially negative effects on human health and the environment.
Many people argue that there is no reason why humans should need to use synthetic shampoo since our species survived for hundreds of thousands of years without it.
Here's an overview of some of the most popular approaches to natural haircare:
The No-Poo Movement
"No poo", short for "no shampoo", refers to several different methods of washing the hair without using shampoo.
Instead of shampoo, people following the "no poo" approach choose to wash their hair with gentle, natural ingredients.
This could just be water on its own or a combination of ingredients such as apple cider vinegar and bicarbonate of soda.
If you don't want to give up shampoo altogether, you might prefer the "low-poo" option, which means using shampoos that don't contain any silicones or sulphates.
Co-Washing
"Co-washing" is an abbreviation of "conditioner washing" and refers to the practice of only washing your hair using a sulphate- and silicone-free conditioner.
It's recommended in particular for those with afro, very curly, or dry hair.
Sulphates tend to dry the hair out, so avoiding them is particularly beneficial for those with naturally dry hair.
You can also try using low-poo shampoos, which are free from suphates and silicones.
Natural shampoos
Nowadays, there are lots of gentle shampoos on the market made from natural ingredients.
Natural shampoos are typically free from harsh and potentially harmful ingredients such as SLS, SLES, parabens, phthalates, and silicones.
You can also buy natural shampoo bars which are like bars of soap and contain gentle ingredients such as castor oil and coconut oil.
Traditional Haircare Methods
Synthetic shampoos have only been around for about 100 years. The first commercial shampoo, unappealingly named Canthrox, was invented in 1914 by Kasey Hebert and the first liquid shampoo was introduced in 1927 by Hans Schwarzkopf.
The word 'shampoo' itself dates back a bit further. It comes from the Hindi word 'chāmpo', which has a similar meaning to 'massage'. The word entered the English language in the 1760s when colonial traders started indulging in hair and body massages while travelling in India.
If shampoo is so new, how did people keep their hair clean before this?
A variety of methods were used throughout history and each part of the world had its own particular haircare techniques. However, there are a few common themes among traditional haircare methods:
Hair was usually washed no more than about once a month. Throughout most of history, it was inconvenient to wash the hair frequently.
Traditional soaps such as lye soap, castile soap, and Aleppo soap were often used.
Vinegar was often used to rinse hair.
Oils and fats were applied to condition hair. The particular oils and fats depended on the location: Olive oil in the Mediterranean, animal fats in Northern Europe, argan oil in Morocco, etc.
Regular combing was considered important to distribute oils through the hair. In Victorian Europe, boar's bristle brushes were used.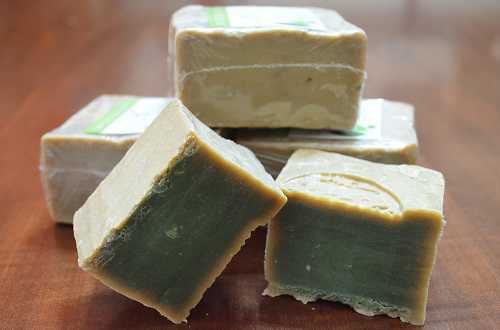 Here are a few interesting facts about traditional haircare methods:
In medieval and renaissance Europe, bear and bacon fat were used as hair conditioners.
Lye soap, which dates back to at least Ancient Egypt, was traditionally used in Europe to clean the hair. Lye soap is made from mixing lye (also known as sodium hydroxide or caustic soda) with water and animal fats.
Lye soap has a reputation for being harsh, but it's actually quite gentle when the right amount of lye is used. Lye is a caustic chemical, but once the soap has been made there isn't any lye left over. When lye is combined with fat in the right proportion a chemical reaction called saponification occurs, producing soap and glycerine, with no lye leftover in the finished product.
Using eggs as a hair conditioner became popular in Victorian times.
Castile soap, which is made using olive oil, was used by many Victorians to clean their hair. Castile soap is similar to Aleppo soap, which has a more ancient origin.
Macassar oil was used as a kind of hair gel by men in the 1800s and early 1900s.
Fermented rice water was used as a shampoo in East Asia.
Oils such as argan oil have been used in North Africa for centuries to help condition hair.
The Greeks and Romans used vinegar rinses and applied olive oil to condition their hair.
Diet for Healthy Hair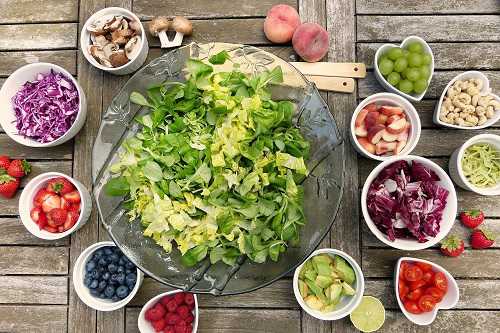 To an extent, the way your hair looks reflects how healthy you are.
Other factors such as age and genetics play a big part as well, but all other things being equal, the healthier you eat, the healthier your hair should look.
Eating the right foods is also essential for growing thick hair.
Here are some of the key things your hair needs to be healthy:
Protein – Hair is made from protein, so it's vital to get enough protein in order to grow hair.
Vitamins – Important vitamins include biotin (a B vitamin), vitamin C, vitamin A, vitamin D3, and vitamin E.
Minerals – Some particularly important minerals for hair health include zinc, iron, and selenium.
Antioxidants – Antioxidants reduce inflammation and protect the hair from oxidative stress, which has been linked to hair aging (source).
Omega-3 – Omega-3 helps hydrate the scalp and promote hair growth.
Natural Haircare Summary
To summarise, here are the top dos and don'ts of natural haircare.
Do:
Use gentle natural hair products.
Protect your hair from damage by avoiding heat, harsh chemicals, and excessive washing.
Use a good boar's bristle hairbrush.
Eat a healthy diet rich in protein, vitamins, minerals, and probiotics.
Try to reduce stress in your life.
Don't:
Use harsh artificial hair products.
Damage your hair through heat, dyeing, smoking, and over-washing.
Neglect to comb your hair.
Eat an unhealthy, nutrient-poor diet.
Get too stressed!
Conclusion
If you're looking to change your shampoo to a chemical-free, organic brand, then the above products could be just what you're looking for.
If we had to recommend just one shampoo it would be Palmer's Coconut Oil Formula Shampoo as is an affordable option that is free from parabens and SLS and has a pleasant coconut scent.
Reading reviews is a great way to find out if people with similar hair types or skin complaints have had positive results from using a certain product – so make sure to have a read!

Naturaler is a UK website full of tips and recommendations for living a more eco-friendly, chemical-free and natural lifestyle.