Castor oil has been used for medicinal purposes for thousands of years, and many of us remember having a bottle in our medicine cabinet when we were a child.
This wonder oil is still beneficial to our health and beauty routines today, and the good news is that it's still cheap to buy.
See where in the UK you can buy it below, or scroll down to read a little about the history and benefits of castor oil.
Where to Buy Castor Oil in the UK
If you're thinking about trying this wonder oil we've listed some places you can buy it from below, both online and on the high street.
Amazon
If you prefer to shop online in the comfort of your own home, then Amazon have an excellent 100% refined cold pressed castor oil by a small UK manufacturer, Naissance (see on Amazon here).
This castor oil is affordable, pure and natural. It isn't tested on animals and is suitable for vegans.
The oil has a thick, honey like texture and a mild, distinct odour. It's particular effective for use as a hair treatment and is also recommended by eczema sufferers.
Ebay
Ebay have a huge variety of castor oils available to buy online, most of which are 100% organic.
Some of the products available have even been specifically designed with beauty uses in mind, with some bottles coming with special dropper-style applicators or mascara brushes for applying to eyebrows or eyelashes.
Ebay is also the place to go if you want to buy large quantities of castor oil, with a variety of 1 litre bottles available to purchase.
Holland & Barrett
Holland & Barrett is a trusted health and wellness retailer with over 145 years of experience.
With over 700 shops in the UK, you should have a store near you if you wish to pop in and pick up some castor oil.
Holland & Barrett sell a good quality own-brand castor oil, which is reasonably priced.
Chemists
One place many of us may have forgotten about for buying castor oil is our local chemist.
Most of us have a chemist nearby without having to go to a big town or city, so it's worth a try before you go further afield or order online.
Traditionally, independent chemists have sold castor oil at lower prices than health food shops, although cheaper castor oils may not always be as good quality or 100% natural or organic.
What Is Castor Oil?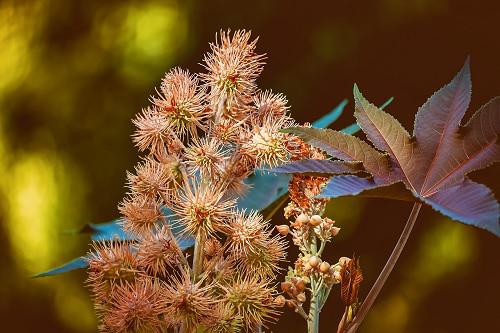 Castor oil is a translucent, pale yellow vegetable oil extracted by pressing the seeds of the castor oil plant (Latin name: ricinus communis).
The castor plant is believed to be native to East Africa (Ethiopia in particular), but now grows in many of the tropical regions throughout the world.
Castor oil has been used medicinally for thousands of years, with evidence of castor beans discovered in ancient Egyptian tombs dating back as far as 4000 B.C.
About half a century ago, castor oil was widely used as a low-cost laxative, and gained a somewhat unfavourable reputation amongst children due to the unpleasant taste.
Although castor oil can be used to relieve occasional constipation, it isn't recommended for long term use and should be used with caution.
Although castor oil is generally safe for most people if used correctly, women in all stages of pregnancy should avoid using it.
What Can Castor Oil Be Used For?
There are now many known beneficial uses of castor oil.
Good for the skin
Castor oil contains a high percentage of fatty acids, in particular ricinoleic acid. This type of fat acts as a humectant and is an excellent natural moisturiser.
Ricinoleic acid also has anti-inflammatory and antimicrobial properties, so it's ideal for acne-prone skin. Castor oil may cause an allergic skin reaction in a small number of people, so it's worth carrying out a small patch test the first time you use it.
Castor oil can be used in the oil cleansing method, which can be used to remove makeup and treat acne breakouts.
Moisturises the scalp
If your hair is in need of some attention, then castor oil might be just what it needs! Castor oil benefits the scalp because of the moisturising properties and can help to soothe flaky, itchy scalps.
Because of its high concentration of fatty acids, the oil also helps to heal the hair's fibre resulting in smoother locks, and can even enhance the colour and shine.
If using castor oil on your hair, use one teaspoon sparingly, or try diluting it with another ingredient such as jojoba or argan oil, so it's easier to rinse.
May promote hair growth
Applying warm oil to the scalp may improve circulation, and you can try applying the oil directly to eyebrows with a cotton bud for thicker, healthier brows.
Although not scientifically proven, some people believe the anti-inflammatory property of castor oil can help in areas where hair has been lost due to alopecia.
Can treat joint pain and muscle soreness
The anti-inflammatory properties of castor oil also make it a good natural choice for treating joint pain and muscle soreness.
Scientific studies such as this one have found that ricinoleic acid reduces pain and swelling, and initial studies also suggest that castor oil may be of benefit to those suffering from an inflammatory disease such as rheumatoid arthritis or psoriasis, although further research is still needed in this area.
Could help with insomnia
Castor oil may also help insomniacs, although this isn't scientifically proven. Nobody is sure how it works, but many people swear by dabbing castor oil on their eyelids for helping them nod off and have a better quality of sleep.
Laxative for constipation relief
Castor oil can be to relieve constipation. The recommended dose is 15 millimetres (about 3 teaspoons), which you can mix into a liquid such as fruit juice.
It should work quickly (within 2 to 6 hours).
It isn't recommended for pregnant women, children under 12 and those suffering from certain health conditions. It can also make bowel problems worse when it's taken regularly for a long period of time.
While castor oil can be an effective natural constipation remedy, it should be used with caution. Ask your doctor about its suitability if you're not sure.

Naturaler is a UK website full of tips and recommendations for living a more eco-friendly, chemical-free and natural lifestyle.