These days, it's fairly common to see all kinds of hair colours when walking around the streets: black, bleach blonde, pink, purple and everything in between.
Dying one's hair has become a common way to make a fashion statement, as well as disguising grey hairs—one of the most obvious visual signs of aging.
But not many of us stop to consider the potential health hazards of applying harsh chemicals to our scalp and hair on a regular basis.
In truth, conventional hair dyes contain a host of potentially harmful and harsh chemicals that not only damage your hair but may pose serious health risks with prolonged use.
Some potentially harmful ingredients commonly found in hair dye include:
Ammonia: Can burn the skin and when the fumes are inhaled it can cause lung irritation, resulting in respiratory problems.
Coal tar: This common hair dye ingredient contains carcinogenic compounds, though no link to cancer has been established (source).
Formaldehyde and DMDM Hydantoin: Exposure to formaldehyde has been linked to cancer, though more research is needed (source). It can also irritate the eyes and respiratory tract (source). DMDM Hydantoin is a preservative that releases small amounts of formaldehyde gradually, so it can have similar irritant effects to pure formaldehyde. It is restricted for cosmetic use in Japan.
Resorcinol: This chemical bonder can irritate the skin and eyes, and could possibly disrupt the endocrine system (source).
PPD (paraphenylenediamine): PPD is a chemical used in permanent hair dyes to fix the colouring onto the hair shaft.
PPDs can cause reactions within hours to days, even after previous use; people who have developed a PPD allergy will not be able to use any permanent dye, with the possible exception of Daniel Field's Water Colour, discussed later in this article.
Parabens: Parabens are a type of preservative used in many cosmetics products to extend their shelf life. Parabens mimic the behaviour of oestrogen, and have been linked to breast cancer, though more research is needed.
Just because most hair dyes are full of toxic ingredients doesn't mean that you are destined to show off your silver hair; there are plenty of safe and natural alternatives with fewer, or in some cases, no harsh chemical ingredients.
Check out our top picks for dyes to cover greys below.
Please note, by "chemical free" we mean that a product contains no harmful artificial chemicals.
The "chemical free" label is actually a bit of a misnomer, as in scientific terms every substance contains chemicals (water is a chemical compound, for example).
Best Chemical-Free Hair Dyes for Grey Hair in the UK
1. It's Pure Organics Organic Hair Dye

It's Pure Organics hair dye is a natural alternative for anyone who wants to avoid chemical hair dyes of any kind.
It's free from harmful chemical ingredients and is made completely of organic aryuvedic powders from plants including indigo, henna, cassia and amla (Indian gooseberry).
The ingredients are 100% natural and organic, and indeed this is the first herbal hair dye to be certified as organic by the Soil Association. It is a fully plant-based recipe that is vegan and cruelty-free, with no artificial ingredients.
The two main components are indigo and henna, two traditional dying products that work together in order to naturally colour grey hair in a range of shades from reddish brown to brown to black, depending on your original hair colour.
It can't lighten your hair, and the darker your original hair colour, the darker your results will be after applying this product.
Grey hairs are likely to come out a lighter shade than any dark hairs you may have, so that you may not have a uniform colour after using the product, but rather highlights may show up in a lighter shade of brown or red.
This dye is also available in nine different shades, ranging from Golden Blonde to Indigo Black.
Different hair types can react differently to henna dyes. While some people find it conditions and leaves their hair with enhanced shine and volume, others find that it can be very drying.
Using a deep conditioner after using the product can help with the drying effects that some people experience.
When purchasing this product, you get 100 grams of powder, which should be enough to coat shoulder length hair of average thickness, and also included are instructions, a cap ad latex gloves to help manage mess.
To use, simply mix with water and leave on your hair for one to three hours, depending on how dark you want the results.
2. The Henna Guys

The Henna Guys is a natural alternative to hair dye, it's especially good for you if you have sensitive skin and scalp. The dye is raw, vegan, cruelty-free and non-GMO.
It is made with henna powder and indigo powder mixed with natural herbs like amla powder, false daisy and neem powder. Amla powder has vitamin C and antioxidants which help prevent hair fall, dandruff and itching while false daisy prevents greying and hair loss.
The powder is triple sifted to get a fine and smooth texture that is easy to mix and apply.
The dyes are made with natural ingredients. The nourishing formula is also said to prevent split ends and dryness.
It is made with fresh ingredients but has a long shelf life.
There are multiple shades available – brown, red, black.
They have a range of dyes with colour choices that can be used on beards too!
At times the colours may bleed (water turns red/yellow in the shower) especially for deep red, red and auburn shades. This happens due to the natural ingredients in the product.
In this case, rinse out henna with distilled white vinegar to reduce or avoid the colours running.
If you're switching from a chemical dye to henna, one application may not get you the desired results. You'll start seeing the results you want after a few applications.
Some people may be allergic to certain plants and plant-based ingredients, so do a strand test before application.
The Henna Guys will give a full refund if you're allergic to their product.
3. Tints of Nature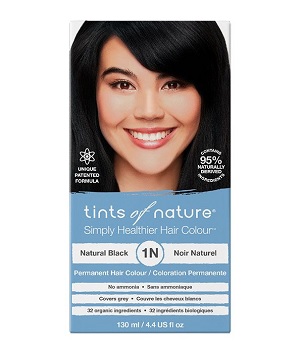 Tints of Nature makes both permanent hair colours and semi-permanent henna creams for home dye.
They offer a choice from 24 shades for their permanent hair colour range which is made with 75% of certified organic ingredients and has no ammonia, propylene glycol or other harsh chemicals.
They have 9 shades of henna creams made from 95% naturally derived ingredients which are enriched with henna for added shine and conditioning.
The vegan hair colour is also free from PPD/ PTD, Ammonia and Resorcinol.
They use natural and organic ingredients that have passed their high-quality control standards and are ethically sourced.
Tints of Nature is also recognized by PETA and 'Choose Cruelty-Free' as a cruelty-free brand. They also try their best to reduce their impact on the environment by recycling, energy-saving, low carbon manufacturing methods and other efforts.
Use the henna cream for easier and a more natural result and use the permanent dye for longer-lasting results.
The natural shades 1N – 8N are said to cover 100% of grey hair.
Remember to do a skin patch test 48 hours before every use of the product.
4. Light Mountain Natural Hair Colour

This is a chemical-free and cruelty-free botanical hair colour which has been certified organic.
Usually, the primary plant species can be extracted to get shades of red, but this brand has also used neutral and black botanicals to make a wide range of shade.
Hair usually looks healthier and thicker after application. If you experience an earthy smell or dye bleeding (water turns yellow in the shower), don't worry, it will go away after 1-2 weeks.
It is relatively inexpensive and the pack comes with an application kit and a detailed set of instructions that should be followed for the best results.
They have a separate range of 8 shades called 'Colour the Grey' which aims to enhance hair colours to stick to grey hair. If you have more than 10% of grey hair, we recommend you use the 'Colour the Grey' range.
Using colours from this range has a 2-step process which can be time-consuming and tedious to follow but gives good results.
5. Khadi Natural Herbal Hair Colours
Khadi is a 100% natural hair colourant that comes in a powder form and covers grey hair. It comes in a range of colours. Colours are extensive and range from light brown to black and red. Although they do offer blonde shades, these are not recommended to cover grey hair.
It is important to patch test a small area of hair first to see the colour result.
It is not recommended for anyone with natural or chemical highlights, unless your hair has been out of the sun/has not been dyed for at least six weeks. It could turn your highlights green.
Each box will be enough to colour shoulder length hair.
Khadi uses 100% Ayurvedic herbal ingredients to colour the hair, such as Henna, Khadi Amla, Indigo and Neem. It is even endorsed by the BDIH who are a German company that certify natural products. They do not allow the use of synthetic dyes, and neither do they endorse synthetic fragrance, silicone, paraffin and petroleum.
We particularly recommend Khadi Nut Brown which will cover grey hair and lasts for a long time. It can even be enhanced to a redder tone. Mix the powder with water until a smooth, thick consistency when first applying. This needs to be a temperature of more than 50 degrees. The higher the temperature, the redder the tone.
It is recommended to leave the colour on for at least 2-4 hours to cover greys. This depends on the extent of your grey hair. 2-4 hours is even recommended for lighter shades, when covering grey hair.
Grey hair may also need a 2-step process, which requires dying the hair with two different coloured dyes. This is particularly recommended if your desired result is dark hair. Either dark brown or black hair.
We recommend first using Khadi Pure Henna, or Khadi Henna, Amla, and Jatropha before following up with a dark brown/black shade. This will ensure coverage of greys and will prevent grey hair from turning green/blue.
Lighter shades of brown have achieved grey coverage by keeping the dye on for at least 3-4 hours.
Basic Method:
Shampoo hair, rinse out and wrap in a towel
Keep hair wrapped to maintain warmth, and mix the powder with water to form a thick, smooth paste.
Apply the smooth paste on towel dried hair.
Cover with a towel or the cap provided to keep the hair warm.
Leave on for 3-4 hours for grey hair.
Wash out with a non-synthetic shampoo or conditioner only. This ensures the colour is maintained.
Henna type dyes are suitable for all hair types, although people who experience dryness should consider using a deep conditioner if needed after use. Henna will relax the hair and may loosen curls. It is also suitable for vegans.
Henna type dyes are a fantastic way to enhance condition and shine. It is also the best way to colour grey hair without the use of chemicals.
6. Naturgin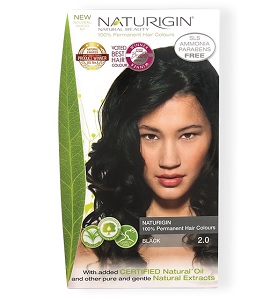 Naturgin dye is made with certified organic ingredients which are suitable for sensitive scalp and hair. It is ammonia, parabens, SLS and resorcinol free.
It is also cruelty-free, vegan and environmentally friendly. The brand is also certified by the Nordic Swan Ecolabel and has an Asthma Allergy Nordic label.
The mix of organic mandarin and lemon essential oil, apart from 10 other organic extracts and natural oils, gives hair the nourishment it needs.
However, to make the colour permanent, a small amount of chemicals (0.075% PPD) are added to the mix. It is 98.2% natural derived and gives 100% grey hair coverage.
They have 19 different shades which are quite easy to apply. The hair dyeing process takes approximately 30 minutes.
If you have henna on your hair already, we recommend you don't use Naturgin.
7. Herbatint Permanent Herbal Haircolour
This permanent hair dye is less of a chemical hazard compared to the usual supermarket laden shelves. Although it is still a chemical hair dye, that can manage to lighten your natural hair by two shades, it has eliminated some nasties.
Herbatint has no ammonia, no alcohol or fragrances. It even has a reduced level of hydrogen peroxide, which explains the limited lightening effect. Another winner is that it contains no resorcinol, which is linked to endocrine damage and a general skin and eye irritant.
It can even be used on previously hennaed hair, although it will need two applications. Dark hair however, cannot be lightened, but can be darkened.
The bonus about this company is that it gives 100% grey coverage, whilst also lightening your hair, yet it uses less chemicals. It also includes herbal ingredients, such as aloe vera and witch hazel to nourish the hair.
If you are looking for a hair dye that dyes your grey hair without any fuss of henna, this is a great option.
Important to know when dying grey hair, the ash, golden, copper and mahogany colours, need to be mixed in equal parts to the natural range they have. We recommend the light chestnut, for the natural coverage it gives. Avoid the golden range at all costs, when intending the above colours.
This is a fantastic product to experiment with colour, their range of colours is now vast, and it is more gentle than regular hair dyes.
8. Daniel Field Water Colour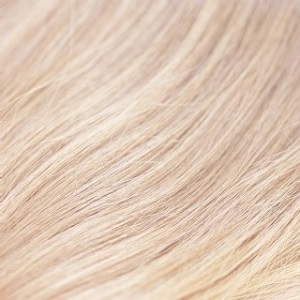 Daniel Field is a hairdresser who got his start making and selling herbal hair treatments as a teenager. He now presents his Water Colour powdered hair dye for semi-permanent to permanent coverage.
It doesn't contain any harsh ingredients such as bleaching agents, parabens, alcohol, ammonia, perfumes, fragrances or PPD, making it a great option for sensitive scalps and people with PPD allergies.
While generally all permanent dyes require the ingredient PPD to fix pigment into the hair shaft, Daniel Field claims to have formulated the world's first long lasting, natural hair colour that doesn't contain it.
As a gentle formula, this dye is suitable for people who have been through chemotherapy. However, the range can only add colour to hair, and not lighten it.
The colours also turn out darker than other brands, so you may want to choose a colour that is a shade or two lighter than what you are aiming for.
The dye can be used as either a semi, demi or permanent colour, depending on how you choose to apply it.
For a semi-permanent colour that lasts up to six washes, apply to damp hair, although this will not cover greys.
A demi-permanent colour can be achieved by applying to well towel dried hair, which will cover 50% of greys and last for up to 21 washed. Apply to dry hair for a permanent colour that should cover grey hairs.
Daniel Field is a trained hairdresser who studied in his own time with an organic chemist to learn how to make natural and harmless hair products.
In 1992 he released his natural hair dye, Water Colour, which was the first "just add water" hair dye according to his website.
Water Colour products are vegan and cruelty-free, and Daniel Field himself co-founded the Ark Environmental Foundation.
9. Naturtint Permanent
The Naturtint Permanent hair dye is a halfway step between conventional chemical dyes and more natural dyes. Unlike natural plant pigments that will fade after a while, this is a permanent dye that will provide long-lasting colour and 100% coverage of greys.
Like all permanent hair dyes, it does contain certain chemicals required to fix the colour to the hair, most notably PPD.
PPD is a known allergen that can trigger sudden irritation, even after years or previous use, so it's important to do a skin patch test 48 hours before every use of this product.
According to Naturtint, they use the minimum amount of PPD required to achieve the desired shade, well below European Union regulated limits.
While the ingredients list of this hair dye is not free from synthetic chemicals, it is doesn't contain some of the most harmful substances often found in hair dyes, such as ammonia, resorcinol and parabens.
Natural oils have been incorporated for conditioning effects, including oils of rosemary, eucalyptus, linseed, sunflower and meadowfoam seed.
This dye can lighten hair by up to two shades, and there are 30 shades to choose from, from Light Dawn Blonde all the way through to Ebony Black.
It is manufactured in Madrid according to E.U. standards and is suitable for vegans. As a bonus, a sachet of anti-aging leave-in treatment is included, to be used at the end of the colouring process.
What Is Henna?
You may have noticed that several of the natural hair dyes reviewed here use henna to dye hair.
Henna is a dye that comes from the plant Lawsonia inermis, which has been used in India for centuries to create temporary body art and dye the hair.
Henna is often sold as a powder which has to be mixed with a liquid before it can be used.
Natural henna gives the hair a red colour. You can also get "black henna", which can contain PPD and can cause allergic reactions.
Natural henna is safe to use, and won't damage the hair. However, it is a permanent dye, so the only way to get rid of the colour is to grow out your hair or apply another dye over the top of it.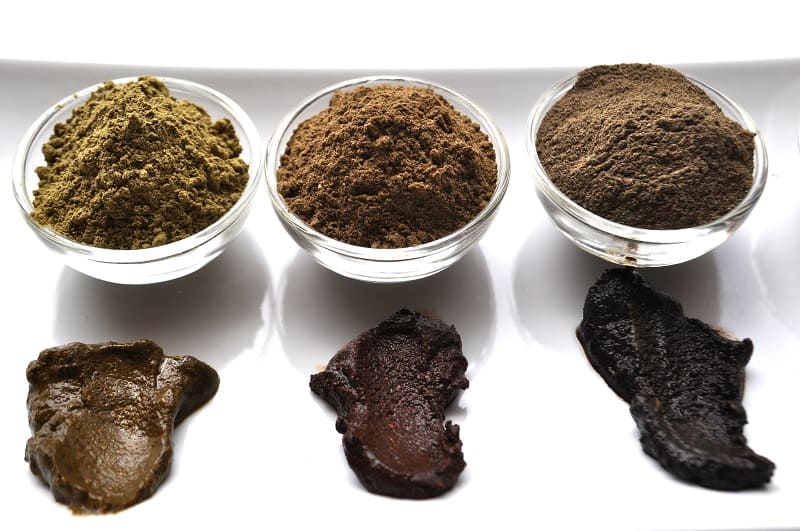 Making Your Own Natural Hair Dye at Home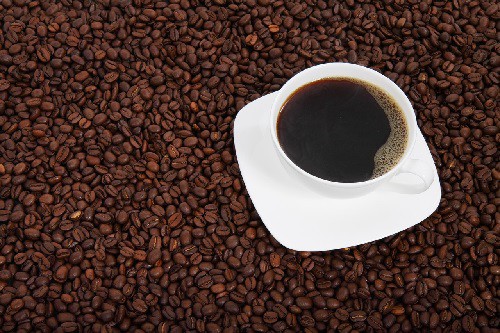 Commercial dyes haven't always existed and for thousands of years, people have made their own natural hair colour using herbs and other plants.
Buying dyes every few weeks can get expensive and can damage hair quickly. You may wish for a more gradual colouring effect for a less sudden transition.
Making your own hair dye can also be fun for DIY and natural beauty enthusiasts, so let's check out some options for 100% natural, homemade hair colouring:
Coffee
A strong brew of coffee is one of the easiest ways to darken the hair and cover greys. The stronger the coffee, the darker the results you'll get.
Brew 2 cups of organic coffee grounds with 4 cups of water and let it simmer for as long as you want, depending on the colour you're aiming for.
Let the coffee cool down, add 2 tablespoons of conditioner (if you like).
Soak or coat your hair in the mixture and wait for an hour.
Rinse your hair with cold water.
Tea
As with coffee, a very strong tea brew will darken the hair.
Brew some strong black tea with 3-5 tea bags and one cup of water.
Apply the tea with an applicator bottle once it has cooled down.
Let it sit for one hour. You can also put on a shower cap and let it sit for longer.
Rinse out your hair.
Honey and cinnamon
Honey and cinnamon both contain natural hydrogen peroxide, so a mixture of the two will effectively lighten the hair, giving it a reddish-brown hue. It will also cleanse the scalp and may stimulate hair growth.
Make a hair mask with 1 tablespoon raw honey and 1 teaspoon cinnamon and let it sit for 30 minutes to 1 hour.
Add 2 tablespoons of water, 2 tablespoons of olive oil and 1 tablespoon of conditioner.
Apply the mask on freshly washed hair and wrap it in a shower cap. Leave your hair for 4 hours.
Rinse your hair thoroughly and then shampoo it.
Walnut shells
Walnut shells will give a dark brown shade.
Crush some walnut shells and boil them in water for 30 minutes.
Apply the mix with a cotton ball after it has cooled down.
Leave it in for an hour and then wash with a mild shampoo.
Herbs and flowers
Infuse these herbs and flowers in hot water and leave it to cool before applying to hair.
Chamomile/calendula/marigold – these golden herbs will lighten the hair.
Hibiscus – bright red petals of the hibiscus flower will give the hair a reddish tint.
Rosemary/nettle/sage – these herbs darken the hair. Rosemary in particular is associated with healthy hair growth, while sage helps to open the hair follicles which may make them more receptive to absorbing dye.
Lemon juice
To lighten your hair or bring out some highlights, apply a lemon juice solution and sit in the sun until it dries. As an acid, lemon juice may dry out your hair, so don't do this more than once or twice a week.
Vegetables
Beetroot, tomato and carrot juice can all be used to dye the hair a reddish colour. Beetroot will give a darker red, while carrot will, of course, give an orangey hue.
Note that these DIY hair dyes will not result in an instant, dramatic change to your hair colour. The effects are subtle and it may take several, regular applications before you start to notice a difference.
These natural hair dyes are often referred to as "vegetable hair dyes" as they use plants often used to prepare food.
Conclusion
When choosing your hair dye, think about your level of skin sensitivity, what shade you want, how much coverage you are looking for and what level of convenience you need — do you want a permanent colour or one that requires regular application?
The first few grey hairs you discover can often trigger a real feeling of despair as one of the first major signs of aging.  But there's really no reason to let grey hair get you down anymore – major celebrities like Helen Mirren and Meryl Streep have gone au naturel, proving that grey hair can be both fashionable and glamorous.
If you still feel the urge to cover your greys, there are plenty of healthier options that range from pre-packaged permanent dyes all the way to henna and completely herbal tints.
If we had to pick just one product to recommend it would be It's Pure Organics Herbal Hair Colour as it's completely natural and organic and is the first hair dye to be Certified Organic by the Soil Association.

Naturaler is a UK website full of tips and recommendations for living a more eco-friendly, chemical-free and natural lifestyle.