It can be hard to know where to buy kefir if you're buying it for the first time. Luckily, there are lots of places you can buy kefir and kefir grains in the UK, both in physical shops and online. On this page, we'll give you an overview of where you can get hold of some kefir easily and affordably.
Where to Buy Kefir in the UK
First off, let's look at where you can buy ready-to-drink kefir in the UK. If you're interested in buying kefir grains to make your own kefir, see the section below. If you want to buy kefir itself rather than kefir grains, you will usually need to buy it in a shop as kefir needs to be kept refrigerated and is therefore difficult to sell online.
What UK Supermarkets Sell Kefir?
Most large UK supermarkets stock kefir. Sometimes it's found alongside yoghurt and other probiotic drinks, while at other times it's found in the Polish/Eastern European refrigerated section. Several supermarkets offer home delivery if you order online.
Here's an overview of which supermarkets in the UK stock kefir:
Health Food Shops
The biggest health food shop in the UK is Holland and Barrett, which sell kefir online (see here) and in-store. They mostly have coconut and other water-based kefir. Different branches of Holland and Barrett stock different items, so you won't find kefir in every store.
Planet Organic sells a wide range of kefir products (see online here). These include kefir from Healthy coconut, Koyo organic, Ki, Biokef, Biotiful, Nourish, Shimmy Shimmy Coconut, Yeo Valley, Purearth, Sojade, El Cantero de Letur, Agua de Madre as well as some interesting sparkling kefir drinks from London Fermentary. Planet Organic only has stores in London, and also delivers products in their "London Fresh" range within London.
Independent health food shops with a refrigerated section often sell kefir.
Online
Apart from the stores mentioned above which take delivery orders online, you may also check out a few other options online:
If you're an Amazon Prime member and live in London, you can order kefir from brands such as Biotiful and Nourish Kefir on Amazon Fresh (see the selection here
), with same-day delivery available depending on when you order.
Abel and Cole also offer a good range of kefir products you can choose from online (see here).
The websites for Nourish, Live Kefir Company, and Chuckling Goat also offer online shopping for Kefir. Chuckling goat also has an option for opting for subscriptions
Finding Kefir Stockists in the UK
Some of the leading kefir brands have lists of stockists on their websites:
Where to Buy Kefir Grains in the UK
If you want to make your own kefir from scratch, you will need to buy some kefir grains. While buying kefir grains will be more expensive than just buying a bottle of kefir to start with, you'll end up with an almost unlimited supply of kefir.
You might wonder how it's possible to post kefir grains without them going off. Kefir grains can be dried, which allows them to be stored and delivered easily.
Here are some of the best places to buy kefir grains in the UK.
Amazon
Amazon is the first place most of us look when buying things online due to the huge amount of choice, generally low prices, and convenient delivery options. You can buy kefir grains from a few different brands on Amazon, including the following:
1. Live Kefir Company Live Milk Kefir Grains
These kefir grains from Yorkshire-based Live Kefir Company are one of the most popular options on Amazon at the time of writing. They are produced in the UK and are live grains rather than powdered extract. This means that they should multiply over time, so you won't need to buy more, and you can give away the excess grains to friends and family. We recommend buying the 5 or 10 g pack. See them on Amazon here
.
2. Kombuchaorganic
These fresh milk kefir grains by Kombuchaorganic come in an ideal 10g pack. 
They are only grown in non-homogenized and organic certified whole milk (grass-fed cows) and are packed and sent with a nutrient liquid that keeps them alive and healthy. See them on Amazon here.

Kombuchaorganic also has options for water kefir grains.
3. The Kefir Collection

These live milk kefir grains by The Kefir Collection have never been dehydrated or frozen. They are also grown in certified organic milk.
The supplier also makes a special effort to plan deliveries as such that the package is not in the post over the weekend. See them on Amazon here.
4. The Kefir Company Milk Kefir Starter Cultures

These kefir starter cultures aren't technically kefir grains—they are powdered extract from kefir grains. They come in three convenient sachets and can be used to make up to 100 litres of kefir. The packet includes easy-to-follow instructions. See them on Amazon here.
eBay and Etsy
Lots of sellers sell kefir grains on eBay and Etsy, and this can be one of the cheapest ways to get hold of some grains. Check the seller's ratings before buying to make sure they are reputable and reliable.
Check these certified organic milk kefir grains on Etsy. See kefir grains on eBay here.
Gumtree
Gumtree is another place you can get cheap and sometimes even free kefir grains. Sellers on Gumtree are individuals rather than companies, and many of the people who advertise kefir grains here are simply people who have too many grains are looking to share them. See kefir grains on Gumtree here.
Happy Kombucha
Happy Kombucha sells kefir grains on their own website as well as on other sites such as Amazon. You can see their collection of kefir grains and starter kits here.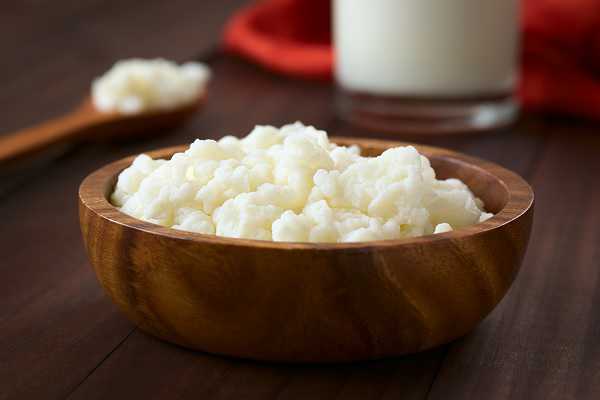 How Much Does Kefir Cost?
As with most things, the cost of kefir varies depending on the brand and where you buy it. One of the cheapest options is Lowicz Kefir, which you can buy a small 400 g bottle of in Tesco for around £0.75 at the time of writing. Small bottles of Biotiful kefir currently cost around £2 in supermarkets, while kefir in health food shops may cost more.
If you've never tried kefir before it's probably better to buy some ready-made to see if you like it before you try making it yourself. If you start drinking kefir regularly, it will be worth buying some kefir grains and learning how to make kefir yourself as you will save money in the long run. Once you have the grains and a glass jar, the cost of making kefir will just be the cost of the milk you use.
If you're making kefir yourself, you will need to buy some grains, some milk, and a glass jar if you don't have one already. You can buy kefir grains on eBay or Amazon with prices starting at around £4-£5, so it's not a big investment. Sometimes people even offer kefir grains for free on Gumtree.com.
How to Make Kefir at Home
Making kefir at home isn't difficult. In fact, if you provide the perfect conditions for the kefir grains, they actually do all the hard work for you!
These perfect kefir conditions are what we are looking at today. Below, we're going to walk you through making kefir at home and explain how you can create the perfect conditions for your kefir grains and take the hard work out of making the awesome stuff.
Whether you have cultured dairy before or are thinking about giving it a go, there's plenty of info here to help you perfect your culturing techniques or learn them.
Before You Start Making Kefir
Please note: the instructions here are for the traditional milk kefir grains. These are the starter grains that you rehydrate, ready to make kefir. If you'd like to make kefir with a powdered kefir starter culture, please follow the instructions on the packaging.
Of course, you will also have instructions that came with the kefir grains that you can follow. However, these instructions can be tricky to follow so if you get stuck, just come back here for more help.
One more thing before we start making kefir: if you plan on using raw milk to make your kefir, you'll need to activate your kefir grains using pasteurised milk first. Once you've done this, you can then slowly transfer your kefir grains to raw milk.
Right, that's all you need to know before making kefir at home. Just before we get to a step-by-step guide on making kefir at home, though, let's look at all the things you'll need to make the process as easy as possible.
What You'll Need
To start making kefir at home, you need a few things that are widely available. You'll need to decide which kind of milk you'd like to use. This doesn't really affect how the kefir grains culture, it is just a way of making sure your kefir is made just the way you like it.
Supplies for making kefir at home
You'll need a few things to make kefir at home. Many of these things are included in kefir starter kits, but they are also readily available pretty much anywhere. The supplies you need to make kefir at home include:
A glass jar
A stirring utensil (non-metal)
A breathable cover for the jar (a paper towel, coffee filter, tight-weave towel, or butter muslin is perfect for this)
A way to secure this breathable cover to the jar (an elastic band or even a piece of string works great for this)
A fine mesh strainer (plastic ones are best) this is to remove the kefir grains from the finished kefir)
And that's it; once you have all these supplies, you can start making kefir at home. Here is a step-by-step guide on the process of kefir making at home that you can follow along with whenever you need a helping hand.
Step-by-Step Guide to Making Kefir at Home
Ingredients
1-2 teaspoons of active kefir grains
Cow's or goat's milk
How to make kefir
Start by transferring the active kefir into up to 4 cups of fresh milk. This will produce about 4 cups of kefir, so if you want to reduce the amount you're making simply reduce the amount of kefir grains and milk you are using.
Cover the mixture with your chosen cover from above, like the coffee filter, for example.
Place in a warm spot to begin the culture process. This warm spot doesn't need to be too crazy, between 20 and 30 degrees Celsius is fine. Try keeping your culturing kefir in the kitchen or any room in the house that holds a constant temperature that is a little higher than normal room temperature.
Give it time to culture. Culture your kefir until the milk thickens slightly and the aroma is pleasant. This typically takes about 24 hours, but it can take less or more depending on the temperature. Keep an eye on your kefir!
After the milk has changed texture, the culture is complete. You can now remove the kefir grains from the mixture. This is easily done with a plastic strainer, though a stainless-steel strainer may be used if you like to. Sometimes kefir can be a little awkward passing through the strainer; a plastic or silicone spatula can be used in this case to encourage the kefir through the strainer.
Once you've removed the kefir grains from the freshly made kefir, place them in a fresh batch of milk to start the process again. If you don't want to make any more kefir, you can store your grains for later use
Finally, store your freshly made kefir in the fridge and enjoy it whenever you please! Congratulations, you've just made your first batch of kefir, and you made it look easy!
Don't forget, we have loads of other information about kefir on here to help you make the most out of your kefir experience at home or anywhere else. Before you leave, please check out our other articles and become a kefir expert!
Health Benefits of Kefir
Kefir might taste nice (at least when you get used to it!), but it's mainly consumed for its health benefits.
The main reason kefir is healthy is that it contains probiotics, or "good bacteria". These bacteria have numerous health benefits including easing digestive problems such as IBS and even improving mood. The most popular probiotic in the Western world is yoghurt, but kefir actually contains more probiotics, making it a better source of good bacteria.
Kefir grains typically contain about 30 different strains of good bacteria.
Let's look at some of the most exciting health benefits of kefir.
Please note, this article isn't intended as medical advice, and you should always consult with your doctor before using kefir as a potential treatment for any health issues.
1. Improved digestion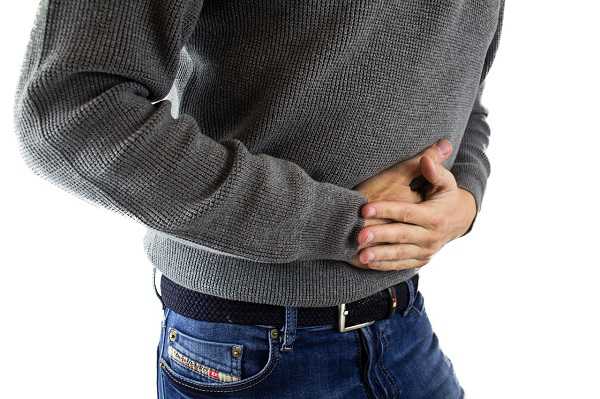 The probiotics in kefir can help improve gut health, which in turn leads to better digestion. Some people with irritable bowel syndrome (IBS) find kefir beneficial, though this varies from person to person.
Another good thing about kefir is that it is easier to digest for those with lactose intolerance than most other dairy products.
2. Improved bone health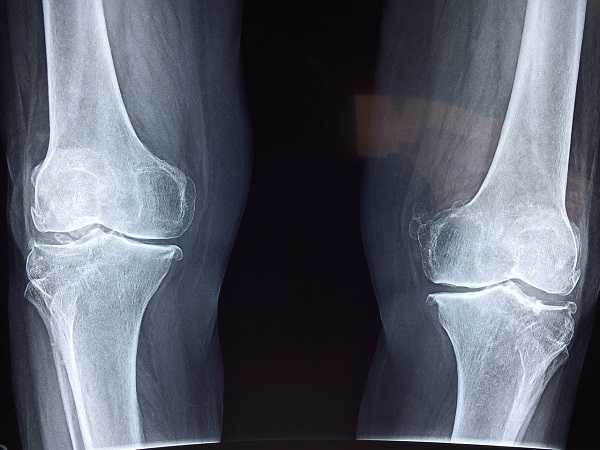 Like milk, kefir is a good source of calcium and vitamin K2, both of which are essential for bone health. Getting enough calcium and vitamin K2 can help prevent osteoporosis, which is a disease that results in a weakening of the bones, making fractures more likely.
Statistics show that 1 in 2 women in the UK and 1 in 4 men will suffer a bone fracture in their lifetime. Also, half of all adults age 50 and older, are at risk of breaking a bone. This highlights the importance of bone health, especially in older women.
3. May reduce inflammation
Inflammation is a factor in several health problems including IBS and rheumatoid arthritis. Some studies have found that probiotics reduced inflammation among arthritis sufferers (source), suggesting that kefir be a good dietary supplement for reducing inflammation.
4. Antimicrobial properties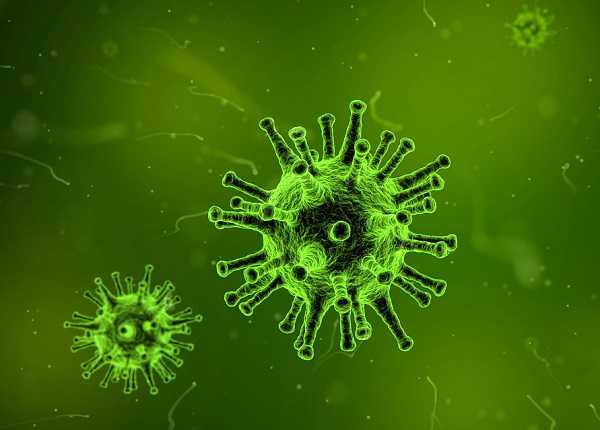 One of the strains of bacteria in kefir is lactobacillales, or lactic acid bacteria, which has been shown to have antimicrobial properties. This study found that Lactobacillus extracted from Kefir had a protective effect against salmonella when given to mice. This means kefir could potentially help protect us against harmful bacteria that could make us ill.
5. Helps improve skin
There's a link between gut health and skin health. Problems such as acne and eczema can be caused, at least in part, by a poor balance of bacteria in your gut. By improving your gut health through probiotics such as kefir, you might find that your skin quality improves.
6. Nutrition
Like other dairy products, kefir contains quite a few essential nutrients, most notably protein and calcium. According to Foodnutritiontable.com, milk kefir contains the following nutrients per 100 g (about 100 ml):
Protein: 3.3 g
Vitamin A: 0.03 mg
Vitamin B1: 0.03 mg
Vitamin B2: 0.15 mg
Vitamin B6: 0.04 mg
Vitamin C: 1 mg
Calcium: 120 mg
7. May help with allergies and asthma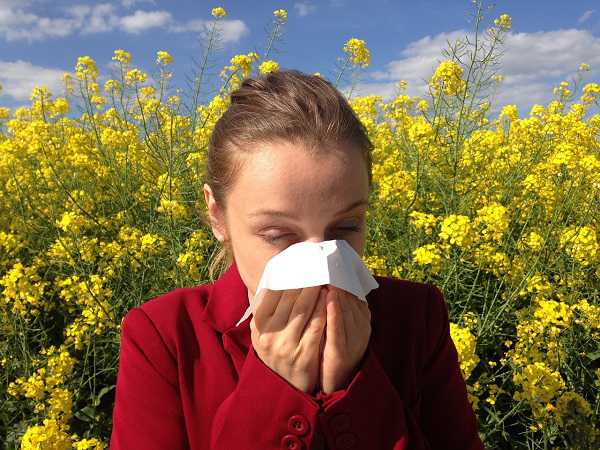 The results of some studies in animals suggest that consuming kefir could suppress the unnecessary inflammatory response that our immune system produces due to allergies. This study found that kefir reduced the symptoms of asthma in mice.
8. May help fight cancer
Cancer kills around 160,000 people in the UK a year (source), so anything we can do to prevent it is a plus. Since kefir contains probiotics, it should stimulate the immune system, which may help fight cancer. This page explains the science behind how kefir could help induce apoptosis (the death of malignant cells such as cancerous cells).
The results from this study suggest that kefir can help inhibit cancer cells from proliferating.
How to Store Kefir Grain
Kefir grains are a wonderful thing! Given the right conditions, they can ferment and cultivate into the beautiful drink kefir rather easily. Today we want to talk about taking a break from making kefir and how to store the grains during this time away.
You see, the big problem with kefir grains is that they just want to be kefir and so unless you put them in the right conditions, they will continue to ferment and eventually become something far less pleasing than kefir. So, if you are interested in making kefir at home, you need to know how to store the kefir grains first. Otherwise, you may waste a whole lot of time, money, and kefir.
Slow down
The key to storing kefir grains is all about slowing down the processes occurring in the grains. Slowing down the process can be as easy as keeping your grains in the fridge. Cold temperatures are excellent for slowing down the culturing process of kefir grains. This is a great way to store extra kefir grains and keep them healthy.
You see, on average, kefir grains can need up to about 4 cups of milk a day, just to stay healthy! This means that you are going to produce a huge amount of kefir a day if you've purchased a lot of grains. So, keeping them in the fridge can mean that you can control how much kefir you are making per day by slowing down the culturing process.
Putting kefir grains in the fridge can slow them down for about three weeks. Here's how to do it.
You first want to make sure that your grains have been actively culturing for about 3-4 weeks. This is prior to putting them in the fridge, and it is basically to ensure that they are healthy and will survive while taking a break.
Inside a container, add the kefir grains to 2-4 cups of milk. The more milk you have, the longer the break you can have, generally. This is to keep the grains fed during the break.
Add a lid to the container and place it in the fridge. The kefir grains should be healthy and safe for about 3 weeks.
Getting the juices flowing again
After your break from kefir making and when you are ready to get back to it, it is time to separate the kefir grains from the milk you stored them in, replace it with fresh milk and begin to culture as normal. Keep in mind that it may take a few batches for the grains to fully wake up and start their work again.
Oh, and as long as the stored kefir isn't smelling or tasting funny, it is fine to consume. So, not only have you managed to take a break from your kefir-making duties, you are rewarded with some kefir straight away when you return to it!
Taking a longer break (up to 6 months)
In order to take a longer break from kefir-making, you need to dry your kefir grains. This can be done very easily, just follow these steps:
Firstly, rinse the kefir grains thoroughly with filtered water.
Next, layer the grains on a piece of (unbleached) parchment paper in a safe place.
You now want to dry the kefir grains for 3-5 days. This doesn't need to be in a fancy kefir oven or anything, just at room temperature is fine.
Once dry, place the dried kefir grains into an airtight bag and add a small amount of powdered milk.
And you are done, you can now store your kefir grains for up to six months!
Once you are ready to start making kefir again, just rehydrate them according to the instructions that came with the grains you bought.
We hope this look at storing kefir grains can help you take a break from kefir making some time soon. Don't forget to check out the rest of our website for all things kefir!
Kefir FAQs
How Much Kefir Should You Drink Per Day?
If you've just started drinking kefir for health or weight-loss reasons, you might wonder, "how much kefir should I drink per day?"
The answer to this question will depend on several factors including your goals, your body's individual response to kefir, and how much you like kefir!
Most people will find 1 or 2 cups (200-400g) of kefir a day to be a good amount.
Should you drink kefir daily?
Drinking small or moderate amounts of kefir daily will be healthy for most people, but it's not necessary to get the benefits of kefir. Drinking kefir just once or twice a week will still have a positive long-term effect on your gut health.
If you've never tried kefir before, you will want to ease into it in case your body doesn't take to it. Most people can drink kefir with no noticeable side effects, but others find that their stomach and/or intestines feel uncomfortable or make strange noises after they start drinking kefir. Kefir is slightly fizzy, so it can make you feel bloated.
It's also important to consider your tolerance to lactose. Kefir contains small amounts of lactose and can normally be tolerated fine by those with lactose intolerance. However, if you are lactose intolerant you might want to take extra care not to drink too much kefir.
Kefir won't make a noticeable difference to your health immediately, so it's best to drink a small amount regularly if you're just starting with it rather than consuming a huge amount in one go.
Here are some other things you might want to consider:
Cost: Buying kefir from the supermarket or a health food shop can become expensive. If you want to drink kefir every day, consider making your own. If you buy some kefir grains you can propagate them yourself, giving you an endless supply of kefir.
Calories and fat content: If you're counting your calories and fat intake, you will need to factor in your consumption of kefir. Just like whole milk, kefir is fairly high in calories and fat.
Can You Make Kefir Grains From Scratch?
The short answer to this question is, unfortunately, "no". Kefir grains are propagated from existing kefir grains, and nobody knows exactly where the first grains came from or how they formed. Kefir has been passed down through the generations for hundreds of years, and scientists haven't yet worked out how to make kefir grains from scratch.
This means that it's only possible to produce kefir grains if you have some to begin with. The good news is, it's cheap and easy to buy kefir grains, and you can sometimes find someone willing to give you some for free.
It's also possible to make a kind of milk kefir without using grains if you instead use a proprietary blend of bacteria that mimics the blend of bacteria found in kefir grains. Purists will say this isn't real kefir, but it will have a lot of the same health benefits.
What are kefir grains?
Kefir grains are small, grain-like blobs made from polysaccharides. Polysaccharides are complex carbohydrates formed of monosaccharides (simple carbohydrates such as glucose and fructose). The main polysaccharide found in kefir grains is kefiran, which is made up of glucose, rhamnose, galactose, and arabinose (source).
Kefir grains are called 'grains' because of their appearance—they aren't actually a grain like wheat, etc. As well as looking like grains, lots of people also liken the appearance of kefir grains to cauliflower.
Where do kefir grains come from?
Kefir is thought to have originated in the Caucasus mountains, but nobody knows for sure how the first kefir grains formed. One theory is that kefir grains originated by combining milk with bacteria from the intestines of a sheep—pretty gross! Another theory is that they were a gift from the gods, though there's not much evidence to back up that claim!
The fact that nobody knows exactly where kefir comes from and nobody can produce kefir grains from scratch definitely help add to kefir's mystique.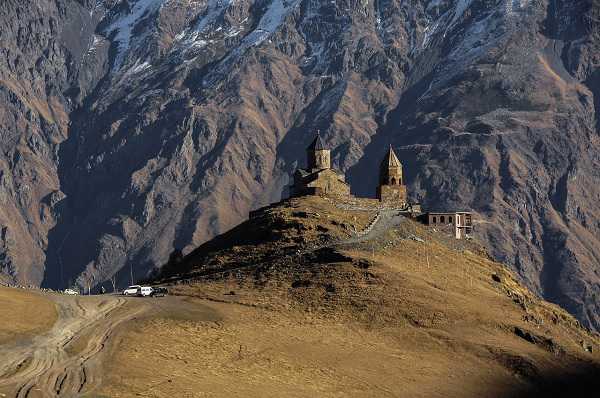 Is Kefir Good for Weight Loss?
The science is still out on whether kefir or any other probiotic-rich food has a direct effect on our weight. Evidence on probiotics and weight loss is conflicting. Some studies suggest that certain lactobacillus strains, or such as those found in kefir and other fermented dairy products like yoghurt and cheese are associated with weight changes, but other studies contradict this evidence.
There have been a number of promising experiments, however, suggesting that probiotics and metabolism have a complicated relationship that we don't yet fully understand. A 2008 study found that probiotics have a tangible effect on metabolism although we are not sure exactly what this effect is.
One promising study found that kefir prevented additional fat accumulation in overweight mice and the scientists concluded that it has the potential to prevent obesity.
Other scientists found that probiotics have an effect on the metabolisation of bile acids in the liver, which works to emulsify fats. According to the researchers, the findings show that beneficial bacteria could change how much fat the body is able to absorb from food. The two most effective strains of bacteria for losing weight are thought to be Lactobacillus and/or Bifidobacterium, both of which are found in kefir.
Another team of scientific researchers discovered a genetic link between weight and microbial balance in both mice and humans. Overweight subjects had a completely different bacteria composition than slim subjects, and but when bacteria were transferred from the gut of overweight subjects into slim subjects, the slim subjects started to gain weight.
This leads the scientists to believe that not only do gut bacteria influence our metabolism, but also that microbes have a complex relationship with human hosts that could even extend to the manipulation of our weight-related genes. Subjects started to lose weight after being supplied with probiotics over a few weeks.
The researchers also found our gut bacteria can "determine the efficiency with which calories can be harvested from the diet." While efficiency in harvesting calories from food is a huge advantage when you're starving, it's not so great in today's modern age when we are surrounded by calorie-dense foods and many of us lead physically sedentary lives. It looks like transforming your gut bacteria can actually cause you to extract fewer calories from the same food item.
Probiotics have also been linked to health issues that can arise from being overweight, including improved glucose and fat metabolism, cholesterol, high blood pressure, improved insulin sensitivity, type 2 diabetes, and the calming of chronic systemic inflammation.
In addition, kefir cultures have the ability to assimilate cholesterol in milk, reducing the amount of fat as well as eating the sugars such as the common irritant lactose.
Emotional eaters should add kefir to their diets, as probiotics have been found to affect mood, easing depression, irritability, and overall mental health that can cause many to turn toward unhealthy or dietary choices like excessive eating.
But probiotics aren't the only component of kefir that may help with weight loss. Kefir is also a source of tryptophan, an amino acid that has a calming effect on the nervous system (similarly to turkey, which is known to send people off to sleep). It can also help to alleviate insomnia which can have a real effect on mood and make you more likely to choose fatty convenience foods out of exhaustion.
Kefir is generally a dairy product (although you can also make vegan kefir from coconut milk or even sugared water) and there is research to show that consuming dairy can help to shed some pounds. Dairy contains both protein and calcium, each of which has been linked to weight loss.
Whole dairy products provide a synergistic combination of these two nutrients, although it's not clear exactly how they work in weight loss and maintenance. While dairy is a common thing dieters cut out in order to lose weight, some studies have found that a few servings per week can help to shed some pounds; it's thought this is because the calcium in milk promotes fat burning rather than fat storage.
Kefir has around 11 grams of protein per cup, making it significantly higher in the nutrient than yoghurt, although kefir is also higher in calories than plain yoghurt. Protein is known to provide a feeling of satiety, making you feel full for longer than carbohydrates that tend to provide a quick burst of energy which burns off quickly, leaving you hungry sooner. It's best to avoid flavoured or overly processed kefir, as these often contain additional sugar, which is no good for your waistline or internal health.
Another substance in dairy linked to weight loss is linoleic acid, a fatty acid. One experiment found that linoleic acid supplementation brought down the weight of obese participants over a six-month period and prevented weight gain during the holiday season.
Simply adding kefir to an unhealthy diet will not be enough to lose a significant amount of weight, but it works on multiple levels to support you in your weight loss journey and help you on the path to your health goals.
Is Kefir good for IBS?
Irritable bowel syndrome (IBS) is not actually one disease, but a collection of chronic symptoms that can arise from a range of triggers such as a diet of processed foods, stress, intestinal infection, inflammation, hormonal issues, or illness of the muscular or nervous systems.
IBS can be a painful, troublesome, and even embarrassing affliction that conventional medicine can do little to help. Slowly introducing "good" bacteria into the gut can help to gradually rebalance your gut and help to minimise symptoms such as diarrhea, constipation, cramps, bloating, and so on.
Probiotics have been found to lessen the severity of symptoms associated with IBS and IBD (inflammatory bowel disease), without creating side effects. However, it is a good idea to introduce small amounts slowly as a sudden, drastic change in your microflora can temporarily worsen IBS symptoms. As well as helping to heal IBS, the probiotics in kefir and other fermented dairy products can help with additional gastrointestinal disorders like ulcers and Crohn's disease.
Recent clinical studies found that IBS sufferers reported a great improvement in quality of life and comfort after 8 weeks of probiotic supplementation. Scientists have begun to study the effects of probiotics on conditions like IBS, but they still don't know which of the many gut bacteria species are effective at achieving certain benefits.
One advantage that kefir has over the other popular dairy ferment, yoghurt, is that it contains many more species of bacteria, giving you a greater chance of encountering a species that provides a good match for your particular health issues.
Unlike yoghurt or laboratory-produced probiotic supplements, which usually include just two or three strains of bacteria, kefir can contain 10-34 strains of bacteria and yeasts friendly to the gut. The microbial content of a particular kefir drink can vary according to the type of milk used, preparation methods, and so on.
Like most probiotic-rich foods, kefir is thought to help to heal the gut. Not only can probiotics help to manage the symptoms of bowel disease, but regular consumption can gradually heal the deeper causes such as a microbiome imbalance. One way it does this is through "competitive pathogen exclusion" whereby the "good" bacteria compete with "bad" bacteria for resources – with one group eventually crowding out the other.
Even you haven't been diagnosed with irritable bowel syndrome, microbiome disruption from stress, antibiotic usage, food allergies, and poor lifestyle choices can throw our gut balance out of whack and allow the "bad" bacteria to take over, in a condition called dysbiosis – an imbalance of microbes.
Consuming additional foods rich in "good" bacteria can bring your gut flora back into a healthy balance and allow your body to cope better with intestinal disturbances.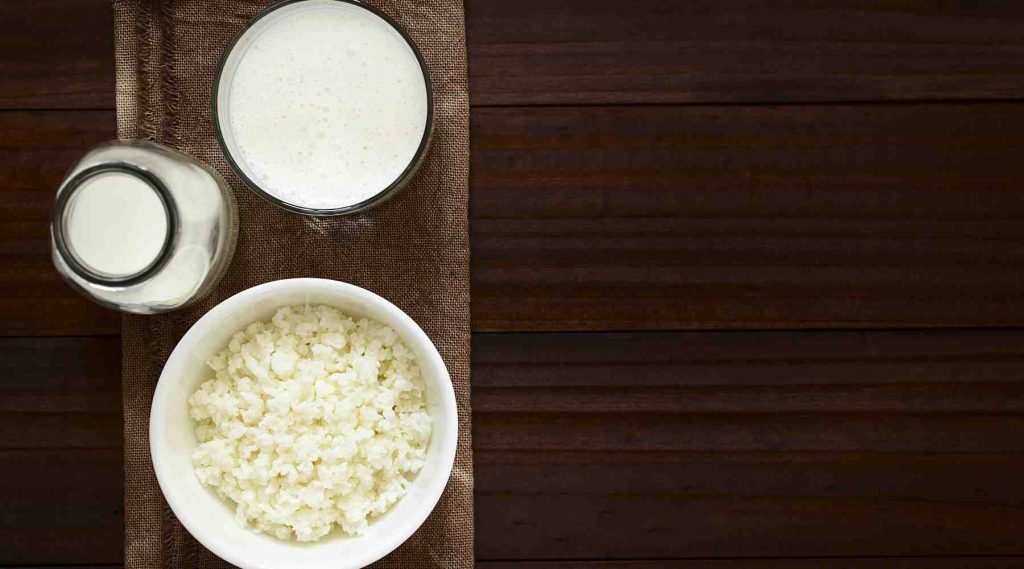 Is Kefir Good for Eczema?
Skin conditions are often made worse by internal inflammation and an imbalance within the gut. Poor digestion or food allergies (including those unknown to you) can cause inflammation and trigger a skin outbreak in people who have a genetic predisposition.
Eczema and other skin conditions including rashes, psoriasis, and acne can have a real effect on confidence and may cause discomfort or even pain. Although it's generally best to avoid dairy when suffering from a skin outbreak, kefir is one exception, thanks to its high probiotic content and low content of lactose.
Kefir can start to heal you from within, by reducing inflammation and helping with the elimination of toxins that burden your waste elimination organs, including the skin.
Eczema flare-ups generally occur in people whose immune systems are run down. Probiotics have been linked to improved immune function, and scientists are finding that our gut has a much larger influence on the immune system than previously suspected.
Kefiran, a carbohydrate contained in kefir, has also been shown to aid the immune system and improve the quality of skin healing, plus a protective effect on connective tissue.
Pregnant women and new mums might want to make their sure their infants get a good dose of kefir or other probiotic, as scientists have found that babies and toddlers given probiotics were 57% less likely to develop atopic eczema as well as a whole range of common allergen sensitivities.
As well as "good" bacteria, another kefir component thought to help prevent eczema is the antibody Immunoglobulin E (IgE), involved in the immune response that could inhibit allergen reactions that lead to conditions like eczema.
While the gut has a microbiome home to countless bacteria, we don't often realize that our skin is also home to billions of microbes and that we need to keep these in balance. The American Academy of Dermatology is currently researching the skincare benefits of various bacterial species and has said that probiotics have beneficial effects in curing acne and rosacea when applied topically to the skin. This is because the "good" bacteria are able to kill harmful bacteria that trigger inflammation, through a process called "bacterial interference."
According to Dr. Roshini Raj, a gastroenterologist and founder of the probiotic-based skincare brand Tula, "Recent research suggests that when applied topically, probiotics secrete anti-bacterial and anti-inflammatory substances that help with conditions like acne, eczema and rosacea."
Kefir gel was found to be effective in skin healing and anti-inflammatory effects when applied to mice, indicating that topical application may have a soothing effect on skin dermatitis. A few companies have sprung up, selling probiotic-based skincare products made with kefir.
Welsh brand the Chuckling Goat was founded by Shann Jones, author of The Good Skin Solution to sell kefir for internal consumption as well as kefir-based skincare balms, lotions, and soap to treat skin conditions including eczema. Her treatment plan incorporates both internal and external application of kefir to heal the skin from the inside, as well as the outside.
The brand Nayelle also sells probiotic-based skincare, including moisturiser products made from 25% goats kefir. For topical use, kefir also contains AHAs which naturally exfoliate the skin as well as balancing pH levels on the skin. It also contains fats to hydrate and amino acids to provide an anti-oxidant-like healing effect.
Conclusion
As stated above, kefir has a lot of health benefits, it has the potential to improve your health considerably.
If you try kefir and like it, we recommend that you get some kefir grains so that you can cut down on your plastic use, save some money and even bring change in others' lives by gifting some extra grains to friends and family.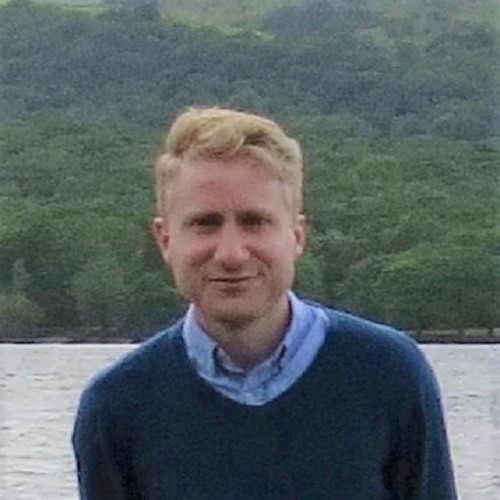 Laurence is the founder and editor of Naturaler. He's been working in the online world for over 5 years and is trying to live a more natural and eco-friendly lifestyle every day.