In recent years, many of us have begun to realise the devastating effects plastic can have on both the environment and our health.
Every year 8 million tonnes of waste is added to our oceans.
Plastic waste takes a long time to break down, and can contain harmful chemicals and toxins which begin to leak out first into the soil, and then spread into the water and air—the things we all depend on for a healthy life.
One way we can all make a difference is to buy less processed foods that are packaged in plastics. Seven out of ten people in the UK regularly eat yoghurt, which means a lot of empty plastic yoghurt pots.
Some dairy products can be quite easy to buy in non-plastic packaging (milk in traditional glass bottles for example), but until recently it's been quite difficult to find plastic-free yogurt.
However, yogurt in recyclable glass or ceramic pots is starting to appear in our supermarkets and independent grocers.
Glass yoghurt pots can be recycled with your other bottles and jars, or you could even upcycle them into tealight holders, unusual cocktail glasses, storage for herbs or spices or as mini flower vases!
Another option if you want to ditch the plastic yoghurt pots is to try making your own yoghurt. Homemade yogurt is cheaper, can be healthier and is surprisingly easy to make.
Yoghurt making machines can be bought from retailers such as Lakeland or Amazon, but you can also make yoghurt using just a heavy saucepan.
We've included instructions on how to make your own yoghurt at the end of this article, but if you'd rather buy plastic-free yoghurt ready-made, check out our list of places you can buy it from.
Where to Buy Plastic-Free Yoghurt in the UK
1. Tesco
Tesco now sell smooth, thick set yogurt by Liberté (owned by Yoplait), made in France and sold in small glass jars. These yoghurts are set into a glass jar for at least five hours, and contain milk, fruit and yoghurt cultures.
The glass jars have a quaint, nostalgic feel to them, and the flavours are also traditional with three different flavours available in Tesco stores: strawberry, apricot and vanilla.
A pack of two yoghurts costs around £2. See them on Tesco.com here.
2. Direct Milk Supplies Ltd (directmilk.com)
Direct Milk Supplies (DMS) is a family-run dairy supplier established in 1966 in Elstree, Hertforshire.
The company sells a wide variety of luxury yoghurts in glass or terracotta jars, including Loseley rich and creamy yoghurts (available in delicious flavours including Peaches and Jersey Cream and Pear and Creamy Fudge), and La Fermiere yoghurts.
Direct Milk Supplies deliver to London, Hertfordshire and the Home Counties (check their website here for more details).
If you live elsewhere in the UK, try looking for similar diary suppliers in your area to see if they can deliver yoghurt in glass or ceramic pots to your home.
3. Farm Shops and Health Food Stores
Another good place to find yoghurt in glass or ceramic pots is at your local farm shop or health food store.
You're more likely to find locally sourced yoghurt at a farm shop, which can often be cheaper, and less transportation is better for the environment. Local farm shops and independent stores sometimes offer a refill system too.
4. Chanteroy Online
Chanteroy Online is a French food retailer based in London providing free delivery to the surrounding postcode area.
Chanteroy sells La Fermière wholemeal yogurts which come in small terracotta pots. You can buy two larger (140g) vanilla yoghurts for £2.95, or 8 smaller (125g) fruit flavoured varieties for £4.95.
La Laitière yoghurts are also available from Chanteroy, with lemon or vanilla varieties sold in small recyclable glass jars. See Chanteroy's selection of yoghurts here.
5. Ocado
Online supermarket Ocado now sell natural live yoghurt made by Glenilen Farm, a small family farm business based in West Cork, Ireland.
This yoghurt has added strawberries (18%), is free from additives, and the glass jar is completely recyclable. Each jar of yoghurt is sold individually at 99p (at the time of writing). See Glenilen Farm yoghurt on Ocado here.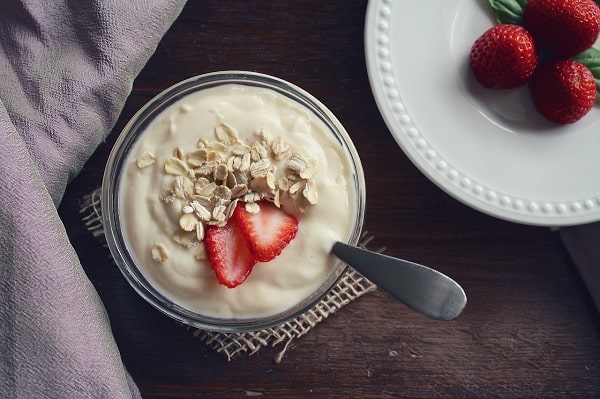 Making Your Own Yoghurt
You can start making a batch of homemade yogurt in two different ways: by using a few tablespoons of store-bought plain yogurt (or yoghurt you've made previously), or with a yogurt starter powder.
There are lots of different recipes for both methods online, but the following recipe uses ready-prepared or shop-bought natural yoghurt.
Homemade Yoghurt Recipe
You will need:
1 litre whole milk
1 heaped tbsp powdered milk
60 g natural full-fat yogurt
Method:
Firstly, bring the natural yogurt to room temperature.
Gently heat the milk in a saucepan to 45C, making sure it doesn't boil (use a thermometer if you have one).
Whisk in the powdered milk then stir in the yogurt.
Immediately cover the dish in clingfilm, and place somewhere warm such as an airing cupboard or next to an oven for 4-6 hours or overnight.
You can also wrap the dish in a towel to help keep it warm.
The next day, transfer to the fridge and leave to chill for at least 3 hours.
An easier way to make yoghurt at home could be to use a yoghurt maker such as the AmazonBasics Yoghurt Maker shown below. This yoghurt maker is very cheap and comes with seven 160 ml glass jars, which each provide an individual serving.

For more ways to reduce your usage of plastic, see our complete guide to using less plastic.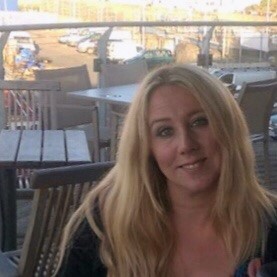 Clare began her career as a technical writer, but since having her boys has worked mostly from home writing content for various websites, including health and beauty and educational resource sites.