Tea bags appear to be made out of paper, but most of them actually contain small amounts of polypropylene, a plastic used to seal the tea bag together.
Polypropylene isn't biodegradable, so putting tea bags in your compost bin can lead to plastic pollution.
There are also concerns about plastic from tea bags leaching into tea, so lots of people are now looking to switch to using plastic-free tea bags.
Why Be Concerned About Plastic in Tea Bags?
Biodegradability
Tea bags containing plastic are typically only 70-80% biodegradable—the majority of the tea bag is made from biodegradable paper, but the remaining plastic won't decompose if you put it in the compost bin.
According to Tea.co.uk, Brits drink 60.2 billion cups of tea a year, 96% of which made using tea bags.
Even though plastic only makes up about 20% of each tea bag, this adds up to a significant amount of plastic pollution each year.
It's important to point out that plastic-free and biodegradable aren't the same thing.
Sometimes tea bags are labelled as biodegradable even when they contain small amounts of plastic, as EU law allows products to be classed as biodegradable as long as the plastic content doesn't exceed a certain limit.
Health
One of the most worrying things about the idea of plastic in tea bags is the possibility that the plastic could leach into your tea.
Polypropylene (the plastic used in tea bags) has a high melting point of about 130 °C, which means it probably doesn't leach plastics into tea. However, plastics also contain additives, which leak out over time.
List of Plastic-Free Tea Bags
Here's an alphabetical list of plastic-free tea bags you can buy in the UK.
This list isn't exhaustive—if you know another brand we should add, please leave a comment below.
Please note that while these teas are biodegradable, they aren't necessarily suitable for home composting as they can take around 12 weeks to break down.
1. Abel & Cole
Abel & Cole tea bags are 100% plastic free. They are made from soilon, which is a biodegradable material derived from starch that doesn't generate any harmful gases when broken down by microorganisms.
Abel & Cole are an organic food delivery company who are committed to using as little plastic as possible.
2. Brew Tea Company
All of Manchester-based Brew Tea Company's tea bags are 100% biodegradable and are made from soilon.
Brew Tea Company are a wholesale brand, but you can order individual packs of tea from their website.
3. Clipper
On the 20th of October 2018, Clipper switched all of its tea bags to plastic-free, non-GM, unbleached tea bags made from plant-based materials (abaca, plant cellulose fibres and PLA).
Their new tea bags are biodegradable and compostable to industrial standards, but not recommended for home composting.
See more info on Clipper's sustainability practices here.
4. Good & Proper Tea
The tea bags used by London-based tea brand Good & Proper Tea are 100% plastic free and compostable.
The tea bag boxes and inserts are recyclable and fully compostable.
5. NEMI Teas
NEMI Teas use plastic-free tea bags made from soilon, which is fully biodegradable. The labels and string are attached using ultrasound instead of glue, and the tea comes in biodegradable Natureflex packaging.
6. Pukka Herbs
Pukka Herbs tea bags are plastic free and use a stich of organic cotton and a unique folding method to keep their tea bags together, which removes the need to use polypropylene or a metal staple.
The tea bags are made from abaca, wood pulps and plant cellulose fibres.
7. Roqberry
According to the Independent, Roqberry tea bags are made from soilon, which is biodegradable.
Roqberry are a London-based tea brand whose teas have won several Great Taste Awards from the Guild of Fine Food.
8. Teapigs
Teapigs are the first tea brand to have been awarded the Plastic Free Trust Mark, which certifies that they are plastic free.
They are made from corn starch, and the packaging uses compostable Natureflex.
9. Twinings pyramid tea bag range
According to the BBC, Twinings' pyramid tea bags are free from plastic but other tea bags contain polypropylene fibres.
10. Waitrose Duchy range
Waitrose's Duchy tea bags are folded, removing the need for them to be sealed together with plastic.
11. We Are Tea
We Are Tea's tea bags have been plastic free for over 5 years now. They are made from biodegradable soilon and are sealed using ultrasound rather than glue.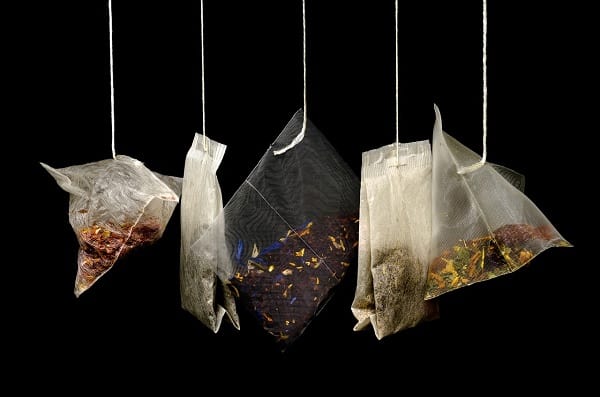 Are Plastic-Free Tea Bags Safer?
Unfortunately, plastic-free paper tea bags aren't necessarily completely safe.
Paper tea bags are often bleached to give them a clean white look which is considered more visually appealing than their natural colour, which is a light brown.
The bleaching process usually involves using epichlorohydrin or dioxins. Epichlorohydrin is a chemical made using chlorine that is also used as a pesticide, while dioxins are toxic chemicals that can cause cancer, among other health problems.
The levels remaining in tea bags after the bleaching process probably isn't enough to do much damage, but you might prefer to opt for unbleached tea bags instead.
The safest option is to drink loose tea and avoid tea bags altogether, though this isn't always convenient.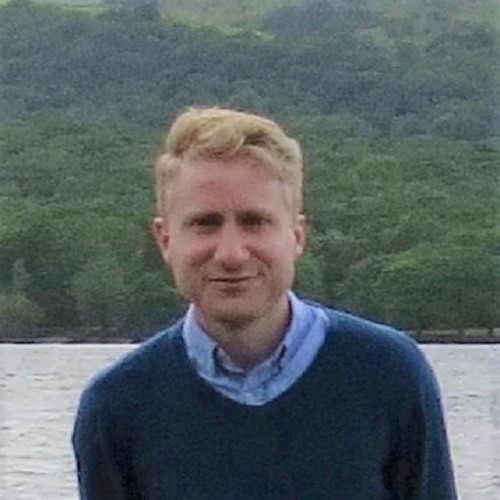 Laurence is the founder and editor of Naturaler. He's been working in the online world for over 5 years and is trying to live a more natural and eco-friendly lifestyle every day.