Tempeh (pronounced tem-pay) is a fermented soy product originating from Indonesia, made by fermenting soy beans then pressing them into compact cakes or patties.
Tempeh is often used as a meat replacement in vegetarian and vegan diets, as it contains a high level of protein similar to meat and dairy products.
However, it's not just vegetarians and vegans who can benefit from including this healthy and nutritious food in their diets.
In addition to being high in protein, tempeh is also rich in other nutrients including iron, calcium and magnesium.
It's also low in sodium, and contains probiotics which can help improve digestive health and cholesterol levels.
Those with a soy allergy should always avoid tempeh, and if you have a thyroid condition you may want to limit the amount of tempeh in your diet, as the goitrogen from the soybeans can interfere with thyroid function.
The taste of tempeh can vary depending on the manufacturer.
Some tempeh has a mild, nutty flavour, but it can also taste more fermented and 'cheese-like', so it's best to try a few varieties and see which you prefer.
Tempeh tends to take on the flavour of your cooking sauce, and with a chewy, meat-like texture it's ideal for dishes like curries or stews.
If you fancy adding tempeh to your diet, we've listed a few places you can buy it from below.
Unfortunately, tempeh is quite pricey in the UK—it costs about 50 times as much as it would in Indonesia according to this Vegan Society article!
Where to Buy Tempeh in the UK
1. Amazon
You can buy most things on Amazon, so it's not surprising that tempeh is one of them.
The most popular tempeh product on Amazon the last time we checked was Better Nature Organic Tempeh, which is sold in a pack of 4 or 5.
The packs are delivered chilled and come with eco friendly reusable ice packs attached. The tempeh can be eaten fresh for up to three weeks on arrival, and can also be frozen for up to three months.
The tempeh is delivered vacuum packed, and although this is not recyclable, the company is working on making it so.
They use a company called Pack who do their deliveries and offset 110% of their carbon emissions.
2. Asian supermarkets
It's worth looking for tempeh in your local Asian supermarket if you have one nearby (you can normally find out where your nearest is by doing a quick google search).
Although some health stores do sometimes sell tempeh, Asian supermarkets are usually much cheaper and can have more choice.
3. Buy Wholefoods Online
This online store based in the UK sells Better Nature Tempeh, which comes in a vacuum pack.
The company offers next-day delivery Mon-Thu if you order early in the day, and you can choose a subscription option which means you can get tempeh delivered regularly.
The Better Nature brand belongs to Indonesian/British company Better Nature Foods.
4. eBay
eBay has perhaps the biggest choice of tempeh. You can buy it in blocks of various sizes, or ready prepared in jars of sauce.
Buying larger blocks can certainly work out cheaper if you're planning to use bigger quantities.
Interestingly, you can also buy tempeh starter kits, so you can make your own tempeh at home!
The kits contain packets of starter cultures with full instructions on how to make tempeh, and according to reviews it's quite easy to do.
5. Ethical Superstore
This online eco-friendly and organic store sells jars of Yakso organic tempeh. Unlike some other retailers, you can order just one jar at a time rather than having to buy six.
This is good news if you want to try tempeh for the first time and aren't sure if you'll like the taste.
6. Ocado
At present, Ocado are only offering services to already registered customers, but this may well change-so check in with them.
Online British supermarket Ocado also sells tempeh, although there is less variety to choose from.
Many vegetarians say they miss eating bacon, and the good news is that Ocado also sells Tofurky Smoky Maple Bacon Tempeh, perfect if you're looking for a healthy, vegetarian alternative to a bacon sandwich (though unfortunately this product was out of stock the last time we checked).
The other tempeh product currently available from Ocado is tempeh in a ready-made Javanese coconut and lemongrass spicy sauce.
The minimum order for Ocado shopping is £40, so it's not the best option if you just want to buy a small amount of tempeh, but if you're doing your weekly shop online it's worth knowing that you can add it to your order.
7. Planet Organic
Planet Organic is an online shop founded in 1995, with a huge range of organic foods available.
Founder Renée Elliott's dream was to offer the best and widest range of organic foods available, and there are some great tempeh products available to buy from this site.
A lot of the tempeh products available from Planet Organic are already prepared and ready for you to cook with.
For example, Better Nature Minced Tempeh is ideal for Bolognese or chilli, and Tofurky Smoky Maple Bacon Tempeh is perfect as a bacon replacement in sandwiches or in a full English breakfast.
Be aware that there are delivery charges unless you spend over £50 on the site, so you might want to order a few more products if you want to save the delivery charge. There is also a minimum order of £25.
Can You Buy Tempeh in the Supermarket?
This is a good question. You cannot buy tempeh in Tesco within the UK currently, but you can buy tempeh in Sainsburys.
We recommend The Tofoo Co.Tempeh because it is organic and GM free. The soya beans come from the Netherlands, while the manufacturer is in the UK.
It comes in a box and may be recyclable, but the drawback compared to Better Nature Tempeh is that it cannot be frozen and it is thought the shelf life is a lot less.
Is Tempeh Healthy?
Tempeh is generally considered to be a healthy food since it's high in several nutrients and is a good vegetarian protein source.
It is fermented, which makes the soya beans used easier to digest and helps the body absorb more of the nutrition from soya than if soya beans were eaten whole.
Here are some of the health benefits of tempeh:
High in protein – Tempeh contains about 18 grams of protein per 100 grams, so it's a good vegetarian and vegan source of protein. For comparison, a beef steak contains about 27 grams of protein per 100 grams.
Good source of calcium – Tempeh is also a good vegetarian and vegan source of calcium. A 3-ounce serving contains about 12% of your RDI (recommended dietary intake) of calcium.
Contains probiotics – Tempeh is a fermented food that contains healthy probiotics (good bacteria), which help with digestion and may even improve mental health.
Contains important nutrients – Some of the important nutrients found in tempeh include iron, riboflavin, niacin, magnesium and manganese
Tempeh vs. Tofu
Tempeh and tofu are both made from soya beans. However, tempeh is made from whole beans, whereas tofu is made from beans which have been ground up.
Tempeh contains more protein than tofu: Tempeh has about 18 grams of protein per 100 grams, whereas tofu only has about 8 grams per 100 grams. This makes it a better meat substitute in vegan and vegetarian diets.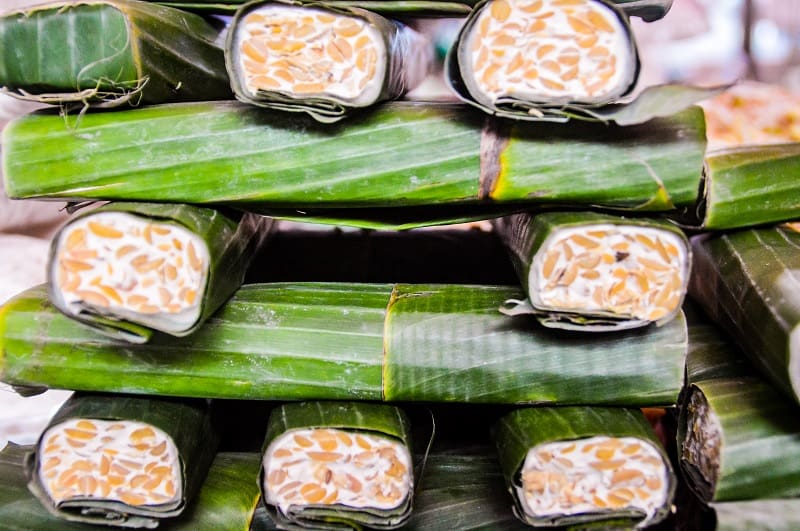 What Does Tempeh Taste Like?
Tempeh has quite an unusual taste that can take some getting used to.
Words commonly used to describe the taste of tempeh include 'nutty', 'earthy' and 'bitter'. Steaming tempeh should remove some of the bitterness and make it more palatable if you find it too bitter.
The texture is quite different to that of tofu. It has a firm texture, unlike the soft texture of tofu.
The taste of tempeh will vary from brand to brand, so if the tempeh you're eating tastes bad it might be worth trying a different brand. However, most people agree that tempeh is an acquired taste.
If you're not keen on the taste of tempeh, you can disguise it by adding it in small quantities to dishes. This can be a good way to add more protein to your diet.
How to Make Tempeh
Since tempeh is still quite hard to buy in the UK and can be expensive, you might want to making your own instead.
Homemade tempeh will typically be higher in probiotics as it isn't pasteurised.
The basic process of making tempeh is as follows:
Soak beans overnight.
Rub off the skins (de-hull them) and split the beans into halves. Drain the water.
Put beans in a pan and bring to the boil. Simmer until they are tender but not mushy.
Dry beans and let them cool.
Add vinegar and tempeh starter culture.
Put in plastic bag perforated with small holes (traditionally, banana leaves would be used). Seal bag. Alternatively, a glass container could be used.
Place between two chopping boards and leave in a warm place for 36 to 48 hours.
Let the tempeh cool.
Enjoy your tempeh!
The video below from Veganlovlie offers more detailed instructions for making your own tempeh.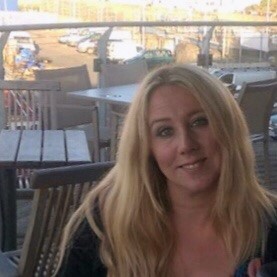 Clare began her career as a technical writer, but since having her boys has worked mostly from home writing content for various websites, including health and beauty and educational resource sites.