Non-toxic rugs and carpets are the healthier choice when it comes to decorating your home.
Sustainable, recyclable, and eco-friendly, these non-toxic rugs are grown without chemicals. They're created without potentially toxic glues and other chemicals and don't harm fragile ecosystems or kill wildlife.
If you'd like to know more about the dangers of regular rugs and carpets, please read our article on how they can be toxic here.
The real question is, where can you find an alternative?
How do you find these eco-friendly, chemical-free, non-toxic rugs that don't release harmful VOCs, don't harm the natural world, and don't break the bank?
Let us explain. We'll start by sharing which materials are the best choices for your eco-friendly rugs, share a few thoughts on what to avoid then guide you towards the best online vendors in the UK.
What Are the Best Natural Materials for Rugs?
When you're choosing a non-toxic rug, think carefully about the material you choose. They're not all created for the same type of environment, they vary in their eco-friendliness and some will fit with your interior design scheme better than others. Choose natural fibres where possible.
Here's a quick overview of the materials available and a few points you should bear in mind.
1. Wool
Wool is a renewable and sustainable material that can be a great option as an eco-friendly rug. Naturally stain-resistant, strong, and fire retardant, they can bring a touch of luxury and warmth to your interior. However, if you're an ethical vegan you might prefer not to use it.
If you'd like to use wool, look for non-dyed, non-chemically treated products.
2. Hemp
Hemp is a great material to use for a non-toxic rug as it is highly anti-bacterial, durable, lightweight and completely plant-based. It works like cotton, helping to keep a space warm in the winter and cool during the summer.
However, it can be harder to find rugs made of hemp, especially in the UK so you might need to do some research to find one.
3. Sisal
Sisal is a great choice of material for a non-toxic rug or carpet as it is grown without pesticides or fertilisers and extracted from the Agave plant. It's also highly durable and attractive.
4. Jute
Jute is one of the best biodegradable and recyclable natural materials used for rugs. It's also an affordable option that is easy to find in shops across the UK.
5. Bamboo
Bamboo is another excellent choice as it is usually grown without pesticides, it's biodegradable, and feels wonderful to the touch. It's less common to find bamboo rugs in the UK but it's worth keeping your eyes open for as it's a gorgeous material.
6. Recycled fabric
Many rugs are handmade using recycled fabric and using traditional techniques that go back centuries. These are an excellent eco-friendly choice as they are highly sustainable and zero waste too.
7. Coir
Coir is one of the lesser-known natural fibers which can be used for rugs and carpets. Made from the husks of coconuts, it is tough, water-resistant, and also a natural insect repellent! Moreover, it is low maintenance, 100% biodegradable, and is made from a renewable source.
Coir rugs and carpets are still relatively rare and can be a bit tough to find. Coir fades when exposed to direct sunlight, so even though it is durable, it is not recommended for outdoor use.
8. Seagrass
Seagrass is a water plant with non-porous fibers, it is hardy, durable, and stain-resistant. Seagrass cannot be dyed into a different color. Fresh seagrass is greenish but later mellows down to khaki as it ages.
What Should You Avoid?
Make sure you avoid synthetic materials such as polyester, rayon, and cotton (unless organic) as these are often grown using pesticides, herbicides, and other chemicals.
Also make sure that the rug has been created without glues, artificial backing materials, or any other treatments that could contain potentially harmful chemicals. If you'd like to know more, please read our article on potentially toxic rug materials here.
Where to Buy Non-Toxic Rugs in the UK
You'll be pleased to know that there are many places you can find eco-friendly, non-toxic rugs in the UK, although though it can often feel like they're hard to find. We've gathered together our favourite online rug companies to get you started.
1. nuLOOM
nuLOOM has come excellent rugs of different varieties to express your personal style.
They have some sophisticated jute rugs, such as this simple, durable, and handmade one which is made in India.
They also sell this simple runner is made with a mix of 95% jute and 5% wool.
nuLOOM also has some options in pure wool, such as this elegant rug made in India.
2. Second Nature Online
Second Nature Online makes ethically sourced, eco-friendly, and recycled rugs.
This hand-loomed rainbow rug made with recycled fabric is one of the best ones we came across. They also have a smaller version of it available.
Another rug that will go well with almost any home decor is this striped beige and off-white one made with recycled cotton and jute.
3. Homescapes

This zig-zag white and grey rug made of 100% hemp by Homespaces is one of our favourite ones on this list. It is simple, dignified, reversible, easy to clean, and available in different sizes.
Homescapes also has some other options such as this blue and red jute rug and this recycled cotton chindi rug.
4. Etsy
In our experience, Etsy is a fabulous place to find many eco-friendly items and it certainly doesn't disappoint when it comes to toxin-free rugs and carpets.
We highly recommend that you head over to their store and have a browse to find the perfect addition to your home. You'll find an excellent range including this stunning Berber Rug, this organic sheep wool rug, this attractive organic straw mat, and this organic handmade chindi rug.
5. iDesign

iDesign has some great options for Bamboo floor mats and rugs for kitchens and bathrooms.
These bamboo mats have a natural and aesthetically pleasing look. Moreover, they are anti-slip, so they're great for placing in the bathroom.
We recommend this 61 x 122 cm dark brown bamboo mat. It also comes in a light brown choice.
6. The Natural Rug Store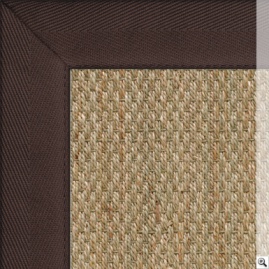 The natural rug store allows you to customize your rug and specify the exact size you want it in. You can also order complimentary samples before ordering your rug.
They also have a special INTEC stain protection option which you can apply at checkout.
This fine handmade seagrass rug is one of their best ones but they also have sisal, jute, wool, and coir rugs on their website.
7. Ollerton Rugs and Carpets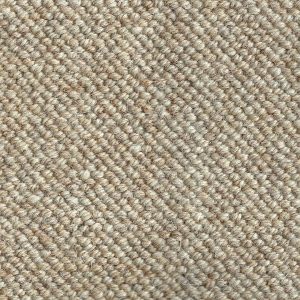 If you're looking for an eco-friendly toxin-free rug made from 100% undyed organic wool, make sure you check out the selection available at Ollerton Rugs. Although their website looks slightly tired, they do offer a range of minimalist rugs which are highly durable and look great.
Made from your choice of chunky, luxurious, delicate, or soft weave and backed with a low-environmental impact backing, they will help your floor become a welcoming surface for kids and adults alike.
8. Royal Design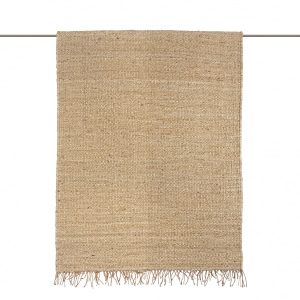 This rustic hemp rug from Royal Design is simple yet cosy. It is available in many sizes and other designs as well.
Royal Design also has some good wool rugs and jute rugs listed on their website.
9. Sisal & Seagrass
Sisal & Seagrass allows customers to make their own unique rug and border combinations for flooring. They even send over free samples for you to find the perfect material.
We recommend checking out their options in Sisal.
10. Coir Mats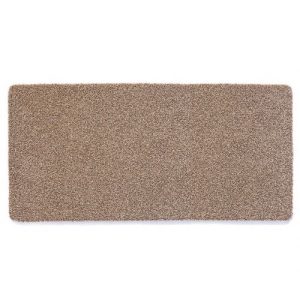 Coir Mats makes some great hand-finished mats from genuine coconut husks.
They have multiple standard mats to choose from and also make bespoke and printed mats.
We recommend their Hug Rug Outdoor Doormat which has tufts that are made from 100% polyethylene with a 100% recycled backing. The rugs are mold-resistant, UV-protected, and anti-stain.
Conclusion
To protect the health of your family and your pets, it's better to find non-toxic rugs.
Offering the same level of comfort whilst helping to protect the environment, reducing harmful chemicals and making your home look beautiful, they're the better choice for everyone.
Start your search with the companies we've suggested and find the perfect non-toxic rug for you home and family.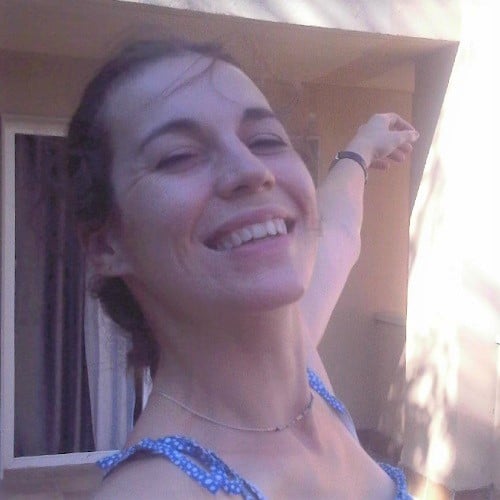 Charlotte Witts is a writer and entrepreneur who wants to show you how easy it is to live a more conscious, zero-waste lifestyle. A confirmed yoga-addict, trail runner and ocean-lover, she currently lives in the Azores where she enjoys the simple pleasures in life.