Figuring out where to buy raw milk in the UK can be confusing.
By law, it can't be sold by a third party seller (such as a shop or supermarket) but must be sold directly by the farmer to the customer – this can take place at the farm itself where the milk is produced, at markets, or in a milk delivery service.
Raw milk can only be sold from specially licensed dairies that adhere to special labelling rules and undergo regular testing to check for harmful bacteria and disease.
Most people in modern times are no longer familiar with their local food producers; supermarket shopping has created a divide between farmers and consumers, and it can be tricky knowing where to look for a local supplier or where you can get your hands on some raw milk.
With the help of the internet, there are plenty of resources to help find the nearest raw dairy to you, or even to buy online.
But, you may be asking yourself, why buy raw milk in the first place?
And why can't it be sold in shops?
Prior to the 1950s, everyone drank raw milk, but after a major outbreak of tuberculosis passed on from the cows to humans, untreated dairy was widely restricted.
Most of the milk available these days is pasteurised – that is, heat-treated to kill any harmful bacteria.
During the pasteurisation process, milk is typically heated to 63°C for 30 minutes, or 72°C for 15 seconds.
The high temperatures involved kill pathogens that can cause food poisonings, such as salmonella, campylobacter, and E.coli.
It also creates uniformity in the product, but raw milk advocates argue that pasteurisation removes many of the health benefits found in dairy.
The British Food Standards Authority (FSA) warns that raw milk presents a risk of health complications and food poisoning, saying that it should not be consumed by those with weakened or undeveloped immune systems, including pregnant women, children, the elderly, and those who are already sick.
Before the rise of pasteurised milk, one-quarter of food-related illness was caused by milk, but that number has now shrunk to 1% of foodborne illnesses, according to The Guardian.
Half of all milk-related food poisoning cases in the UK between 1992 and 1999, were the result of raw milk, although none of these cases resulted in death.
Despite these warnings, sales of raw milk are up in urban farmers' markets.
"The fashion not so long ago was for cheap food," Tim Jones of Lincolnshire Poacher told The Telegraph. "Now people want quality. They want to feel connected to the land."
Thomas Cowan, a doctor from San Francisco, added that there may be an element of economics involved in the promotion of pasteurized milk:
"In order to produce raw milk, you need healthy cows, which precludes big business. You can't raise a healthy cow on anything but pasture. The giant dairies keep cows on concrete and feed them grains, soya, and sometimes even meat; they turn them into factory animals. And then the cows get sick. You couldn't drink raw milk from those herds."
According to raw milk proponents, there are a host of nutrients available in fresh dairy that don't survive the pastreurization process:
Raw milk is thought to have 10% more vitamins and at least 25% more vitamin C, which is vulnerable to heat. It also aids in the absorption of minerals, such as calcium.
Raw milk contains nutritional whey proteins and amino acids that are otherwise destroyed by heat.
Raw milk drinkers are thought to suffer from fewer allergies than pasteurized milk drinkers.
Raw milk contains enzymes to make it more digestible. It can alleviate lactose intolerance.
Raw milk contains Omega-3 fatty acids since the cows are grass-fed.
Raw milk contains healthy gut bacteria.
Most raw milk dairies in the UK are located in England and Wales.
Raw milk sales are legal in Northern Ireland, but there are no licensed producers there.
Sales are completely banned in Scotland, although some English and Welsh farms offer deliveries to addresses there.
Buying Locally
There are small farms and suppliers that sell raw milk all over the country; Britain has around 200 registered suppliers.
Buying direct can be the best way of ensuring that you know exactly what you are getting – to see for yourself what conditions the animals are kept in and speak directly to the farmer about their approach to agriculture.
Visiting the farm is always going to be the best way to get the freshest possible food and drink, milk and otherwise, and you can make a day trip out of it, too!
Cutting out the middleman, such as the supermarket, often results in less packaging and better value, while making sure that the farmer gets a fair price for their product.
Farmer's Weekly magazine has put together a map of farms selling milk directly to the public, including both raw and pasteurised milk suppliers.
If you are looking for raw milk only, try this website for a directory of sellers in the UK and Ireland.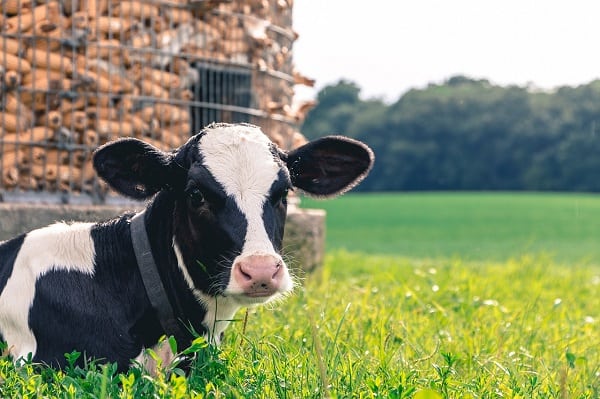 Ordering Online
1. Hook & Son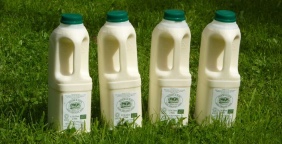 Phil and Steve Hook are a father and son team who have run Longleys Farm in Sussex since 1991.
Hook & Son's Friesian Holstein cows are grass-fed, with the addition of organic sunflower, linseed, pea, bean, and molasses into their diet.
They graze outside when weather permits, and move inside during winter. The farm is certified organic by the Soil Association.
Their shop sells and delivers raw milk, raw butter, and ghee (clarified butter), as well as various pasteurised products.
Orders are typically taken a few days (3-6) in advance of packing and delivery, so it is necessary to plan in advance.
The farm offers local milk round to residents in the Hailsham, Hellingly, Alfriston, Berwick, Dicker, Eastbourne, Pevensey, West Ham, Polegate, and Willingdon areas. A once-per-week delivery is available to people living elsewhere in England, Wales, and most of Scotland.
National delivery requires minimum orders of 10 pints, so it is best for people who consume a lot of milk, or who can set up a shared order with their friends or family. The delivery charges are calculated on the basis of weight and some postcodes may have an additional charge.
For national delivery, the milk is cooled to 2°C and packed in insulated cardboard and polystyrene (they are willing to take back and reuse the polystyrene) to maintain freshness – milk is packed in glass bottles for local delivery and plastic poly bottles for long-distance shipping.
The milk lasts 5-7 days in the fridge and may last longer if frozen.
2. Gazegill Organics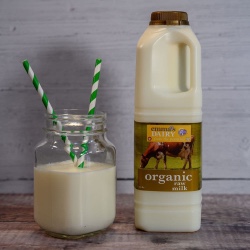 Gazegill Organics is a family farm that is said to have worked the same land for 500 years.
Owned by the Robinson family, the farm keeps organic, free-range, Shorthorn cows.
They have a strong focus on animal welfare and are part of the higher-level environmental stewardship scheme with Natural England.
Their cows are kept outside on a natural pasture during the summer months, feeding on a range of different plant types, with the additional feed of non-GMO peas, beans, and pulses in small amounts.
The dairy is in Rimington, near Pendle Hill, and the farm spans across the Pennine Lancashire and Yorkshire borders.
The farm is licensed to sell raw milk, although they also supply a range of other organic products including their own grass-fed meat, as well as deli products from other suppliers.
When it comes to raw milk, Gazegill offers a weekly, fortnightly, or monthly subscription service in amounts ranging from 8 litres to 15 litres per delivery.
If you're not prepared for a regular order, you can make a one-time order of raw milk (minimum 6 litres) or raw cream. They offer next-day delivery which is free at a purchase of £40 or more.
3. Real Raw Milk
Real Raw Milk is a Cheshire-based family farm run by Andrew and Lucy Hollinshead.
They raise a variety of cow breeds (mostly Shorthorn) and sheep, selling both meat and dairy.
They sell raw milk in one-litre or two-litre bottles, available at local events or by delivery.
For online orders, delivery charges are discounted based on the order value.
One standout feature of Real Raw Milk is their raw milk kefir – a fermented drink and a potent probiotic!
They also sell a good range of raw dairy products, including cream, butter, buttermilk, and Greek-style yoghurt.
4. Hill Farm Real Food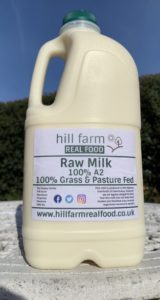 The Hill Farm is a family-run farm in Tarporley, managed by Tim and Elaine Aidley and their sons. 
Hill Farm aims to produce natural and healthy food by working with nature and following organic guidelines. They have raw milk, kefir, meats, eggs, fruits and vegetables, and even honey!
Their cows are a mix of Jersey, Friesian, and Ayrshire breeding. Their diet consists of a diverse range of grass types, herbs, legumes, and tree browse.  
The most unique thing about Hill Farm's raw milk is they carefully select cows that only produce A2 milk. This means that their cows carry the A2A2 gene. 
Their cow milk contains 100% A2 protein and no A1 protein. Most mammals, including humans, produce A2 protein in their milk. People who have discomfort drinking normal cow milk are said to experience almost no issues drinking A2 milk.
They deliver nationwide, have free local Delivery available in parts of Cheshire and you can also choose to collect your order from the farm. The normal courier charge is discounted with higher quantity orders.
5. Hurdlebrook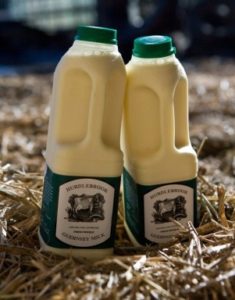 Dave and his partner Rosie run the Olive Farm in Babcary with over 200 Guernsey cows.
The Guernsey breed is quite rare. They were first bred on the British Channel Island of Guernsey but believed to come from two different breeds brought from France. 
Its raw milk has a golden colour and a silky but thick texture. They produce 95% A2 beta caesin (protein) which makes it suitable for people who otherwise experience discomfort drinking A1 protein milk.
Their raw milk can be bought directly from their farm or from markets and online stores. Check this page for a list of markets they supply in. They ship once a week and you can place your order in advance through their website.
6. Kimber's Farm Shop
Kimber's Farms and Farm Shop is based in Somerset and run by Paul and Ruth Kimber, with help from their children.
Not strictly an organic farm, they stick to traditional methods where possible, using fertilizers, herbicides, etc., only when necessary.
Animals are fed on grown wheat, maize/grass silage, and meadow hay.
As well as dairy cows, the farm has beef and veal cows, sheep, pigs, and a range of poultry birds.
The Kimbers raise Holstein, Shorthorn, and Friesian dairy cows that are free to graze during the summer months, with some additional feed – though without the use of growth promoters.
Much of their milk is sold to Wyke Farms and Somerset Dairies, although they also sell their raw, unpasteurised milk directly at the farm shop, farmers' markets, and online.
Kimber's sells a range of meat, hampers, and groceries that come from their own farm as well as other suppliers.
Delivery is available in the mainland UK. Their raw milk is sold in 1 litre or 2 litre bottles and was awarded a gold medal by Taste of the West, 2015.
7. Straight From The Cow
Straight From the Cow keep a herd of only 30 milking Friesian and Montbeliarde cows, as well as beef cattle, pigs, and chickens.
They operate out of Carpenters Hill family farm, in Worcestershire.
The milking cows are kept free-range and fed on the grass during the warmer months, and on silage, or fermented grass, during the cold weather.
While they aren't a certified organic farm, Carpenters Hill follows organic guidelines where possible and does not use unnecessary hormones or antibiotics on their animals.
They also avoid using pesticides and herbicides on fields where the cows feed.
For local customers, milk is available for purchase from the farm, markets, and direct deliveries.
For customers across England, Wales, and Scotland, raw milk can be ordered as a one-time delivery or a standing order. The delivery charges are additional and there is a surge for certain areas.
It is packaged in plastic bottles and shipped in wool lined-boxes, with an icepack for freshness.
8. Udderly Fresh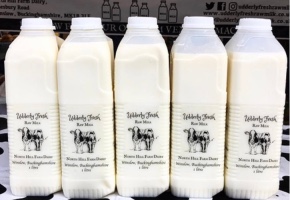 The Barker family has been producing milk on North Hill Farm since 1978. The farm is based in North Buckinghamshire just outside Winslow, managed by Ian Barker and his son Jim. 
The herd is made up of 170 Friesians and Norwegian Reds. Although the raw milk produced is not organic, the cows are healthy and grass-fed. 
The Udderly fresh farm shop sells raw milk through vending machines. 1 litre and 2 litre glass bottles are available for purchase. They also have a raw milk milkshake bar and coffee station.
While purchasing online, customers can choose from 3, 5, 10, 15 or 20 litre options on their website.
Conclusion
With all the controversy surrounding raw milk, it can be a struggle deciding whether to go ahead and try it or not.
One benefit UK customers have is that the FSA enforces regular and stringent testing on all registered raw milk sellers, to ensure the experience of trying unpasteurised milk as is risk-free as possible.
Whether you choose to build a relationship with your local farmer or opt for the convenience of online delivery, raw milk is available all across Britain.

Naturaler is a UK website full of tips and recommendations for living a more eco-friendly, chemical-free and natural lifestyle.