You've probably heard the term "superfoods" used more and more over the last few years.
Superfoods are considered to be any food that's especially good for our health, providing additional nutrients that can potentially reduce the risk of certain diseases.
You may already include some of these foods (such as berries, kale, fatty fish and lentils) in your diet. But there's a superfood full of health benefits that you might not be as familiar with.
What Is Unpasteurised Sauerkraut?
Unpasteurised sauerkraut is made by a process called lacto-fermentation.
Like all vegetables, cabbage has beneficial bacteria found on the surface. When submerged in brine, the good bacteria convert sugars in the cabbage into lactic acid, and the harmful bacteria are wiped out by the salt.
The fermentation process creates conditions that are perfect for the growth of helpful probiotics (live bacteria and yeasts that are beneficial to our health).
If heat is applied to the cabbage, the beneficial bacteria created by the fermentation process are destroyed. This results in pasteurised sauerkraut.
The Origins of Sauerkraut
Sauerkraut has been around a long time, and the origins of this food can be traced back to labourers building the Great Wall of China over 2,000 years ago, who began fermenting shredded cabbage as a food source that could be stored throughout winter.
Ghenghis Khan brought it to Europe 1,000 years later, and the Germans named it sauerkraut (which translates to "sour cabbage").
Where to Buy Unpasteurised Sauerkraut in the UK
Abel & Cole
Abel & Cole have been selling organic fruit and vegetable boxes for nearly 30 years, and they now sell organic, unpasteurised sauerkraut in 520 g bags online.
This sauerkraut is made by organic food brand Profusion, and is perfect to add to salads, or to eat as a side dish. This sauerkraut will need to be stored in a fridge and consumed within 3 days.
Amazon
There are several varieties of unpasteurised sauerkraut available to buy from online retailer Amazon.
The Sauerkraut Company's award-winning barrel-aged Traditional Sauerkraut
can be bought in 500 g jars (with free delivery), and will last 10-15 days in the fridge once opened.
This crunchy, zingy sauerkraut is made traditionally with no chemicals, additives or preservatives, and simply contains white cabbage and mineral rich Himalayan pink salt.
Amazon also sells Loving Foods Organic Sauerkraut in 500 g jars. Loving Foods are certified as an organic manufacturer by the Organic Food Federation, and the company never heat treat any of their products so that all of the beneficial bacteria and nutrients remain.
Loving Foods
Loving foods also sell a wide range of organic unpasteurised sauerkraut on their own website.
As well as classic sauerkraut, you can try interesting varieties such as caraway and juniper berry, winter warmer (made with red cabbage) and Spanish-style cortido flavour (with added red chillies, carrot and oregano).
Each variety is organic, raw and unpasteurised, and made in the UK from locally sourced ingredients. The website also has lots of interesting serving suggestions and recipe ideas using sauerkraut.
Ocado
Online supermarket Ocado stock Organic Raw Fresh Sauerkraut, which is unpasteurised. Each pack contains 410 g of unpasteurised sauerkraut in a recyclable tub.
This smaller sized tub might suit smaller households, but you will still need to eat it within 3 days of opening.
Ocado charge for delivery, so you might want to add this sauerkraut to the rest of your online grocery shop rather than ordering it individually.
Planet Organic
Planet Organic is a one-stop shop for organic groceries, and they also stock Organic Raw Fresh Sauerkraut Unpasteurised in 410 g tubs. Planet Organic offer both standard and next day delivery.
Can You Buy Unpasteurised Sauerkraut in Supermarkets?
It's currently quite difficult to buy unpasteurised sauerkraut in most of the main supermarkets in the UK, and if you do find sauerkraut in a supermarket it's likely to be pasteurised.
High street health food store Holland and Barrett don't currently sell unpasteurised sauerkraut, although they do sell Biona Organic Kimchi, also made from fermented cabbage. Biona is an organic company here in the UK. Unfortunately it is not unpasteurised.
Tesco also sells Biona Organic Kimchi and also Biona Organic Sauerkraut. Unfortunately, Aldi do not. Other supermarket options are Sainsbury's who sell sauerkraut, but not the unpasteurised variety.
Health Benefits of Unpasteurised Sauerkraut
Eating unpasteurised sauerkraut has numerous health benefits, including improving digestion and boosting immunity.
It's important to eat the unpasteurised variety of sauerkraut to really benefit your health.
Canned, pasteurised sauerkraut might be easier to find in a supermarket, but the beneficial bacteria produced during the lacto-fermentation process are killed during pasteurisation, along with other nutrients such as Vitamin C.
Here are just a few of the benefits of eating unpasteurised sauerkraut: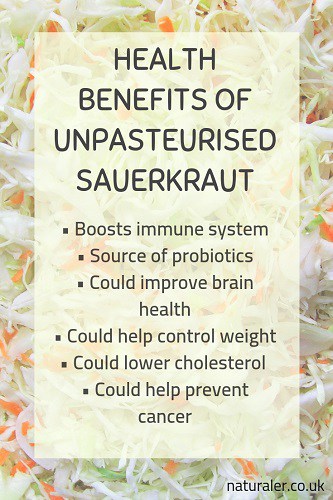 Making Your Own Sauerkraut
If you're struggling to buy unpasteurised sauerkraut, you can always try making it yourself. Making your own sauerkraut is surprisingly easy and cost-effective too.
You'll need:
1 medium white or red cabbage
1-3 tbsp. sea salt
Spring or distilled water (tap water may be too hard)
Method:
Wash the cabbage and remove the outer leaves.
Using a large knife, chop or shred cabbage and place in a large bowl. Sprinkle with the salt.
Using tongs, a potato masher or clean hands, knead the cabbage until it starts to break down from the salt and there is enough liquid to cover.
Transfer the broken-down cabbage to a clean glass jar, pressing the cabbage underneath the liquid using a wooden spoon. Add a little extra water if required.
The cabbage near the surface of the liquid tends to float, so place a large outer leaf of cabbage over the surface of the shredded cabbage to hold it down under the liquid during the fermentation process. Or you can try using a jar with a tight, airlock lid (release excess pressure daily if using this method).
Culture at room temperature for around 2 weeks.
Once the sauerkraut is ready, put a tight lid on the jar and move to the fridge to store.