If you haven't already heard of low-poo shampoo, then it might sound a little strange.
Shampoo described as "low-poo" means it's free of sulphates, silicones and other harsh chemicals.
Any form of shampoo that is made from natural ingredients and is free from sulphates and silicones can be referred to as "low-poo".
In its purest form, it can refer to washing your hair only with water, or with raw ingredients such as coconut oil and honey.
However, you don't need to go this far to enjoy the benefits of natural hair, because there are products out there specifically designed to clean and care for your hair without any of the synthetic ingredients in regular shampoo.
Why Switch to Low-Poo Shampoo?
Regular shampoos containing harsh chemicals can strip your hair of its natural oils and require more regular washing. Because there are no harsh chemicals in low-poo shampoos, they will clean your hair gently without stripping it from any of its natural shine.
The Environmental Working Group (EWG) has researched the toxicity levels in a range of commercial shampoos which explain why they can be bad for you, and what the potential risks of exposing yourself to these ingredients are, ranging from allergies to cancer.
When you read the bottle, you probably wouldn't recognise half of the ingredients in most shampoos.
All these synthetic ingredients are chemicals that don't need to be there. It is possible to have healthy, shiny hair that looks and smells great without them.
Be careful not to choose your hair care products by the look of the bottle and smell of the shampoo alone and remember to check the ingredients on the label.
If we are being environmentally conscious, we aim towards zero waste. This is where shampoo bars are miraculous. They are often super concentrated and equivalent to three shampoo bottles. Saving a whole lotta waste, not to mention often coming in little packaging, if any. They also tend to be low-poo with concentrated ingredients that do not cost the earth.
A good fail safe to go with is baby shampoo. Baby's skin is more delicate, and products designed for them are naturally low-poo. However, still check the label!
Some of the main kinds of harmful chemicals found in regular shampoos are:
Parabens
Formaldehyde
Sulphates – which have been linked to a range of health concerns form dermatitis to cancer.
Fragrance – one of the main causes of allergic reactions.
If you enjoy using shampoo to make your hair look and smell great, but don't want to use chemicals to clean your hair, then this list of low-poo shampoos is bound to give you inspiration on which natural shampoo is best for you.
Best Low-Poo Shampoos in the UK
1. Noughty Wave Hello Curl Defining Shampoo
Noughty aims to create simple products that don't come at the price of the planet. All of their products are made with 97% natural ingredients.
This gentle shampoo is perfect for waves, curls, kinks or coils. It is suitable for everyday use and tames the tresses.
Apart from being sulphate and silicone free, it is also free of parabens and has never been tested on animals.
The shampoo has sodium lauroyl methyl isethionate derived from coconuts which give it its lathering and cleansing properties. Other important ingredients are sea kelp which is high in vitamins and minerals, avocado oil, and chlorella extract.
This shampoo is one of the most affordable shampoos reviewed on this list.
Noughty has a few other low poo variants for fizzy and damaged hair, for fine or limp hair, for color-treated hair and for dandruff-prone hair.
2. Natural Clarifying Shampoo by POO FREE
POO FREE was started by two friends who wanted to create natural and non-toxic products because of their children who had sensitive skin and long hair.
This shampoo is pH balanced, it is gentle on the hair but quite concentrated. It is also free from sodium, sulfates, parabens, palm oil, alcohol, mineral oil, and silicones.
It contains apple cider vinegar, coconut, tea tree, and eucalyptus which are ingredients that gently clean the scalp. These ingredients hydrate itchy, flaky, and irritated scalps and make them healthier.
This shampoo creates less foam than conventional shampoo. So wet your hair properly before shampooing and remember to use water to lather. Wash out with warm water.
POO FREE's products are 99% plant-derived. They also use minimal, recyclable packaging.
POO FREE also has a range of products for pets including cats, horses and dogs.
3. Imbue Curl Liberating Sulphate Free Shampoo
This moisturizing and cleansing shampoo by Imbue Curl is suitable for all types of curls. It is completely vegan and infused with natural oils/butters.
Apart from being sulphate and silicone free, this shampoo is also free from parabens, SLS/SLES, drying alcohols, and mineral oils/waxes.
Owing to the coconut and cupuaçu, shampoo has a hydrating effect on your hair. It is also 100% curly girl compliant.
The shampoo has a pleasant and gentle smell. It also leaves your hair feeling light.
Imbue's motto is to celebrate curls and liberate them instead of curtailing curls. So if you have curly or coily hair, this is the perfect shampoo for you.
4. Green People Daily Aloe Shampoo
A natural shampoo for all hair types, this product is suitable for those with sensitive skin. This shampoo is free from most harmful ingredients including parabens, alcohol, synthetic fragrances and phthalates.
This shampoo is made from natural ingredients such as aloe vera, which is known for its soothing, healing and moisturising properties; and lavender, which has antiseptic and anti-inflammatory properties and a calming natural aroma.
This shampoo is suitable for vegans, is certified organic and is fairly traded. You will recognise the sources of all the ingredients on the label.
5. Cantu Shea Butter for Natural Hair Shampoo and Conditioner
Cantu Shea Butter Shampoo is made from 100% shea butter. It's a cleansing and hydrating shampoo that is free from sulphates, silicone, parabens, gluten, and mineral oil
With the capacity to remove heavy build-up without the use of harsh chemicals, this shampoo is a great natural alternative for those who use products on their hair such as hairspray or wax.
Especially suitable for curly or wavy hair, this shampoo is restorative and prevents breakage. Cantu Shea Butter Shampoo naturally adds moisture back into your hair, leaving it stronger and with a natural shine.
6. BEES of BRITAIN Moisture Boost Natural Shampoo
BEES of BRITAIN is a company founded by a 17-year-old in 2017 as part of his A level project. The brand generates profits to support bees, and claims to use wholesome ingredients in their purest forms that help bees and other pollinators survive.
The pH of this shampoo is balanced at 5.2-5.7 sensitive skin. The lavender oil added improves blood circulation and prevents hair loss while the castor, moringa and argan oil moisturise and give a shine to hair.
The shampoo is free from SLS, parabens, triclosan, phthalates, palm oil, fragrances, mineral oils, sulphates, and silicone.
Like the shampoo from POO FREE, this shampoo produces less lather than conventional shampoos and requires a small amount of shampoo and a lot of water when washing your hair.
7. Burt's Bees Baby Bee Shampoo and Wash
This poo-free shampoo is made specifically with babies in mind. Burt's Bees are reliable for making organic cosmetics with natural ingredients, now with natural shampoo to add to the list.
Because a newborn's skin is 20-30% thinner than adult skin, it is even more important to use gentle, natural products.
This tear-free shampoo also comes with a mild baby wash, made from natural, plant-based ingredients for sensitive skin, including Soy Proteins which naturally nourish the skin.
With a light, apricot scent, Burt's Bees Baby Bee Shampoo is paediatrician tested so you can rest assured that it's scientifically proven to be safe for daily use.
It's also made without phthalates, parabens, petroleum or SLS.
8. Handmade Naturals Herbal Shampoo for Sensitive Skin
Handmade Naturals Shampoo is made with natural ingredients such as coconut, jojoba, chamomile, calendula, rosemary and sage to create a nourishing, great smelling shampoo designed for sensitive skin.
Using coco glucoside, the mildest sugar detergent means this shampoo will be kind to your skin.
Handmade Naturals does not contain essential oils, which is great for those with allergies, and for use during pregnancy.
It is also free from parabens, sulphates, perfume, and all synthetic materials, using only natural botanical extracts instead.
This is the mildest detergent on the list and is suitable for vegans.
Low-Poo Shampoo in Supermarkets and Chemists
There are lots of low-poo shampoos available online, but they can be harder to find in supermarkets such as Tesco and chemists such as Boots.
Luckily, there are a few low-poo products available on the high street and in major supermarkets.
While these products are free from sulphates and silicones, they still contain several potentially problematic ingredients, such as artificial fragrance. This means they may not be suitable for the Curly Girl Method.
What Is the Curly Girl Method?
The Curly Girl Method is a popular way of taking care of curly hair naturally-helping it to look it's curly best. The Curly Girl Method is sometimes abbreviated to CG Method or simply CGM. It's an option to make the transition towards no-poo (100% natural) products.
The Curly Girl Method involves avoiding:
Shampoos containing sulphates
Brushes and combs (especially fine combs)
Heat styling
Haircare products that containin sulphates, silicones, alcohol and fragrance.
Many people find that by following this method, they are able to retain natural curls, minimise damage to the hair follicle, reduce dryness and reduce exposure to potentially harmful chemicals.
Low-poo shampoos are generally suitable for the Curly Girl Method since they are free from sulphates and silicones. Some people skip shampoo altogether, and just use a Curly Girl suitable conditioner.
Although this haircare technique has been around for a long time, it became more popular in 2001 when hairstylist Lorraine Massey published her best-selling book "Curly Girl: The Handbook".
When you start transitioning to the Curly Girl method, you might notice that your hair feels greasier than normal in the beginning because of the lack of sulphates in shampoo.
Fret not! After a week or two, your hair follicles will soon rebalance. The result will be: softer, shinier hair with less frizz and more bounce.
If you're not keen on the greasy look, you can simply transition gradually. Minimise your regular shampoo each week, until you no longer use it.
How to Do the Curly Girl Method
1. Cleanse
Wet your hair then add conditioner to your scalp. Massage well with your fingertips to stimulate the blood flow in your scalp and lift residue, sweat and oil.
For curly hair, you should do this every 7-10 days.
For wavy hair, you can apply a sulphate-free shampoo once per week after conditioning.
For coily hair (super voluminous with very tight curls) then you should avoid cleansing as much as possible. Simply wet your hair and go straight to step 2.
2. Condition
Next, you need to apply conditioner thoroughly to your hair.
For curly hair, rinse out the conditioner as much as you like. The more coily, the more you should rinse.
For wavy hair, don't rinse completely and leave a protective layer of conditioner still in your hair.
For coily hair, wrap your hair in a towel and leave it for 15 minutes to allow your hair to absorb the moisture. Rinse completely.
3. Dry and Style
Next carefully dry your hair with a towel, making sure you don't disturb your curls. Then leave to air dry.
Once dry, you can style as you wish. Great options include adding a small amount of gel and scrunching, tipping your head over and fluffing to create more lift.
Which Products Can you Use with the Curly Girl Method?
You should always avoid products that contain sulfates, fragrance, silicones, alcohol and fragrances when following the Curly Girl Method.
Instead, choose planet-friendly products which contain gentle oils such as shea butter and olive oil to nourish your hair in the way it deserves.
Low-Poo vs. No-Poo vs. Co-Washing vs. Curly Girl Method
The different terms can be confusing, so here's a quick guide to the differences between the 'no-poo' washing options.
Low Poo
Low poo refers to the practice of using shampoos that don't contain sulphates or silicones.
Sulphates are chemicals that are added to shampoo to create foam but can be harsh on the skin and hair and strip away natural oils. Silicones add shine to your hair but can build up and leave your hair feeling sticky and looking dull.
Low poo is a great option if you can't face ditching the shampoo just yet, but you want to reduce your exposure to chemicals that can be bad for your hair.
No Poo
The 'No Poo' method means that you don't use synthetic shampoo at all.
Instead, you can use pure water, baking soda and vinegar, honey, oils or even seaweed powder. This depends on your hair type, your culture and your personal preference.
It's based on the idea that synthetic shampoos are just a product of our culture and only remove the natural oils from our scalps and potentially causes irritation.
This encourages your scalp to create more oil to compensate with you then need to remove using shampoo. It's a vicious cycle that can take time to break.
If you choose to go 'No Poo' you should be prepared for a few weeks when your hair will look and feel greasier than normal. This can be anywhere between two to six weeks, depending on how oily your hair is.
There is a way of going no-poo successfully, without having to resort to vinegar or baking soda! Deva Curl No-Poo Cleanser is specifically made to use as a conditioner which also cleanses. It takes the place of shampoo and can be used for the CGM. Therefore, it has no 'poo' ingredients. It has been extremely popular, and particularly suited to those looking for 'weightless moisture'. We imagine this to be good for fine wavy hair.
If you do go down the baking soda and vinegar route, the No Poo Method helps you move closer to living a zero-waste lifestyle. It can also reduce your use of plastic, as well as exposure to potentially harmful chemicals, and it can save you money too.
If you can bear the initial few weeks as your hair adjusts, it is a great easy way to keep your hair looking good.
Co-Washing
Co-washing refers to using just conditioner, rather than shampoo, to wash your hair.
It works brilliantly if your hair is Afro, mixed-textured, very curly of extremely dry as it helps your hair retain its natural moisture and so become softer, shinier and more attractive.
[If you have curly hair, it's also worth reading the section on the Curly Girl Method above for more low poo hair care tips.]
Instead of using shampoo, you apply conditioner and massage well into the scalp to help remove any residue. Then rinse, dry and style as required.
Of course, you can follow up with a further condition, however this depends on your hair type. If you have extremely dry hair, this would handle a second application of conditioner. However, most people will only need one application of conditioner as a shampoo.
For best results you should avoid silicones and instead opt for natural conditioners which are free from synthetic chemicals.
If you're not ready to ditch shampoo altogether, you might like to one of the clever co-wash hair products which offer a natural conditioning product blended with a small amount of cleanser.
Curly Girl Method
The Curly Girl Method is a more comprehensive approach to haircare, hence the word 'method'. It involves avoiding sulphates and silicones, which means that no-poo, low-poo and co-washing can all be used.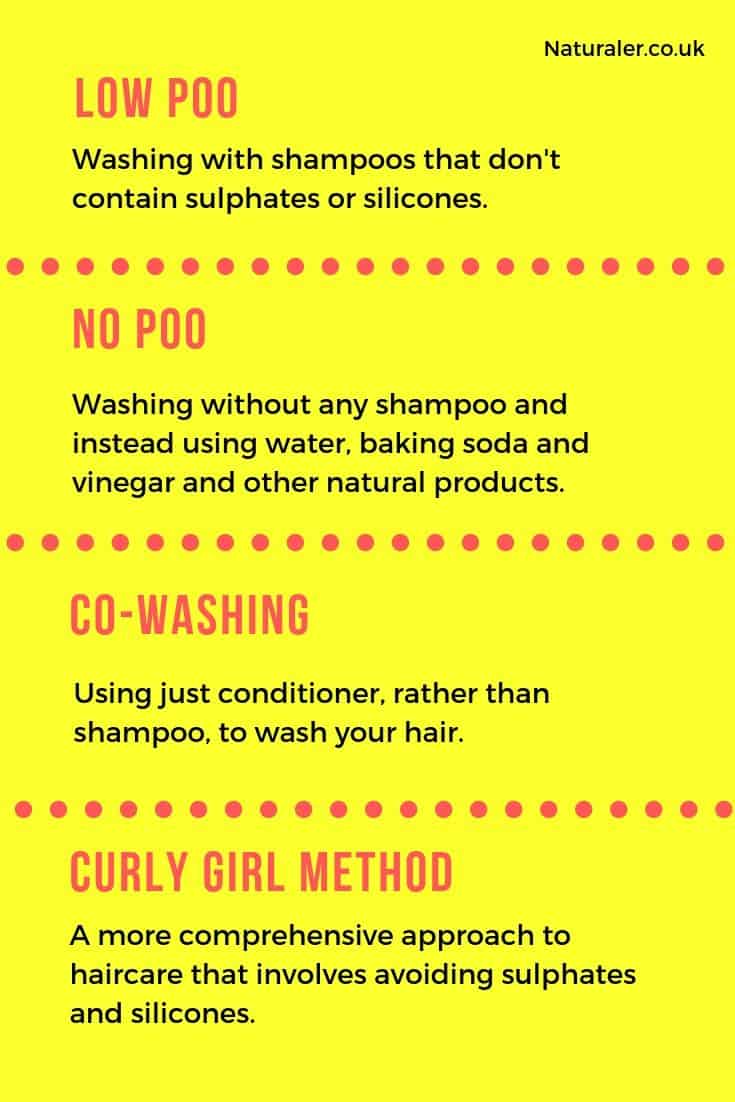 Conclusion
All of these shampoos are made with natural ingredients that are gentle and nourishing.
If we had to pick just one to recommend, it would be Noughty Wave Hello Curl Defining Shampoo as it is gentle on the hair, affordable and .
These are just some of the great low-poo shampoos available. No matter which one you try, you can now have healthy, great smelling hair without having to put up with all the harsh chemicals that synthetic shampoos contain.

Naturaler is a UK website full of tips and recommendations for living a more eco-friendly, chemical-free and natural lifestyle.