It's important to protect your skin when you're out in the sun, especially if you're exposing yourself to powerful UV rays for long periods of time.
Sunscreen helps protect your skin by deflecting or absorbing some of the sun's UV rays, helping to prevent sunburn and skin cancer.
While popular sun creams are very effective at minimising burning, some of the chemicals they contain could have harmful effects on both our health and the marine environment (if we swim in the sea).
Here are some of the best natural and organic sunscreens available in the UK.
The Best Organic and Natural Sunscreens in the UK
1. Green People Edelweiss Sun Lotion with Natural Tan Accelerator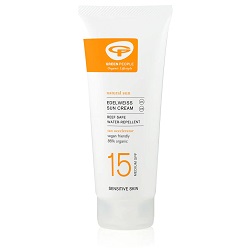 SPF: 15
Free from: Avobenzone, Titanium dioxide, Oxybenzone, Octinoxate
Reef safe?: Yes
Packaging: Fully recyclable
The good
Good at preventing prickly heat
Smells nice
Good for sensitive skin; can be used on the face
Recyclable packaging
The bad
Green People's Edelweiss Sun Lotion contains 86 % certified organic ingredients and offers broad-spectrum UVA and UVB protection. It contains organic aloe vera, avocado, green tea and inositol.
According to Green People, this sun lotion is reef safe, and doesn't contain Oxybenzone and Octinoxate.
This sunscreen contains a tan accelerator made using inositol, which comes from the fruits of the carob tree.
This helps the skin produce more melanin, helping you get a natural tan more quickly, while offering protection against UVB and UVA rays.
This SPF 15 sun lotion is gentle yet effective, and is a good choice if you suffer from prickly heat which regular sun creams can exacerbate.
2. Green People Scent Free Sun Lotion SPF 30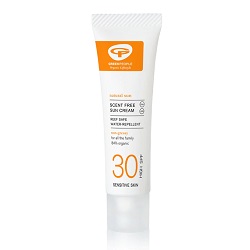 SPF: 30
Free from: Avobenzone, Titanium dioxide, Oxybenzone, Octinoxate
Reef safe?: Yes
Packaging: Fully recyclable
The good
20p donated to the Marine Conservation Society with every purchase
Not greasy
Good for sensitive skin; can be used on the face
Environmentally friendly
The bad
Here's another great organic sun cream from Green People.
This one has an SPF rating of 30, so it offers stronger protection than the one reviewed above.
It's quite similar to the Green People Edelweiss Sun Lotion, but with a few differences.
Green People Scent Free Sun Lotion SPF 30 contains 84% organic ingredients including aloe vera, green tea, avocado, chamomile and edelweiss. It's fragrance free and contains antioxidants, so it's good for sensitive skin.
It offers broad-spectrum UVA and UVB protection and is a good choice if you suffer from prickly heat or polymorphic light eruption (PLE).
One of the best things about this product is that Green People donate 20p to the Marine Conservation Society every time someone buys it, so you're supporting marine protection.
3. Shade All-Natural Sunscreen Mineral Sun Cream SPF 25
SPF: 25
Free from: Avobenzone, Titanium dioxide, Oxybenzone, Octinoxate
Reef safe?: Yes (It doesn't contain any ingredients that damage reefs, though it isn't certified by any organisation)
Packaging: Recyclable, plastic-free
The good
Very environmentally friendly
Recyclable packaging
Handy tub that fits in your pocket
The bad
This sunscreen only uses four ingredients, which is impressive when you consider how long the list of ingredients is on most sunscreens. Those four ingredients are shea butter, beeswax, coconut oil and zinc oxide.
You might be wondering, does such a simple sunscreen with so few ingredients actually work? As long as you use it sensibly and don't overdo your exposure to the sun, Shade All-Natural Sunscreen offers a good level of protection.
Shade's founder Tania Wedin addresses this concern in a blog post, explaining that Shade is not a sunblock, and that people should still take care when the sun is at its strongest between 11am and 3pm.
This is a good product if you want to give your skin a bit of protection without completely blocking out the sun's rays, which we need to get a vitamin D.
Overall, Shade All-Natural Sunscreen is 72% organic. If you have an allergic reaction to chemical sunscreens this is a good choice.
However, be aware that this sunscreen comes in a very small tub and is quite thick, so you might find it hard to massage into your whole body.
It's a better choice for just putting on your face rather than trying to protect your whole body while you're on the beach.
4. Suntribe Natural Sports & Face Sunscreen (SPF 30)
SPF: 30
Free from: Avobenzone, Titanium dioxide, Oxybenzone, Octinoxate
Reef safe?: Yes
Packaging: Plastic free, recyclable
The good
Simple, natural formula: just 3 ingredients
Safe for marine life
Plastic free
The bad
Not vegan
Can leave white marks
This simple mineral sunscreen from Swedish brand Suntribe is similar to the one from Shade reviewed above. It only contains three ingredients: zinc oxide, organic beeswax and organic coconut oil.
This sunscreen is non-nano, so it's safe for marine life.
Given that it contains beeswax it isn't vegan, however, it's a relatively kind choice for animal life as it's reef safe. It's also waterproof, making it a good choice for wearing while swimming or paddling in the sea.
Suntribe's Natural Sports & Face Sunscreen has an SPF of 30 and offers broad-spectrum protection against both UVA and UVB rays.
It comes in different colours – original white, retro red, mud tint and ocean blue.
This sunscreen comes in a tin, so it's plastic-free. That's a big plus if you're looking to reduce your plastic usage and live a more zero-waste lifestyle.
Given that this sunscreen contains just three ingredients, it's very unlikely to cause an allergic reaction or pimples. It's a good choice if you react to regular sunscreens, or have sensitive skin. It is good for children too.
This sunscreen can be quite chalky and hard to rub in, and it can leave white marks on the face.
Suntribe also makes a sports sun stick, packed in cardboard packaging which is easy to apply and carry. Apart from the three ingredients mentioned above, the sport stick also contains CI 77007 (Ultramarine).
5. Face & Body Natural Mineral Suncream by Sol de Ibiza (SPF 30 and SPF 50)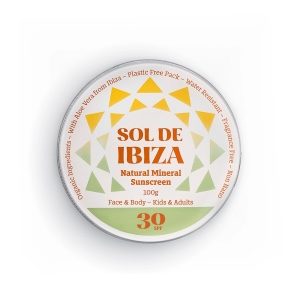 SPF: 30
Free from: Avobenzone, Titanium dioxide, Oxybenzone, Octinoxate
Reef safe?: Yes
Packaging: Plastic free, recyclable
The good
Reef safe
Plastic-free
Vegan
The bad
Needs to be reapplied regularly when in the water
This is a natural suncream made with ingredients that are good for your skin and the planet.
The team at Sol de Ibiza spent 3 years finding the perfect combination of natural ingredients to make a suncream that aimed at saving skin from cancer and the ocean from harmful chemicals.
Most of the ingredients are ethically sourced from organic farming. It comes in a 100ml aluminium tin (plastic-free) and is enriched with coconut oil, sunflower seed oil, sweet almond oil, aloe vera and calendula. There are a few more ingredients that you can find listed on Sol de Ibiza's website.
Simply rub it in for instant effect. It is water-resistant but reapplication will be required after 40 minutes of swimming.
It is safe for children, but we recommend that you consult a paediatrician. For children under 8, frequent reapplication will be needed.
6. Sweet Bee Organic Sunscreen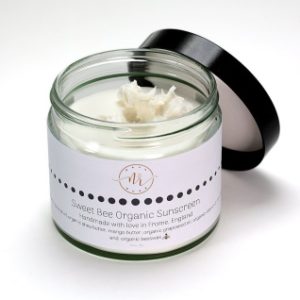 SPF: 30
Free from: Avobenzone, Titanium dioxide, Oxybenzone, Octinoxate
Reef safe?: Yes
Packaging: Plastic free glass jar, recyclable
The good
Reef safe
Soft scent
Won't leave white marks
The bad
May not be water-resistant
Not vegan (contains beeswax)
Sweet Bee's Organic Sunscreen is a non-nano zinc oxide based sunscreen aimed to protect children and adults from sunburn. It comes in 120 and 250 ml sized packs.
It absorbs well into the skin, does not make your skin white and has a little bit of a scent as well.
Other ingredients are spring water, olive oil, beeswax, vegetable vitamin E, and cholecalciferol (vitamin D3), all of which are organic.
It is recommended to apply this suncream with circular movements 20 minutes before going out in the sun. Reapply every 2 hours.
Which Sunscreen Ingredients Are Bad for the Environment?
Several ingredients used in regular sunscreens have a negative effect on the environment.
A 2015 study by Craig Downs of the Haereticus Environmental Laboratory found that oxybenzone, one of the most common ingredients in spray-on sunscreens, has a harmful effect on coral reefs, inducing coral bleaching, damaging coral DNA and acting as an endocrine disruptor.
The Haereticus Environmental Laboratory has drawn up a list of harmful ingredients to avoid, called the HEL LIST, which is reproduced below.
Any form of microplastic sphere or beads.
Any nanoparticles like zinc oxide or titanium dioxide.
Oxybenzone
Octinoxate
4-methylbenzylidene camphor
Octocrylene
Para-aminobenzoic acid (PABA)
Methyl Paraben
Ethyl Paraben
Propyl Paraben
Butyl Paraben
Benzyl Paraben
Triclosan
Zinc oxide and titanium dioxide nanoparticles of less than 35 nanometers in diameter can also have a harmful effect on marine life.
What Is Does it Mean for a Sunscreen to Be Organic?
Organic sunscreens rarely contain 100% organic ingredients, but the percentage of natural ingredients can be over 80%.
Organic sunscreens generally don't contain parabens, oxybenzone or other harmful chemicals.
Producing and using sunscreen will always have some effect on the environment, and some organic sunscreens use ingredients such as palm oil, which usually aren't farmed in a very sustainable way.
Some of the oils used in organic sunscreens are also used as insect repellents, so they probably are probably harmful to marine invertebrates.
However, choosing an organic sunscreen is a good way to minimise the effect your use of sunscreen has on the environment.
Watch out for products that have the word 'organic' in the name even though they only contain one organic ingredient. Some 'organic' sunscreens are not much different to regular sunscreens, they just have an added organic ingredient such as aloe vera.
Mineral Sunscreen vs. Chemical Sunscreen
There are many differences between the regular type of sunscreen that you find on the shelves of your supermarket or pharmacy (chemical sunscreen), and mineral sunscreen.
Here are a few of these differences, including how they work, the ingredients they use and the effect they can have on your body.
Mineral sunscreen
Mineral sunscreens work by placing a physical layer or protection on your skin. They do this by using ingredients like zinc oxide or titanium dioxide, or a combination of the two. These ingredients are usually natural although synthetic varieties can be made.
Because they sit on top of your skin, they cause less skin irritation or allergies than the chemical sunscreens, making them a much safer way to protect your skin without needing to worry about harming your long-term health.
However, even if you see the words 'mineral sunscreen' or 'mineral-based' on the packaging of your sunscreen that doesn't mean that they are made purely with minerals.
Check the labels as they can often contain many of the same potentially harmful ingredients as regular sunscreen.
Chemical sunscreens
As the name suggests, chemical sunscreens work by using one or more to help dissipate the sun's rays via a chemical reaction.
The chemicals are synthetic and usually include:
Oxybenzone
Avobenzone
Etisalat
Octocrylene
Homosalate
Octinoxate
Before these types of sunscreens can work, your skin needs to absorb them. This can cause irritation and discomfort, especially if you're a person with sensitive skin.
Health issues
The chemicals used in sunscreens can seep into the body and potentially affect your health.
Research carried out by the EWG (Environmental Working Group) found that these chemical sunscreen ingredients can disrupt your hormones, affect fertility, act as xenoestrogens in the body and interfere with a range of essential hormonal processes.
Additionally, a study carried out by US government scientists in 2012 suggested that one of the chemicals often used in chemical sunscreen retinyl palmitate speeds up the growth of cancerous cells by 21%.
Environmental impact
Chemical sunscreens could also be harmful to the planet and contribute to coral reach bleaching, DNA damage and death.
This is why Hawaii and Key West in Florida have banned sunscreens containing two of the main chemicals- oxybenzone and octinoxate from their products.
Other countries such as Palau in the Pacific are also following suit with bans coming into force in the coming years.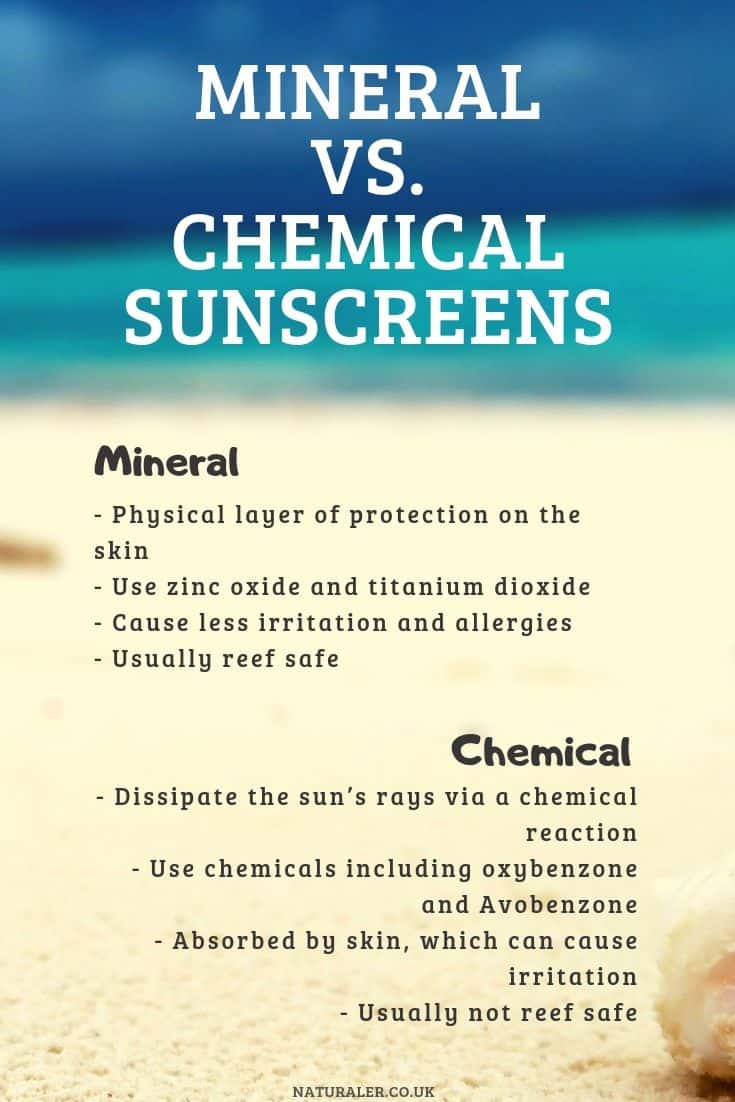 Mineral Sunscreen FAQs
How do zinc oxide and titanium dioxide work in sunscreen?
With research showing that excessive exposure to UV rays can cause both cancer and premature skin ageing, it's no wonder that holiday-goers are in search of the ultimate protection from both harmful chemicals and UV rays.
Zinc oxide and titanium dioxide are natural minerals that block both UVA and UVB rays by coating the skin.
They are found in what are known as 'physical' sunscreens as they physically block the sun's harmful rays from penetrating the skin, rather than sinking into the skin to absorb the UV rays as chemical-based sun creams do.
Chemical-based sun creams can irritate the skin as they are not made up of gentle naturally occurring minerals.
This is something you may wish to consider, especially for a product that you are going to use all over your body and on more sensitive areas such as your face.
Other benefits from switching to zinc oxide or mineral sunscreen are that these minerals are far more stable when exposed to sunlight, meaning that they degrade far more slowly than other chemical products and therefore provide protection for longer as well as giving protection from all forms of UV, rather than just UVA or UVB.
Are mineral sunscreens any good?
Many people used to turn their noses up at zinc oxide sunscreens due to the less-than-flattering white residue that it can leave on the skin after application, which is especially noticeable on darker skin tones.
You will be happy to know that brands have come up with solutions that allow for the cream to be better blended with the skin while still providing great UV protection.
Creams that are tinted to a more natural skin colour are now available so that there won't be a white glow after application.
Zinc oxide is also added to some sunscreens as a nanoparticle, meaning that it is invisible to the naked eye and also thinner and easier to spread over your skin, making it a great option for those of us who are concerned with skin protection as well as looking good.
With its gentleness on the skin, natural elements and its amazing UV protection, you will be desperate to try out a mineral-based sunscreen this summer, so below are some of the best mineral sunscreens on the market for you to try.
Are mineral sunscreens safe and effective?
Yes, studies have shown that mineral sunscreens can be both effective and safe when used by all ages, including children and those with sensitive skin.
There's no evidence of hormone disruption, no side effects, less than 0.01% skin penetration and thus no concerns yet that the nanoparticles which these mineral sunscreens contain could be absorbed by the body.
Are mineral sunscreens biodegradable?
Many mineral sunscreens are 100% biodegradable—simply check on the label to find out more.
Is mineral sunscreen reef safe?
Mineral sunscreens are usually reef safe, but not always. Non-nano zinc oxide and titanium dioxide are safe for marine life, but sometimes mineral sunscreens contain non-reef-safe ingredients such as benzophenone-3.
Are mineral sunscreens drying?
Zinc oxide is an astringent, so if you use a mineral sunscreen frequently, you might find that your skin feels thirstier than usual.
A great way to overcome this is to apply a natural moisturiser before applying your mineral sunscreen. Those with oily or combination skins shouldn't notice any problems.
Are mineral sunscreens water-resistant?
Yes, many mineral sunscreens are water-resistant. If so, you will find it written on the label or in the product description. If you don't see anything then it will wash or sweat off with normal use.
Does mineral sunscreen expire?
As you might already know, the active ingredients in chemical sunscreens degrade over time so they become much less effective and expire after a year.
However, this isn't the case with mineral sunscreens. They don't lose effectiveness in this way but start to separate. A quick shake or massage of the tube should help the ingredients to recombine.
Does mineral sunscreen need to be reapplied?
Yes, you should use mineral sunscreen like any other type of sunscreen and reapply every 2-4 hours to ensure your skin is protected.
Does mineral sunscreen work right away?
Yes! As soon as you apply mineral sunscreen, it starts to work.
Does mineral sunscreen stain clothes?
Mineral sunscreen is kinder on your clothes than regular sunscreen, although it can leave a mark if spillage occurs. However, if you apply bicarbonate of soda overnight then wash with your regular detergent it can usually be removed easily.
Does mineral sunscreen rub in?
A mineral sunscreen uses a barrier of zinc oxide or titanium dioxide which sits on your skin and prevents it from absorbing UV rays.
This means it doesn't get absorbed by the skin like chemical sunscreens.
But don't worry that you'll end up looking like a vampire, many modern brands have minimised the 'white look'.
Does mineral sunscreen clog pores?
Older brands of natural sunscreens used to be very thick and sit on top of your skin, but many modern brands now offer non-comedogenic (non-pore-blocking) products which can allow your skin to breathe whilst also protecting you from the harsh sun.
Is mineral sunscreen better for acne?
As mineral sunscreen has astringent properties, it can help dry out the skin and reduce oiliness.
It's also natural and non-irritating, which is perfect for blemish-prone or sensitive skins.
Having said that, it's important that you remove your sunscreen completely at night to allow your skin to breathe.
Can you tan with mineral sunscreen?
No sunscreen can block 100% of the sun's rays, so you will still tan whilst wearing mineral sunscreen but at a slower rate than if you weren't wearing sun protection at all.
Is mineral sunscreen safe for babies?
Yes, mineral sunscreens are completely safe for babies. In fact, many baby-specific sunscreens are high in zinc oxide because it works so well on sensitive skins.
However, it's best not to use any kind of sunscreen on babies until they're around 6 months old and cover them with clothes and keep them in the shade instead.
Is zinc oxide sunscreen safe for pregnancy?
Yes, zinc oxide and titanium dioxide-based sunscreen is considered safe for use during pregnancy. This is because they're not absorbed by the body and they're gentler to sensitive skin.
Are mineral sunscreens natural?
Some mineral sunscreens such as Shade All-Natural Sunscreen only contain a handful of natural ingredients, whereas others contain a lot of artificial chemicals.
'Mineral' or 'zinc oxide' sunscreen isn't the same as 'chemical-free' or 'natural sunscreen', though mineral sunscreens tend to contain fewer artificial chemicals than regular sunscreens.
Conclusion
If we had to pick just one natural sunscree brand to recommend it would be Green People, as they take great care to avoid ingredients that could be harmful to you or the environment. They have a good choice of organic suncreens, all of which are highly rated.
In particular, we'd recommend either the Edelweiss Sun Lotion with Natural Tan Accelerator, which has an SPF of 15, or the Scent Free Sun Lotion SPF 30, which offers more protection.
You should remember that while these sunscreens offer good protection, some harmful rays will still penetrate the screens and can cause damage or burning. An SPF of 15, for example, means that 1/15th of the sun's radiation will reach the skin through the sunscreen.
Sunburn is the body's way of warning you that you have been exposed to damaging rays for too long and should cover up or move into shade, so don't rely entirely on sun cream for complete protection.
These natural sunscreens will help to look after your skin and keep it looking young and healthy, but it is up to you to do the rest!

Naturaler is a UK website full of tips and recommendations for living a more eco-friendly, chemical-free and natural lifestyle.