Palm oil is a kind of vegetable oil derived from the fruit of oil palm trees. 66 million tonnes of palm oil is produced each year, making it the most commonly used vegetable oil.
Originating from West Africa, it is now grown throughout Africa, Asia and North and South America, with Indonesia and Malaysia exporting 85% of all palm oil.
According to Greenpeace, palm oil is found in half of all supermarket products. But there are devastating consequences caused by the increased demand for this cheap edible oil.
Palm oil production was responsible for 8 per cent of the world's deforestation between 1990 and 2008, as forests are cleared to grow oil palms.
UK supermarket Iceland recently released their 2018 Christmas advert, Rang-tan, a short cartoon telling the story of rainforest destruction caused by palm oil production, and its catastrophic effect on the critically endangered orangutan.
The advert was originally created and used by Greenpeace, and has gone viral on social media after apparently being banned from being shown on television for being too political.
The message of the advert has certainly hit home with many of us, and a petition on change.org to "release Iceland's banned Christmas advert on TV" has more than 950,000 signatures at the time of writing, and looks certain to hit a million signatures soon.
Elephants, rhinos and tigers are also suffering as a result of unsustainable development by the palm oil industry, and if nothing changes, species like the orangutan could become extinct in the wild within the next 5-10 years, and Sumatran tigers in less than 3 years.
So, as consumers, how can we minimise our use of palm oil products and help save animals like Rang-tan?
As many of us become aware of the impact of palm oil on the environment and wildlife, it makes sense to try not to buy products containing it.
But this is easier said than done when palm oil is found in around 50% of packaged items sold in a typical supermarket.
Palm oil is found in many items on our weekly shopping lists, such as bread, peanut butter, margarine, ice cream, chocolate and instant noodles.
Vegans need to check food such as vegan cheese, which often uses palm oil as a dairy substitute.
Palm oil isn't just found in food either – many shampoos, shower gels, soaps, moisturisers, washing detergents, toothpastes and even makeup can contain palm oil too.
Luckily, some supermarkets and brands are starting to produce and sell more products without palm-oil.
We've compiled a list of palm oil free brands below.
Palm Oil Free Food List
Almond butter
Smooth Natural Almond Butter
Meridian Crunchy Almond Butter
Meridian Smooth Almond Butter
Nutural World Smooth Almond Nut Butter
Pip & Nut Smooth Almond Butter
Biscuits
Bahlsen Choco Leibniz Milk
Island Bakery
M&S All Butter Cookies
M&S Shortbread
McVities Rich Tea
Traidcraft Geobakes Shortbread Biscuits
Traidcraft Half coated Chocolate Shortbread Finger
Traidcraft Shortbread Rounds
Waitrose Duchy Organic biscuits
Walkers Shortbread
Bread
Iceland own-brand bread
Weight Watchers bread
Warburtons Danish White
Warburtons gluten-free bread
See our overview of where to get palm oil free bread here.
Butter
St Helen's Farm goat butter
Yeo Valley
Chocolate
Booja Booja
Chocolat Madagascar
Divine
Green & Blacks
Loving Earth
Madécasse
Montezuma's
Seed and Bean
See our overview of which chocolate brands are palm oil free here.
Crackers
Amisa Buckwheat Crispbread
Kallo Savoury Rice Cakes
Paterson's Rough Oatcakes
Real Foods Original Corn Thins
Ryvita (except for Multi-Seed Thins)
Tesco Multigrain Crackers
Crisps
Trafo Potato Chips
RW Garcia Tortilla Chips
Mackies Crisps
Walkers Crisps
Kettle Chips
Dog food
Benevo Pawtato Dog Chews
Burns
Yarrah
Benevo
Simpsons Premium
Easter eggs
Booja Booja
Cocoa Loco
Divine
Montezuma
Moo Free
Ponchito
Formula milk/Infant formula
Granola
Planet Organic Paleo Super Berry Granola
Lizis Original Granola
Granola bars
Planet Organic Paleo Chocolate Bliss
Gravy
Essential Trading Onion Gravy Powder
Marigold Organic Gravy Mix
Hot chocolate & cocoa
Cafedirect San Cristobal Drinking Chocolate
Cocoa Loco Hot Chocolate Spoon
Divine Cocoa
Divine Drinking Chocolate
Enjoy Raw Chocolate Hot Cocoa Drink
Equal Exchange Fairtrade & Organic Cocoa
Green & Blacks Organic Cocoa Powder
Green and Blacks Organic Hot Chocolate Drink
Hasslachers Bar of Drinking Chocolate
Hasslachers Hot Chocolate Drops
Suma Prepacks Organic Fairly Traded Cocoa Powder
Ice cream
Alder Tree
Roskillys
Yeo Valley Organic ice cream
Jaffa cakes
Kelkin Gluten Free Jaffa Cakes
Ketchup
Biona Classic Tomato Ketchup
Biona Organic Tomato Ketchup with Agave Syrup
Dr Will's Tomato Ketchup
Heinz Tomato Ketchup
Meridian Organic Tomato Ketchup
Mr Organic Italian Organic Ketchup
Mr Organic Naturally Sweetened Tomato Ketchup
Margarine
Naturli Organic Vegan Spreadable
Yeo Valley Organic Buttery & Spreadable
Nut butters
Biona Almond Butter
Carleys Organic Cashew Nut Butter
Carleys Organic Raw Rainforest Nut Butter
Equal Exchange Peanut Butter
Essential Trading Peanut Butter
Meridian Cashew Nut Butter
Meridian Coconut & Peanut Butter
Meridian Organic Almond Butter
Meridian Organic Peanut Butter
Raw Health Whole Raw Organic Almond Butter
Suma Organic Peanut Butter
Nutella alternatives & chocolate spreads
Meridian Cocoa and Hazelnut Butter
Tiptree Chocolate Spread
Venchi Original Chocolate Spread
Waitrose Dark Chocolate Spread
Oatcakes
Paterson's Rough Oatcakes
Olive oil spread
Pure Dairy Free Olive Spread
Peanut butter
Equal Exchange Peanut Butter
Essential Trading Peanut Butter
Meridian Coconut & Peanut Butter
Meridian Organic Peanut Butter
Suma Organic Peanut Butter
See our overview of which peanut butter brands are palm oil free here.
Puff pastry
Cooks' Ingredients Frozen Butter Puff Pastry Blocks
Stock cubes & powder
Suma Organic Reduced Salt Vegetable Bouillon Powder
Suma Organic Vegetable Bouillon Powder
Vecon Vegetable Stock
Sweets
Biona Organic
Truede Turkish Delight
YumEarth
Vegan butter/margarine/spread
Naturli Organic Vegan Spreadable
WayFare Foods
Mouse's Favourite
Vegan sausages
Vegusto
VegiDeli Gourmet Meat Free Sage & Marjoram Style Sausages
Wraps/Tortillas
Palm Oil Free Toiletries & Cosmetics List
African black soap
Cebra Ethical Skincare African black soap
Anti-dandruff shampoo
Avalon Organics Anti-Dandruff Shampoo
Lamazuna Scots Pine Solid Shampoo Bar
Antiperspirant/Deodorant
Earth Conscious
Natural Deodorant Co
PitRok
Salt of The Earth
We Love the Planet
Weleda Deodorant
Emulsifying wax
Eye cream
dieNikolai Eye Serum
PHB Ethical Beauty Anti-Aging Eye Gel
Green People Age Defy Line Eraser Lip & Eye Serum
Face wash
Conscious Skincare Face Wash
PHB Ethical Beauty Anti-Aging Facial Cleanser for All Skin Types
PHB Ethical Beauty Gentle Facial Tonic for Sensitive Skin & Eczema
Friendly Soap Natural Cocoa Butter Facial Soap Bar
Friendly Soap Natural Shea Butter Facial Soap Bar
Optiat Lemongrass Lifter Coffee Scrub
Optiat Mouthwatering Mandarin Coffee Scrub
Optiat Potent Peppermint Coffee Scrub
Optiat Vanilla Velvet Coffee Scrub
Tropika 100 percent Natural Nourishing Coconut Cleansing Oil
PHB Ethical Beauty Gentle Cleanser for Sensitive Skin & Eczema
Goat milk soap
All Natural Soap Co
Cyril's Soap Shed
Hand cream
Mount Purious Gardeners Green Finger Hand Balm
Antipodes Saviour Skin Balm
Fruits of Nature Hand Lotion
Hand wash & liquid soap
Fruits of Nature Hand Wash
Nilaqua Instant Hand Sanitiser Plus
Moisturiser & face cream
Conscious Skincare Day Cream Moisturiser
Antipodes Saviour Skin Balm
Fushi BioVedic Radiance Face Cream
Fushi Organic Black Cumin Seed Oil
Fushi Organic Castor Oil
Fushi Organic Evening Primrose Oil
Fushi Organic Flax Seed Oil
Fushi Organic Virgin Cold Pressed Coconut Oil
PHB Ethical Beauty Skin Repair Gel with Aloe & Lavender
Shampoo & shampoo bars
Avalon Organics
Ecozone Organic Baby Shampoo
Friendly Soap Natural Shampoo Bar
Lamazuna Scots Pine Solid Shampoo Bar
Living Naturally Coconutty Soapnut Shampoo Bar
Tints Of Nature Dry Shampoo
See our overview of which shampoos are palm oil free here.
Soap
Dalit Handmade Soaps
Friendly Soap
Incognito Luxury Soap
Living Naturally
Oliva Olive Oil Soap
Suma Handmade Natural Soap
Toothpaste
Georganics Natural Toothpaste
Green People Fennel & Propolis Toothpaste
Green People Organic Children's Toothpaste
Jack N' Jill Fluoride Free Natural Toothpaste
Lamazuna Solid Toothpaste
Sarakan Fluoride Free Toothpaste
See our overview of which toothpaste brands are palm oil free here.
Palm Oil Free Cleaning & Dishwashing Products List
Dishwasher tablets
Ecozone Brilliance All in One Dishwasher Tablets
Ecozone Dishwasher Tablets Classic
Ecozone Ultra All-In-One Dishwasher Tablets
Washing powder
Ecoegg Laundry Egg
Ecozone Ecoballs
Ecozone Kit Colour Oxygen Laundry Tablets
Ecozone Laundry Tablets
Ecozone Non-Bio Laundry Capsules
Ecozone Soap Nuts
Living Naturally Organic Soapnuts
Washing up liquid
Ecoleaf Washing Up Liquid
Ecozone Washing Up Liquid
Greenscents Washing Up Liquid
Is There Palm Oil In…
This information is accurate to the best of our knowledge at the time of publication, but brands may change their ingredients in the future.
Aveeno – Yes, Aveeno contains palm oil.
Doritos – Yes, Doritos usually contain palm oil. It is often labelled as "vegetable oil".
Dove Soap – Yes, Dove soap contains palm oil.
Greggs vegan sausage roll – Yes, Greggs' vegan sausage roll contains palm oil.
Justin's Almond Butter – Yes, Justin's Almond Butter contains palm oil.
Kinder – Yes, Kinder eggs contain palm oil.
Kit Kats – Yes, Kit Kats contain palm oil.
Lindt – Yes Lindt chocolates contain palm oil
Marmite – No, Marmite does not contain palm oil.
Nutella – Yes, Nutella contains palm oil.
Pringles – Yes, Pringles contain palm oil.
Oreos – Yes, Oreo cookies contain palm oil.
Quaker Oats – Yes, Quaker Oats contain palm oil.
Quality Street – Yes, Quality Street chocolates contain palm oil.
Quorn – Yes, Quorn contains palm oil.
Walkers Crisps – No, Walkers Crisps do not contain palm oil.
Yankee Candle – Yes, Yankee Candles contain palm oil.
Names for Palm Oil
Currently there isn't any law that requires manufacturers to clearly list "Palm Oil" in the ingredients list or write "Contains Palm Oil" on the packaging.
Palm oil is often hidden in ingredients lists since lots of different ingredients can contain or be derived from palm oil.
Here's a list of different names for palm oil and ingredients that often come from palm oil:
Asorbyl Palmitate
Cetyl Palmitate
Elaeis Guineensis
Emulsifier – can contain palm oil
Etyl Palmitate
Fractionated Palm Oil
Glyceryl
Glyceryl Stearate
Hydrated palm glycerides
Octyl Palmitate
Organic Palm Kernel Oil
Palm Fruit Oil
Palm Kernel
Palm Kernel Oil
Palm Kernel Olein
Palm Kernel Stearin
Palm Stearine
Palmate
Palmitate
Palmitic acid
Palmitoyl Oxostearamide
Palmitoyl Tetrapeptide-3
Palmityl Alcohol
Palmolein
Partially Hydrogenated Palm Oil
Sodium Dodecyl Sulphate
Sodium Isostearoyl Lactylaye
Sodium Kernelate
Sodium Laureth Sulphate
Sodium Lauryl Lactylate
Sodium Lauryl Sulfoacetate
Sodium Lauryl Sulphate
Sodium Palm Kernelate
Stearate
Steareth -2
Steareth -20
Stearic Acid
Vegetable fat – can contain palm oil
Vegetable oil – can contain palm oil
Vitamin A Palmitate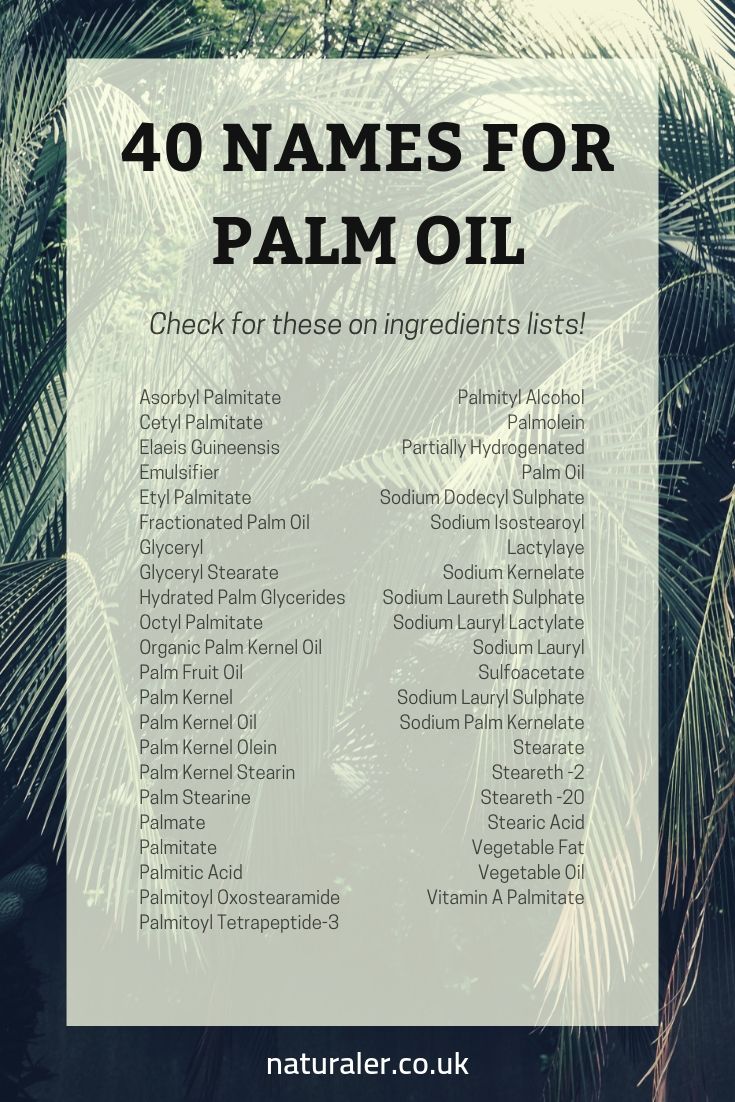 Where to Buy Palm-Oil Free Products
Ecco-Verde
Natural make-up and skincare website Ecco Verde has a great range of palm-oil free toiletries and beauty products.
This website has a large range of everyday items such as toothpaste (including a variety for children), soaps and moisturisers.
There are also some high quality beauty products, such as facial serums, shaving products, face masks, sunscreen and lipsticks.
Prices start at around £2 for a body lotion.
Ethical Superstore
Snacks such as biscuits and crisps often contain palm-oil, but it can be hard to cut snacks out of our diet altogether.
Online shop Ethical Superstore stock a wide variety of palm-oil free snacks, perfect for lunch boxes and when you're on the go.
Most of the snacks are also vegan friendly, gluten free and additive free, so they're a healthier alternative to regular crisps and biscuits too.
For example, Hippeas Organic Far Out Fajita Chickpea Puffs contain only 90 calories per serving, so they're better for your waistline as well as the environment.
Iceland
Iceland have not only raised awareness of the devastating impact of the palm oil industry on orangutans and other wildlife with their Rang-tan advert and 'Choose a Christmas without Palm Oil' campaign, the supermarket has now removed or replaced palm oil from the majority of their own brand foods.
To make it easier to shop for products that are free from palm-oil, Iceland have a green 'No Palm Oil' badge displayed on packaging and online.
The large range of food includes ready meals, biscuits, ice cream, pizzas and a 'No Palm Oil' Christmas range, so you can stock up on festive favourite such as mince pies with a clearer conscience this Christmas.
Iceland has also stated, "By the end of 2018, 100% of our own brand food will contain no palm oil. We are the first UK supermarket to commit to removing palm oil from all own brand food."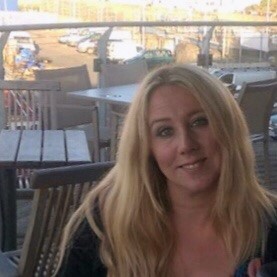 Clare began her career as a technical writer, but since having her boys has worked mostly from home writing content for various websites, including health and beauty and educational resource sites.