Palm oil is a kind of vegetable oil derived from the fruit of oil palm trees. 66 million tonnes of palm oil is produced each year, making it the most commonly used vegetable oil.
Originating from West Africa, it is now grown throughout Africa, Asia and North and South America, with Indonesia and Malaysia exporting 85% of all palm oil.
According to Greenpeace, palm oil is found in half of all supermarket products. But there are devastating consequences caused by the increased demand for this cheap edible oil.
Palm oil production was responsible for 8 per cent of the world's deforestation between 1990 and 2008, as forests are cleared to grow oil palms.
UK supermarket Iceland recently released their 2018 Christmas advert, Rang-tan, a short cartoon telling the story of rainforest destruction caused by palm oil production, and its catastrophic effect on the critically endangered orangutan.
The advert was originally created and used by Greenpeace, and has gone viral on social media after apparently being banned from being shown on television for being too political.
The message of the advert has certainly hit home with many of us, and a petition on change.org to "release Iceland's banned Christmas advert on TV" has more than 950,000 signatures at the time of writing, and looks certain to hit a million signatures soon.
Elephants, rhinos and tigers are also suffering as a result of unsustainable development by the palm oil industry, and if nothing changes, species like the orangutan could become extinct in the wild within the next 5-10 years, and Sumatran tigers in less than 3 years.
So, as consumers, how can we minimise our use of palm oil products and help save animals like Rang-tan?
As many of us become aware of the impact of palm oil on the environment and wildlife, it makes sense to try not to buy products containing it.
But this is easier said than done when palm oil is found in around 50% of packaged items sold in a typical supermarket.
Palm oil is found in many items on our weekly shopping lists, such as bread, peanut butter, margarine, ice cream, chocolate and instant noodles.
Vegans need to check food such as vegan cheese, which often uses palm oil as a dairy substitute.
Palm oil isn't just found in food either – many shampoos, shower gels, soaps, moisturisers, washing detergents, toothpastes and even makeup can contain palm oil too.
Luckily, some supermarkets and brands are starting to produce and sell more products without palm-oil.
We've compiled a list of palm oil free brands below.
Palm Oil Free Food List
Almond butter
Smooth Natural Almond Butter
Meridian Crunchy Almond Butter
Meridian Smooth Almond Butter
Nutural World Smooth Almond Nut Butter
Pip & Nut Smooth Almond Butter
Biscuits
Bahlsen Choco Leibniz Milk
Island Bakery
M&S All Butter Cookies
M&S Shortbread
McVities Rich Tea
Traidcraft Geobakes Shortbread Biscuits
Traidcraft Half coated Chocolate Shortbread Finger
Traidcraft Shortbread Rounds
Waitrose Duchy Organic biscuits
Walkers Shortbread
Bread
Iceland own-brand bread
Weight Watchers bread
Warburtons Danish White
Warburtons gluten-free bread
See our overview of where to get palm oil free bread here.
Butter
St Helen's Farm goat butter
Yeo Valley
Chocolate
Booja Booja
Chocolat Madagascar
Divine
Green & Blacks
Loving Earth
Madécasse
Montezuma's
Seed and Bean
See our overview of which chocolate brands are palm oil free here.
Crackers
Amisa Buckwheat Crispbread
Kallo Savoury Rice Cakes
Paterson's Rough Oatcakes
Real Foods Original Corn Thins
Ryvita (except for Multi-Seed Thins)
Tesco Multigrain Crackers
Crisps
Trafo Potato Chips
RW Garcia Tortilla Chips
Mackies Crisps
Walkers Crisps
Kettle Chips
Dog food
Benevo Pawtato Dog Chews
Burns
Yarrah
Benevo
Simpsons Premium
Easter eggs
Booja Booja
Cocoa Loco
Divine
Montezuma
Moo Free
Ponchito
Formula milk/Infant formula
Granola
Planet Organic Paleo Super Berry Granola
Lizis Original Granola
Granola bars
Planet Organic Paleo Chocolate Bliss
Gravy
Essential Trading Onion Gravy Powder
Marigold Organic Gravy Mix
Hot chocolate & cocoa
Cafedirect San Cristobal Drinking Chocolate
Cocoa Loco Hot Chocolate Spoon
Divine Cocoa
Divine Drinking Chocolate
Enjoy Raw Chocolate Hot Cocoa Drink
Equal Exchange Fairtrade & Organic Cocoa
Green & Blacks Organic Cocoa Powder
Green and Blacks Organic Hot Chocolate Drink
Hasslachers Bar of Drinking Chocolate
Hasslachers Hot Chocolate Drops
Suma Prepacks Organic Fairly Traded Cocoa Powder
Ice cream
Alder Tree
Roskillys
Yeo Valley Organic ice cream
Jaffa cakes
Kelkin Gluten Free Jaffa Cakes
Ketchup
Biona Classic Tomato Ketchup
Biona Organic Tomato Ketchup with Agave Syrup
Dr Will's Tomato Ketchup
Heinz Tomato Ketchup
Meridian Organic Tomato Ketchup
Mr Organic Italian Organic Ketchup
Mr Organic Naturally Sweetened Tomato Ketchup
Margarine
Naturli Organic Vegan Spreadable
Yeo Valley Organic Buttery & Spreadable
Nut butters
Biona Almond Butter
Carleys Organic Cashew Nut Butter
Carleys Organic Raw Rainforest Nut Butter
Equal Exchange Peanut Butter
Essential Trading Peanut Butter
Meridian Cashew Nut Butter
Meridian Coconut & Peanut Butter
Meridian Organic Almond Butter
Meridian Organic Peanut Butter
Raw Health Whole Raw Organic Almond Butter
Suma Organic Peanut Butter
Nutella alternatives & chocolate spreads
Meridian Cocoa and Hazelnut Butter
Tiptree Chocolate Spread
Venchi Original Chocolate Spread
Waitrose Dark Chocolate Spread
Oatcakes
Paterson's Rough Oatcakes
Olive oil spread
Pure Dairy Free Olive Spread
Peanut butter
Equal Exchange Peanut Butter
Essential Trading Peanut Butter
Meridian Coconut & Peanut Butter
Meridian Organic Peanut Butter
Suma Organic Peanut Butter
See our overview of which peanut butter brands are palm oil free here.
Puff pastry
Cooks' Ingredients Frozen Butter Puff Pastry Blocks
Stock cubes & powder
Suma Organic Reduced Salt Vegetable Bouillon Powder
Suma Organic Vegetable Bouillon Powder
Vecon Vegetable Stock
Sweets
Biona Organic
Truede Turkish Delight
YumEarth
Vegan butter/margarine/spread
Naturli Organic Vegan Spreadable
WayFare Foods
Mouse's Favourite
Vegan sausages
Vegusto
VegiDeli Gourmet Meat Free Sage & Marjoram Style Sausages
Wraps/Tortillas
Palm Oil Free Toiletries & Cosmetics List
African black soap
Cebra Ethical Skincare African black soap
Anti-dandruff shampoo
Avalon Organics Anti-Dandruff Shampoo
Lamazuna Scots Pine Solid Shampoo Bar
Antiperspirant/Deodorant
Earth Conscious
Natural Deodorant Co
PitRok
Salt of The Earth
We Love the Planet
Weleda Deodorant
Emulsifying wax
Eye cream
dieNikolai Eye Serum
PHB Ethical Beauty Anti-Aging Eye Gel
Green People Age Defy Line Eraser Lip & Eye Serum
Face wash
Conscious Skincare Face Wash
PHB Ethical Beauty Anti-Aging Facial Cleanser for All Skin Types
PHB Ethical Beauty Gentle Facial Tonic for Sensitive Skin & Eczema
Friendly Soap Natural Cocoa Butter Facial Soap Bar
Friendly Soap Natural Shea Butter Facial Soap Bar
Optiat Lemongrass Lifter Coffee Scrub
Optiat Mouthwatering Mandarin Coffee Scrub
Optiat Potent Peppermint Coffee Scrub
Optiat Vanilla Velvet Coffee Scrub
Tropika 100 percent Natural Nourishing Coconut Cleansing Oil
PHB Ethical Beauty Gentle Cleanser for Sensitive Skin & Eczema
Goat milk soap
All Natural Soap Co
Cyril's Soap Shed
Hand cream
Mount Purious Gardeners Green Finger Hand Balm
Antipodes Saviour Skin Balm
Fruits of Nature Hand Lotion
Hand wash & liquid soap
Fruits of Nature Hand Wash
Nilaqua Instant Hand Sanitiser Plus
Moisturiser & face cream
Conscious Skincare Day Cream Moisturiser
Antipodes Saviour Skin Balm
Fushi BioVedic Radiance Face Cream
Fushi Organic Black Cumin Seed Oil
Fushi Organic Castor Oil
Fushi Organic Evening Primrose Oil
Fushi Organic Flax Seed Oil
Fushi Organic Virgin Cold Pressed Coconut Oil
PHB Ethical Beauty Skin Repair Gel with Aloe & Lavender
Shampoo & shampoo bars
Avalon Organics
Ecozone Organic Baby Shampoo
Friendly Soap Natural Shampoo Bar
Lamazuna Scots Pine Solid Shampoo Bar
Living Naturally Coconutty Soapnut Shampoo Bar
Tints Of Nature Dry Shampoo
See our overview of which shampoos are palm oil free here.
Soap
Dalit Handmade Soaps
Friendly Soap
Incognito Luxury Soap
Living Naturally
Oliva Olive Oil Soap
Suma Handmade Natural Soap
Toothpaste
Georganics Natural Toothpaste
Green People Fennel & Propolis Toothpaste
Green People Organic Children's Toothpaste
Jack N' Jill Fluoride Free Natural Toothpaste
Lamazuna Solid Toothpaste
Sarakan Fluoride Free Toothpaste
See our overview of which toothpaste brands are palm oil free here.
Palm Oil Free Cleaning & Dishwashing Products List
Dishwasher tablets
Ecozone Brilliance All in One Dishwasher Tablets
Ecozone Dishwasher Tablets Classic
Ecozone Ultra All-In-One Dishwasher Tablets
Washing powder
Ecoegg Laundry Egg
Ecozone Ecoballs
Ecozone Kit Colour Oxygen Laundry Tablets
Ecozone Laundry Tablets
Ecozone Non-Bio Laundry Capsules
Ecozone Soap Nuts
Living Naturally Organic Soapnuts
Washing up liquid
Ecoleaf Washing Up Liquid
Ecozone Washing Up Liquid
Greenscents Washing Up Liquid
Is There Palm Oil In…
This information is accurate to the best of our knowledge at the time of publication, but brands may change their ingredients in the future.
Aveeno – Yes, Aveeno contains palm oil.
Doritos – Yes, Doritos usually contain palm oil. It is often labelled as "vegetable oil".
Dove Soap – Yes, Dove soap contains palm oil.
Greggs vegan sausage roll – Yes, Greggs' vegan sausage roll contains palm oil.
Justin's Almond Butter – Yes, Justin's Almond Butter contains palm oil.
Kinder – Yes, Kinder eggs contain palm oil.
Kit Kats – Yes, Kit Kats contain palm oil.
Lindt – Yes Lindt chocolates contain palm oil
Marmite – No, Marmite does not contain palm oil.
Nutella – Yes, Nutella contains palm oil.
Pringles – Yes, Pringles contain palm oil.
Oreos – Yes, Oreo cookies contain palm oil.
Quaker Oats – Yes, Quaker Oats contain palm oil.
Quality Street – Yes, Quality Street chocolates contain palm oil.
Quorn – Yes, Quorn contains palm oil.
Walkers Crisps – No, Walkers Crisps do not contain palm oil.
Yankee Candle – Yes, Yankee Candles contain palm oil.
Names for Palm Oil
Currently there isn't any law that requires manufacturers to clearly list "Palm Oil" in the ingredients list or write "Contains Palm Oil" on the packaging.
Palm oil is often hidden in ingredients lists since lots of different ingredients can contain or be derived from palm oil.
Here's a list of different names for palm oil and ingredients that often come from palm oil:
Asorbyl Palmitate
Cetyl Palmitate
Elaeis Guineensis
Emulsifier – can contain palm oil
Etyl Palmitate
Fractionated Palm Oil
Glyceryl
Glyceryl Stearate
Hydrated palm glycerides
Octyl Palmitate
Organic Palm Kernel Oil
Palm Fruit Oil
Palm Kernel
Palm Kernel Oil
Palm Kernel Olein
Palm Kernel Stearin
Palm Stearine
Palmate
Palmitate
Palmitic acid
Palmitoyl Oxostearamide
Palmitoyl Tetrapeptide-3
Palmityl Alcohol
Palmolein
Partially Hydrogenated Palm Oil
Sodium Dodecyl Sulphate
Sodium Isostearoyl Lactylaye
Sodium Kernelate
Sodium Laureth Sulphate
Sodium Lauryl Lactylate
Sodium Lauryl Sulfoacetate
Sodium Lauryl Sulphate
Sodium Palm Kernelate
Stearate
Steareth -2
Steareth -20
Stearic Acid
Vegetable fat – can contain palm oil
Vegetable oil – can contain palm oil
Vitamin A Palmitate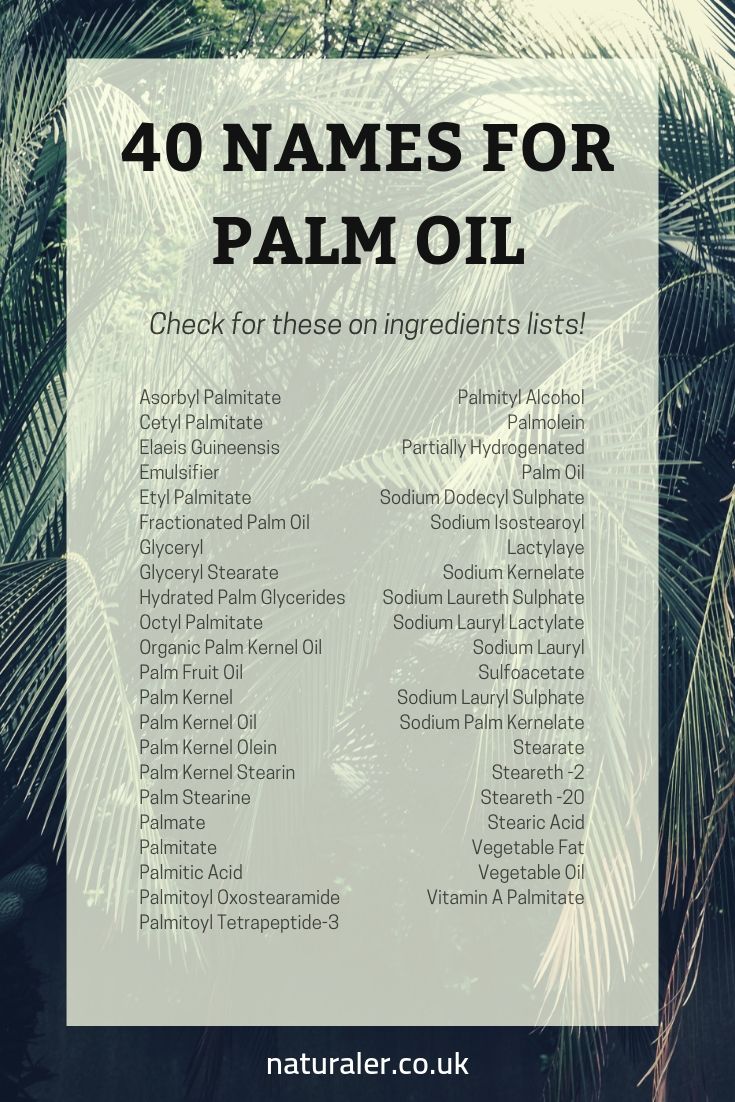 Where to Buy Palm-Oil Free Products
Ecco-Verde
Natural make-up and skincare website Ecco Verde has a great range of palm-oil free toiletries and beauty products.
This website has a large range of everyday items such as toothpaste (including a variety for children), soaps and moisturisers.
There are also some high quality beauty products, such as facial serums, shaving products, face masks, sunscreen and lipsticks.
Prices start at around £2 for a body lotion.
Ethical Superstore
Snacks such as biscuits and crisps often contain palm-oil, but it can be hard to cut snacks out of our diet altogether.
Online shop Ethical Superstore stock a wide variety of palm-oil free snacks, perfect for lunch boxes and when you're on the go.
Most of the snacks are also vegan friendly, gluten free and additive free, so they're a healthier alternative to regular crisps and biscuits too.
For example, Hippeas Organic Far Out Fajita Chickpea Puffs contain only 90 calories per serving, so they're better for your waistline as well as the environment.
Iceland
Iceland have not only raised awareness of the devastating impact of the palm oil industry on orangutans and other wildlife with their Rang-tan advert and 'Choose a Christmas without Palm Oil' campaign, the supermarket has now removed or replaced palm oil from the majority of their own brand foods.
To make it easier to shop for products that are free from palm-oil, Iceland have a green 'No Palm Oil' badge displayed on packaging and online.
The large range of food includes ready meals, biscuits, ice cream, pizzas and a 'No Palm Oil' Christmas range, so you can stock up on festive favourite such as mince pies with a clearer conscience this Christmas.
Iceland has also stated, "By the end of 2018, 100% of our own brand food will contain no palm oil. We are the first UK supermarket to commit to removing palm oil from all own brand food."
What is palm oil?
Palm oil is an ingredient found in about half of the foods that you can find in the supermarket nowadays, as well as other household products such as soap, makeup, shampoo and cleaning products.
It has been used as an industrial lubricant, in biofuels for cars and the Bank of England even considered using it in the new £20 note.
Oil palm trees can be harvested all year round and give higher yields of oil than most crops, making it an extremely popular option for manufacturers in a range of industries. It is also a highly versatile oil with applications in a huge range of areas.
The oil comes from bunches of fruit that grow on the oil palm trees, while palm kernel oil comes from the seeds inside these fruits.
It is an edible vegetable oil extracted from two species of palm tree originally native to Africa. In the 19th century, the trees were introduced to South-East Asia.
Indonesia and Malaysia are the world's two largest palm oil growers and exporters today, but there are concerns over how the crop is affecting their natural landscapes.
Why is palm oil so controversial?
While palm oil has been in use for a long time among African and Asian populations, only recently has it become a major concern for environmental groups.
Since the 1960s, mass food production and other industries have increasingly turned to palm oil because its high yields make it a cheap and economically efficient crop. However, this boom in industry has come with real environmental and social costs.
The main problem when it comes to palm oil is deforestation.
As palm oil demand grows ever larger, space must be made for plantations, and this is often achieved by burning or logging natural rainforests to create farmlands.
Indonesia is losing its forests at a higher rate than anywhere else in the world; according to Palm Oil Investigations, Indonesia had an average natural forest loss of 917,000 hectares per year between 2009 and 2013, more than half of which was due to illegal land clearing.
Although some palm oil plantations have been placed over previously used farm land, The United Nations Food and Agriculture Organization suggests that from 1990 to 2005, 55%–59% of oil palm expansion in Malaysia, and at least 56% in Indonesia, destroyed old growth forests.
This has had a devastating effect on wildlife species that are losing their habitats, posing a serious risk to biodiversity, especially since palm oil is largely grown in the species-rich tropics.
The orangutan in the most iconic face of the palm oil crisis, and has been pronounced critically endangered as a result of massive population loss as they lose their habitats and starve to death, or are killed as pests by plantation companies.
It's estimated that 100,000 orangutans were lost between 1999 and 2015, with 50% of the Bornean orangutan population affected by extraction of natural resources.
The Sumatran tiger, elephants, rhinos, birds and butterflies are also suffering under the effects of habitat destruction and killings associated with the industry.
There are also pollution concerns related to the slash and burn techniques used to get clear land as quickly as possible.
In 2013, Singapore – situated at the tip of the Malaysian peninsula – was subject to thick smog that smelled of burned wood and was caused by illegal forest fires on Sumatra.
The air pollution from forest burning can cause health risks, ranging from minor (eye irritation) to severe, including increased risk of cancer, respiratory and cardiovascular illness.
While U.K. residents may not be personally subject to those health risks from fires in South-East Asia, air pollution that continues at such high rates will surely affect the Earth's atmosphere as a whole, as time progresses.
Some small farmers and labourers have benefitted economically, with a higher standard of living and improved infrastructure working oil palm as a cash crop; according to the WWF, 45% of the Indonesian palm oil industry is made up of smallholders who have relied on the industry to lift them out of poverty.
On the other hand, other social consequences of the industry are concerning.
Workers and children have been exploited and subject to forced labour, unsafe working conditions and unreasonable demands, says Amnesty International.
There have also been documented occasions when land was taken from indigenous peoples to farm oil palm without adequate compensation or permission, and other instances where locals have been harassed by the industry over land disputes.
Are alternatives to palm oil even worse?
Before deciding to take drastic action and becoming an anti-palm oil activist, it's important to stop to think about why the crop has become such a major industry in the first place, and what the alternatives might be.
A June report by the International Union for the Conservation of Nature (IUCN) Oil Palm Task Force has complicated the problem by suggesting that replacing it with alternative crops may actually create more environmental damage than palm oil already does.
One reason oil palm become such a juggernaut was its efficiency.
The "Oil Palm and Biodiversity" report makes the point that oil palm gives very high yields compared to other common oil crops, such as rapeseed, sunflower and so on, which can require up to nine times as much land to gain a similar quantity of oil.
Currently, oil palm contributes 35% of the world's vegetable oil demand, using only 10% of the land used to grow oil crops.
"Palm oil is decimating South East Asia's rich diversity of species as it eats into swathes of tropical forest," said Erik Meijaard, report lead author and Chair of IUCN's Oil Palm Task Force.
"But if it is replaced by much larger areas of rapeseed, soy or sunflower fields, different natural ecosystems and species may suffer. To put a stop to the destruction, we must work towards deforestation-free palm oil, and make sure all attempts to limit palm oil use are informed by a solid scientific understanding of the consequences."
"When you consider the disastrous impacts of palm oil on biodiversity from a global perspective, there are no simple solutions," said IUCN Director General Inger Andersen.
"Half of the world's population uses palm oil in food, and if we ban or boycott it, other, more land-hungry oils will likely take its place. Palm oil is here to stay, and we urgently need concerted action to make palm oil production more sustainable, ensuring that all parties – governments, producers and the supply chain – honour their sustainability commitments."
According to the report, outlawing palm oil could just displace the biodiversity loss already inflicted, as the expansion of replacement crops would simply take place elsewhere across the globe.
Banning the use of palm oil could also have diplomatic and economic implications, as discovered when Malaysia threatened retaliation over an E.U. plan to ban palm oil in biofuels.
Additionally, there are claims that oil palm requires fewer pesticides and chemical fertilizers than other crops – although chemical usage has had some negative effects in the industry.
Can palm oil be sustainable?
This Christmas, frozen food chain Iceland planned to run a cartoon TV advertisement about the devastating effect that palm oil farming has had on the orangutan, which can only be found wild in the forests of Sumatra and Borneo, but the ad was banned on the grounds that it was too political.
The supermarket's managing director Richard Walker has said that he doesn't believe that a sustainable palm oil exists on the mass market, as has moved to remove palm oil from the company's range.
"Certified sustainable palm oil does not currently limit deforestation and it does not currently limit the growth of palm oil plantations. So until such a time as there is genuinely sustainable palm oil that contains zero deforestation, we are saying no to palm oil," he told the BBC. So, is Walker right in when he says there is no such thing as sustainable palm oil today?
Of course, small-scale, traditional palm oil producers have extracted and sold their product for centuries without deleterious effects, but the huge industry of mass oil production is another matter.
If you are used to reading the fine print on product packaging, you may have seen labels for "sustainable palm oil," but what does that really mean?
The Roundtable on Sustainable Palm Oil (RSPO) was established in 2004 with the aim of creating a more environmentally sound alternative, without sacrificing the livelihoods of industry workers.
Approximately 20 percent of palm oil is now certified through the Roundtable on Sustainable Palm Oil (RSPO) although there have been serious credibility questions levelled at the organization.
The RSPO certification allows for some deforestation, and some have claimed that it allows the industry to continue its destructive methods under cover of so-called sustainable certification.
In July, Greenpeace published a report alleging that the organization lacks transparency and that some of its members have been refusing to divulge their palm oil suppliers.
Another report by the Environmental Investigation Agency revealed a series of problems, including lack of organizational oversight, substandard assessments, conflicts of interest, and incompetent or negligent audit practices.
Research recently published in Environmental Research Letters found that, "No significant difference was found between certified and non-certified plantations for any of the sustainability metrics investigated… to achieve intended outcomes, RSPO principles and criteria are in need of substantial improvement and rigorous enforcement."
The scientists particularly looked at orangutan decline in certified sustainable regions and found no improvement over standard industry practices, due to vague criteria and minimal punishment for rulebreakers.
The International Labor Right Forum has also reported that the RSPO has done little to enforce working standards, with human rights and labor violations present even at certified plantations.
According to the IUCN, "Certified palm oil has so far proven to be only marginally better in terms of preventing deforestation than its non-certified equivalent, but the approach is relatively new and holds potential for improving sustainability."
So, with all this disappointing information, was Iceland right to ban palm oil storewide? Two academics at the University of Kent back up the IUCN in their assessment that outright banning palm oil may be counterproductive.
Dr Jake Bicknell and Dr Matthew Struebig, from the Durrell Institute of Conservation and Biology at the university, and who are working with sustainable palm oil certification bodies, have suggested that, "Iceland's move to ban palm oil products, rather than work with the industry to seek sustainably sourced solutions, could be viewed as a step backwards. Environmentally conscious consumers should demand palm oil from certified sources, but avoiding it altogether runs the risk of putting pressure on other crops that are equally to blame for the world's environmental problems."
"Compared to other sources of vegetable oil (e.g. rapeseed and soybean oil) palm oil yields up to five times the oil per unit of land, and requires far less pesticide and fertiliser. This means, in order to feed the world, palm oil is actually part of the solution, because fewer resources are required."
The IUCN puts forward a range of recommendations that don't necessarily involve boycotting palm oil altogether.
Some of their suggestions include:
Move toward using land that doesn't need to be deforested for farming to begin. Improved planning and better management of land.
Conservation-oriented government policies in relevant countries.
Ensuring that sustainability commitments are actually honored and transparently reported.
Limit demand for non-food palm oil applications to curb potential rises in demand from the biofuel market.
Does palm oil come from palm trees?
When we hear the words 'palm oil', most of us would assume that this refers to the oil extracted from a palm tree. However, things aren't quite that simple.
Palm oil does come from palm trees, but only from particular species, namely Elaeis guineensis, Elaeis oleifera and Attalea maripa.
Some people assume that 'palm trees' are a single species, but in fact there are lot of different species that come under this umbrella.
Arecaceae, or palms, are a family of plants that include several species of palm trees as well as shrubs, climbers and stemless plants.
Palm oil is primarily produced from Elaeis guineensis, a species of palm tree also known as the African oil palm. This tree is native to west and southwest Africa, but has been introduced in southeast Asia and Central America.
Palm oil can also be produced from Elaeis oleifera and Attalea maripa, two other species of palm tree.
These trees have a palm fruit and palm kernel (the seed), which both contain palm oil.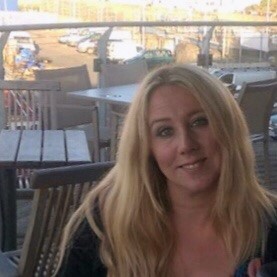 Clare began her career as a technical writer, but since having her boys has worked mostly from home writing content for various websites, including health and beauty and educational resource sites.