Plastic pollution is one of the biggest problems facing our planet right now.
Every day, almost a million metric tonnes of plastic is produced worldwide, the majority of which isn't recycled.
Most of it ends up in landfill or the oceans.
Plastic takes hundreds of years to decompose, and releases toxins into the environment in the process.
We all need to do our bit to use less plastic where possible.
On this page we've collected some of the best and most powerful quotes on plastic pollution.
These quotes highlight the severity of the problem, and the urgent need to make a change.
Quotes on Plastic Pollution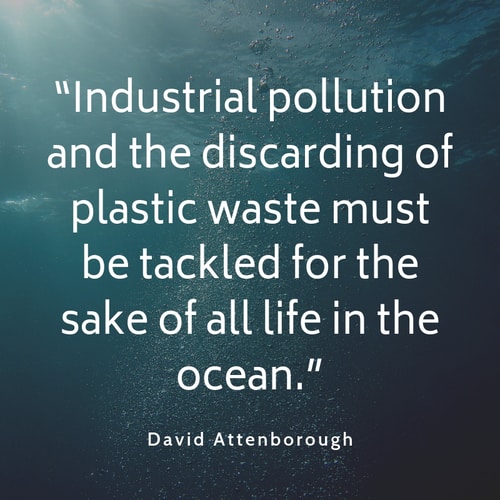 "Industrial pollution and the discarding of plastic waste must be tackled for the sake of all life in the ocean."
— David Attenborough, broadcaster and natural historian
Sir David Attenborough has lent his now iconic voice to the narration of BBC natural history documentaries for over 50 years. Most recently, he presented Blue Planet II in 2017, a documentary series about life in the oceans that helped draw attention to the crisis of plastic waste in our seas.
This quote comes from the final episode of Blue Planet II, broadcast in December 2017.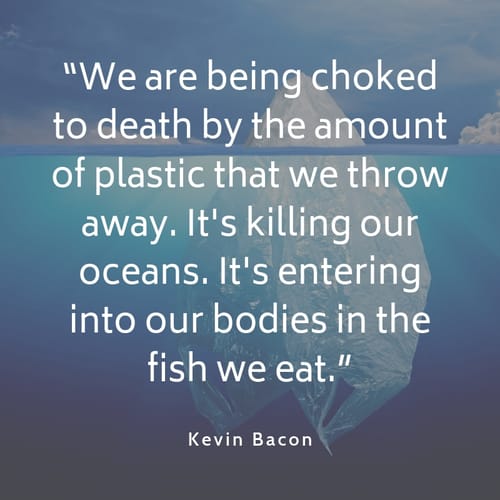 "We are being choked to death by the amount of plastic that we throw away. It's killing our oceans. It's entering into our bodies in the fish we eat."
— Kevin Bacon, actor
Kevin Bacon is an American actor and musician. Besides acting, he is involved in environmental activism. In 2011, he worked with the Natural Resource Defense Council (NRDC) to promote the protection of the last surviving Kermode bears (or spirit bears) in British Columbia.
We're not sure where this particular quote originated, but it's one of the most widely shared quotes on plastic pollution online.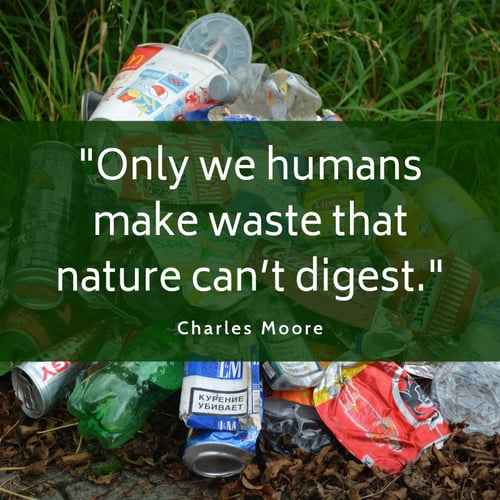 "Only we humans make waste that nature can't digest."
— Charles Moore, oceanographer
Charles J. Moore is an American oceanographer who is best known for drawing attention to the "Great Pacific Garbage Patch", a huge area of floating plastic waste in the ocean between Hawaii and California.
This quote comes a TED talk given in Long Beach, California in February 2009 (see below).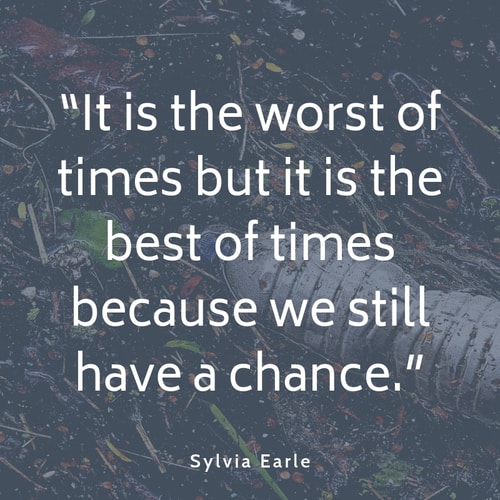 "It is the worst of times but it is the best of times because we still have a chance."
— Sylvia Earle, marine biologist
Sylvia Earle is an American marine biologist who has been a National Geographic explorer-in-residence since 1998.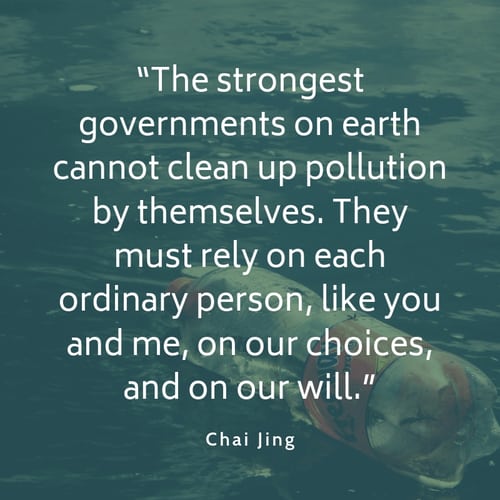 "The strongest governments on earth cannot clean up pollution by themselves. They must rely on each ordinary person, like you and me, on our choices, and on our will."
— Chai Jing, journalist & environmental activist
Chai Jing is a Chinese journalist who released a documentary called Under the Dome on pollution in China in 2015.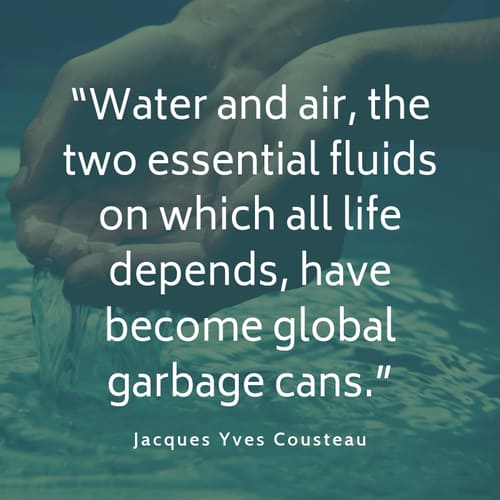 "Water and air, the two essential fluids on which all life depends, have become global garbage cans."
— Jacques Yves Cousteau, naval officer & marine conservationist
Jacques Yves Cousteau was a French naval officer, explorer and marine conservationist who codeveloped the Aqua-Lung (the first scuba diving apparatus).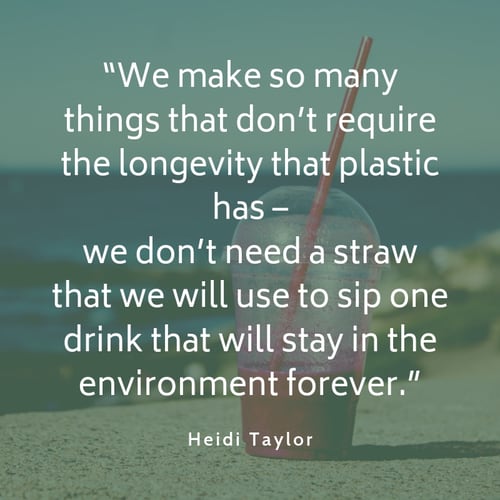 "We make so many things that don't require the longevity that plastic has – we don't need a straw that we will use to sip one drink that will stay in the environment forever."
— Heidi Taylor, founder of marine environment charity Tangaroa Blue
Heidi Taylor is the founder of Tangaroa Blue, a Australian not-for-profit organisation working to remove and prevent marine waste.
This quote comes from a Guardian article about plastic pollution in Australia published in 2018.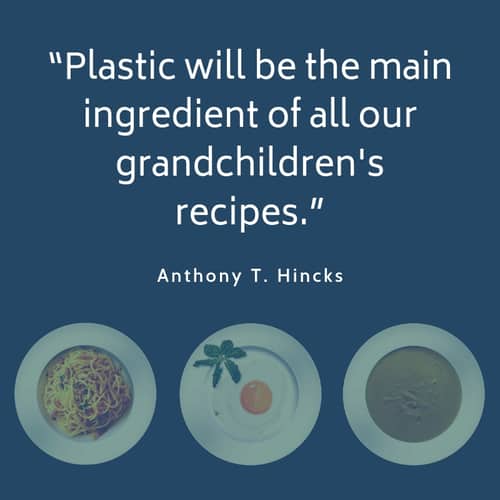 "Plastic will be the main ingredient of all our grandchildren's recipes."
― Anthony T. Hincks, author
Anthony T. Hincks is an author who has thousands of quotes published on Goodreads.com.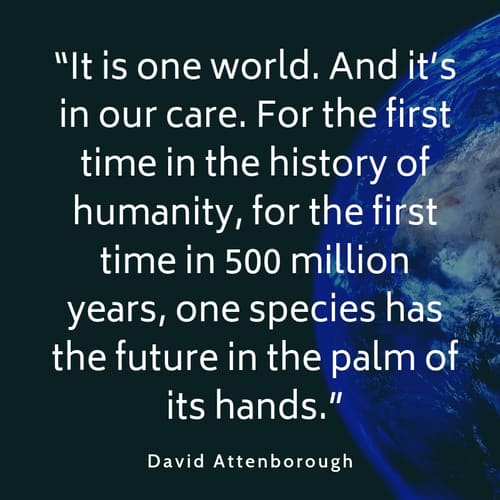 "It is one world. And it's in our care. For the first time in the history of humanity, for the first time in 500 million years, one species has the future in the palm of its hands."
— David Attenborough, broadcaster and natural historian
This quote comes from an Independent article published in October 2017.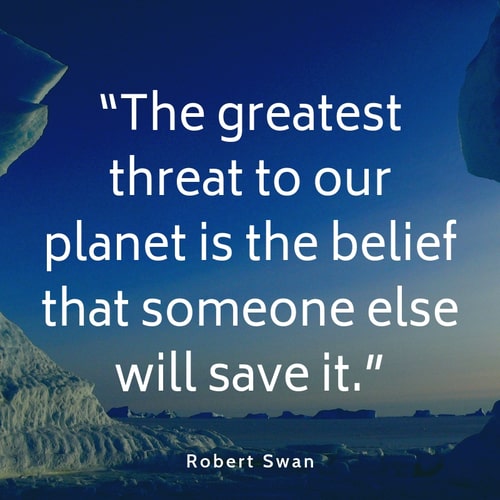 "The greatest threat to our planet is the belief that someone else will save it."
— Robert Swan, explorer
Robert Swan, OBE, is a British explorer who was the first person to walk both poles. He is the founder of 2041, which is an organisation dedicated to protecting Antarctica.
If you're looking for ways to reduce your own use of plastic, check out our complete guide to using less plastic.

Naturaler is a UK website full of tips and recommendations for living a more eco-friendly, chemical-free and natural lifestyle.