Plastic pollution is one of the biggest problems facing our planet right now.
Thanks to brilliant documentaries such as the BBC's Blue Planet 2 and campaigns by the likes of Greenpeace and the Plastic Pollution Coalition, we're all becoming more aware of how much our daily habits can impact the state of our oceans.
Plastic is by far one of the worst of these problems.
That's why we've collected some of the best and most powerful quotes on plastic pollution. These quotes highlight how severe the problem is, the urgent need to make a change and the fact that the power does indeed lie in our hands.
Before we dive into these expert words of wisdom, let's have a quick look at some of the facts about plastic pollution.
What's the problem with plastic pollution?
According to a Greenpeace report (Plastic Debris in the World's Oceans, 2006), the world produces 260 million tonnes of plastic per year, of which around 10% ends up in the ocean.
Despite what's been assumed for many years, this plastic doesn't simply vanish once it's there.
Instead, it pollutes the marine ecosystem and is either mistaken for food by larger marine animals such as whales or fish, or continues to float in the water, creating a watery plastic soup.
We've all seen the images of whales washing up on beaches and coastlines around the world with their stomachs full of plastic, semi-decomposed birds filled with discarded bottle tops and lighters, and turtles with plastic carrier bags hanging out of their mouths.
The remaining 90% often isn't recycled and gets sent to landfills where it can sit for hundreds or even thousands of years.
As plastic is an entirely synthetic material, it doesn't biodegrade and will only degrade or break down into small pieces. As it does degrade, it releases toxins that can pollute the soil, harm the fragile ecosystem and even kill wildlife.
It's a problem that we clearly can't ignore anymore.
If we care about the state of the planet and want to leave it green and abundant for our children and grandchildren, we all need to take action and reduce the amount of plastic (especially single-use plastic) we use wherever possible.
24 Quotes on Plastic Pollution
Here's a collection of our favourite quotes on plastic pollution to help you make better choices every day and live a greener, more sustainable life.
This includes leading figures from the world of minimalism and zero-waste, leading ecologists and marine biologists and plenty of wise individuals along the way.
We've included some famous quotes from celebrities as well as less-known ones from eco-friendly living experts.
1. "The most environmentally friendly product is the one you didn't buy." – Joshua Becker, founder of Becoming Minimalist.
This excellent piece of wisdom comes from Joshua Becker, minimalist author and blogger from the USA. He reminds us that making better choices for the environment isn't just about buying items that have an eco-friendly label. It's about reviewing our shopping habits and choosing items that are reusable.
2. "It is the worst of times but it is the best of times because we still have a chance." – Sylvia Earle, marine biologist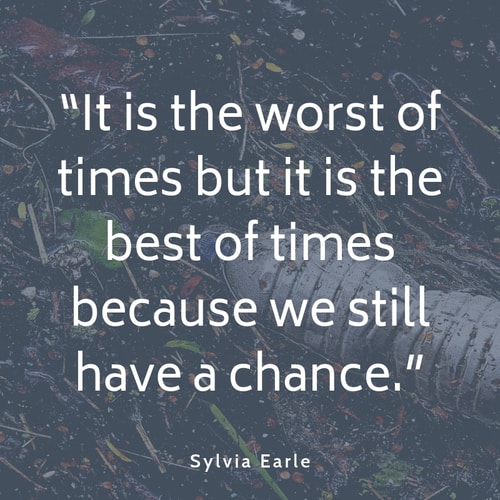 Sylvia Earle is a legendary oceanographer, explorer author and lecturer who has been a National Geographic explorer-in-residence since 1998. With this quote, she reminds us that it's not too late—we can all take steps to protect our planet no matter how small they might be.
3. "Industrial pollution and the discarding of plastic waste must be tackled for the sake of all life in the ocean." – David Attenborough, broadcaster and natural historian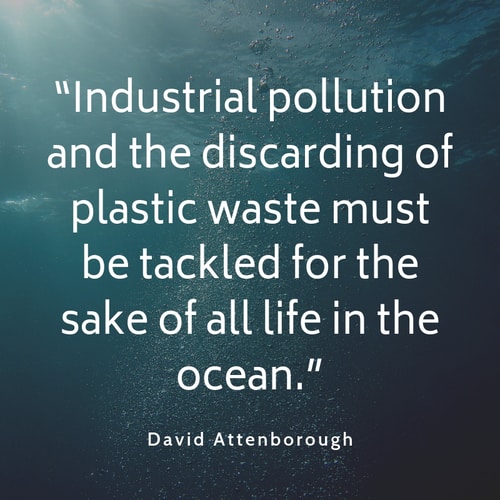 Sir David Attenborough needs no introduction. A legend in the UK and in natural history circles, he's lent his now iconic voice to the narration of BBC natural history documentaries for over 50 years.
Most recently, he presented Blue Planet II in 2017, a documentary series about life in the oceans that helped draw attention to the crisis of plastic waste in our seas.
This quote comes from the final episode of Blue Planet II, broadcast in December 2017.
4. "Trash is for tossers." – Lauren Singer, founder of the zero-waste website with Trash is for Tossers.
This queen of the zero-waste world certainly doesn't mince her words. Nor does she need to. She's been living a zero-waste lifestyle since 2012 and dedicates her time to growing awareness of the plastic waste problem and helping to make a difference. With this quote, she reminds us that it's always better to avoid creating rubbish at all.
5. "We are being choked to death by the amount of plastic that we throw away. It's killing our oceans. It's entering into our bodies in the fish we eat." – Kevin Bacon, actor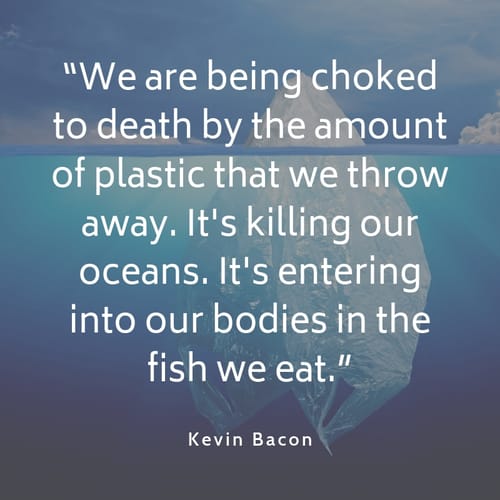 Kevin Bacon is an American actor and musician who is heavily involved in environmental activism. In 2011, he worked with the Natural Resource Defence Council (NRDC) to promote the protection of the last surviving Kermode bears (or spirit bears) in British Columbia.
This widely shared quote highlights the fact that it's not just wildlife that is suffering because of plastic pollution but also us humans too.
We're not sure where this particular quote originated, but it's one of the most widely shared quotes on plastic pollution online.
6. "We don't need a handful of people doing zero waste perfectly. We need millions of people doing it imperfectly" – Anne Marie Bonneau, The Zero Waste Chef 
Anne Marie Bonneau is a chef and a blogger who pushes her readers towards sustainable living and a zero waste lifestyle.
Achieving zero waste is extremely difficult, it's a constant effort and it may not possible for everyone. What if instead of trying to achieve zero waste we educated and reduced plastic waste of some people around us?
If we want to see real difference, we need to work with bigger numbers.
7. "Only we humans make waste that nature can't digest." – Charles Moore, oceanographer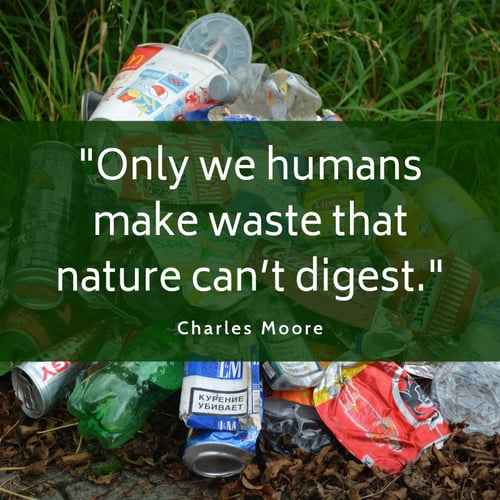 Charles J. Moore is an American oceanographer who is best known for drawing attention to the "Great Pacific Garbage Patch", a huge area of floating plastic waste in the ocean between Hawaii and California.
This quote comes from a TED talk given in Long Beach, California in February 2009 (see below) and reminds us that we need to become mindful of the biodegradability of our waste.
8. "There is no such thing as 'away'. When we throw anything away, it must go somewhere" – Annie Leonard, businesswoman, activist and filmmaker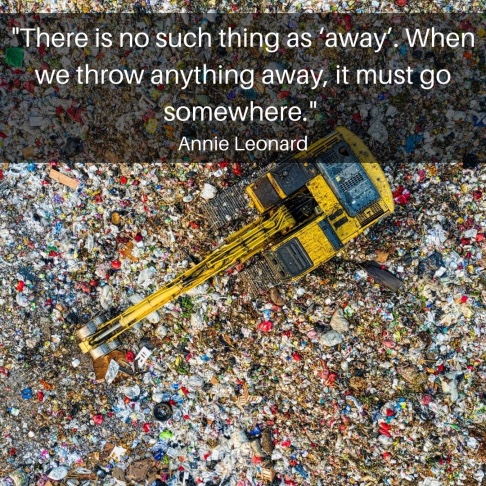 Annie Leonard is the executive director of Greenpeace USA and a proponent of sustainability. In 2007, she created the animated film The Story of Stuff which talks about the lifecycle of material goods.
It's just so easy to throw away things and forget about them and this quote reminds us of that. Out of sight, out of mind. We need to understand and constantly keep in mind that just because we can't see it anymore, doesn't mean it magically ceased to exist.
9. "The strongest governments on earth cannot clean up pollution by themselves. They must rely on each ordinary person, like you and me, on our choices, and on our will." — Chai Jing, journalist & environmental activist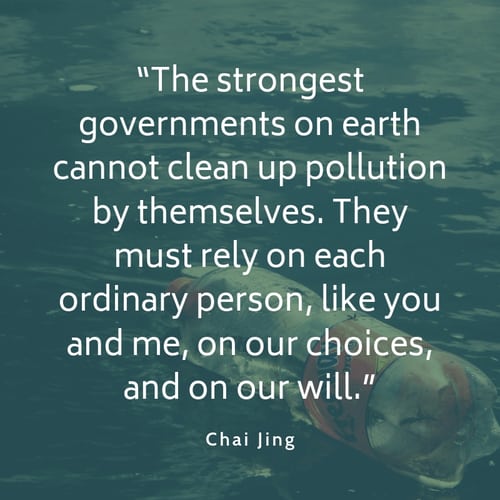 Chai Jing is a Chinese journalist who released a documentary called Under the Dome on pollution in China in 2015 and founded the pollution-tracking app now called the Blue Map in 2014. Again, this quote reminds us that we shouldn't feel overwhelmed or powerless in the face of such environmental change, but we can make a difference.
10. "You cannot get through a single day without having an impact on the world around you. What you do makes a difference, and you have to decide what kind of difference you want to make." – Jane Goodall, English primatologist and anthropologist.
Jane Goodall contributed enormously to our understanding of chimpanzee social and family life thanks to her 45-year study in Tanzania, and she is also somewhat of a national legend. She reminds us here that our every action impacts the world around us, helping us to become more mindful of everything we do.
11. "Water and air, the two essential fluids on which all life depends, have become global garbage cans." — Jacques Yves Cousteau, naval officer & marine conservationist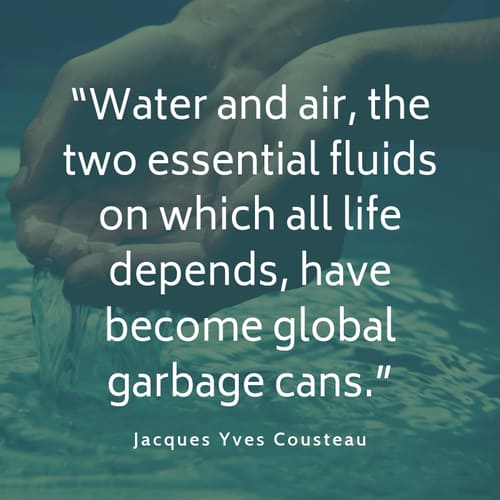 Jacques Yves Cousteau was a French naval officer, explorer and marine conservationist who revolutionised the scuba diving world, codeveloped the Aqua-Lung (the first scuba diving apparatus) and helped restrict commercial whaling.
Even though he was born more than 100 years ago, he realised that pollution poses a huge threat to all life on earth. This quote reminds us of just how important these elements are.
12. "We make so many things that don't require the longevity that plastic has – we don't need a straw that we will use to sip one drink that will stay in the environment forever." — Heidi Taylor, founder of marine environment charity Tangaroa Blue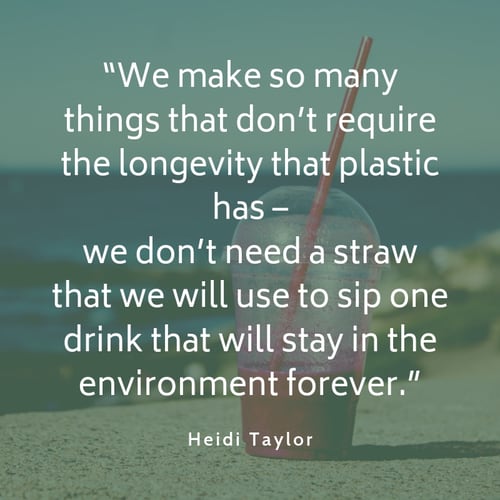 Heidi Taylor is the founder of Tangaroa Blue, an Australian not-for-profit organisation working to remove and prevent marine waste.
In this quote from a Guardian article about plastic pollution in Australia published in 2018, she reminds us that single-use plastics are a disaster for the environment.
13. "Plastic will be the main ingredient of all our grandchildren's recipes." ― Anthony T. Hincks, author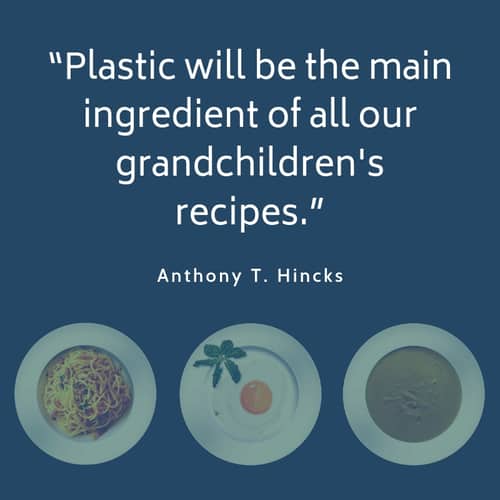 In this worryingly honest quote, author Anthony T. Hincks reminds us of the extent to which plastic is entering the human food chain and how it can impact future generations.
14. "Modern society will find no solution to the ecological problem unless it takes a serious look at its lifestyle."– Pope John Paul II
Over recent decades, every Pope has worked hard to remind us of the importance of protecting the 'work of God' from further damage. In this quote, Pop John Paul II reminds us that it's those smaller daily actions that can make a difference in the world and could help us find a solution to the current problems we face.
15. "I'm often asked whether I believe in global warming. I now just reply with the question: Do you believe in gravity?" – Neil deGrasse Tyson, American astrophysicist, author, and science communicator.
A leading figure in the world of astrophysics and science, Neil deGrasse Tyson has recently supported many of the campaigns to reduce single-use plastic and to protect the natural world.
This includes appearing in an amusing video campaign by Lonely Whale to reduce the use of plastic straws. In this quote, he sets conspiracy theories right, reminding us that science is never up for debate.
 16. "For all the environmental troubles single-use shopping bags cause, the much greater impacts are in what they contain. Reducing the human footprint means addressing fundamentally unsustainable habits of food consumption, such as expecting strawberries in the depths of winter or buying of seafood that are being fished to the brink of extinction." ― Susan Freinkel, author of Plastic: A Toxic Love Story
Science writer Susan Freinkel has brought environmental issues into focus over recent years with her book Plastic: A Toxic Love Story and continued push to raise awareness of plastic pollution issues.
Here she reminds us that plastic pollution is just the tip of the iceberg. For real, lasting environmental change, we need to consider all our habits and make the changes necessary to protect the environment.
17. "It is one world. And it's in our care. For the first time in the history of humanity, for the first time in 500 million years, one species has the future in the palm of its hands." — David Attenborough, broadcaster and natural historian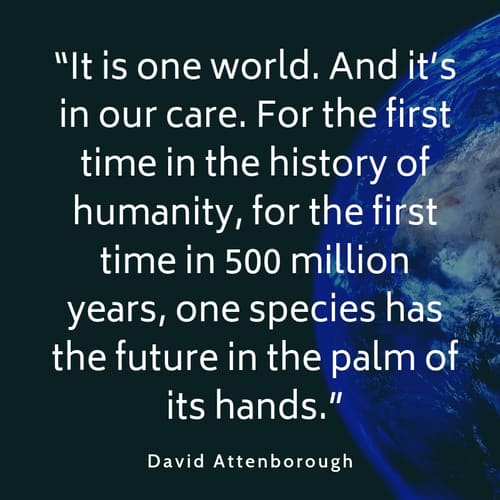 David Attenborough again reminds us that we aren't powerless in the face of climate change and plastic pollution in this quote taken from an article in Independent published in October 2017.  By becoming more mindful of our daily habits and making environmentally aware choices, we can make a difference.
18. "Plastic is the most destructive weapon than a nuclear bomb or an atom bomb, its impact shall remain for centuries on the future generation" — Sir P.S. Jagadeesh Kumar, Scientist, professor and engineer
Sir P.S. Jagadeesh Kumar is considered one of the brightest minds in India and is widely known for sharing his wisdom on many topics, including the environment. Here he reminds us that plastic pollution isn't just a minor issue for our generation but could change the world as we know it.
19. "The greatest threat to our planet is the belief that someone else will save it." — Robert Swan, explorer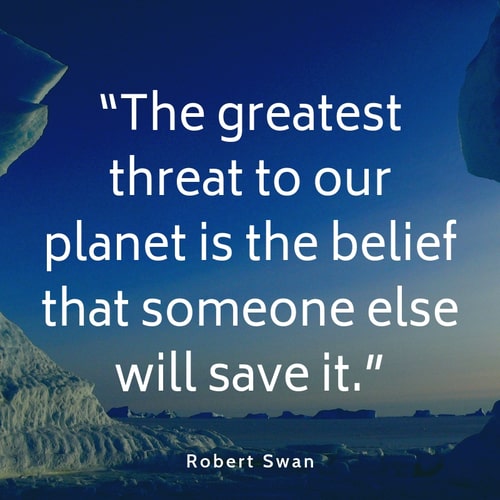 Robert Swan, OBE, is a brave British explorer who was the first person to walk to both the North and South poles. He is the founder of 2041, which is an organisation dedicated to protecting Antarctica and continues to campaign hard to protect the natural world.
What he says here in this widely shared quote is true. We are the only ones who can make a difference to the current state of the world.
20. "Try to leave this world a little better than you found it, and when your turn comes to die you can die happy in feeling that at any rate you have not wasted your time but have done your best." — Robert Baden-Powell, founder of the world scouting movement
Although he died almost 80 years ago, the final words of the founder of the Scouts have never been more true. We should all work to make a difference to the state of the world, reduce the plastic that circulates in the ocean and leave a lasting impact.
21. "It's only one straw," said 8 billion people. — Unknown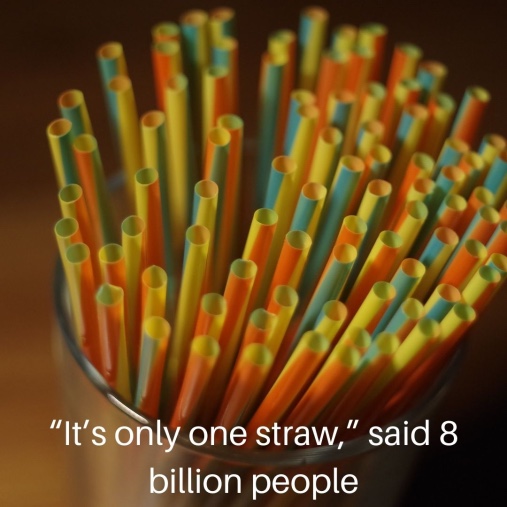 How often do we buy things which will pollute the planet and think "Oh, this isn't really going to make a difference.."?
 22. "If man doesn't learn to treat the oceans and the rain forest with respect, man will become extinct."— Peter Benchley, author of Jaws
The author of the infamous horror film Jaws might not seem like a likely ocean conservation figure, but it's said that he regrets writing the book and film. From when the film was released, he poured his time and money into share conservation efforts. With this quote, he reminds us that we humans are also vulnerable to the effects of plastic pollution and climate change.
23. "We do not inherit the Earth from our ancestors; we borrow it from our children." – Native American Proverb
We finish our quotes on plastic pollution with this Native American proverb which reminds us that our actions do affect future generations and that we are responsible for the world that our children inherit.
24. "We have forgotten how to be good guests, how to walk lightly on the earth as its other creatures do." – Barbara Ward, Economist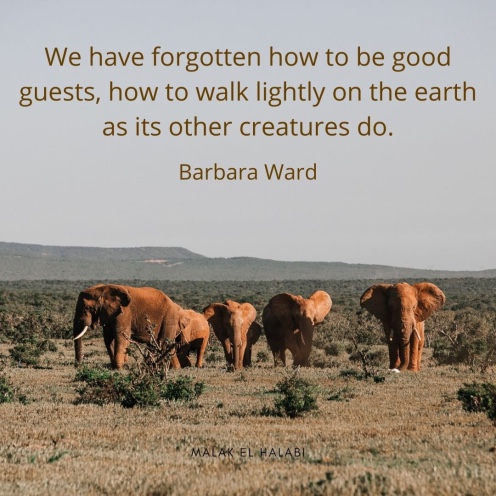 Barbara Ward was a British economist who was interested in issues of the developing countries. In the 1960s, she became an early advocate of sustainable development.
This quote reminds us how different the behaviour of our species is compared to there animals who inhabit the earth peacefully. We're the only ones causing such high levels of irreversible damage and treating nature with ungratefulness.
We Can Make a Difference
To quickly conclude here, plastic pollution isn't a political issue that we can brush under the carpet, a subject we can ignore or something that we're powerless to stop.
With each action, we can make a difference to the state of the planet and ensure our children inherit a world that is just as beautiful, bountiful and abundant as it has always been.
If you're looking for ways to reduce your own use of plastic, check out our complete guide to using less plastic.

Naturaler is a UK website full of tips and recommendations for living a more eco-friendly, chemical-free and natural lifestyle.