Eco-friendly ribbon is the perfect zero-waste alternative to plastic sticky tape, regular ribbon and other craft materials.
Because as most of us know, wrapping gifts or doing fun crafts creates a ton of non-recyclable waste which just ends up in landfill sites or pollutes the ocean and kills marine wildlife.
Choose one of the plastic-free, fully compostable, non-toxic, recycled, ethically-sourced or biodegradable ribbons available in the UK and you can reduce your environmental footprint without needing to deprive your kids or yourself.
And despite what you might think, you can find a ton of bright, stylish colours and textures that will add an eco-friendly touch to your crafts and gifts throughout the year.
In this article, we'll look at the best places to buy it in the UK.
What's the problem with regular ribbon?
Regular ribbon might not seem like a huge offender when it comes to ecological issues, but it can pose a significant threat to the environment.
Firstly, many of the ribbon we use nowadays isn't made from those gorgeous traditional fabrics like silk, cotton or jute. Instead it's made from polyester, nylon, and polypropylene; all different types of plastic that are derived from oil, a fossil fuel.
As with any plastic, these materials aren't biodegradable, recyclable or compostable. This means they are highly likely to end their very short lives sitting in landfill or in the stomach of a marine animal.
Secondly, these ribbons are often dyed with a range of toxic chemicals which can pollute the land and ocean and harm both human and animal health.
Thirdly, and perhaps most importantly, these types of synthetic ribbons are a single-use plastic, just like their cousins the plastic straw, the cotton bud and the plastic bag. As they are not designed to be reused, they simply contribute to the ongoing problem we have on our planet with waste.
If you care about the environment and want to make a difference, choose an eco-friendly ribbon instead.
Where to buy eco-friendly ribbon in the UK
Luckily there's a growing range of companies who sell beautiful environmentally friendly ribbons that are ethically sound. Many of these companies are also working towards minimising waste by using solar power, responsibly sourced materials and recycled materials.
Here are our favourite places to buy eco-friendly ribbon in the UK.
1. Little Cherry
If you're looking for a chic, modern and 100% recyclable ribbon that looks like it's straight off the pages of Pinterest, treat yourself to this gorgeous paper raffia ribbon.
Perfect for fastening gifts without plastic sticky tape, wonderful for tying eco-friendly balloons together, it's a great inexpensive natural gift-wrapping option.
We love the fact it also comes in two natural shades that really complement your design tastes and each roll contains a generous 100 metres.
2. Etsy
Whatever your eco-friendly ribbon desires, you're sure to find them on the crafty site Etsy.
With everything from beautifully colourful cotton ribbons to 100% pure hemp twine, paper twine, natural jute and silk ribbon, you can wrap that gift with love whilst also taking better care of the planet and reducing plastic waste.
Most of the options are fully biodegradable, made from recycled or consciously sourced materials, dyed with non-toxic dyes and they aren't too hard on your pocket either.
They also ship from the UK so you can reduce your carbon footprint too. Brilliant!
3. Amazon
Amazon is also an absolute treasure trove when it comes to buying plastic-free, environmentally friendly ribbon.
There's a wide range of gorgeously textured jute ribbon, bright attractive colours including red, purple, pink, yellow, green, blue and silver (please go and check them out!) and a range of different sizes.
Fully biodegradable, attractive and affordable, Amazon is a great one-stop shop for your plastic-free, zero-waste gift wrapping options!
4. Ethical Kidz
Eco-friendly doesn't always have to look eco-friendly, as the plastic-free ribbons on sale at Ethical Kidz prove.
Made from environmentally wood pulp yet bright, naturally shiny and very kid-friendly, there's no way you'd ever guess that it was so eco-friendly!
It also comes in a ton of lovely colours including royal blue, brown, red, turquoise and purpose that will make any gift look incredible and is sold by the metre to minimize waste.
Where can you buy eco-friendly Christmas ribbon in the UK?
Unfortunately, if you're looking for specially designed, eco-friendly, biodegradable Christmas ribbon that comes complete with those cute little printed motifs of Rudolf and Father Christmas, you're going to be disappointed.
As Christmas only comes once per year, companies often don't invest in the market so most of the ribbons available are the regular kind; synthetic-based and heavily dyed.
However, that's no reason to leave your presents looking dull or compromise on your values.
You can find gorgeous eco-friendly ribbons in those seasonal reds, greens and whites from any of the UK shops we mentioned above such as Little Cherry, Etsy, Amazon or Ethical Kidz. Get creative and your gifts will look just as festive.
What about biodegradable sticky tape?
You didn't forget about the sticky tape, did you? That too is usually made from single-use plastic and is better to be avoided.
Instead, choose an eco-friendly sticky tape. Visit Eco Craft to find sticky paper tape which you can recycle along with the paper or cardboard, AnythingButPlastic with their 100% biodegradable tape or the vegan, recyclable paper tape from Peace with the Wild.
If you're prefer more of a traditional look, tesafilm offer an eco clear tape made from recycled plastics too.
Is raffia eco-friendly?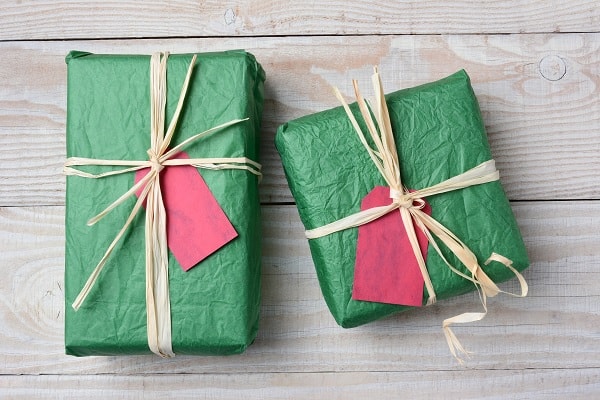 Yes! Raffia is eco-friendly, but only if you choose the natural kind and avoid plastic raffia ribbon.
True raffia comes from the underneath of the leaves of the Raffia palm, so it's completely biodegradable, compostable and much better for the environment.
You can also find paper raffia these days which is also better for the environment than ribbon. You can usually recycle this type of raffia along with your paper recycling too, but do check with the manufacturer first.
Mart-Mon offer some beautiful paper raffia products that are fully biodegradable (see them on Amazon.co.uk), whilst Little Cherry offer 100% natural true raffia ribbons, to name just a few.
Conclusion
As you can see, you can still make those birthday and Christmas gifts look gorgeous, enjoy your favourite crafts and get creative without it needing to cost the earth.
Choose one of these eco-friendly ribbons that are available in the UK and you can stick to your principles without compromising on fun!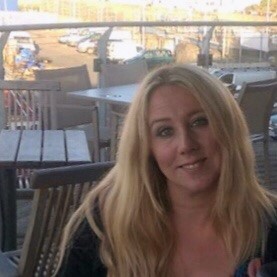 Clare began her career as a technical writer, but since having her boys has worked mostly from home writing content for various websites, including health and beauty and educational resource sites.