Gym wear needs to handle more stretching, sweating and washing than typical garments. We've picked out the best ethical gym wear and activewear from UK-based brands that can cope with the toughest of workouts imaginable.
Our picks include men's and women's clothing and footwear for all athletic disciplines across a wide range of styles, colours and sizes.
We've also highlighted the green credentials of companies and taken a closer look at how each brand is helping their customers to fight climate change and fast fashion, without skimping on looks and item longevity.
1. Pangaia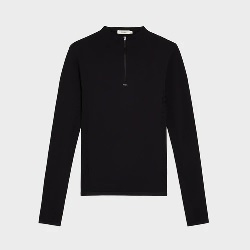 Pangaia isn't your average clothing brand. They market themselves as a 'material science company' that creates cutting-edge, sustainable fashion for men, women and children.
The clothing company is beloved by both the general public and celebrities – Harry Styles, Jaden Smith and Kourtney Kardashian have all been pictured wearing the brand's apparel in the past.
Pangaia's knowledge of high-quality materials reaches far and wide; they produce premium activewear made from recycled materials including recycled wool, recycled cashmere and recycled organic cotton.
They also produce a range of materials from scratch, including ethical linen, Pangaia denim and two trademarked natural fibres, Frutfiber™ (banana leaf, pineapple leaf and coconut husk) and Plntfiber™ (nettles, eucalyptus, bamboo and seaweed).
But that's not all! Pangaia sells mens and womens activewear that's 100% biodegradable, using ethically sourced eucalyptus pulp and seaweed powder.
Pangaia has few physical stores (2 in London, 1 in Hong Kong) but ships products around the globe from a factory in the UK. They offer free delivery and returns on all UK items
2. Sundried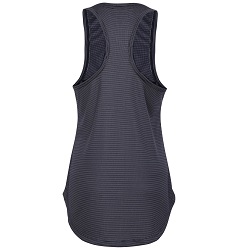 Sundried is a 100% vegan-friendly activewear brand founded by triathlete Daniel Puddick in 2015.
Their "Eco Core" range of clothing is both affordable and sustainable, utilising recycled materials including plastic bottles and coffee grounds in their clothing.
These natural components help to reduce sweat-wicking, capture nasty odours and improve how breathable and movable the clothing is during use.
Sundried's clothing is primarily made using high-end Italian and Portuguese fabrics as well as bamboo-fibre materials.
They have a transparent supply chain audited by SMETA, ensuring that both the people and products of their supply chain are treated ethically.
The brand sells a range of hoodies, sweatshirts, shorts, vests, tops and more. They also sell discipline-specific sports clothing for cyclists, runners, swimmers, triathletes and gym enthusiasts in sizes XS to XXL. Many Sundried items feature fantastic designs and colour options.
All Sundried orders are currently sent next-day within the UK in recycled packaging, with a move towards biodegradable packaging coming in future.
3. Castore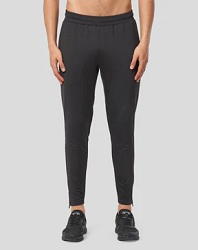 Launched in 2015, Castore has rapidly become a major player among activewear and gym clothing brands.
Now 400-employees strong, the company's premium clothing is beloved by professional athletes and gym enthusiasts alike. If you've ever watched professional sports, chances are at least one person will be wearing Castore clothing.
The brand sponsors football, tennis and cricket players but produces clothing for a multitude of disciplines including cycling, running, motor sports, swimming, rugby and golf.
Castore's gym wear, active wear and sports apparel items aren't just for the professionals. Their premium workout clothing is available to all – Castore's clothing is now available in over 40 countries worldwide.
As the brand's lead ambassador, Andy Murray is often fitted out with Castore's clothing on the court. Their immense range of activewear includes tops, tracksuits, gilets, hoodies, shorts, sweatshirts, compression wear and more; many items feature excellent quality designs thanks to the brand's close partnership with many professional sports teams.
Item sizes vary from item to item; sizes from XS to 4XL are generally available. They use premium-quality materials sourced directly from family-owned Italian mills and manufacture some of their products in advanced, eco-friendly factories.
Many Castore products, including a vast range of cycling apparel for men and women, can be purchased via the brand's official Amazon store. To shop the full range of items, visit the official Castore website.
4. Tentree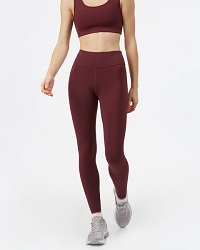 Tentree (stylised as tentree) is an earth-focussed clothing brand. They plant trees and mangroves for each and every item bought to offset their carbon footprint. The ambitious brand has already planted over 30 million trees across 8 countries, with a goal to plant 1 billion trees by 2030.
The company creates men's and women's activewear and loungewear using sustainable materials. These include hemp, cork, organic cotton, recycled polyester and Tencel, a fabric that's made from renewable wood sources but extremely comfy and kind to human skin.
Tencel is a fantastic activewear and gym wear material as it contains microscopic holes which allow sweat and moisture to evaporate quickly, while keeping the body at a comfortable temperature.
Tentree sells clothing for both men and women. Their available items include t-shirts, tank tops, sweaters, joggers, hats and shorts, many of which use a blend of organic cotton and recycled polyester.
Tentree also sells a range of women's only activewear, branded as InMotion, which feature award-winning technical fabrics in a range of great colours.
Mens sizes range from small to extra extra-large (XXL) while women's sizes span from extra small to large.
Tentree is accredited by multiple sustainable and ethical organisations including the Fair Wear Foundation, Fair Trade and Amfori BSCI, the latter being a prestigious social compliance in business association.
5. Fabletics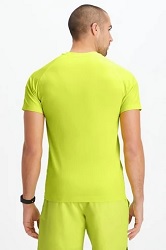 Fabletics is a multinational clothing brand that operates across the UK and internationally. They adhere to the motto "sustainability is the future" and rightfully so. Their physical stores are 100% carbon neutral and they ship all orders in 100% recycled poly bags.
The brand was founded in the US in 2013, before launching across in the UK, France and Germany a year later.
All UK orders are sent from within the UK; standard delivery takes 2 – 4 days but next-day delivery is available in all regions of England, Wales, Scotland and Northern Ireland for a small additional fee.
Fabletics sells both men's and women's clothing that's designed for workouts. Their "Training Day" range of clothing consists of t-shirts, long sleeved t-shirts, zipped training shirts and more, all of which are breathable and able to cope with heavy-sweating during athletics, gym sessions and other forms of physical activity.
Many Fabletics designs feature mesh panel armpits for ventilation, seamless construction and anti-chafe fabric.
Compared with other UK ethical clothing brands, Fabletics offers a considerable number of colour options for almost every product, ranging from classic blacks, greys and whites to bright colours including carbon blue, orange burst and essential green.
For men's gym wear, sizes span from extra small (XS) to extra extra large (XXL). Women's items are available in slightly more sizes, ranging from XXS to 4X.
To cut down on unnecessary waste, Fabletics allows customers to send their used products back at their end-of-life for recycling into new clothing. Each item returned will land customers £10 off future orders over £75 (at the time of writing), a move which aims to cut down on fast fashion and clothing waste.
6. Allbirds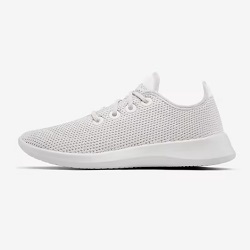 Allbirds produces super sustainable footwear and clothing for men and women. Many companies have attempted to produce long-lasting, ethical shoes in the past but few have been able to compete with cheap, synthetic shoes… until now.
Allbirds have mastered the production of earth-friendly shoes with natural insoles. These typically wear out faster than synthetic insoles, but Allbirds has managed to include natural castor bean oil in their shoe construction, improving their lifetime and helping to offset the shoe's carbon footprint. One plastic bottle is recycled to produce each pair of Allbirds' shoe laces.
Another line of products unique to Allbirds is their "sugar series" of slides (flip flops). Instead of more traditional cork, or earth-hurting plastics, these utilise sustainable sugarcane in their construction which provides excellent bounce and cushioning on feet.
The footwear is the world's first carbon negative green EVA and features 100% recycled polyester straps. All Allbirds footwear is available in sizes from UK 2 to UK 13.
Much of Allbirds' footwear and clothing contains superfine Merino wool. Sourced with care from New Zealand sheep, the soft wool obtained uses 60% less water than synthetic alternatives.
Picking the perfect pair of shoes can be a challenge, especially when buying from a new brand. Allbirds helps to alleviate customer worry by offering a "no questions asked" 30-day free returns policy for all UK orders.
As well as shoes, Allbirds sells underwear, socks, bottoms, tops and activewear. Their range of activewear uses ultra-light, mesh fabric that effectively regulates body heat and wicks sweat away from the body for added comfort. This is achieved using a blend of merino wool, recycled polyester and Tencel.
Their clothing ranges from sizes extra small (XS) to triple extra large (XXXL) and is available in a range of colours. Designs are typically simple, often featuring a small logo on the chest, back or sleeves
All Allbirds orders are packaged with 90% recycled cardboard. Delivery takes 2 to 3 business days and is free for all orders above £50. A faster, next-day express delivery option is available across the UK (excluding weekends and bank holidays) if purchased before 12:30pm GMT.
7. Tala (Women's Gym Wear)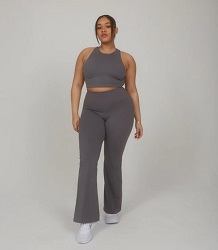 Tala is a women's activewear brand launched in 2019. It was founded by fitness fanatic Grace Beverley, who previously created the popular fitness challenge app Shreddy. Despite the company's massive increase in size, they've stayed true to their sustainable roots.
A high percentage of the materials Tala uses to create clothing is sourced from recycled materials, helping to minimise the volume of chemicals and wastewater they generate.
Tala's best-selling products by far are their range of women's active leggings; they have 7 different styles available including yoga pants, flared leggings and core seamless, the latter being made from 92% recycled materials.
The popular brand has a total of 32 leggings available in sizes XS to XL as well as a multitude of other activewear including bras, underwear, jackets, dresses and more.
Uniquely, TALA is partnered with a separate company, Purple Dot. This partner site allows customers to pre-order TALA items before they go on sale, as popular items can sell out entirely in very short amounts of time.
They deliver orders across the UK but their next-day delivery option is unavailable at the time of publication.
8. BoohooMAN (Men's Gym Wear)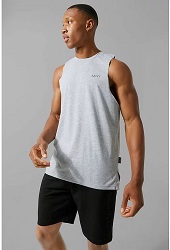 As the name suggests, BoohooMAN is a men's clothing brand. They're based in the UK and sell an impressive range of gym wear and activewear for men. Gym tracksuits, active outerwear, active seamless clothing and muscle fit clothing are just some of the BoohooMAN gym wear items available currently.
Many of BoohooMAN's mens gym wear and activewear is limited in colour choice. If you like black, white, grey and other subdued colours then this isn't a problem.
The British brand is moving towards more sustainable clothing and transparent supply chains. They're continuously working to make their clothing and packaging more sustainable and long lasting. BoohooMAN is also improving standards and management across their supply chains and is working to tackle climate change by offsetting their carbon footprint.
Starting in 2021, all BoohooMAN garments that meet the brand's new ethical guidelines feature a "ready for the future" icon or strapline.

Dylan Kitson is a freelance writer and researcher based in Brighton, England. He's a passionate promoter of all things health, working with supplement companies, health & fitness blogs and consumer review websites.