Picking the perfect pair of sunglasses can be challenging. They need to be practical, stylish and well-fitted to every individual's face shape. Finding sunglasses that fit these criteria, and help to care for the planet, is an even harder task.
To help you on your hunt for sustainable sunglasses, we've picked out 10 of the best ethical sunglasses brands whose products you can buy in the UK.
The sunglasses we've mentioned below are made from a wide range of sustainable materials including bio-acetate, bamboo, recycled plastic, denim and more.
1. Wildwood Eyewear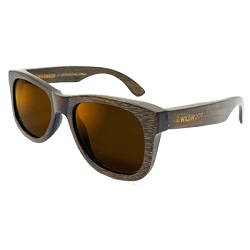 Wildwood is a Canadian company that has partnered with Eco Beach, a British sustainable clothing and accessories brand, to sell their sustainable sunglasses in the UK.
Customers can easily order Wildwood Eyewear items in the UK and have them delivered by Royal Mail within 3 to 5 working days.
As the name suggests, many of Wildwood's sunglasses use wooden frames instead of nature-harming plastics. All of their wood is sustainably sourced and accredited by the Forest Stewardship Council (FSC).
As well as wooden frames, Wildwood eyewear produces recycled plastic frames. They also sell a "BioSUNNIES" line of sunglasses, which are made from 75% wheat straw and 25% biodegradable polypropylene. These are durable but also slightly flexible, a useful property if you're prone to accidentally dropping or sitting on your specs.
They donate 1% of all proceeds directly to One Percent For The Planet, an environmental protection charity.
Every purchase is sent with a complimentary microfibre cloth (made from recycled plastic) and a handy carrying case constructed with either recycled wood pulp or sustainably sourced bamboo.
Wildwood avoids unnecessary packaging wherever possible. If a package does need extra protection, recycled paper or compostable cellulose packaging will be used as a sustainable parcel filler.
A 12-month guarantee is included on all orders of Wildwood Eyewear sunglasses.
2. Nomad Eyewear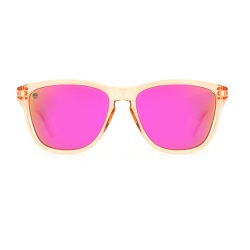 Nomad Eyewear is helping to decrease ocean pollution with their range of recycled plastic sunglasses.
The family-owned business is associated with the Swiss University of Applied Sciences, who process ocean plastic waste into sustainable raw plastic. Renewable energy then transforms the plastic into stylish, British sunglasses for men, women and kids.
But that's not all. For every order placed through their official website, Nomad Eyewear goes the extra mile; five mangrove trees are planted in Madagascar with every purchase.
This helps to protect the county's precious ecosystem, provides valuable local jobs and decreases the company's carbon footprint.
Almost all of Nomad Eyewear's sustainable UK sunglasses cost less than £50. At this time of publication, the brand has 83 unique pairs of sunglasses listed on their website.
All Nomad Eyewear sunglasses are polarised and protect eyes from harmful UVA and UVB rays. Their designs are bright and funky with a wide range of colours, frame styles and lens tints available.
Most items are lightweight for comfort, weighing in at less than 20g per pair. A small number of classic black and transparent sunglasses are also available.
Nomad Eyewear offers free delivery for all UK-based customers, which takes 2 to 4 working days. A next-day delivery option is available for a small additional fee.
3. PALA eyewear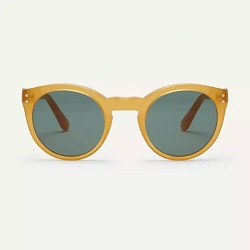 PALA eyewear's glasses and sunglasses are produced by hand in Italy. The brand produces their premium sunglasses in small batches using sustainable materials. Frames are made with bio-acetate, a blend of cellulose (wood fibre) and vegetable-based plasticiser.
Some of their black-coloured frames use acetate that's recycled from material offcuts and previous batches. The final product is a strong but sustainable material that's ideal for use in eyewear.
PALA's sunglasses are made in three face widths (Narrow, Medium, Wide) and come in five lens shapes (Round, Square, Rectangle, Oversized and Cat Eye).
Each design comes in a wide range of designs and colours, including tortoiseshell. Many PALA sunglasses have five or more possible colours to choose from.
All PALA glasses have an anti-scratch coating as standard. Their lenses are filter category 3; this means that they provide medium-to-strong sun glare reduction and 100% UV protection.
Other lenses offer UV400 protection and are produced with eco-friendly plant resin – these lenses feature 39% plant resin per lens.
Every order comes with a microfibre bag, which is made from 70% recycled PET (plastic) bottles. A recycled case is also included – this is produced from either recycled waste plastic or recycled water sachets.
PALA eyewear supports eyecare in Africa, partnering with the charity partner Vision Aid Overseas. A donation is made for every pair of sunglasses purchased directly from their official website. UK delivery takes 2 to 4 working days.
4. Mosevic
Mosevic sunglasses are like no other sunglasses on their market. They use denim, the same material that jeans are made from, in the construction of their frames.
Denim is one of the least eco-friendly fashion materials in use. Producing it from scratch wastes tons of fresh water and toxic dyes, which have polluted many rivers in Asia, are often used as well. Denim waste is frequently sent to landfill instead of being recycled.
Mosevic is hoping to change this by saving denim from landfill and turning it into trendy sunglasses for men and women.
The raw denim is cut up and processed with bio-resin under extreme pressure. This produces a sturdy frame that looks like denim, but it is significantly stronger.
Mosevic sunglasses are made with zeiss polarised lenses. The frames are polished with natural wax, making them water resistant.
Mosevic doesn't produce prescription lenses themselves; all of their sunglasses can be bought "frame only". These contain dummy frames which can be swapped for prescription lenses by any good high street optician.
The brand is based in Cornwall and has been producing a range of denim-based sunglasses for around 10 years.
5. Kirk Originals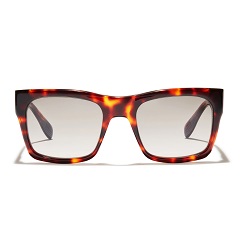 Kirk Originals is a Manchester-based sunglasses company. They've kitted out celebrities (including Liam Gallagher) with their handmade, small-batch production premium sunglasses.
Their handcrafted sunglasses are produced from biodegradable cellulose acetate, which is derived from cotton and wood fibre pulp. This is sourced exclusively from a family-owned Italian brand with over 100 years' experience.
Kirk Originals was founded in the late 90's, but can trace its roots back to 1919, when Percy and Sidney Kirk founded an opticians in the heart of London, England. All Kirk Originals sunglasses continue to be designed and produced in the UK.
They sell a range of both handmade and factory-made sunglasses. Both product lines are produced to the highest standards using years of manufacturing experience to make trendy, long-lasting sunglasses.
Four lens colours are available (green, brown, blue and grey) and frames are designed around four shapes (aviator, round, rectangular and square).
Kirk Originals sunglasses frames come in various styles and frame widths; black, grey and a variety of tortoiseshell colour options are available across their designs.
The brand offers free express delivery to UK and international addresses.
6. Waterhaul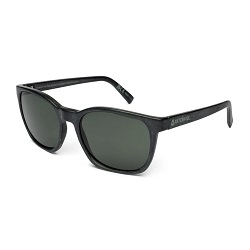 Waterhaul is an eco-friendly, British eyewear brand founded by marine biologist Harry Dennis in 2018. He decided to dedicate his life to reducing ocean pollution, by turning discarded fishing nets into high-strength sunglasses.
Fishing nets are the most common ocean pollutant, more so than plastic bottles and plastic bags.
These nets don't break down over time – they float freely through the sea, disrupting food chains, harming fish and changing the environment.
The company is based in Cornwall, an area of the UK synonymous with sea, sun and surfing. They collect fishing nets by hand from beaches along the Pembrokeshire and Cornish coastlines.
These are mechanically crushed and processed into useful, plastic pellets. The sustainable pellets are then formed into every pair of Waterhaul's sunglasses frames.
Waterhaul sells sunglasses, prescription sunglasses and optical eyewear. Their sunglasses and prescription sunglasses are made from 100% recycled fishing net, no additional "virgin" plastic is added.
The available designs are simple; the colour options available are black, slate, grey, brown and blue.
UK delivery takes between 2 and 4 days as orders are sent with Royal Mail 2nd class.
7. Monokel Eyewear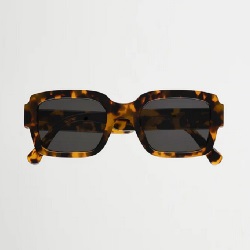 Monokel Eyewear is a Swedish unisex sunglasses brand that's sold in the UK by Urban Industry. They have a range of designs to suit all face shapes and cater to style preferences from classic to modern.
Monokel Eyewear uses sustainable, organic bio-acetate to produce frames for their sunglasses. They use natural colourants in their frames and produce their biodegradable acetate from cellulose – this is commonly sourced from recycled paper, cardboard and wood.
The high-end brand boasts lenses crafted by Carl Zeiss Vision®, world-renowned German company that produces specialist, top-quality optics for film cameras, medical equipment and premium glasses. These lenses provide 100% protection against both UVA and UVB and are treated with anti-scratch and anti-reflective coatings.
Monokel sunglasses come in colours including: Black, Havana, Crystal, Amber, Metal, Bottle Green, Cola, Black/White Havana and Grey. A smaller number of transparent and translucent frames are also available.
A complimentary protective case is included with each order of Monokel Eyewear sunglasses.
8. Wear Panda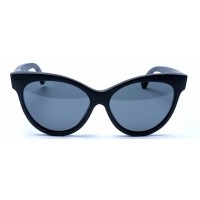 Wear Panda is a Bamboo glasses, sunglasses and sustainable clothing brand. They sell three unique categories of eyewear: organic prescription glasses, original sunglasses and ultra-light bamboo sunglasses.
Their original sunglasses feature highly-durable bamboo frames, formed from 11 layers of interwoven Moso bamboo.
Lenses have an anti-scratch coating and are rated to provide 100% UVA and UVB protection. Each pair of sunglasses also comes with spring hinges as standard; these provide the wearer with additional comfort. All Wear Panda sunglasses are waterproof.
Additional information on how Wear Panda uses sustainable materials and processes can be found here.
Wear Panda makes a monthly donation to their official charity partner Optometry Giving Sight – this money is accumulated from every order of their sunglasses. The organisation has provided eye care to more than 7.6 million people in impoverished nations.
Wear Panda is also a member of the Ethical Fashion Forum's 500 club, a sustainable-practices working group for clothing and accessories brands. Free UK delivery is available for all Wear Panda items.
9. Bird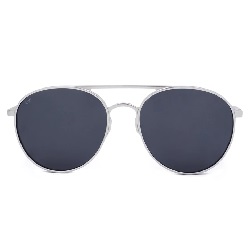 Bird is a British eyewear company that uses multiple sustainable materials. Their frames are made from wood, bamboo, bio-based acetate, recycled aluminium and renewable cork. On top of that, they use plant-based dyes instead of synthetic colourants in their sunglasses.
All Bird products are vegan and animal cruelty free and come with free UK tracked delivery and returns as standard.
Their frames are made from bio-acetate (biodegradable acetate) and occasionally wood, which is exclusively FSC certified. They sell sustainable sunglasses for men, women and kids as well as a range of prescription sunglasses.
Sunglasses and glasses are Bird's core focus; the brand also produces cleaning cloths made from recycled plastic bottles. The brand is looking to become carbon neutral by 2025.
They stand out among other ethical sunglasses brands, offering a home try-on service for only £1 (at the time of writing). If you're unsure on which pair to wear, you can get 8 pairs of Bird sunglasses delivered to try on from the comfort of your own home. These are then returned with a free return shipping label.
Bird gives to charity for every pair of sunglasses purchased through their site. They donate solar lights to remote communities in Malawi and Zambia through a partnership with the SolarAid charity.
They also offer a very generous recycling program. Every pair returned to Bird for recycling (at the end of a product's life) will grant you a 40% discount towards a new pair of Birds.
Bird's designs feature classic designs with modern materials. A range of colours are available and many of their lenses are tinted to match the frame colour; blue, grey and brown tints are available. All lenses offer 100% UVA/UVB protection.
In 2020, the company was initiated as the first British B-Corp Certified eyewear business.
10. Jimmy Fairly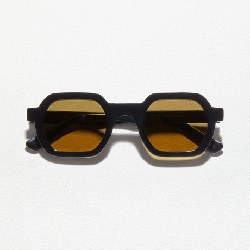 Jimmy Fairly has been a certified optician for more than 10 years. The brand sells sunglasses for women, men and children (kid-sized sunglasses can be found in their "mini" range).
They're technically a French brand, but have more than 8 physical stores in London. They fulfil online orders to UK clients within 7 working days for non-prescription lenses and 15 working days for prescription lenses. Delivery is a £5 flat fee.
Jimmy Fairly sells a range of sunglasses made from sustainable bio-acetate and cellulose acetate. They have 38 distinct sustainable styles available to consumers on their website.
Their cellulose acetate sunglasses are naturally anti-allergenic and are produced from a mixture of tree pulp extracts and cotton.
Jimmy Fairly bio-acetate sunglasses are made using cotton cellulose and natural plasticizers. These are fully recyclable and biodegradable as they're made from organic products.
Stainless steel and titanium are also used in many of their sunglasses. These are both recyclable materials.
The brand helps out those in need; they donate one pair of glasses or sunglasses to charity for every pair bought. So far, they've donated more than 600,000 glasses since their founding.

Dylan Kitson is a freelance writer and researcher based in Brighton, England. He's a passionate promoter of all things health, working with supplement companies, health & fitness blogs and consumer review websites.