Trainers are the most popular type of shoe in the UK, but did you know that your new trainers might be leaving a considerable carbon footprint behind?
According to a recent study by fashion retailer Spartoo, the average man in the UK owns 8 pairs of trainers. Trainers are in vogue and this obsession has been fired by special edition footwear and celebrity endorsements.
A survey by Global Action Plan revealed that UK teenagers alone own 58 million trainers, of which 19 million have not even been worn once in the last three months.

What Are the Ethical Issues Around Trainers?
Materials and Manufacturing
Trainers are usually made from the worst kind of materials out there – nylon, synthetic rubber, plastic, and the most controversial fabric, leather!
The production process is energy-intensive and involves moulding, foaming, and heating. The shoe is bound together with polluting and environmentally damaging chemical solvents.
Recycling
The average trainer can have up to 63 different components, right from soles, to laces, to the panelling on the sides. These components are bound together with multiple processes and strong materials which makes the shoe extremely hard to repair, reuse and recycle at the end of its life.
Demand
Trainers are heavily marketed, celebrity-endorsed and mass-produced, and when it comes to trainers, people buy more than they need, just to make a fashion statement. So much so, that a large number of them go unworn.
What Makes a Pair of Trainers 'Ethical'?
There are multiple factors that can make trainers more ethical:
Vegan, with no animal materials used
Made with sustainable materials. Plastic is a 'no no'
Use organic raw materials
The production process is ethical and produces a low carbon footprint
Recycling the trainers is easy
They're good quality, durable and last long (no fast fashion)
The rights of workers are protected
The Best Ethical Trainers Brands in the UK
Below is a list of the best brands that sell ethical trainers in the UK. Some of these brands are UK based while some of them are based in other countries but supply to the UK too.
 1. Allbirds
Allbirds has crafted a natural wool fabric specifically for footwear. The brand believes in simplicity and comfort. They're positive about you finding their shoes comfortable, so they offer a 30-day return policy.
Allbirds is a certified B Corp, which means that they meet high standards of verified performance, accountability, and transparency. They use 90% of recycled material in their packaging. They have an initiative through which lightly worn shoes which are not worn out are repurposed.
Allbirds meticulously measures their carbon footprint and impact through 5 different areas – materials, manufacturing, transportation, product use and end of life. Through their initiative 'Allbirds Flight Plan', the brand is on its way to cutting its footprint in half by 2025 and reducing it to zero by 2030. They currently invest in carbon offsets to neutralize their impact.
The brand has a dedicated line of trainers for both men and women, however, they do not clearly differentiate between sneakers and trainers, so we suggest you do your own research before buying the specific model you like.
These men's wool pipers trainers (pictured above) are made with merino wool that meets high standards of animal welfare, the laces are made with recycled plastic bottles, and the sole is made with sugarcane-based green EVA.
2. Vivobarefoot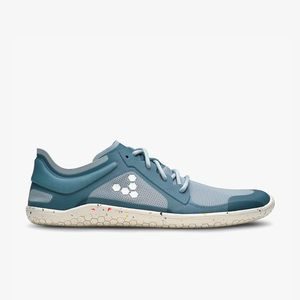 Vivobarefoot makes shoes which feel natural and connect you to nature. Their shoes are minimalistic and aim to give more stability and balance while making you feel grounded.
Their shoes are not shaped like shoes but like feet, moreover, these trainers are thin, flexible, and wide. The materials used are recycled and natural.
Vivobarefoot is so confident about its shoes that they offer a 100-day trial!
The brand has a take-back programme for used shoes (available for sale on the Rivivo website), they either refurbish them for resale or store them until an end of life solution is found.
3. Will's Vegan Store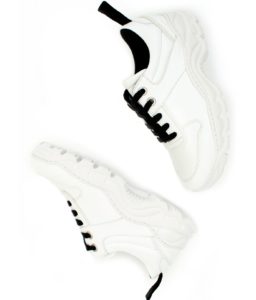 Will's Vegan Store was launched in 2013 and encourages not only vegans by non-vegans to also try out their shoes. They make completely cruelty-free shoes and emphasise the fact that there is always a story behind a low price.
They do their best to use sustainable materials like bio-based vegan leathers made from plants (cereal crops). However, currently some of their products still contain 31% polyurethane. Where they cannot use natural materials, they try to use a recycled alternative.
Their collection is made in Italy and Portugal and follows rules of European Union employment, discrimination, and health and safety law.
Will's Vegan Store also invests in nature-based projects to make the company carbon neutral. Their packaging is also environment-friendly.
4. Vegetarian Shoes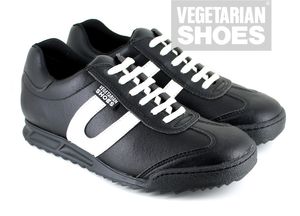 Although this UK based company sells vegan shoes, they're named 'Vegetarian Shoes' only because they were established in 1990, a time when veganism was not as widely recognised. The brand was born when the founder came across a synthetic microfibre material which was used for yachting upholstery. This material was breathable and felt like leather.
Today Vegetarian Shoes offers shoes made from multiple plant-based materials for you to choose from – apple skin leather, cork, hemp organic cotton and pinatex.
These trainers (pictured above) are great for everyday use, they're made of vegtan bucky (breathable microfibre).
5. WAES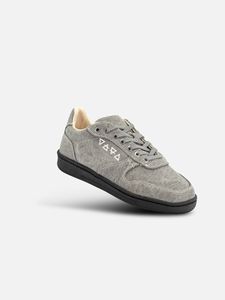 WAES identifies itself as the world's 1st plastic-free footwear brand, their vision is of a world of zero-waste shoes. They combine science and natural materials to make sustainable shoes.
WAES believes in a direct model so that they can keep prices as low as possible while also keeping a margin to support ocean cleanups, tree planting and carbon neutrality.
When the time comes to let go of your WAES shoes, you can send them back to the company for a credit note. The shoes are 100% biodegradable so the company breaks them down and uses them as compost and as fertiliser for their own tree plantations.
WAES sells both leather and vegan shoes.
6. Ethletic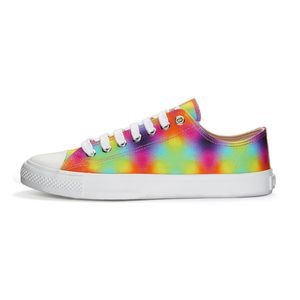 Ethletic is a very popular shoe brand in the US and they deliver to the UK too. They have a huge range of ethical and fair trade trainers for you to choose from. However, Ethletic also doesn't seem to clearly distinguish between sneakers and trainers, so make sure that the shoes you buy are suitable to the type of usage.
Ethletic shoes are PETA approved vegan and made from fairtrade certified cotton. The natural rubber they use is also FSC certified. The shoes are 100% vegan and the brand tries its best to be plastic-free.
The brand donates to Fair Trade Workers Welfare Society for every pair you buy.
Making Better Decisions
As consumers, we need to make conscious decisions. We need to start practising mindfulness when it comes to purchasing.
We recommend Allbirds when you're looking to buy trainers because of the kind of fabric they use, their end of life policy and because they're a certified B Corp.
Apart from focusing on buying the right kind of product, we also need to think about the reasons for buying the product. Are we buying lots of pairs of shoes that we'll never use, damaging the environment in the process? Just to make a fashion statement?

Anahita is a Yoga Instructor and Content Creator who is determined to help each individual shift to a healthier and eco-friendly lifestyle.