When it comes to mattresses, many of us will think little about what lies beneath. However, your choice of mattress may be the one step between a good night's sleep and a bad one.
If you consider that many of us spend a third of our year sleeping, what you are sleeping on suddenly becomes really important.
Getting a good night's sleep can determine whether the day will run smoothly or not. The phrase 'woke up on the wrong side of the bed' sums up how a bad night's sleep can affect anyone.
One thing that few people consider is that there are often a lot of plastics and strange chemicals found hidden within the humble mattress.
Flame retardants alone come with a health warning, and this is only the beginning.
What Are Flame Retardants Made Of?
Flame retardants can contain chlorine, bromine (the most common), nitrogen, phosphate and boron.
Flame retardants are toxic to humans and animals. This is worrying since they can be found in the air, soil, food and water.
They come under different chemical groupings, including OFRs, TBBPA, HBCD and OPFRs and PBDE's. These chemicals have been linked to a number of health implications that can affect brain development and hormone regulation.
It is a particular worry when concerning the development of children, who often come into close contact with carpets, upholstery and furniture. Often, these flame retardants are believed to be released into the atmosphere via air and dust. Flame retardants are also in our food and water.
In fact, flame retardants have been found in breast milk, in a study produced by Breast Cancer UK. Citizens in the US and the UK have been found to be carrying more flame retardants within bodily fluids than any other country. Some flame retardants have been banned in the US and Europe, but not within the UK.
Our lifestyle has changed since flame retardants were first introduced, they are no longer needed in such quantities. Many of us no longer smoke or cook on an exposed flame. Not to mention the percentage of smoke alarms within households, which is put at 95%.
What Other Toxins Lie Within Your Mattress?
Polyurethane is a chemical within a lot of mattresses, which is often found in memory foam. It has been used in most mattresses since the 1950's/1960's and some companies are advocating latex memory foam as a replacement.
The benefit of latex is that it can be made from natural sources. e.g. natural rubber. However, some people are allergic to latex.
The problem with polyurethane, aside from being synthetic, is the VOC's it is potentially emitting whilst you sleep. VOC's stand for volatile organic compounds. Research has found that the increased temperature whilst sleeping increases the release of VOC's. VOC's are linked to eye, nose and throat irritation, to organ damage.
In addition, polyurethane can contain the use of phthalates, which are believed to be endocrine disruptors. Oeko Tex certification, explained below, prohibits the use of phthalates.
Memory foam is therefore believed to be toxic, but it is still very much used in the UK.
Polyurethane isn't so harmful when it is produced without the use of phthalates. However, polyurethane alone is thought to be harmful to children, who are more susceptible to the VOC's released.
If polyurethane is not so worrying, flame retardants definitely are. As this study shows, chemicals within mattresses are susceptible to emission. Flame retardants have been found in the bloodstream, and are therefore bioaccumulative. This means they accumulate over time.
If this wasn't enough, mattresses can also release formaldehyde, which has been linked to various cancers. Formaldehyde is often found in textiles and is often used as an adhesive, which can be found in mattresses. This is thought to be the most alarming compound when involving children.
Thankfully, the Oeko Tex certification prohibits the presence of formaldehyde, flame retardants, and phthalates. If a textile meets the standards, the certification can be found on textile labels.
Here's a little more about Oeko Tex.
Oeko Tex Standard 100 Certification
Unfortunately, organic certification is not the final stamp on whether the new mattress is free from harmful chemicals. There is a final step in the process. This is a certification called Oeko Tex Standard 100.
As important as organic certification is, it does not take into consideration the final product. This is where Oeko Tex steps in. This is a certification that ensures over 100 harmful chemicals with health implications are not contained within the final product or are not present at the levels that would be deemed hazardous.
This means every fibre and particle of the final product is tested for harmful chemicals. This is including the buttons, the thread, the zip and any other segment that comes as part of the product sold.
Many everyday products are treated or come into contact with chemicals at the final stage of the manufacturing process, even after organic certification. This means you can have bought an organic product, but it is not necessarily chemical-free. The Oeko Tex certification ensures the product is safe for humans before it makes its way to a distributor.
It is good to bear in mind, however, that Oeko Tex certification does not mean 100% natural fibres. Synthetic materials are accepted by Oeko Tex; they only ensure the safety of the materials used. An organic or natural mattress isn't necessarily safer than a synthetic one.
What you can be ensured of with Oeko Tex is the safety of the final product. The certification bears varying degrees of standards according to how much contact the product makes with the skin, and if its intended use is with babies. This certification is therefore particularly important when buying for children.
How Do I Check for Oeko Tex Certification?
The certification has to be updated every year by Oeko Tex third party testers, and therefore it is important to check if the product is still valid.
Oeko Tex has a facility on their website where the label number can be checked. If a certification is out of date by even a day, the product will not be valid.
Other Certifications
There are other alternatives to Oeko Tex certification. Not all non-toxic mattresses will bear the certification, although it is certainly a good reference.
There are materials that are naturally fire retardant, such as wool. Other materials that are natural and often organically produced are natural latex and cotton, as well as wool. However, it is important to note that despite claims, latex is not naturally fire-resistant. It has been found to be resistant to heat to a certain degree, but to what degree is questionable.
The two popular organic mattress certifications used worldwide are GOTS and GOLS certifications. 
The Global Organic Textile Standard (GOTS) has been developed to define world-wide recognised requirements for organic textiles. The certification is based on factors such as the harvesting of the raw materials, environmentally and socially responsible manufacturing, and labelling.
The Global Organic Latex Standard (GOLS) is a certification by Control Union. It has become a globally recognized standard for products made out of organically grown natural rubber latex.
Where to Buy Non-Toxic Mattresses in the UK
When pursuing your non-toxic mattress, it is also important to remember that most mattresses contain springs. Springs are usually not made of natural materials and this may be one of many features not explained in your search.
Thankfully, Cottonsafe below uses latex for its springs.
1. Pure Green Organic Latex Mattress by SleepOnLatex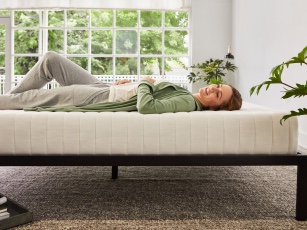 This mattress by SleepOnLatex is not only Oeko certified, but it also has Global Organic Textile Standard (GOTS) and Global Organic Latex Standard (GOLS) certification.
SleepOnLatex is based in the US but they source their organic natural latex from Sri Lanka and their organic wool from New Zealand.
This mattress has been named the Best Latex Mattress by US News and World Report.  
Moreover, this product also has certifications from Fair For Life – Fair Trade (Latex Foam) and Greenguard Gold.
With so many certifications, customers can be assured that this mattress is free from toxic materials and is definitely a good investment.
This mattress is built to last long, it goes through durability tests and also has a 10-year warranty. The natural latex foam layer on top helps the matters to conform to the body's curves to avoid pressure points.
2. Ramsey by Abaca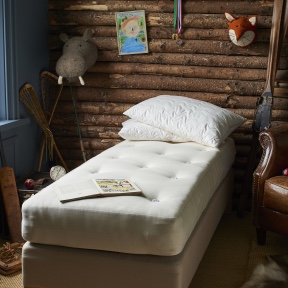 Abaca's founder Rhiannon Rowley was determined to bring an organic mattress to the British market. She worked on a pilot project with the Soil Association too before the brand was launched in 2004.
Abaca supports organic farming and contributes to the biodiversity of Wales through the production of its natural raw materials. This is also why all of their mattresses and beds are named after places in Wales as a tribute to the beautiful place. 
All of Abaca's organic mattresses are carefully hand-stitched and finished. They also offer customers ample time to discuss their prospective purchases.
The Ramsey is a high-quality luxury mattress which is why it is quite an investment and is comparatively more expensive than the other mattresses reviewed here.
This mattress has stitching of two layers of organic Welsh wool around a 15cm deep latex pad. It is 17/18 cms deep, can be made in any size. It is also available in soft, medium or firm. Moreover, it has a guarantee for 15 years.
The mattress is certified by the Global Organic Latex Standard (GOLS), the Global Organic Textile Standard (GOTS) and the Soil Association. Abaca also undergoes inspection by the Forestry Stewardship Council.
Abaca claims that this mattress is also recommended by chiropractors because it is flat and supportive.
3. Cottonsafe Mattresses
Cottonsafe is the market leader in non-toxic mattresses and the immediate go-to.
Their mattresses have been made with stringent UK fire safety regulations in mind. Cottonsafe were worried about the implications of coating every mattress in chemicals, and so have come up with mattresses flame retardant free and naturally so.
This means Cottonsafe have been clever enough to use the natural fire-retardant wool, to pass UK fire regulations. All of their mattresses are 100% fire retardant free.
They use a high degree of wool in their products, as well as other natural materials (natural latex, hemp, silk, and cotton), and have been awarded with a patented mattress cover. This means the cover they use is made of organic cotton and British wool and is 100% fire safe. It is also biodegradable and recyclable.
Although their mattresses are not made of 100% natural materials, they are 100% recyclable. This means there are man-made materials within some of the products.
Cottonsafe are extremely transparent so you will always be well aware of any man-made material they do use. Polyester does feature in some of the products, but it is not to a large degree, and it is recycled polyester.
Cottonsafe is a family-owned UK business, and they are paving the way for natural fire-retardant safe products. Although most of the wool used is not organic, they explain this is for good reason.
British wool meets their commitment to standards, is free-range, and even organic wool must be dipped. You can read more about this here.
There are no additional chemicals added to the British wool they use.
Yes, Cottonsafe is not Oeko Tex Certified, but that is because they stipulate there are over 700 chemicals used in the mattress industry. Oeko Tex only certifies the non-use of 300 of those. Cottonsafe goes beyond Oeko Tex.
One of the Cottonsafe mattresses we recommend is the Appledore Natural Mattress.
Cottonsafe provides the ultimate non-toxic mattress, and at affordable prices. They also have a range of vegan mattresses.
4. Una Non-Toxic Mattress
The Una non-toxic mattress is another great alternative in non-toxic mattress shopping.
This time, the mattress is made from cotton and wool, but also natural latex. Natural organic latex provides most of the beds' composition, and also means it is naturally hypoallergenic. Latex is often used in mattresses as an alternative to memory foam, which contains the worrying use of polyurethane. Natural latex is the best alternative.
Una's latex provides maximum comfort and can even be adapted to your liking! Una has come up with a way to alternate the firmness of your liking.
They offer the option to customise the firmness level with varying latex layers! This means you and your partner can choose a different layering order in the one bed. This can be arranged differently as the layers come separately! Read more about it here.
The company does cite there are no fire retardants used in their mattresses, they use natural carbon within the latex to make it fire retardant safe.
Una does mention the organic wool and cotton cover is naturally fire retardant as well. This is from the use of wool which is naturally fire retardant.
With Una, you are receiving organic, as it is certified GOTS, as well as using certified organic latex. This means it is more planet-friendly because it is produced with minimal chemicals, but it is not necessarily 'carbon negative' as it states on the website. It is also not Oeko Tex certified. This does not however make it non-toxic, as Oeko Tex is not the end-game in non-toxicity.
The Una mattress is a truly fantastic alternative to the regular synthetic mattress. Nevertheless, it would benefit from more transparency likened to the Cottonsafe mattress.
We recommend the Organic Mattress Delux.
5. Natural, Eco Mattress by Snoozel Green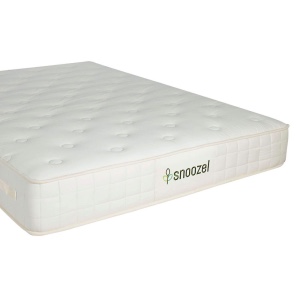 Snoozel Green makes mattresses from A Grade 100% natural latex from the Forest Stewardship Council approved rubber plantations in Sri Lanka.
The cotton used in the mattress is GOTS certified organic and the sheep wool is Himalayan organic certified.
This mattress goes a step further in caring for the environment as it uses recycled steel springs and the felt made from recycled cotton.
Snoozel Green offers a long 101-night trial. Rejuvenated mattresses that were part of their 101-night trial returns and have been used for less than 30 days are also offered on their website after being fully inspected and professionally cleaned.
Snoozel Green also plants 10 trees for every mattress sold.
6. Marcapiuma Double 100% Latex Mattress
The Marcapiuma uses Oeko Tex certified latex, which means less need to consider other materials. This has to be one of the more environmentally friendly on the list.
Latex is more environmentally friendly because it can be naturally produced, using natural rubber. This avoids speculation over polyurethane and formaldehyde.
A more transparent product, it has been designed with the 7 acupressure points in mind, to alleviate aches and pains associated with poorly constructed beds. Many customers comment on the improvement of their back and joint pain.
This product is made in Italy and comes vacuum packed, another result for the environment. EU regulations are not as strict as the UK for fire retardants.
This may mean the product adheres to EU rules and therefore avoids harmful chemicals, but it will not adhere to UK fire regulations if the latex does not contain natural carbon.
Nevertheless, you are buying a quality product that will hopefully last a lifetime, and it comes with a 10-year warranty.
One of the more expensive on the list, we think this is one of the better choices in non-toxic mattresses.
7. Evergreenweb EU Double Mattress

This Italian-made product is one of the most popular mattresses in Italy.
The raw materials used in the mattress have been Oeko Tex tested, and they have used a type of polyurethane that is gentle on the environment and you.
The company is reasonably transparent about the materials used, which also consist of cotton and polyester. Even though there are environmental issues with both these materials, it has been Oeko Tex certified so the mattress is 'harmful chemical free'.
Even though the product cites being flame retardant to a low hazard, Oeko Tex does not allow for any flame retardants in the final product.
There has been a lot of thought that has gone into the design of this mattress and it even comes vacuum-packed and rolled up, from Italy. A win-win on all fronts environmental.
As an added bonus, you will receive two free memory foam pillows.
For the price and the specs, this is a mattress well worth the asking price.
8. Homylink Single Mattress
The Homylink mattress is Oeko Certified so you can rest assured there are no chemicals involved in the final production of this mattress.
It is flame-resistant, which is mandatory under UK regulation but with Oeko certification, these retardants are not health inflicting.
Ergonomic and orthopaedic, this mattress has been designed with comfort and support at the forefront. In fact, many customers report the improvement of back pain.
The Homylink mattress is not the most transparent with materials, but it is Oeko Certified which goes a long way. It also comes vacuum packed, which makes it a more environmentally friendly delivery.
An extremely affordable mattress that looks to support the environment as well.
9. The Mohair Mattress by Naturalmat 
This Mohair Mattress by Naturalmat is one of the only mattresses on this list that is made of coir. 
Coir is coconut husk that is combined with natural rubber. The result is a resilient and strong material that is naturally springy and used as a mattress layer.
It is a firm mattress that sandwiches latex between two pieces of coir and layers of anti-dust mite lambswool. The mattress is also handmade.
Although Naturalmat's website does not list any certifications, they do claim that the coir is organic, the mattress is 100% chemical-free and naturally fire retardant, and their ingredients are 100% natural and from a sustainable resource.
They also mention that their ingredients are biodegradable.
Conclusion
In conclusion, the best natural mattress in the UK, which is non-toxic, has to be the Pure Green Organic Latex Mattress by SleepOnLatex.
It simply surpasses all other presumably non-toxic mattresses and paves the way for what a non-toxic mattress must consist of.
If you're looking for a bit of luxury, we recommend Ramsey by Abaca.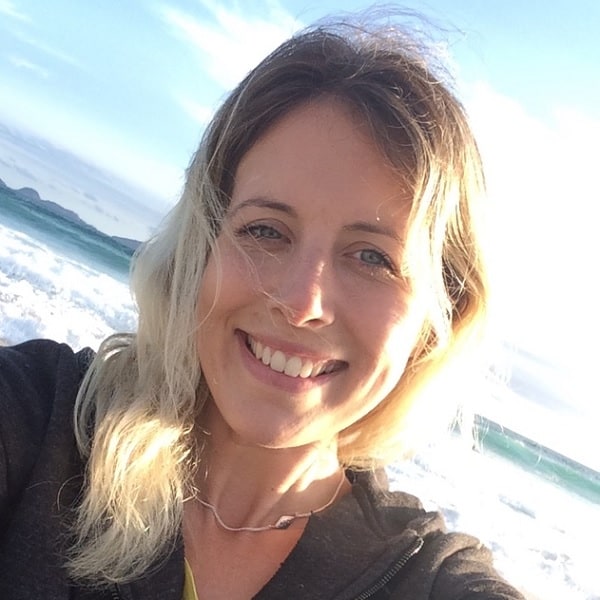 An advocate for natural health and food is thy medicine, Karen has been on an alternative health journey for the last 20 years. A newly yoga devotee, she is also passionate about reducing waste and impact upon the planet.