Yoghurt is enjoyed around the world. Many countries have unique styles of yoghurts made with slightly different techniques and ingredients.
These differences mean that each style of yoghurt has a unique flavour and texture. While most yoghurts look similar, their nutritional value (healthiness) varies between different styles and brands.
We've compiled this list by comparing different styles of healthy yoghurt for sale in the UK. In this article you'll find; Greek yoghurt, natural yoghurt, quark, filmjölk, kefir and dairy-free yoghurt.
Flavoured yoghurts and yoghurts with added sugars are included as well. These are typically less healthy than sugar free and plain (unflavoured) yoghurts, but they're still a popular choice among health-conscious British yoghurt-buyers, so we've decided to include them.
How to Choose Healthier Yoghurt
Is low-fat yoghurt healthier?
According to the NHS, fat is an important part of any varied diet. As well as providing high amounts of energy to our cells, fats are a valuable source of nutrients including vitamin A and vitamin D.
However, fat was demonised not so long ago. As recently as the 1980s, low-fat diets were touted as being the 'healthier' option by food companies, the public media and some government organisations.
These claims were based on indirect evidence. Despite being debunked by more modern, accurate research, the low-fat craze has left a lasting impression on how many people view the healthiness of the products they buy.
Low-fat yoghurts aren't inherently healthier, but some are healthier than other yoghurts for sale in the UK. For this reason, many of the yoghurts featured below are low in fat or fat free.
Low-sugar vs low-fat yoghurt
It's now widely accepted that sugar (not fat) is a major culprit behind global obesity, type 2 diabetes and generally less nutritious diets. Sugar is found in many foods and yoghurt is generally no exception.
Almost all yoghurts contain some amount of sugar. A small amount is used in the initial yoghurt-making stages to help the healthy bacteria turn milk proteins into yoghurt. Some of this sugar, which may be labelled as lactose, ends up in the final product.
Yoghurts containing less than 5g of sugar per 100g can be labelled as sugar free. To be classed as fat free, yoghurts must contain very low amounts of fat—around 0.5g of fat per 100g at most.
There are a range of sugar-free, low sugar and high sugar yoghurts on the UK's supermarket shelves. With so many options to choose from, which yoghurt is healthiest?
The Healthiest Yoghurts in the UK
1. Fage Total 0% Fat Natural Fat Free Greek Recipe Strained Yoghurt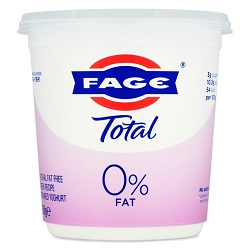 Yoghurt style: Natural Greek style
Other flavours available: Fage Total 2% Fat, Fage Total 5% Fat
Nutritional content per 100g:
Calories: 54 kcal
Fat (including saturated fat): 0g
Protein: 10.3g
Carbohydrates: 3g (of which sugars: 3g)
Fage (pronounced fa-yeh) is a family-owned Greek yoghurt company, founded in Athens in 1926. It was introduced to the UK in 1980, where it has remained popular ever since.
This is a strained natural Greek yoghurt, made without preservatives, artificial flavours and artificial sweeteners.
The high protein content of this natural Greek yoghurt is achieved purely through Fage's yoghurt-making technique, no additional protein is added.
We've chosen to include the 0% Fat version of Fage Greek natural yoghurt in our list, although other yoghurts are available containing 2% fat and 5% fat.
Fage's official website contains the nifty motto "Cut the calories – keep the taste".
According to Fage, this thick yoghurt is creamy enough to replace mayonnaise, crème fraîche, cream and sour cream in meals, while providing comparably less calories than these products.
How healthy is Fage Total 0% Fat Natural Fat Free Greek Recipe Strained Yoghurt?
It's high in protein, fat free and fairly low in sugar. It's very low in calories, a surprising feat considering how much protein is in this natural Greek yoghurt!
Choosing a large (950g) tub of Fage yoghurt is a great way to save money; this product is very reasonably priced but still delivers on taste, texture and quality.
This is arguably the healthiest (and tastiest) yoghurt in the UK.
2. Arla Skyr Natural Icelandic Style Yogurt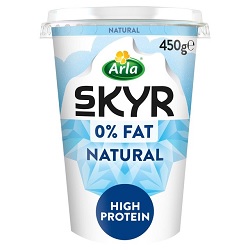 Yoghurt style: Icelandic skyr
Nutritional content per 100g:
Calories: 63 kcal
Fat (including saturated fat): <0.5g
Protein: 10.6g
Carbohydrates: 4g (of which sugars: 4g)
Skyr is an Icelandic yoghurt that can trace its roots back to over 1,000 years ago.
It is mentioned in the famous Icelandic Saga poems, although the recipe is so old that its true origins can't be accurately established.
It is the national yoghurt of Iceland, where its generally consumed with fresh fruits or a sprinkling of brown sugar.
Its popularity in the UK has increased in recent years, as more supermarkets have begun selling skyr yoghurts.
Arla Skyr Natural Icelandic Style yoghurt is made in Germany, but stays true to the authentic icelandic methods.
According to Arla, this skyr contains 30% less sugar than the average flavoured yoghurt sold in Britain, based on market averages.
It is made from skimmed milk and a small amount of rennet. No additional ingredients are included.
To make thick and creamy skyr, four times as much milk is used as standard runny yoghurt.
By repeatedly straining the yoghurt, almost all of its fat is removed while the high amount of protein remains in the final product.
How healthy is Arla Skyr Natural Icelandic Style Yogurt?
This skyr is low in sugar and extremely low in fat but does provide high amounts of protein in every portion. It is fairly low in calories.
3. Onken Natural Set Yoghurt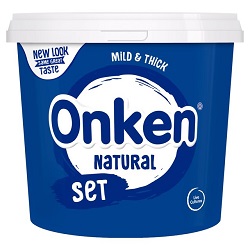 Yoghurt style: Natural set
Nutritional content per 100g:
Calories: 62 kcal
Fat (including saturated fat): 3.5g
Protein: 3.3g
Carbohydrates: 4.7g (of which sugars: 4.7g)
This Onken yoghurt is labelled as a thick yoghurt, but many customers find the texture less thick than most Greek and natural yoghurts.
It is a healthy natural set yoghurt, made with pasteurised milk from the UK, Germany and Switzerland.
It's produced using a unique method; the yoghurt is made within each tub of Onken Natural Set Yoghurt, rather than being produced in large batches then portioned into individual tubs.
According to Onken, this is the key to making their yoghurt so tasty. The flavour of Onken Natural Set Yoghurt is best described as mild, smooth and free from sourness.
There are no different flavour options for this product, but the taste and texture of this healthy yoghurt pairs well with a wide range of ingredients. It can easily be turned into a healthy breakfast, lunch or dinner.
The packaging of each Onken Natural Set Yoghurt tub is fully recyclable.
How healthy is Onken Natural Set Yoghurt?
Compared to other yoghurts featured in this list, Onken's Natural Set Yoghurt contains average levels of fat, low amounts of protein and normal amounts of sugar, averaging 4.7g per 100g serving. It's excellent value for money and has a sensible calorie count of 62 kcal.
4. Yeo Valley Super Thick Natural Yogurt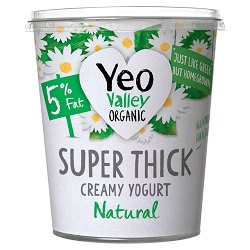 Yoghurt style: Natural British yoghurt
Other Flavours Available: 0% Fat Super Thick
Nutritional content per 100g:
Calories: 95 kcal
Fat (including saturated fat): 5g
Protein: 9g
Carbohydrates: 3.5g (of which sugars: 3.5g)
Yeo Valley thickens their yoghurt the natural way, straining it up to nine times to achieve the perfect consistency. No additives, preservatives or stabilisers are used.
According to Yeo Valley's website this super thick yoghurt is the thickest they've ever made. It has a smooth, creamy taste and an extremely rich consistency that's thicker than most Greek-style and natural yoghurts available in the UK.
Yeo Valley is a Somerset-based dairy brand producing milk, yoghurt, butter, ice cream and cream and compote. For over 25 years, Yeo Valley has been fully organic.
They've won numerous awards for their range of yoghurts, all of which are made exclusively with British milk from their own herd of cattle.
Their products are certified as organic by The Soil Association and OMSCO The Organic Dairy People.
This 850g tub offers the best value of money – smaller 450g tubs are also available. This product contains 5% fat but Yeo Valley also produces a 0% fat version.
How healthy is Yeo Valley Super Thick Natural?
This product contains slightly more calories than other unflavoured (plain) yoghurts available in the UK, containing 95 kcal per 100g portion. It is fairly high in protein and low in sugars.
5. Lindahls Kvarg Natural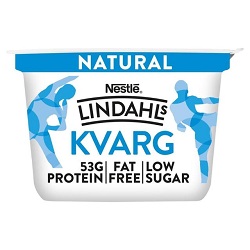 Yoghurt style: Quark
Other flavours available: Vanilla, Peach & Passionfruit, Coconut, White Coconut, Straciatella, Raspberry, Blueberry & Vanilla
Nutritional content per 100g:
Calories: 59 kcal
Fat (including saturated fat): 0.2g
Protein: 10.7g
Carbohydrates: 4g (of which sugars: 4g)
Lindahls Kvarg is marketed towards athletes, fitness enthusiasts and people who want a healthy, balanced lifestyle.
That being said, this tasty yoghurt can be enjoyed by all, sporty or otherwise. A variety of fruity flavoured options are available; these contain more sugar and carbohydrates per serving than their natural (plain) yoghurt.
Kvarg is a style of dairy product known as quark. Although technically a very soft cheese, quark is made without rennet and it is typically sold alongside yoghurts.
It has a mild, inoffensive taste that is neither sweet nor tart. This subtle flavour profile makes Lindahls Kvarg Natural a creamy, filling meal or snack on its own. It can also be used as an ingredient for use in meals.
The texture of Lindahls Kvarg is best described as thick yet silky. It's low in sugar, free from fat and packed full of protein, averaging 26.5g per 250g serving. Like other quark yoghurts, Kvarg is very high in protein.
According to manufacturer Nestle, this yoghurt is the most popular quark yoghurt in Sweden, where it's enjoyed throughout the day but often served for breakfast.
How healthy is Lindahls Kvarg Natural?
Lindahls Kvarg contains the second fewest calories per serving (59 kcal) compared with other yoghurts in this list. It is fat free, low in sugars but high in protein, at 10.7g per portion.
6. Arla Filmjölk Swedish Style Drinking Yoghurt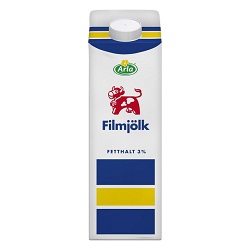 Yoghurt style: Filmjölk
Nutritional content per 100g:
Calories: 60 kcal
Fat (including saturated fat): 3g
Protein: 3.4g
Carbohydrates: 3.8g (of which sugars: 3.8g)
Sweden and Denmark are arguably the yoghurt capitals of Europe. Arla is a dairy cooperative owned by both Swedish and Danish farmers. It supplies dairy products to the UK and other countries in Europe.
They've labelled this product as "Swedish Style" as it's made with traditional Nordic techniques using milk from the UK and EU.
Soured drinking yoghurts are somewhat rare in Britain but they're incredibly popular in Sweden, Denmark and other parts of northern Europe. In these countries the yoghurt is affectionately referred to as 'fil'. It is most popular at breakfast time.
Filmjolk has a refreshing, slightly-sour taste and a milk-like texture and consistency. This makes it ideal for drinking.
It can be enjoyed on its own or added to smoothies, porridge or other meals in place of milk. For an authentic Filmjolk experience, try serving it with fresh fruits, granola, muesli or crushed-up crispbread.
How healthy is Arla Filmjolk Swedish Style Drinking Yoghurt?
This drinkable yoghurt contains a 'normal' amount of calories for a filmjolk yoghurt, providing 60 kcal per serving. It is low in fat, fairly low in protein and contains an acceptable amount of sugar.
7. Liberté Natural Yoghurt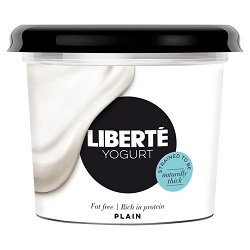 Yoghurt style: Natural set
Other flavours available: Blueberry, Strawberry and Mango & Passionfruit
Nutritional content per 100g:
Calories: 242 kcal
Fat (including saturated fat): 0.1g
Protein: 9.5g
Carbohydrates: 3.6g (of which sugars: 3.6g)
The Liberté brand was founded in Montréal in 1936. Their thick yoghurts have been enjoyed around the world for decades. Liberté yoghurts were sent to allied troops during WW2 and they are currently sold by most major UK supermarkets and some smaller shops.
Liberté Natural Yoghurt contains just one ingredient: fat-free natural yoghurt.
It's currently produced in France by parent company Yoplait, one of the largest yoghurt producers in the world.
The brand's name is taken from the national motto of France "Liberté, égalité, fraternité", which translates to "liberty, equality, fraternity".
This natural yoghurt has been fully liberated from fat, thanks to the extensive straining process used to produce it. Customers have been enjoying the smooth and creamy taste of this plain natural yoghurt for over 80 years.
The big 500g tubs are excellent for healthy snacks and meals throughout the week. Smaller 100g tubs are sold in packs of 4.
How healthy is Liberté Natural Yoghurt?
This classic French set yoghurt is very high in calories (242 kcal per 100g serving). This is the highest calorie count of all yoghurts featured in our list. It is low in sugar, fat free but does provide a decent amount of protein.
8. The Coconut Collaborative Strawberry Yoghurt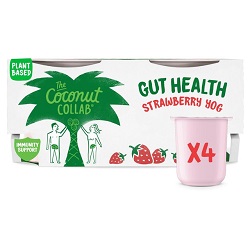 Yoghurt style: Dairy free and sugar free yoghurt
Nutritional content per 100g:
Calories: 115 kcal
Fat (including saturated fat): 5.8g
Protein: 0.7g
Carbohydrates: 14g (of which sugars: 4.5g)
To add sweetness to their yoghurts, many manufacturers first turn to sugar or high fructose corn syrup. Sugar is cheap but high in empty calories and incredibly low in nutritional value.
The Coconut Collaborative does things differently. They use coconuts to make their yoghurts naturally sweet.
This also increases the nutritional value of their yoghurt, as coconuts are full of heart-healthy dietary fibre and are a source of important vitamins including vitamin D.
The Coconut Collaborative is a British brand that sells a range of dairy-free products. As well as yoghurts, they manufacture ice creams, custards and other deserts, all using a coconut base instead of dairy milk.
This has the added benefit of making their yoghurt cholesterol free, GMO free and suitable for people with allergies to dairy (lactose), gluten and soya.
Healthy bacteria are used to ferment coconuts into yoghurt, following the same methods as traditional dairy-based yoghurts. This dairy-free yoghurt's packaging is environmentally-friendly; it is suitable for home recycling in the UK.
How healthy is The Coconut Collaborative Gut Health Strawberry?
It is low in sugars but very high in other carbohydrates. This yoghurt contains little protein and some fat but is high in healthy dietary fibre.
9. The Collective Vanilla Kefir Yoghurt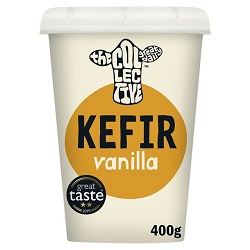 Yoghurt style: Kefir
Other flavours available: Plain, Mango, Coconut and Passionfruit
Nutritional content per 100g:
Calories: 99 kcal
Fat (including saturated fat): 4.7g
Protein: 5g
Carbohydrates: 9.1g (of which sugars: 7.5g)
Kefir is a style of yoghurt that originates from the Caucasus region. Like most other yoghurts, kefir is made from dairy milk but it is allowed to ferment for a longer period of time.
This gives it a viscous, creamy texture and a slightly sour taste, similar to buttermilk.
However, The Collective Dairy's Vanilla flavoured yoghurt contains added natural sugars which mask most of the tart flavours.
Traditional kefir has a runny, almost-drinkable consistency. The Collective Dairy strains their kefir yoghurt, creating a thicker consistency more similar to Greek yoghurt.
This product is made with 13 different strains of healthy bacteria and flavoured with real Madagascan vanilla.
Fermented yoghurts like The Collective's Vanilla Kefir Yoghurt are naturally lower in sugars than most other flavoured yoghurts available in Britain, which often contain high amounts of added sugar.
The fermentation process causes the kefir-producing bacteria to consume the milk's lactose sugars.
The Collective Dairy's Vanilla Kefir Yoghurt contains added sugars that are sourced from 100% natural ingredients. These include blossom honey, grape juice and vanilla bean extract.
How healthy is The Collective Vanilla Kefir Yoghurt?
This yoghurt is fairly high in calories as it contains added natural sugar. Each 100g serving provides a medium amount of fat and some protein. It is high in carbohydrates including sugars, at 7.5g per serving.

Dylan Kitson is a freelance writer and researcher based in Brighton, England. He's a passionate promoter of all things health, working with supplement companies, health & fitness blogs and consumer review websites.