The dairy farming industry can be ruthless. Although the UK dairy industry seems to have some of the highest animal welfare standards in the world, it still isn't good enough.
Fortunately, organic and ethical practices in the dairy industry are rising.
What's the Difference Between Organic and Regular Milk?
The key differences between organic and regular milk are:
Organic milk comes from cows that are not treated with antibiotics or wormers
Organic cows mainly eat organic standard grass and require a minimum of 60% forage in their diets
They spend time 200 days a year outdoors on average
Although the differences may seem small, they have huge implications. Organic milk usually costs more monetarily, but it makes up for it in terms of environmental and ethical benefits.
Ethical Implications
Animal welfare is one of the core purposes of the organic dairy farming industry. Organic cows are free-range, they have space to roam about, have access to pasture, and spend considerable time outdoors.
While cows used for regular milk can be fed a genetically modified and concentrated feed to boost milk production, organic cows are fed an organic, grass-based diet.
Organic cows are not injected with antibiotics and are not subjected to constant reproduction.
These cows have a natural environment and a higher standard of living, reducing their stress and diseases.
A cow's natural life span is 20 years but unethical practices in the dairy industry do not allow them to live more than 6 years on average. On organic farms cows often live for more than 10 years, however, this does differ between the practices adopted by different organic farms.
Health Implications
Organic cows get more time to graze out in the open, as nature intended. This results in rich, high-quality milk for us.
Organic milk contains around 50% more beneficial omega-3 fatty acids. Omega-3s can reduce cardiovascular disease, improve neurological development, and improve immune functions.
According to a study, Western European diets are low in these fatty acids and the European Food Safety Authority (EFSA) recommends we should double our intake. Switching from conventional to organic milk would raise your omega-3 fat intake without any dietary changes.
Organic dairy products have fewer additives and preservatives. Organic standards prohibit the use of GM ingredients, hydrogenated fats and controversial artificial colourings.
Organic milk also has higher vitamin E and beta-carotene levels which make for a good immune system.
Environmental Implications
Organic milk encourages biodiversity, the farms usually have a range of grasses, herbs and wildflowers for pasture. The spread of flowering plants are higher with often 50% more bees, butterflies and other pollinators.
Moreover, the cows are fed crops grown without the use of synthetic pesticides.
Where to Buy Organic Milk in the UK
There are quite a few organic dairy farms from which you can purchase organic milk. While many of them do deliver all over the UK, some of them only serve the areas nearby.
1. Hollis Mead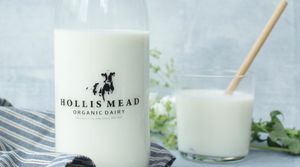 Hollis Mead is a farm committed to producing wholesome and eco-friendly milk. The original founder of the farm, Thomas Hollis, was determined to promote civil and religious liberties. The farm still stands for freedom to this day.
Hollis farm does more than just follow the basic regulations for being organic. They care about nature and biodiversity. They're completely pesticide, insecticide and herbicide free. They let insects do the job and have over 300 species of butterflies, bees, beetles, bush-crickets, etc at their farm.
Their cows are 100% organic grass-fed and are only milked once a day. The milk is unhomogenised and slowly pasteurised which makes it taste better.
The milk is sold directly to consumers in glass bottles, which produce less wastage and can be reduced.
You can either order the milk online or buy directly from any of their 24/7 vending machines located in areas near their farm, look up the closest one to you here.
2. Daioni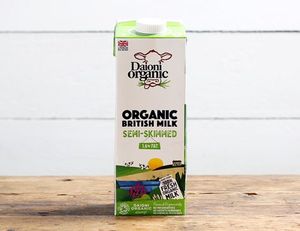 Daioni is a family-owned organic dairy farm located in the countryside of Wales. They're committed to bringing positivity to the world, "Daioni" literally means "goodness" in Welsh.
The Harris family has owned and nurtured the land for 70 years. Laurence and Tom run the farm which currently has 1,000 organic dairy cows across 2,000 acres of organic pastures.
Their farm follows a strict rule on stocking limits so that the cows have space to wander freely in the fields and sheds.
They have received many awards including the Royal Welsh Agricultural Society's flagship accolade, the Sir Bryner Jones Memorial Award, the Great Taste award, and the Idris Davies Memorial Trust Award by NFU Cymru.
Due to the milk's long life, they're also certified to ship to the global market. See here for a list of platforms you can buy their milk from.
3. Gazegill Organics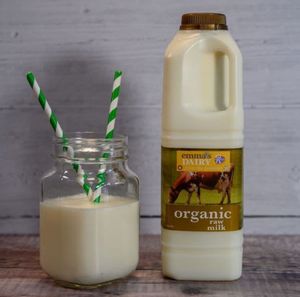 Gazegill Organics is run by the Robinson family that seems to have worked on the same land for 500 years! The farm currently has 60 organic, free-range, Shorthorn cows.
They pride themselves on their hay meadows (protected biological heritage sites) which have over 80 species of flowers, herbs and grasses. The meadows support the wildlife in the area and keep their livestock healthy. They're part of the higher-level environmental stewardship scheme with Natural England.
Gazegill is also 75% self-sufficient for its energy needs.
Gazegill sells organic raw milk along with a range of other organic products and offers a weekly, fortnightly, or monthly subscription service in amounts ranging from 8 litres to 15 litres per delivery. If you don't want to place a regular order yet, you can make a one-time order of raw milk (minimum 6 litres).
4. Berkely Farm Diary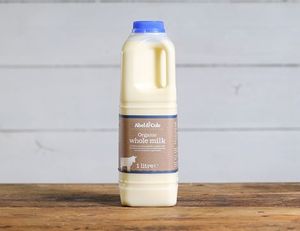 Berkely is a family-run business that sells pasteurised Guernsey milk, cream and butter across southern England. They have their own herd of Guernsey cows as well as two local organic herds.
Guernsey cows are a traditional breed that produces high-butterfat, high-protein milk with a high concentration of betacarotene. Most Guernsey cows produce A2 milk which is better digested.
Their milk is pasteurised but not homogenised like most dairies and so it has a traditional 'cream line' which is only seen in milk that has not been homogenised.
Check here for a list of stores where you can buy their milk or order using the link below.
5. Yeo Valley Organic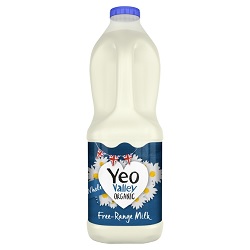 Yeo Valley is Britain's biggest organic brand producing yoghurt, cream, milk, butter, cheese, ice cream, etc. It all started when Roger and Mary bought Holt Farm with 30 cows, a few sheep and some crops. 
Their 2000 acres farm uses regenerative organic practices and provides green pastures for their cows. They have only British Friesians cows on their farm which are free-range and organic-fed.
Yeo Valley cares about sustainability and is making multiple efforts to do anything it can to help the planet. They're in the process of constantly reducing their carbon emissions and are part of the carbon trust.
6. Ivy House Farm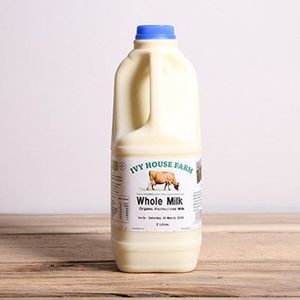 Ivy House has been an organic farm for the past 20 years. The Ivy House management is dedicated to bringing back wildlife to the countryside and creating a healthier and happier environment for animals.
The farm is family-run and currently has 120 cows which have a life span of 10 years, as opposed to the usual 4-5 years in the dairy industry.
Ivy House is a small-scale farm and its products are available for purchase on Eversfield Organic's website which is an organic meat farm.
7. Tagg Lane Dairy
Tagg lane Dairy sells unprocessed and raw organic milk. It's a family-owned and operated farm.
They have a farm near Bakewell and its operations are designed keeping nature in mind. The water is recycled, all materials are repurposed, and they look after the soil.
Their milk is easily digestible and 100% bioavailable as it's not destroyed or changed during intense processing.
The happiness, nourishment and health of their Jersey cows are the farm's priority. They claim that their cows also produce 20% less carbon than other breeds.
They also have an ice cream and coffee bar where they serve their award-winning Jersey gelato.
Conclusion
Some dairies meet only the minimum requirements while others design their operations to do even better. While selecting where to get milk from, try to go for the company with the most ethical practices.
We suggest Hollis Mead as they are herbicide, insecticide and pesticide free and encourage insects to do the job around their farm. Their milk is available at their 24/7 vending machines and online as well. Moreover, they care for their cows and milk them only once a day even though organic stipulation allows farms to milk cows twice.

Anahita is a Yoga Instructor and Content Creator who is determined to help each individual shift to a healthier and eco-friendly lifestyle.