The demand for milk alternatives has skyrocketed in recent years – around 1 in 3 UK adults drank plant-based milks in September 2021, rising to 48% in March 2022.
Milk alternatives may also be referred to as milk substitutes, plant milk, vegan milk or vegetable milk.
Some products attempt to mimic the flavour and texture of cow's milk, but most have unique tastes.
Artificial sweeteners or sugars are included in some milk alternatives, but the majority of products on the market are available unsweetened.
To make our milk healthiness comparison as accurate as possible, we've only compared unsweetened milk alternatives.
Milk Healthiness Compared
According to market research company Mintel, 23% of UK adults think that non-dairy milks are better for them than dairy milk.
We have ordered the milk types below in rough order of healthiness by considering their sugar content, with the lowest-sugar milks first.
However, there isn't an accurate scientific approach to work out a milk's 'healthiness', as there are so many different factors to consider. We can instead compare their nutritional value by looking at the amount of carbohydrate, sugar, fat and protein contained within different popular UK milk alternatives.
The amount of calcium, an important mineral for bones and teeth, can also provide insights into each milk substitute's healthiness.
Despite common misconceptions, low-calorie products are not inherently healthier or more nutritious, they simply provide less food energy to the body. However, if you are looking for a milk substitute for weight loss, choosing a lower calorie option is best.
| Milk Type | Calories per Serving (kcal) | Carbohydrate (g) | Sugar (g) | Fat (g) | Protein (g) | Calcium (% of RDI) |
| --- | --- | --- | --- | --- | --- | --- |
| Hemp Milk | 76 | 7.6 | 0 | 6.6 | 2 | 43 |
| Almond Milk (unsweetened) | 37 | 1.42 | 0 | 2.68 | 1.4 | 69 |
| Coconut Milk | 76 | 6.6 | 5.7 | 4.7 | 1 | 64 |
| Soy Milk | 105 | 12 | 8.91 | 3.59 | 6.3 | 43 |
| Rice Milk | 114 | 21.8 | 9.5 | 2.4 | 1 | 3 |
| Full Fat Milk | 149 | 11.7 | 12.3 | 7.93 | 7.7 | 39 |
| Semi-Skimmed Milk | 122 | 11.7 | 12.7 | 4.83 | 8 | 42 |
| Oat Milk | 120 | 16 | 15.2 | 5 | 4 | 50 |
Nutritional data is interpreted from Collard & McCormick 2021, except hemp milk, pea milk and rice milk from this source. A standard serving per milk used is 236.6ml (8 fluid ounces). The Recommended Daily Intake (RDI) of Calcium per adult per day used is 700mg, as per NHS UK guidance. Calcium RDI values are expressed as a percentage of 700mg.
Disclaimer: Naturaler is not a substitute for proper medical advice; data is provided for reference only.
The Healthiest Milk Alternatives in the UK
1. Hemp Milk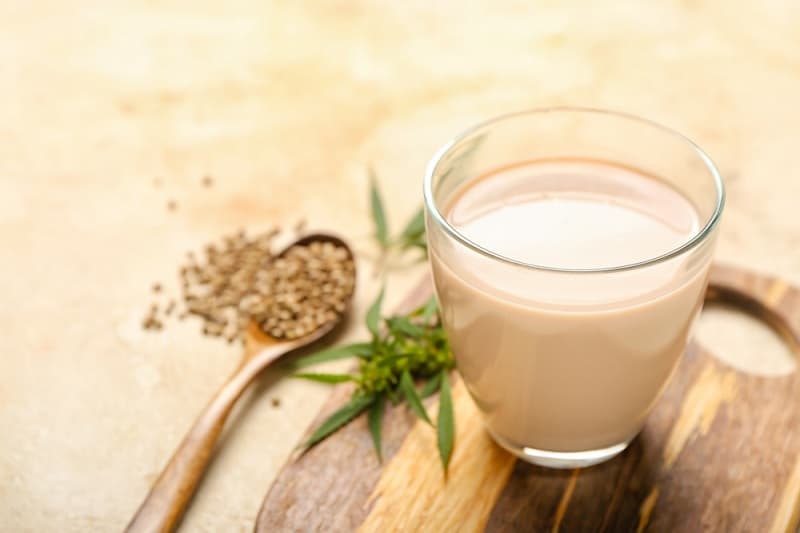 Pros
Low in sugar
High in healthy fats
Hemp seeds are rich in healthy fats including omega-3 and natural proteins. One important protein provided by hemp milk is edestin – this protein is highly-digestible and consuming it is believed to aid the body's antibody response when fighting infections.
Hemp milks are produced by crushing hemp seeds into a paste, then adding water and a natural or artificial stabiliser until the perfect milk-like consistency is reached.
Hemp seeds are not nuts, but many hemp milks have a slightly nutty taste. The majority of hemp milk products available in the UK are free from nuts and gluten – both unsweetened and sweetened varieties exist.
A standard serving of hemp milk contains 76 calories – that's almost half that of full fat dairy milk. This is because hemp milk contains comparably more water and less protein and sugar.
The hemp seed is an abundant source of fibre, which makes up 20% of the seed by weight.
In the United States, the hemp milk market is expected to value $236 million by 2032. In the UK, only a handful of farmers are currently licensed to grow hemp for human consumption. If the UK follows in America's footsteps, hemp milk is likely to become more prevalent in UK diets.
Nutrition Report – Hemp Milk
Calories: 76 kcal
Carbohydrate: 7.6g
Fat: 6.6g
Sugar: 0g
Protein: 2g
Recommended hemp milk: Good Hemp Seed Milk Drink
Good Hemp Seed Milk Drink – Original – 1L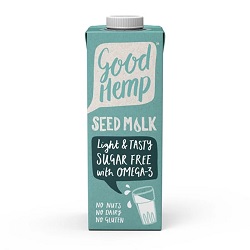 Good Hemp is a Devon-based company that has been making British milk alternatives for over 10 years. According to the product packaging, hemp absorbs 4 times as much CO2 from the atmosphere than trees.
This hemp seed milk is unflavoured and unsweetened; it's made with organic hemp seeds that are grown without herbicides. A natural stabiliser made from water lily extract is used to extend shelf life.
2. Almond Milk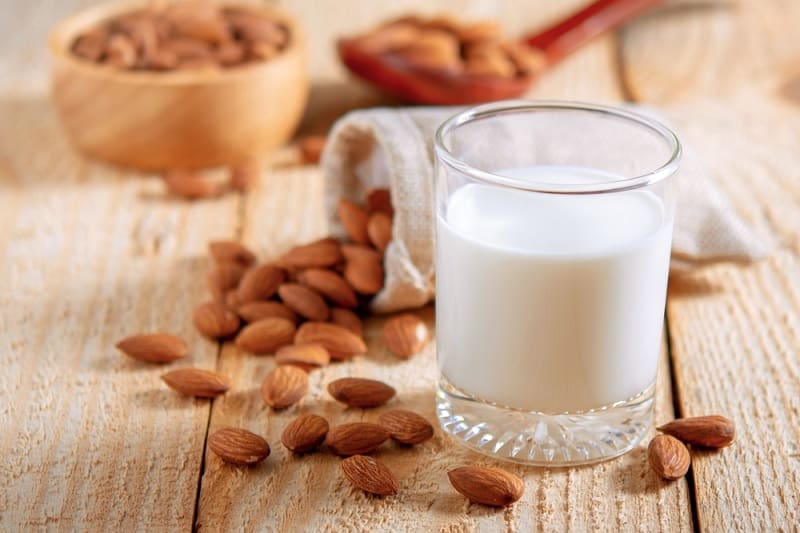 Pros
Rich in calcium and vitamin E
Low in sugar
Unlike dairy milk, almond milk is free from lactose and cholesterol and contains low amounts of saturated fat. It's made from almond nuts, which are naturally high in vitamin E; this vitamin is an important nutrient for skin health and eyesight.
Almond milks are a mixture of water and almonds, which may or may not be roasted. The nuts are typically processed to remove their brown outer layer (called the bran) as it has a bitter taste and isn't safe to consume in large quantities.
As the cost of almonds, like many nuts, is much higher than grains and seeds, almond milks are generally a more expensive milk alternative in the UK.
Unsweetened almond milk contains approximately 6.3g of protein per serving; this is close to that of dairy milk, which contains 7.7g on average.
Despite this, almond milk remains fairly low in calories at just 39 kcal per serving. This is because almond and other nut-based drinks often contain higher amounts of water than other milk alternatives.
Nutrition Report – Unsweetened Almond Milk
Calories: 37 kcal
Carbohydrate: 1.4g
Fat: 2.7g
Sugar: 0g
Protein: 1.4g
Recommended almond milk: Rude Health Longlife Unsweetened Ultimate Almond Drink
This "Refreshingly Nutty" almond drink is made exclusively from Italian almonds that are grown on the sunny slopes of Sicily. It's certified organic and has a reputation for being many people's favourite almond milk on the market, containing a very generous 8% almonds by weight.
Rude Health's unsweetened almond milk also contains spring water –  it doesn't contain any other ingredients such as flavourings, preservatives or other additives.
3. Coconut Milk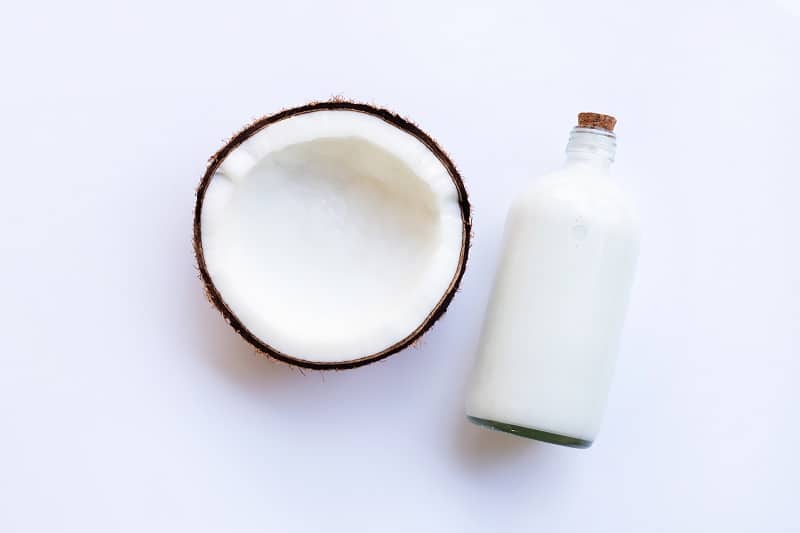 This naturally-sweet milk alternative is made from a mixture of coconut water and coconut pulp. Some cheaper coconut milk products contain added water to stay affordable. Coconuts are naturally sweet – they're technically one-seeded fruits, not nuts.
When pressed or crushed, an incredibly rich, smooth and creamy milk is produced. This can be sold as fresh coconut milk, but this often isn't practical in the UK. Instead, a range of long-life coconut milks are available to British consumers. Some are marketed as cooking ingredients while others are sold specifically as milk replacements – they often contain identical ingrediants in similar amounts.#
Unsweetened coconut milks contain less sugar than dairy milk but provide comparably less protein, averaging 1g per serving.
Unfortunately, as the demand for coconuts and coconut-based products has increased, so has the cost. The UK is especially burdened by high prices for coconut milk as global demand is higher than supply and coconuts are sourced from far-flung countries including Thailand, Sri Lank and the Ivory Coast.
Nutrition Report – Unsweetened Coconut Milk
Calories: 76 kcal
Carbohydrate: 6.6g
Fat: 4.7g
Sugar: 5.7g
Protein: 1g
Recommended coconut milk: Organic Coconut Milk
Biona's organic coconut milk is made with Sri Lankan coconuts, which are fertilised with natural cow dung from free roaming cattle. This creamy coconut milk won a Great Taste award in 2019. It is extracted from whole pressed coconut kernels; this mixes the coconut water and pulp into a smooth drink, without needing artificial emulsifiers or stabilisers.
The product is packaged in a can that's widely recyclable in the UK; this method of packaging gives the organic coconut milk an extremely long shelf life. It is best consumed within 2 days of opening.
4. Soy Milk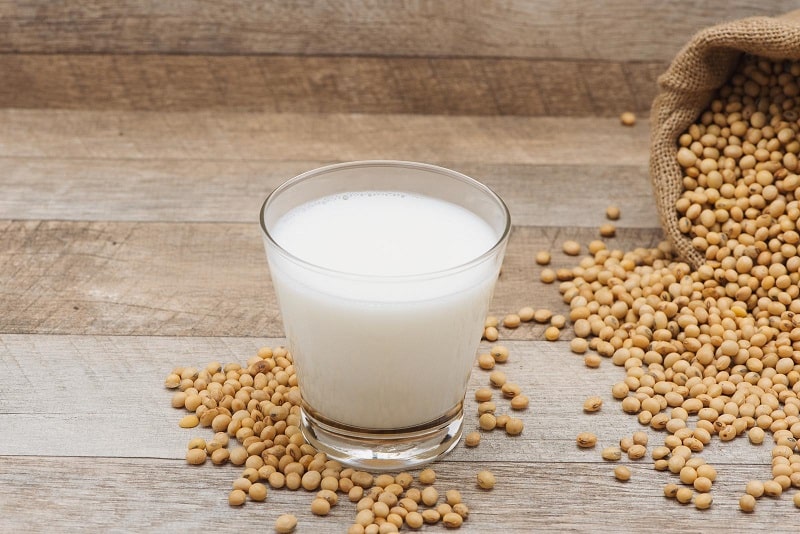 Pros
Widely available
Low cost
Soya milk, also known as soy milk and soymilk, has been a staple drink across Asia for thousands of years. In China, soy milk is a popular beverage – it's sold in shops and produced fresh by street vendors.
In the UK, soy milks are typically organic and are unsweetened, sweetened (with sugar or sugar substitutes) or flavoured with ingredients like chocolate and vanilla.
Soya milk is produced from soybeans, which are technically a vegetable. Soybeans are used in many Asian dishes and they're also the key-ingredient in soy sauce and tofu. They're high in carbohydrates, which give soya milks a naturally smooth and creamy flavour.
In terms of texture, soya milk comes close to dairy milk. A typical soya-based milk contains less water than nut-based milk alternatives and will have a slightly viscous consistency, much like cow's milk.
Soy milk contains molecules known as isoflavones – these have a chemical structure similar to the human hormone oestrogen. Their consumption has been linked with changes in health in various scientific studies. Results seem to indicate that these molecules could help the body to regulate metabolism and other metabolic processes.
A 2019 review found that consuming soy isoflavones was linked with a lower chance of developing type 2 diabetes. Most soy milk products don't declare how many isoflavones or other soy components are in their drink, although further nutritional information may be found on their website.
Nutrition Report – Unsweetened Soy Milk
Calories: 105 kcal
Carbohydrate: 12g
Fat: 3.6g
Sugar: 8.9g
Protein: 6.3g
Recommended soy milk: Plenish Organic Soya Unsweetened Drink
This scrumptious soy milk is made from just 2 natural ingredients; organic soybeans and still spring water. This 1 litre carton is widely recyclable in the UK; like all Plenish milk alternatives, this soy milk is pasteurised at high temperatures, giving it a long shelf life without the need for artificial additives and preservatives. It is unsweetened but still has a slightly sweet taste and a smooth texture.
Plenish's soy milk is made with French soybeans, grown without pesticides or herbicides. It is a carbon negative product; trees are planted for every carton of milk alternative they produce, to help capture CO2 from the atmosphere.
5. Rice Milk
Pros
Least allergentic milk
Low cost
Rice milks are typically made from brown rice, which is significantly more nutritious than white rice but still high in carbohydrates. According to a 2018 study, rice milk is the "least allergenic" milk available – this means that it is safe for people with a wide range
Rice milk is rich in carbohydrates and sugars; one standard serving of rice milk contains a massive 21.8g of carbohydrates, the highest in our milk alternative comparison. This is almost double that of full-fat cow's milk.
White rice milks are generally less nutritious than brown rice milks, but have a naturally sweeter taste. A wide variety of flavoured, sweetened and gluten-free rice milks are available in the UK.
There are many uses for rice, including the production of rice syrup. This sweet, sticky syrup has a taste and texture similar to molasses and maple syrup. It is a refined sugar that can be obtained from rice with natural enzymes. Some rice milks have rice syrup added in to increase the product's sweetness.
Rice contains very little dietary protein, far less than dairy milk and many other milk alternatives.
Nutrition Report – Unsweetened Rice Milk
Calories: 114 kcal
Carbohydrate: 21.8g
Fat: 2.4g
Sugar: 9.5g
Protein: 1g
Recommended soy milk: Alpro Rice Long Life Drink
Alpro's unsweetened rice milk provides essential dietary nutrients, including calcium and vitamins B2, B12 and D. For legal reasons, the product has to be labelled as a rice drink in some countries, but the term is interchangeable with rice milk.
This rice milk has been described as having a subtle sweetness and a light flavour. It is 100% plant based, is naturally low in fat and has a very long shelf life.
6. Oat Milk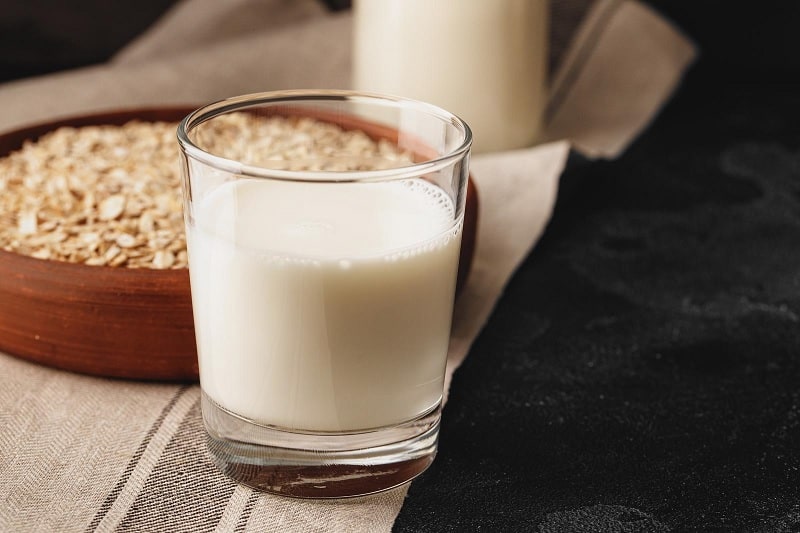 Pros
Low cost
Great in hot drinks
Oat milk is a relatively new invention; it was created by a Swedish company in 1994 and initially marketed towards people with lactose intolerance. It has since become one of the most popular milk alternatives.
According to some sources, oat milk's global expansion is partly thanks to American coffee baristas, who fell in love with the milk's coffee-complementing taste and how easily the milk could be frothed for hot drinks.
It doesn't curdle or separate and when heated with high-pressure steam, oat milk produces a rich, creamy froth that's incredibly close to that of dairy cow's milk.
Oat milk contains the highest sugar-content by weight, at 15.2g sugar per 227ml serving.
It is the closest milk alternative to dairy milk in terms of protein, carbohydrates, sugars and fats. Oat milk has a naturally creamy taste but is low in cholesterol and saturated fats – sweetened oat milks are excellent for people who want a dairy experience.
Nutrition Report – Unsweetened Oat Milk
Calories: 120 kcal
Carbohydrate: 16g
Fat: 5g
Sugar: 15.2g
Protein: 4g
Recommended oat milk: Provitamil Oat Drink Milk Alternative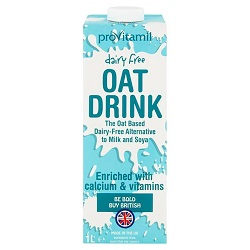 Provitamil's oat milk is made in the UK using British-grown oats. According to the manufacturer, this product delivers comparable benefits to dairy milk – it is enriched with calcium and folic acid as well vitamins B2, B12 and D. It is praised by consumers for having a great taste and long shelf life.
Once opened, Provitamil Oat Drink Milk Alternative can be enjoyed for up to seven days if refrigerated correctly. The carton is recyclable.

Dylan Kitson is a freelance writer and researcher based in Brighton, England. He's a passionate promoter of all things health, working with supplement companies, health & fitness blogs and consumer review websites.