Fava beans are surprisingly versatile; they can be fried, pureed, boiled, baked, barbecued or prepared in a whole host of other ways.
Fava beans are also great for the soil. Farmers plant their fields with fava plants between crops, preventing soil erosion.
Fava beans have been eaten for millennia. These thumbnail-sized green beans are grown and eaten all over the world.
They're high in protein, taste great and are an excellent source of food energy. Fava beans can be grown in almost all types of soil and thrive in both hot and cold climates – they're the UK's oldest domesticated crop.
British consumers may be more familiar with the term "broad bean", which is technically interchangeable with "fava bean".
However, there are a wide variety of different fava sizes and species, of which broad beans are only one cultivar.
Here are our picks of the best places to buy fava beans in the UK – we've only included British-based websites that sell at least one fava bean product.
1. Abel & Cole
Abel & Cole is recognised as the first organic food delivery company in the world to join the UN's Climate Neutral Now Initiative.
They're an online-only grocer and supermarket built on strong moral and ethical principles, selling only organic produce on their website and choosing local, British suppliers wherever possible.
Abel & Cole is a British company that uses recycled cardboard boxes to deliver food to customers.
Uniquely, orders can be placed on a rolling, weekly basis or as a one-time order without registration. Customers can choose to change or stop their weekly order at any time!
Their service makes it easier than ever to get fresh fruits, vegetables, meats and thousands of other food items delivered to your doorstep.
Many people choose what to buy based on other people's feedback – this is a great method to decide on the quality of a product you haven't purchased before.
However, the Abel & Cole website goes one step further! The items they sell (including those listed below) each show verified customer feedback, alongside additional information like other customer's cooking ability, favourite food group and household size.
This feature makes choosing which Abel & Cole fava bean product to buy even easier.
Abel & Cole deliveries are verified as carbon neutral. To keep food miles low, Abel & Cole sources the majority of their food and drink from local, British organic farms and suppliers.
They don't use aeroplanes to transport their food to the UK, as this releases extremely toxic greenhouse gases into the environment.
Hodmedod's British Whole Fava Beans in Water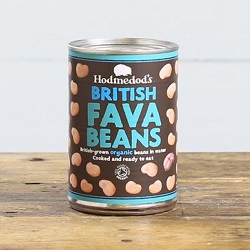 Using these tinned fava beans in water couldn't be easier! Simply heat them on the stove, in the oven or in a microwave for a few minutes until hot throughout.
These fava beans are already cooked at the factory. Unlike dried beans, they don't require hours of soaking or cooking and can be enjoyed cold from the tin.
Hodmedod's British Whole Fava Beans in Water is made exclusively with British-grown fava beans. The only other additional ingredients are water and a small amount of concentrated lemon juice, which acts as a natural preservative.
All Hodmedod fava bean items are certified as Soil Association Organic and the company is approved by SALSA (Safe and Local Supplier Approval).
2. Natural Grocery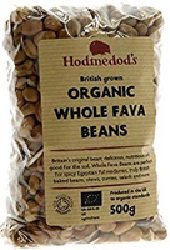 Best for: Hodmedod's Fava Bean Products
Natural Grocery is a hidden gem among online-only grocers and supermarkets. They have a very wide range of fresh produce available, all of which is free from additives and artificial ingredients.
Their easy-to-navigate website has more than 4,000 unique products available. They sell a wide range of Hodmedod's fava bean products, as well as Explore Cuisine Fava Bean Fusilli pasta and Easy Bean Fava Bean & Poppy Seed Crackers.
Customers can pay for their Natural Grocery orders by credit or debit cards, via Opayo (formerly Sage Pay). They aim to deliver all orders within 6 days. Deliveries are fulfilled by Royal Mail and other courier services.
Natural Grocery takes sustainability seriously. They use eco-friendly ice packs that contain water, salt and blue food colouring instead of harmful chemical coolants.
Orders are protected with biodegradable corn starch box fillers that are suitable for home composting. Natural Grocery also re-uses cardboard boxes wherever possible, to cut down on unnecessary waste.
3. Melbury & Appleton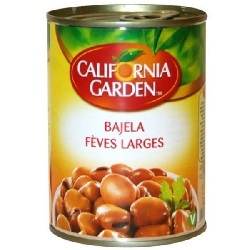 Best for: Tinned Fava Beans
Melbury & Appleton was established in London 17 years ago. They sell a very large variety of hard-to-find ingredients, many of which can't be bought in any high-street supermarket.
Melbury & Appleton sells traditional foods from around the world, including a variety of fava bean items.
Melbury & Appleton sells three different fava bean products; canned fava beans, whole fava beans and split fava beans.
Customers have great things to say about this online British grocer – they have over 22,000 5-star reviews, verified by Shopper Approved.
This online store doesn't require registration to purchase items and they use various delivery services, including Royal Mail, to fulfil customer orders as efficiently as possible.
Order costs vary between £3.99 and £7.99 at the time of writing, depending on the total order weight and the speed of delivery; standard, next day and weekend options are available.Orders over £50 qualify for free delivery!
4. Etsy
Best for: Grow at Home Fava Beans
Have you ever thought about growing your own fava beans? They're extremely easy to sow and even first-time gardeners will manage to grow their own fresh supply of fava beans (otherwise known as broad beans).
Etsy is best known as a marketplace for art and gifts; the website allows small, independent businesses and creators to sell their products to shoppers online. They currently have over 1,000 unique listings for seeds in the UK.
Fava beans are hardy plants that can cope with both heavy rain and blistering sun; they don't require special soil, plant foods or fertilisers and will grow in almost all climates. People can plant their own fava beans in an allotment, garden or window box planter.
The Etsy website is easy to use and sellers can be paid with various forms of payment; all major credit and debit cards are accepted, as are Apple Pay, Google Pay, PayPal and some other payment services.
20 Seeds Fava Bean Seeds from GardenerSeeds
Etsy seller GardenerSeeds is one of many seed distributors listed on the website. This pack of 20 fava bean seeds is ideal for home growing.
These are heirloom seeds that haven't been genetically modified – they have an estimated germination rate of over 80%, which is a good success rate for non-GMO fava bean seeds.
To plant them, place each seed at least 10 cm apart approximately 5 cm into the soil. Fill each hole with more soil, water well and keep the plants in sunlight when possible.
5. Ocado
Ocado is an online-only grocery retailer – they have depots spread across England to serve orders around the UK. Their fleet of 1,700 delivery vans ensures that Ocado customers around the UK get their food as fresh and efficiently as possible.
Ocado uses experienced packers alongside state-of-the-art software and robots, to pick and pack the best fresh, frozen and ambient food for their customers. Ocado delivery vans are instantly recognisable, with each sporting a different fruit or vegetable on the sides.
Ocado is committed to keeping waste to a minimum. Despite being the UK's largest online-only grocery shop, just 0.02% of the food Ocado handles is wasted.
They use advanced logistics to predict food needs and keep their energy expenditure to a minimum by carefully controlling the temperature of their foods during transit and storage. Surplus food is distributed to local charities, wildlife centres and food banks.
They use recycled plastic bags to fulfil orders instead of cardboard boxes. While this may seem counterintuitive at first glance, Ocado has good reason for doing so. Using plastic bags allows them to keep food safer and fresher than cardboard and other alternatives.
Like all supermarkets, Ocado charges a 10p compulsory bag charge. However, Ocado refunds this charge to all customers, who can hand used bags to their delivery driver.
Customers can also hand used plastic bags from other companies to their driver, no questions asked, for reuse and recycling.
Honest Bean Co Roasted Fava Bean Snacks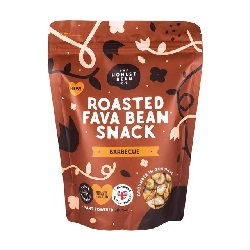 Flavours Available: Chilli & Lemon, Barbecue, Lightly Salted, Sea Salt & Cider Vinegar
These roasted fava bean snacks are a perfect healthy substitution for potato-based crisps. All Honest Bean Co fava flavours are suitable for vegans and made using produce that champions British Farmers. Each crunchy, roasted bean is naturally high in fibre and protein.
6. Amazon
Amazon sells almost every product you could imagine—fava beans are no exception! Amazon doesn't permit the selling of fresh foods on their website, but they do stock a wide range of tinned, jarred, dried and shelf-stable foods, including fava bean products.
Many fava bean brands sell their items through Amazon as well as through other shops. Amazon operates one of the most reliable and efficient delivery services on earth.
They own fleets of aeroplanes, trains and other transportation vehicles; this allows them to rapidly transport, box and dispatch deliveries to customers. In some places (mostly cities), same-day delivery is available on select items!
By 2039, Amazon will be using more than 100,000 electric vehicles globally. The company works to reduce the waste it generates – they have eliminated over 1 million tonnes of plastic packaging material since 2015.
Amazon operates a Prime membership program. This allows customers to purchase fava bean foods (and many other items) with free, quickest delivery to all UK addresses.
Prime members also get exclusive offers and the ability to watch thousands of films and TV shows at no extra charge.
As a massive company, Amazon is able to connect brands and consumers across the globe. British shoppers can buy Amazon products with ease as the website accepts almost every form of currency and payment, including PayPal, credit card and debit card.
According to their website, Amazon is the first, and only, marketplace to protect customers in third-party product liability cases.
There are simply too many fava-related items listed on Amazon to mention here; instead, we've picked out two popular items that caught our attention:
Wholefood Earth British Fava Beans

Wholefood Earth is an independent British food producer based in Kent, England. They make GMO-free dried fava beans that are grown, processed and packaged in the United Kingdom.
The 1kg size of this product is great for regular fava enjoyers. To prepare these beans, soak them in cold water for at least 6 hours then boil for approximately 1 hour until tender and soft.
Wholefood Earth takes their environmental impact seriously – they use 100% recyclable packaging that's suitable for kerbside collection.
The Happy Snack Company Roasted Fava Beans

The Happy Snack Company turns fava beans, grown in the hot Australian sun, into tasty, crunchy snacks. They roast their fava beans with rapeseed oil, sea salt and natural flavourings.
They exclusively use GMO-free ingredients to make their products, all of which are suitable for people with gluten, nut and dairy allergies. The Happy Snack Company is based in a purpose-built, ultra-clean facility located in Australia's sunshine coast to ensure that their healthy foods are allergen friendly.
7. Planet Organic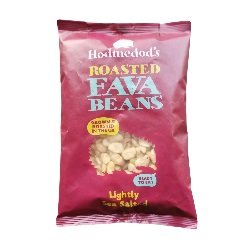 Planet Organic is the UK's first organic supermarket. They sell thousands of fresh, frozen and cupboard foods and cooking ingredients to British consumers through their online website and physical shops, which are dotted around London, England.
The website sells a range of Hodmedod's Roasted Fava Beans and Hodmedod's Whole Fava Beans.
Planet Organic also sells Biona Falafel balls. While most people associate falafel with chickpeas, in Egypt and some other Middle Eastern countries, falafels are typically made with dried fava beans. This gives them a lighter taste and fluffier texture when fried in oil.
Orders are packaged in recyclable cardboard boxes, made using forestry commission-approved cardboard. To protect food items in transit, Planet Organic packs delicate orders with recycled brown paper or a paper-based bubble wrap alternative. All Planet Organic orders can be tracked online.
Planet Organic customers can buy-now-pay-later with the Klarna payment system or pay for their goods immediately. American Express, Google Pay, Apple Pay, Maestro, Visa, Mastercard and PayPal are all accepted.
There are three different delivery options available to Planet Organic customers: nominated day delivery, next day delivery and standard delivery. Orders placed before 4pm are available for next day delivery!
8. Sous Chef
Sous Chef is an online shop for both home cooks and professional chefs. It was founded in 2012 by former professional chef Nicola, who wanted to give British shoppers access to Michelin-quality ingredients from all over the world. Sous Chef sells tableware and cookware as well as a large range of cooking ingredients, including fava bean products.
Sous Chef is based in the UK and sells British-made foods as well as products you'd be more likely to find in local shops in Lebanon, Hong Kong, South Korea and many more countries globally.
They don't have a minimum online order amount – this is great for people wanting just one or two fava bean items.
Unlike some supermarkets, Sous Chef prioritises taste and quality over profits; their friendly team of staff personally tastes every item they sell. Sous Chef delivers their customers a 5-star service, according to website review watchday Feefo.
Customers can pay for their order with all major UK payment service providers; Visa, MasterCard, Delta, Maestro, American Express and PayPal. Items are sent tracked with a range of delivery options. The cheapest is EVRi Economy (£3.99 at the time of writing)
Modamas Whole Fava Beans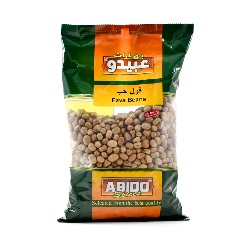 These dried fava beans are an authentic Middle Eastern ingredient. They're made from fava plants grown in Lebanon. The traditional drying process gives these beans a minimum shelf life of 3 months and typically last for longer when stored in a cool, dry and dark place.
Rehydrating these whole dried fava beans is easy. Simply submerge them in a bowl of cold water overnight and they will soak up moisture, making the skins easy to peel. They can also be cooked without rehydrating, by boiling them in a saucepan or Dutch oven.
9. LemonSalt
Best for: Flavoured Canned Fava Beans
LemonSalt sells 21 different fava-based products on their website – that's more than most supermarkets and online grocers!
This UK-based online food retailer sells ingredients from around the world, but specialises in Middle Eastern foods including flavoured tinned (canned) fava beans.
Tinned fava beans are very popular ingredients across the Middle East and they're now available to British consumers thanks to LemonSalt.
Their yellow-coloured website is easy to navigate and also features a blog, containing recipes and informative information on Middle Eastern foods. New customers that subscribe to the LemonSalt official newsletter get a generous 10% off their first order.
LemonSalt has excellent delivery costs! Orders over £25 qualify for free delivery and next day delivery (before 3pm) is available for just £3.99 to most UK addresses (at the time of writing). Orders are fulfilled by DPD, who offer "no contact delivery" to minimise the spread of COVID-19.

Dylan Kitson is a freelance writer and researcher based in Brighton, England. He's a passionate promoter of all things health, working with supplement companies, health & fitness blogs and consumer review websites.