Bones are filled with a soft, sponge-like substance called bone marrow. It's here that new blood cells, and other important cells, are formed.
Bone marrow is composed of many unique substances. When cooked, these develop a distinct flavour that's best described as rich, meaty, creamy and butter-like.
Bone marrow is consumed around the world. It is typically made into bone broth by simmering the bones in water for an extended period of time. Most brands of bone broth choose to cook their bones for between 12 and 24 hours.
People consume bone broth around the world as a nutritious, filling food. It's also affordable, as bones are often much cheaper than meat.
Beef bone broth is the most important ingredient in Phở, the national dish of Vietnam. In the UK, bone broth is less commonly consumed although this trend is changing as more people discover the umami-rich taste of authentic bone broth.
Making bone broth from scratch can be time-consuming and expensive, as other ingredients like fresh herbs and vegetables can quickly increase the cost of making it at home.
Fortunately, there are a variety of ready-made bone broths available to buy online in the UK.
Many bone broths are fresh and need refrigeration while others are packed into cartons; these can be stored at room temperature for many months.
Here are the best online grocers, supermarkets and shops to satisfy your bone broth cravings.
1. Abel & Cole
Naturaler's Pick: Best for Bone Broth Deliveries
Abel & Cole is an online-only organic food supermarket. They deliver sustainable foods direct to your door and they can even put your parcel in a designated safe place if you're out during delivery.
Their website sells unique, organic bone broths from three different brands: Osius, Daylesford and Borough Broth Co.
Unlike traditional supermarkets, Abel & Cole delivers their items in recycled cardboard boxes. This has allowed them to stop 65 million plastic bags from being used, reducing plastic waste by 77%.
They transport their goods by road and sea instead of by air, which helps to reduce harmful greenhouse gas emissions into the environment.
Abel & Cole is a certified B-Corp company and their deliveries are verified as carbon neutral. They keep food miles low, by sourcing as much of their food and drink from local, British organic farms and suppliers.
According to the Abel & Cole website, the company was recognised as the first organic food delivery company in the world to join the UN's Climate Neutral Now Initiative.
Abel & Cole sell bone broth from the following companies.
Daylesford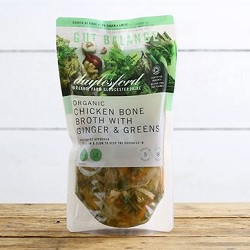 Flavours Available: Organic Chicken, Organic Chicken with Ginger & Greens, Organic Grass Pastured Beef and Organic 10hr Beef Bone Broths.
Daylesford is an award-winning, free-range organic farm located in Gloucestershire, England. Their bone broths are extremely fresh and authentic.
They're made using their own animal bones and don't contain preservatives. Like all fresh bone broths, Daylesford products need to be refrigerated and consumed within a few days. They are also suitable for home freezing.
Their bone broth is made with classic ingredients, not chemicals – all ingredients are Soil Association Organic approved.
Commonly included Daylesford ingredients include onion, celery, leeks and garlic. Small amounts of meat are also included in their bone broths, as well as healthy seasonings including fresh, GMO-free chervil, parsley and thyme.
Borough Broth Co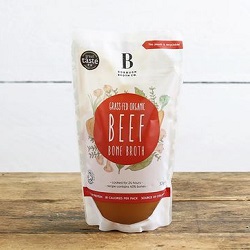 Flavours Available: Organic Chicken Pho, Organic Chicken, Organic Beef and Organic Apple, Miso & Seaweed
This 2015-launched brand of bone broth uses additive-free bones, combined with a range of herbs and vegetables. They use whole ingredients, not extracts or pre-made powders, to create their fresh liquid bone broths.
Borough Broth Company uses organic bones sources from 100% Soil Association Organic certified farms within the United Kingdom. The company is also B-Corp certified and uses BPA-free packaging. These fresh bone broth products need to be refrigerated but are ideal for home freezing – this is a great way to extend a bone broth's shelf life, without affecting flavour.
Osius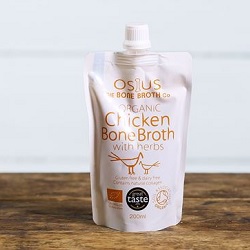 Flavours Available: Organic Chicken, Organic Beef
Osius Bone Broth is produced by husband-and-wife John and Louisa Stout, on their farm in Ross-On-Wye, Herefordshire.
The couple cares for their own organic, grass-fed animals and all of their bone broths are certified by the Pasture for Life Certification Scheme.
Wherever possible, Osius uses local, British produce. Many of their vegetables come from a nearby farm and their seaweed is selected from Cornwall.
They use filtered water to produce their bone broth, which is gently simmered for 24 hours to extract maximum flavour, protein and gelatine from within the bones.
Osius also produces a wild game broth, made with pheasant, venison and wild boar! Both their chicken and beef bone broths are available in 200ml and 500ml pouches.
2. Ocado
Naturaler's Pick: Best Variety of Bone Broths Available
Ocado is the UK's largest dedicated online-online grocery retailer. They use a fleet of delivery vans to quickly deliver food to customers across the UK.
The company operates both traditional warehouses with human workers and state-of-the-art processing depots called 'hives' to fulfil orders, which use robots to pick and pack items efficiently.
Ocado has a variable delivery charge of between £0 and £6.99 (at the time of writing), depending on the order's total cost.
They also offer a "Smart Pass" membership; this qualifies you for free deliveries, big savings on many Ocado items and priority deliveries around Christmas.
Like all supermarkets, Ocado has to deal with a lot of plastic waste. They offer a 10p reward for every Ocado bag that's handed back to them for recycling and will also accept other supermarket's plastic bags.
Ocado's bags are grey, as they aren't bleached or dyed. This makes recycling them easier and better for the planet.
Despite Ocado's massive size, they create almost zero food waste! They distribute over 2,200 tonnes of food each year yet only 0.02% of this food is wasted.
By shortening their supply chains, carefully controlling food temperatures and using software to predict food needs, Ocado is able to ensure that food ends up in the kitchen, not the bin.
This is an amazing achievement; for comparison, Britain wastes over 7.3 million tonnes of food and drink each year.
Ocado works with charities, food banks and animal parks to redistribute fresh foods that would otherwise go to waste.
Ocado has 16 unique bone broths for sale from 4 different companies: Daylesford, Borough Broth Co, BOOSH and Baxters.
Baxters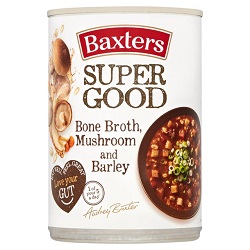 Flavour: Baxters Super Good Bone Broth with Mushroom & Barley Soup
Baxters is perhaps one of the UK's most recognisable soup brands. The Scottish soup maker has been in business since 1868 and has been family-run since the beginning. They produce a wide range of tinned soups, stews and broths made with a variety of meats and vegetables.
Currently, Baxters only sells one bone broth product: Super Good Bone Broth with Mushroom & Barley Soup. This slow cooked bone broth has a rich, meaty flavour and a slightly thicker texture than most bone broths.
It's made with four different types of Japanese mushroom (Shiitake, Oyster, Nameko and Cep) as well as classic ingredients including pearl barley, carrots and onions.
This product is free from artificial colours and flavours. Like all tinned foods, this bone broth has an extremely long shelf life when stored at room temperature.
3. Planet Organic
Naturaler's Pick: Best for Organic Bone Broths
Planet Organic sells fresh & chilled groceries, meat & dairy, baking ingredients, health products and more.
They have a dozen in-person stores dotted around London, but operate a well-stocked online webstore.
Here, customers can shop for a wide range of items including liquid meat bone broths, stock cubes, rendered beef tallow and powdered bone broths.
This British company delivers to almost everywhere in the UK and offer nominated day, next day and standard delivery options.
Orders are packaged in forestry commission certified cardboard boxes, which may be filled with recycled brown paper or paper-based bubble wrap.
Liquid items, including bone broths, may be sealed in a zip lock bag for added protection – this can be composted at home. Refrigerated items are sent in ice-filled, sustainable woollen pouches.
Some bone broths need refrigeration and may need to be consumed relatively quickly, within a week or less.
As an established grocer, Planet Organic appreciates the importance of keeping food fresh. For this reason, they have a minimum three days shelf life on all products including bone broths (except some breads).
Planet Organic sells a large variety of bone broths on its website. The brands of bone broth sold are:
Daylesford
Planet Paleo
Ossa
Borough Broth Co
Cosmic Molecule
All Planet Organic orders can be tracked online and an email will be sent when your order is ready to be dispatched. Planet Organic customers can buy-now-pay-later with the Klarna payment system.
Ossa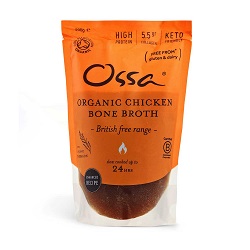 Flavours: Chicken Bone Broth, Beef Bone Broth, Beef Bone Broth Boost, Lamb Bone Broth Boost.
Ossa uses generous amounts of bones to make their broths, averaging 48% bones per product. The remaining ingredients are GMO-free vegetables and herbs, including thyme, clove and bay leaf.
They sell traditional organic chicken and beef bone broths, slow cooked for 24 hours to extract the tastiest, meatiest flavours from their natural ingredients – these products need refrigeration.
Ossa also sells unique bone broth boosters. These handy alternatives to stock cubes are made by dehydrating bone broths, concentrating their flavours and extending the product's shelf life.
Their Beef Bone Broth Boost, Lamb Bone Broth Boost and Chicken Bone Broth Boost products can be stored at room temperature, but must be refrigerated and consumed within 2 days of opening. They also sell beef tallow (pure rendered beef fat) that's ideal for home cooking!
Planet Paleo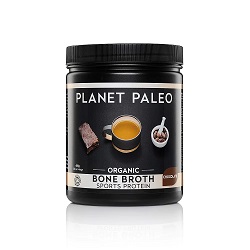 Flavours Available: Pure (Onion and Tomato), Golden Tumeric, Herbal Defense, Banana & Vanilla and Chocolate.
Planet Paleo is the first organic bone broth powder made in the UK. Their products are free from gluten and dairy and come in four different sizes to suit individual needs – these are 9g sachets, 16g sachets, 225g tubs and 480g tubs.
Planet Paleo sources their beef from select South American farms that feed their cattle on grass and pasture.
Planet Paleo ensures that no animals are raised on deforested land. This bone broth brand employs traditional farming methods which avoid the use of hormones, antibiotics and GMOs.
Many of their products are flavoured, but not like you'd expect. Savoury flavours include Golden Tumeric and Herbal Defense. Sweet flavours include Banana & Vanilla and Chocolate.
Cosmic Molecule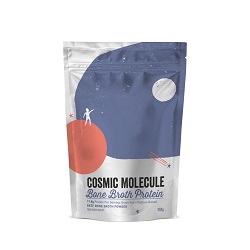 Flavour: Natural, Unadulterated Real Bone Broth
Cosmic Molecule bills itself as the "feel-good" supplement company. They believe that dietary health supplements are too-often pills or powders; their bone broth supplements are pastes, which can be easily mixed into home cooking, sauces, smoothies or hot drinks.
This tasty bone broth contains 19.8g of protein per serving. It isn't flavoured and only contains two ingredients: Bovine Bone Broth (99.5%) and Sunflower Lecithin (0.05%). Cosmic Molecule Real Bone Broth Protein has an unbelievably rich, umami taste. It is made from pasture-raised cows that feed on organically-tended grass.
4. eBay
Naturaler's Pick: Best for Long-Life Bone Broths.
Most people turn to eBay for clothing, games and gifts. It's far from a typical supermarket, but eBay can be particularly useful for finding dried, canned and jarred food items.
eBay's terms and conditions don't allow the sale of fresh foods through its website. This means that the products they list have long shelf lives.
If you want a long-lasting bone broth, that can be stored at room temperature for years without going off or changing flavour, take a look at eBay's product listings.
They sell long-life liquid bone broths, bone broth powders and other bone broth products.
eBay typically has better bulk-buy deals than normal food shops and supermarkets. You can buy single cartons of bone broth or larger multipacks, which are often cheaper.
As a company, eBay is committed to cutting unnecessary waste wherever possible. Most of their offices and data centres are carbon neutral. eBay has set itself an ambitious 2030 deadline to slash its total emissions by 90%.
Take Stock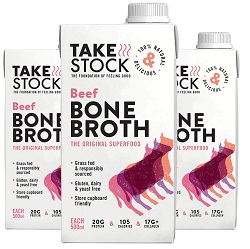 Flavours Available: Beef, Chicken, Fish and Vegan Bone Broths.
Take Stock makes award-winning bone broth with 100% natural ingredients. They use a process called "retorting" to sterilise their bone broths and give them a 2-year shelf life, without the need for refrigeration.
To create the highest quality British bone broth, Take Stock exclusively uses animals that are cared for throughout their lives. All of their bone broth is sourced from antibiotic-free animals that are fed a natural diet, free from artificial hormones and genetically modified foods. Take Stock uses 100% recyclable packaging that is made from 90% recycled materials.
Take Stock Chicken Broth is made with high-welfare Norwegian chickens, raised by a farmers cooperative that ensures both farmers and animals are treated fairly. Their fish bone broth is high in protein, rich in the essential nutrient iodine and contains zero fat. For those that don't eat meat, the company produces a very-popular vegan broth that's packed with herbs and vegetables.
5. Amazon
Naturaler's Pick: Best for Worldwide Bone Broths
Amazon is the largest online shop in the world; their wide reach across the globe allows them to stock bone broths and bone broth products from around the world.
Products sold through Amazon.co.uk generally don't require refrigeration. Their bone broth selection is therefore limited to shelf-stable (cupboard) bone broths, jarred bone broths, tinned bone broths and bone broth powders.
Fresh bone broths may be available through Amazon Grocery. This service allows Amazon members to order groceries from other retailers, including Morrisons, and have them delivered within hours.
Amazon has a range of delivery options available. Their Prime membership program gives customers free, quick delivery – this is often next day delivery or same day delivery.
While they do produce some own-brand products, the vast majority of the items they sell are made by other companies.
Here's a look at two of the best bone broths featured on Amazon UK:
Bone Broth Bros

Flavours Available: Chicken with Lemon & Thyme, Duck with Ginger, Lime & Coriander and Root Vegetables with Dashi
This London-based company, founded by 5 brothers, makes a variety of bone broths using family recipes. They simmer their bone broth for over 20 hours, adding in a range of ingredients sourced from the UK and further afield.
This brand creates classic bone broths enhanced with unique flavours. Their recipes include miso paste, dashi, ginger, coriander and other ingredients rarely found in pre-made bone broths.
All of their broths are gluten free, high in protein and low in salt. Bone Broth Bros sells their bone broths frozen for freshness.
Wild Isle

Flavour: Wild Isle Unflavoured Beef Concentrate
Wild Isle is based in the extremely-windy Isle of Lewis, a small island north of Scotland. Bone broth is a traditional food of the Scottish highlands; Wild Isle's Broth from the Croft gives you an authentic bone broth taste at home. It is a bone broth concentrate that's unique, as it isn't flavoured with herbs, vegetables or additional ingredients.
Broth from the Croft is made with three ingredients: Hebredian beef bones, filtered water and sea salt. The bones are sourced from high welfare Hebredian cattles that graze the island – these are simmered for 48 hours and concentrated to 10 times the potency of standard bone broth. This handy bone broth concentrate can be added to soups, stews, sauces or, for a traditional experience, stirred into hot water as a hot drink!
6. Field & Flower
Field & Flower is a sustainable online food shop; they sell a wide range of products including British-made bone broth.
They have an extensive range of meat and fish products for sale and exclusively stock free-range, British meat from small independent farms with guaranteed high welfare standards.
This company has very close working relationships with its farmers, fishermen and other food suppliers. All Field & Flower products, including their bone broths, are delivered fresh and are suitable for home freezing.
Field & Flower also sells 1kg servings of fresh beef stock bones, great for people who want to follow their own beef bone broth recipe.
Most Field & Flower orders are fulfilled by DPD, although some are delivered directly by the company. They have a high minimum spend of £39.50 (at the time of writing). As a smaller scale business, this is the only way for Field & Flower to afford UK-wide deliveries.
They produce two bone broth products:
There are three sizes available: individual 324g pouches, packs of 6 pouches and packs of 10 pouches. Field & Flower multipacks are available as single flavour
7. Pipers Farm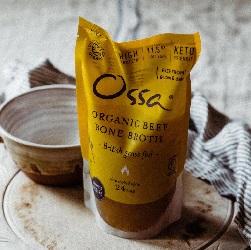 Pipers Farm is an independent British food retailer, fulfilling around 9,000 orders per week. Their most popular items include sustainable organic meat, freshly-caught British seafood and artisan dairy products.
They work with a variety of independent British farmers and businesses to stock their website with a steady supply of high-quality foods.
Pipers Farm sells a wide range of Ossa bone broths. Their website stocks Ossa's organic beef bone and chicken bone broths, as well as Ossa's lamb, chicken and beef bone broth concentrates. Pipers Farm also sells Ossa Organic Beef Bone Broth with Maca – this product can be hard to find as it isn't sold in most major supermarkets.
As an experienced butcher, Pipers Farm has a steady supply of the freshest, highest quality bones available. They sell their own range of fresh bones, ideal for homemade bone broth. Pipers Farm sells grass fed beef bones, free range chicken carcass and grass fed lamb bones, all at competitive prices.
Pipers Farm has a minimum order value of £30 and offers standard, express and Saturday delivery options.
8. Best Bone Broth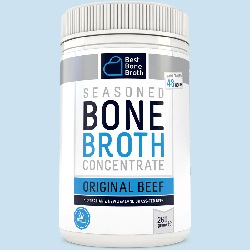 Naturaler's Pick: Best for Bone Broth Concentrates
Best Bone Broth, as the name suggests, makes it their business to produce top quality bone broth. According to their website, they are the #1 selling bone broth in the UK! Best Bone Broth makes concentrates instead of traditional liquid bone broths. This makes them last longer.
This company is based in the UK but sources their bones from high welfare Australian and New Zealand cattle.
The cows feed exclusively on grass and are raised without hormones or antibiotics. They simmer every batch for 2 entire days, to extract as much protein and flavour from the bones as possible.
All of this brand's products are free from sugar, yeast and starch. Best Bone Broth is a family-owned business that makes all of their items in small batches to ensure high standards are met.
No unnecessary additives are used; their products contain beef broth, premium-quality spices and natural flavourings.
Their bottles of bone broth contain between 25 and 35 suggested servings. They can be stored at room temperature, but must be refrigerated once opened – they should stay fresh in the fridge for up to six weeks!
Best Bone Broth delivers orders within two to three working days – online delivery tracking is available as standard.

Dylan Kitson is a freelance writer and researcher based in Brighton, England. He's a passionate promoter of all things health, working with supplement companies, health & fitness blogs and consumer review websites.