Fast fashion is cheap for consumers, but expensive for the environment.
The fashion industry is broken and is becoming more and more dangerous for our planet. According to Worldbank, it makes up 10% of total global carbon emissions, adds about half a million tons of plastic microfibers to our oceans, produces 20% of all wastewater, and results in huge wastage with most clothes ending up in landfills. This is just the tip of the iceberg!
The demand for comfort is high, the underwear market is estimated to be worth $28 billion in 2022 and is expected to increase to $48 billion by 2028. So it's important we shift toward ethical and sustainable choices.
What Is Ethical Clothing?
Ethical clothing solves one or more of the major issues that fast fashion poses for the environment or the people involved in the process. Ideally, ethical clothing brands do the following:
Create good working conditions in factories
Curb exploitation of factory workers and pay fair wages
Source materials ethically
Use raw materials which are sustainable and/or ethically produced
Have a transparent supply chain
Are open and provide information regarding their operations
Facilitate fair trade
Are involved in sustainable production
Support animal welfare
One brand can't always resolve all of the problems mentioned above. However, the best brands are mindful of their activities, honest about their process, and want to progress to become better for the environment.
Read more about ethical clothing and what's wrong with fast fashion here.
Best Brands to Buy Ethical Underwear From
Luckily, you'll find quite a few brands online that make sustainable and ethical underwear. We've listed the best ones below.
1. Inner Mettle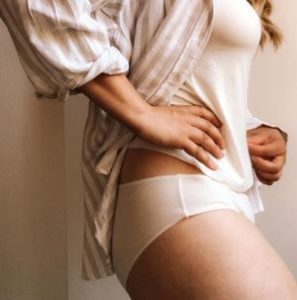 Inner Mettle is a unique and creative brand focusing on creating undergarments made from natural and recycled materials in a sustainable manufacturing process. They make comfy underwear for both men and women.
The materials they most commonly use are bio-based polyamide, milk blend, silver & copper and IM Virobac. They're planning to launch hemp blends and sea algae blends as new materials too!
We recommend their milk innerwear, made from surplus milk. They separate the protein casein can from sour milk to both make fabric and reduce milk waste. The result is smooth and soft underwear which is free of harsh chemicals and good for sensitive skin.
2. Boody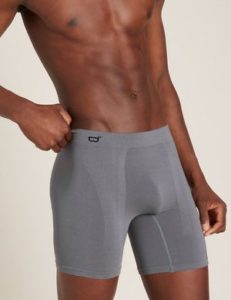 Boody is a sustainable fashion brand focussing mainly on making comfortable undergarments, comfortable both for the consumer and the environment. Their products are made from organically grown bamboo which is breathable, soft and comfortable.
All bamboo used by Boody comes from Forever Green Pact certified forests, which means that the farming and harvesting of this bamboo does not contribute to any destruction in the natural habitat.
Boody is a certified B Corp, meaning that they are accountable, transparent and maintain high standards in their business. They also have Ecocert and OEKO-TEX certifications. Moreover, they're approved by PETA.
Broody has a dedicated range of underwear for both men and women but does offer clothing as well.
3. WUKA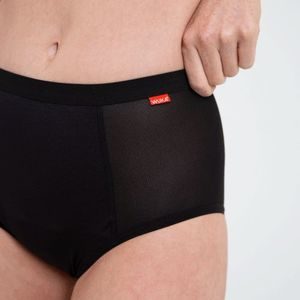 WUKA is a female-led brand making reusable, leak-proof and sustainable period underwear. Their materials are responsibly sourced and the products are affordable.
About 200,000 tonnes of disposable pads and tampons end up in landfills every year in the UK alone. These are accompanied by vast amounts of single-use plastic waste. WUKA aims to solve this problem. Each period underwear of theirs can save wastage of up to 200 pads/tampons.
The materials WUKA uses include GOTS (Global Organic Textile Standard) organic cotton, tencel modal made from sustainable beech trees, and econyl made from plastic waste from the oceans.
They use compostable corn starch for their packaging. They're also registered with The Vegan Society and approved by PETA.
Along with being sustainable, WUKA (stands for Wake Up and Kick Ass) also breaks down taboos by sharing stories of people and talking about stigmatized topics.
4. Alexander Clementine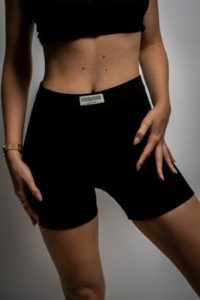 Alexander Clementine is a London-based brand for women's underwear with one major objective, to produce cotton alternative underwears which look and feel good while being friendly towards the environment.
Their undergarments are made of a unique, soft, silk-like fabric which is a mix of seaweed and wood pulp (tencel).
The seaweed is sourced from Icelandic Fjords, where there is minimal water contamination and zero pollution from ship traffic. The harvesting process is sustainably managed to allow regeneration. Their tencel is also sustainably sourced. They have a patented manufacturing process which recycles water and reuses the solvent at a recovery rate of more than 99%.
The products are designed and made in London.
5. Y.O.U Underwear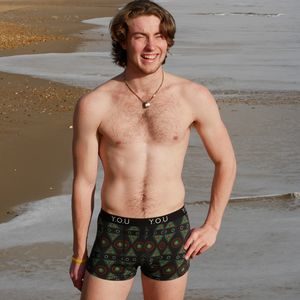 Y.O.U Underwear is the highest-rated B Corp in the UK and one of the top fashion brands. They have a wide range of undergarments for men, women and specifically for girls too!
All their products are made from Fairtrade and GOTS certified organic cotton that is PETA-approved vegan. They're transparent about their supply chain and manufacturing process.
The brand has also partnered with Treedom to support reforestation.
6. Rossell England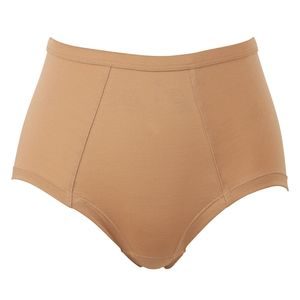 Rossell England is an undergarments brand for women that makes high-quality and long-lasting products. They produce in small batches to avoid wastage, they respect labour and also exercise control over the chemicals used in the production process.
They source high-quality OEKO-TEX certified cotton from Portugal. While their linen is sourced from Ireland and has 100% traceability, it is grown with only rainwater and no pesticides or fertilizers.
7. Thunderpants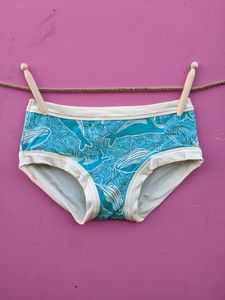 Thunderpants is a UK-based underwear brand for women which promises the world's most comfy undies. The founders, Lucy and Ross were in New Zealand when they met two sisters who were working on producing sustainable undergarments since 1995. A decade later, Lucy and Ross came back to the UK with their vision and created Thunderpants.
Thunderpants claims to put people before profit and so their manufacturing process does not involve the exploitation of workers. Moreover, they use GOTS-certified organic cotton.
They try to keep part of the production in the UK and work with mall manufacturers to avoid wastage of resources. The fabric scraps are repurposed to make cleaning clothes.
8. Pantee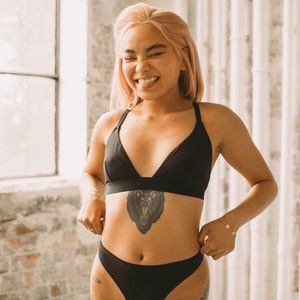 Pantee makes undergarments for women from deadstock t-shirt or deadstock t-shirt material which may have otherwise ended up in the landfills.
Fast fashion is designed to be disposable. About 30% of mass-produced clothes end up never being sold off or worn at all. They go straight to the landfills.
Pantee makes sure that even though they're upcycling deadstock, they still maintain strict standards and high quality.
One tree is planted for every order.
Conclusion
In brief (pun intended!), there are multiple ethical brands available in the UK from which you can buy sustainable and ethical underwear from.
We recommend Inner Mettle because they're creative with their raw materials, their underwear is super soft and they solve waste issues simultaneously.

Anahita is a Yoga Instructor and Content Creator who is determined to help each individual shift to a healthier and eco-friendly lifestyle.