There's nothing quite as exciting as seeing a pile of beautifully packed gifts under the tree at Christmas.
Or placing a gorgeously wrapped gift into the hands of your loved ones and watching their faces light up as they see what is hiding inside.
But unless you're choosing greener, plastic-free, environmentally conscious gift wrapping or packaging, all this generosity could be taking its toll on the planet.
Once that gift is unwrapped, most of this single use wrapping paper simply ends up heading straight to landfill where the synthetic dyes, plastics and other non-biodegradable materials sit for hundreds of years, slowly polluting the planet.
Even if you're eco-minded and try to reuse your wrapping paper, it will only last a few times before it ends up joining all that other used wrapping paper in the UK- in landfill.
But don't panic!
There's no need to stop giving to your friends and loved ones or tolerate dull and uninspiring gift wrap.
There are many eco-friendly wrapping paper and gift-wrapping options available- it just takes a tiny bit more effort and you can make a greener choice.
Let us guide you through a few of the facts about wrapping paper, then share ten easy alternatives to regular wrapping paper, and finally, show you where you can buy eco-friendly wrapping paper in the UK.
Wrapping Paper Waste Facts
Here in the UK we throw away 5 million tonnes of paper every year
Over the Christmas period alone, we throw away around 108 million rolls of wrapping paper
It takes 6 mature trees to make just one tonne of paper.
Each year, a forest the size of Wales is cut down to provide the paper used in the UK
We use around 227,000 miles of wrapping paper each year in the UK
Wrapping paper is hard or impossible to recycle- the fibres are often weak, chemical dyes are used, the paper is laminated with plastic and there are often remnants of tape, glitter and plastic on the surface.
10 Eco-Friendly Wrapping Ideas
There's good news!
You can still make your gifts look gorgeous (and perhaps even more unique and stylish too) without using regular wrapping paper and it needn't cost very much at all.
Here are some of our favourite eco-friendly alternatives.
1. Fabric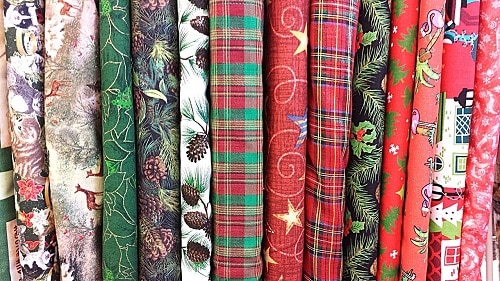 Fabric is a clever and very attractive eco-friendly alternative to regular wrapping paper which is very common in countries around the world, including Japan.
So much so that the Japanese have an artform called 'furoshiki' which uses traditional techniques to make wrapped gifts look gorgeous.
Pieces of attractive fabric are also very easy to get hold of, very inexpensive and can be reused multiple times.
That's why it's one of our favourite eco-friendly wrapping paper alternatives.
Also consider things like scarves, handkerchiefs, napkins, pillowcases and sheets to add that unique touch to your gift.
Then knot, pin or tie with a plastic-free ribbon, piece of rustic-looking string or fasted in another eco-friendly way.
2. Maps and calendars
Most households have an abundance of old maps and old calendars that can also be used to bring a vintage touch to a gift without costing the earth.
These are usually recyclable, colourful, interesting and usually free.
3. Newspapers and brown paper
We love using brown paper and old newspapers to wrap gifts as we've usually got plenty of them knocking around in the recycling bin or we can ask friends or older family members to keep hold of them for us.
Often you simply reuse what you have or keep an eye open for paper bags when we're doing our shopping on the high street.
You can also ask your local newsagent for old newspapers (they usually just send them back when they can no longer be sold).
Just make sure that whatever you choose isn't coated in plastic.
4. Reusable gift bags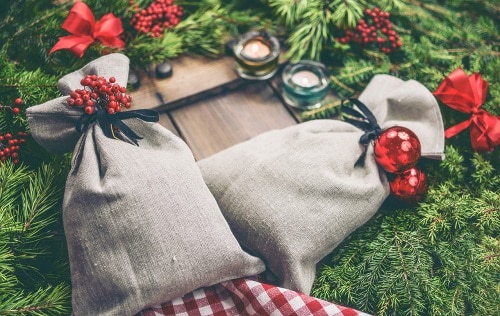 Gift bags look gorgeous and if you choose the unlaminated, plastic-free type, they're usually very eco-friendly too.
You don't need to use plastic sticky tape to fasten and you don't need to learn complicated folding techniques. Simple place the gift inside and you're done.
You can either find more 'traditional' paper bags which are reusable but do wear over time or opt for a lovely cloth gift bag instead.
If you're a crafty type, you can even make your own cloth gift bags or repurpose cloth produce bags.
5. Terracotta/clay flowerpots
Terracotta or clay flowerpots are sustainable, practical and very easy to customise.
You can either wash and lay a large piece of fabric inside, then place your gift on top and fold or tie the fabric to seal, or you can decorate the plant pot itself.
You can find these pots in all shapes and sizes, they're easy to reuse and they're a unique and creative way to wrap your gifts without using plastic wrapping paper.
6. Baskets
Baskets are a cheap and easy to find gift wrapping option that comes in many sizes and is easy to reuse or repurpose. You can usually find plenty at charity shops or knocking around at home.
7. Children's artwork
If you have kids who love art, why not use their creations as a great eco-friendly alternative to regular wrapping paper.
8. Boxes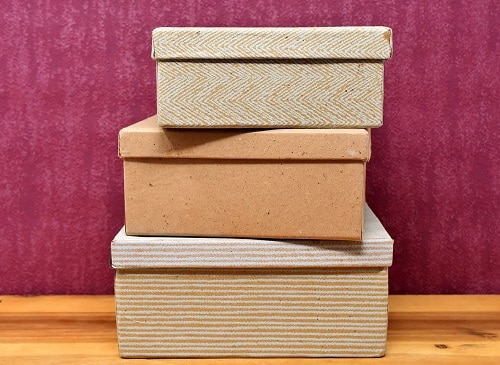 Cardboard boxes are another reusable gift wrap option that are easy to get hold of. You can dress them up with twine, plastic-free ribbon, or rustic-looking string and up the eco-chic factor.
9. Recycled wrapping paper
When we say 'recycled' wrapping paper, we mean two things.
Preloved wrapping paper that you can find in the charity shop. These rolls usually belonged to someone who simply brought too much of the stuff and wanted to put it to good use.
Wrapping paper made from recycled materials, possibly also free from chemicals, synthetic dyes and other similar ingredients.
Neither of these are the most eco-friendly wrapping option, but they're a step in the right direction.
10. Jars, tins and pouches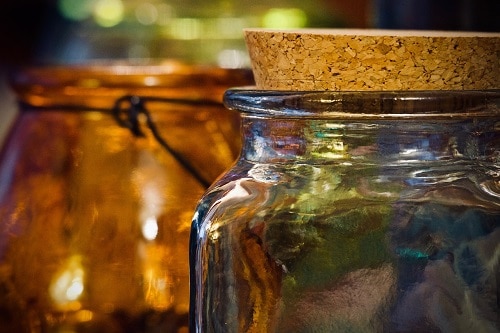 By repurposing everyday items, you can get creative and wrap your gifts with extra style.
Consider old tins, jam jars, fabric makeup bags, dust bags, add attractive decoration of your choice and you'll have a gorgeously unique eco-friendly gift you can be proud of.
Where to Buy Eco-Friendly Wrapping Paper in the UK
Because of the growing awareness of climate change and plastic pollution, there's a wide range of places you can get eco-friendly wrapping paper and eco-friendly gift-wrapping products in the UK.
Here are some of our favourite places to buy from.
Etsy
Etsy is like an Aladdin's Cave of recycled wrapping paper, offering about as many eco-friendly gift wrap options as you can imagine.
Our favourite has to be the oh-so-cute Yoga Sloth wrapping paper (printed with eco-friendly ink and on recycled paper).
They do also offer other alternatives such as fabric gift bags and tissue paper, but you'll have to dig a little deeper to find them.
Find eco-friendly wrapping options on Etsy here.
Happywrap
Happywrap is a recycled wrapping paper company who puts ethics at the top of their list.
Their packing is plastic-free, they make almost everything they stock in the UK (apart from the Fair Trade Lokta wrapping paper which is made in Nepal).
You'll find everything from handmade wrapping paper and eco-friendly gift paper to fabric wrap that will give your gifts the finishing touch.
Buy your eco-friendly wrapping paper from Happywrap here.
Re-wrapped
London-based company Re-wrapped offer environmentally friendly wrapping paper, gift tags, greetings cards and notebooks that aren't just made from recycled materials, you can actually recycle them once you're done.
They have a range of cute, bright and modern designs which are printed using vegetable ink for extra eco-brownie points.
We love the range of options they include on their website including birthday, children, Christmas, classic, congratulations, get well soon, wedding and summer.
Buy your recycled wrapping paper from Re-wrapped here.
Wrag Wrap
Wrag Wrap are the innovative company who decided to bring a range of eco-friendly fabric wrapping products to the world to replace the huge amount of regular wrapping paper ending up in landfill every year.
Boasting some cute Christmas Gift bags, cleverly designed 'crackle wrap', ground-breaking Stretch Wrap and the fab Bottle Bags, you'll find a range of clever features and beautiful designs that will help you ditch the wrapping paper and go eco-friendly instead.
Buy your fabric wrapping products from Wragwrap here.
Wrapped by Alice
How about some Pedro the Pug eco-friendly wrapping paper? Or Nanook the Cat? Or maybe even Knobbie the Reindeer?
It's hard to decide when you visit the stylish and modern Wrapped by Alice website.
Alice creates products from recycled and sustainable sources and handprints all her designs which are inspired by the natural world.
Her wrapping paper is the kind of stuff you can hardly bear to tear apart- it's a real work of art.
Buy your handprinted wrapping paper from Wrapped by Alice here.
Conclusion
There are hundred of stunning, creative and unique ways you can wrap your gifts and it needn't cost the earth.
Choose from one of these eco-friendly gift-wrapping options instead.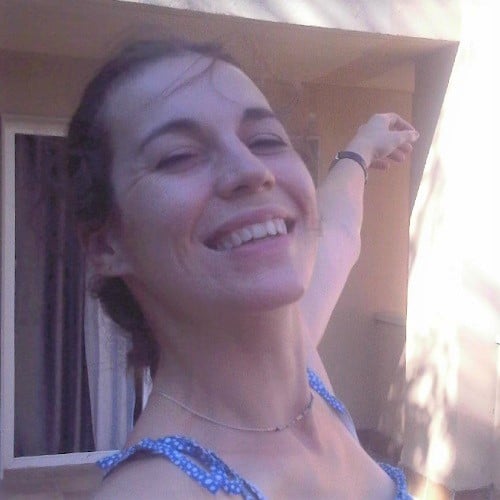 Charlotte Witts is a writer and entrepreneur who wants to show you how easy it is to live a more conscious, zero-waste lifestyle. A confirmed yoga-addict, trail runner and ocean-lover, she currently lives in the Azores where she enjoys the simple pleasures in life.