Looking for a plastic-free, zero-waste deodorant that actually helps you stay smelling fresh and clean?
We've got you covered.
We've searched high and low to find and review the best plastic-free deodorants available in the UK so that you can avoid those potentially harmful ingredients like aluminium, parabens, phthalates and preservatives and reduce the amount of plastic waste you're creating.
These natural deodorants are all highly effective when it comes to keeping body odour at bay, they come packed in 100% recyclable paper, cardboard, metal or glass containers and they smell absolutely delicious too.
Enjoy!
Best Plastic-Free Deodorant in the UK
1. Earth Conscious Natural Vegan Deodorant Stick
View this post on Instagram
Packaging type: Biodegradable, recyclable cardboard tube
This gorgeous lemon and grapefruit-fragranced, all-natural deodorant won The Green Parent Natural Beauty Awards for best deodorant in 2016 and was voted best buy in 2017.
That's one of the many reasons why it makes it to the top of our list of plastic-free, eco-friendly deodorants.
Created using naturally antibacterial and anti-fungal ingredients, this deodorant combines sodium bicarbonate to keep you smelling fresh, coconut and shea butter to help smooth and nourish your skin as well as arrowroot powder to keep you feeling dry.
Whether you're heading to the gym, stuck in stressful meetings, running around with the kids or busy living life to the full, this 100% natural deodorant really works!
It's also packaged in a biodegradable, recyclable cardboard tube, it's cruelty-free and vegan friendly and it's free from aluminium, parabens and any potentially toxic ingredients.
Earth Conscious are a UK brand focused on natural and eco-friendly deodorants. Earth Conscious make donations to the Marine Conservation Society, who work to keep the seas around the UK as unpolluted and litter-free as possible.
2. Lavender & Lemon Pit Putty Deodorant
View this post on Instagram
Packaging type: Screw-topped metal container
Pit Putty is a 100% natural cream deodorant made from shea butter, arrowroot powder coconut oil, jojoba oil sunflower seed extract and calendula extract to give you a plastic-free, vegan deodorant that is suitable for the whole family.
Boasting a variety of scents which use lavender, geranium rose, tea tree, lemongrass, lemon, ylang ylang, mandarin, lime, and basil essential oils, this is the perfect pocket-sized deodorant that you'll be proud to have in your bag.
Of course, Pit Putty is also free from aluminium oxides, preservatives and all other nasties and comes in a handy screw-topped metal container.  Perfect for all beauty-minded eco-conscious folks!
Pit Putty is a small Irish brand born out of the founder's quest to create a natural deodorant that actually works. Their products are all made from 100% natural ingredients and are also vegan friendly.
3. Lush Aromaco Solid Deodorant
View this post on Instagram
Packaging type: Packaging free, or wrapped in paper
If you're a fan of solid deodorants and you have a secret love of earthy patchouli oil, you'll adore this gentle, dependable plastic-free deodorant from natural beauty pros, Lush.
Free from any kind of packaging whatsoever, head to their shops and you can buy this zero-waste witch hazel, chamomile vinegar and sodium bicarbonate natural deodorant exactly as it is, or buy it online wrapped in paper. You'll know that you're doing your bit to reduce plastic pollution.
We love the fact that neither the raw ingredients or the finished product is tested on animals, it's attractive shape, and, like all Lush products, the wonderful smell.
Lush are one of the UK's biggest cosmetics brands, with a store in most large towns and cities. Their products don't always use 100% natural ingredients, but they are available packaging free.
4. FitPit Deodorant
View this post on Instagram
Packaging type: Recyclable glass jar
Fit Pit natural cream deodorants are 100% free from aluminium, parabens, BPAs and plastic packaging, and come in a cute recyclable glass jar.
Gorgeously scented with antibacterial tea tree and citrussy orange, this organic natural deodorant proves that natural can be even better than the chemical kind.
Handmade in the UK, it comes in both a 25 ml trial-size jar and a larger 100 ml jar, it feels luxurious on your skin, it won't leave any nasty white marks on your clothes and it will keep odour at bay!
We love the way that just a small amount lasts a very long time, it's suitable for vegans and it even comes in a version for sensitive skins and also a version for men.
These deodorants are made by The Green Woman, a Shropshire-based brand founded by sisters Eve Carnall and Suzanne Loudwill . Their products use organic ingredients and are free from aluminium salts, BPA and parabens.
5. Ben & Anna Natural Soda Deodorant Stick Paper Tube
View this post on Instagram
Packaging type: Recyclable paper
If you want to indulge your senses whilst also taking care of the planet, you should check out Ben & Anna's Natural Soda Deodorant.
Available in a wide range of scents such as Nordic Timber, Provence, Persian Lime, Indian Mandarine, Pink Grapefruit (as well as unscented version), this natural plastic-free deodorant is tough on sweat but gentle on your underarms.
Free from aluminium, parabens, phthalates and PEG, cruelty-free, gluten-free and vegan-friendly, and packed full of shea butter, jojoba oil, coconut oil and a ton of other nourishing ingredients, it's the perfect eco-friendly choice for those who care.
Ben & Anna are a German vegan couple who created their range of deodorants because they were looking for something that was vegan, not tested on animals, aluminium free, paraben free and suitable for both men and women.
Why Choose a Plastic-Free Deodorant?
Plastic is a versatile, convenient and cheap material, which is why it's used in almost all personal care and bathroom products, including deodorants and antiperspirants.
However, the amount of plastic waste we are producing is an ecological timebomb, as plastic takes a long time to biodegrade and pollutes the planet and kills wildlife in the process.
Plastic stinks, metaphorically speaking.
As more and more of us are becoming aware of the damage plastic is doing to our planet, lots of us are trying to reduce our plastic use and even go 100% "zero waste".
However, it's often hard to find plastic-free swaps for everyday items such as deodorant. Even if you're buying a 'natural' deodorant, it will probably come in plastic packaging.
By choosing a plastic-free deodorant or even making your own, you will produce a lot less plastic waste in the long run and will be helping to protect the environment.
Even when plastic can be recycled, the recycling process creates pollution since it's energy-intensive and involves cleaning plastic using chemicals.
All the plastic-free options reviewed above are in solid form rather than being in spray cans. While deodorant that you spray on no longer contains ozone-depleting CFCs, it still pollutes the air, and releases VOCs (volatile organic compounds).
Shockingly, consumer products such as deodorants and perfumes could be contributing to air pollution at a similar level to cars and lorries. Therefore, it's a great idea to switch to a roll-on deodorant to air minimise pollution.
What Non-Plastic Packaging Options Are There?
The deodorants reviewed above use a range of different plastic-free packaging options:
Recyclable metal: Pit Putty deodorant comes in a small metal container.
Recyclable paper/card: Earth Conscious and Ben & Anna deodorant comes in recyclable paper or card. You can also get Lush Aromaco wrapped in paper.
Recyclable glass jar: The Green Woman's Fit Pit deodorant comes in a recyclable glass jar.
Packaging free: If you buy Lush Aromaco in store, you can buy it loose, with no packaging.
What to Look for in Plastic-Free Deodorant
If you're looking for a plastic-free deodorant, you probably care a lot about the environment, so you'll want to look for something that:
Uses biodegradable packaging
Is produced relatively near where you live and doesn't require shipping across the world
There's a good chance you're also looking for something natural, that doesn't use dodgy chemicals that could harm your health. Look for something that is:
Aluminium free – Most antiperspirants work by using aluminium to block the sweat ducts and thereby prevent you sweating. The use of aluminium has been linked to breast cancer and Alzheimer's, though evidence is inconclusive.
Paraben free – Parabens are a type of preservative used in lots of personal care products. Parabens can affect hormones, and have been linked to breast cancer.
You should also look for something cruelty free to make sure that no animals have been harmed in the process of making or testing the product.
DIY Zero-Waste Deodorant
It's quite easy to make a basic DIY deodorant using coconut oil, bicarbonate of soda (aka baking soda) and arrowroot (a type of starch).
These ingredients are used for the following reasons:
Coconut oil is antibacterial
Bicarbonate of soda helps to neutralise odours
Arrowroot helps to absorb moisture (sweat)
Essential oils can have antibacterial properties, and also give the deodorant a nice aroma
When making DIY deodorant, hygiene is very important as you want to make sure no bacteria gets in to the deodorant. Use gloves or avoid touching the ingredients with your hands.
It's also better to make a small amount at a time. That way, you can experiment with tweaking the recipe and adding different essential oils, and there's less danger of the deodorant going off.
When using the deodorant, get out what you need with a clean spoon or other instrument rather than using your fingers.
Here's a simple DIY natural deodorant recipe.
Ingredients
Method
Mix the bicarbonate of soda with the arrowroot
Add the coconut oil and mix it in well
Optionally add essential oils
Store the deodorant in a clean glass jar
Conclusion
Switching to a plastic-free deodorant doesn't mean that you have to surrender your personal hygiene habits! Choose one of these natural, eco-friendly deodorants and you'll keep plastic out of the oceans and keep smelling sweet.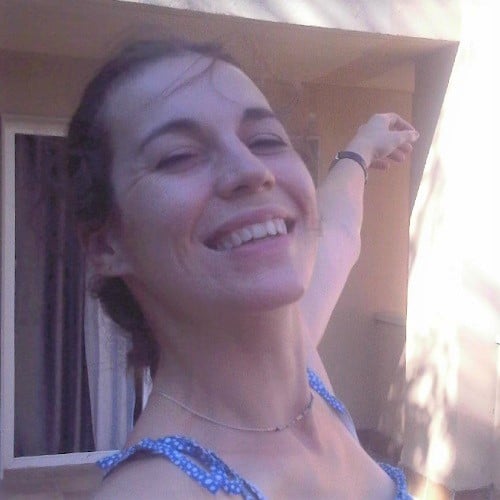 Charlotte Witts is a writer and entrepreneur who wants to show you how easy it is to live a more conscious, zero-waste lifestyle. A confirmed yoga-addict, trail runner and ocean-lover, she currently lives in the Azores where she enjoys the simple pleasures in life.