Choosing a palm oil free shower gel is one of the best ways you can start reducing your impact upon the planet.
Palm oil production is contributing to wide-spread environmental disaster.
This includes deforestation, climate change, the extinction of species like Sumatran tigers, elephants and orangutans, and the displacement of indigenous populations from their homelands, their livelihoods and their traditions.
It's shocking stuff.
However, finding a palm oil free shower gel isn't an easy task because it's almost everywhere!
You can find it in processed foods, cleaning products and even cosmetics that you use every single day such as shower gels, body washes, shampoos, conditioners and soap.
But if you really care about the planet and want to make more ethical shopping choices, it's time to make an effort to avoid palm oil.
Here's all the information you need to help you choose a palm oil free shower gel, plus our top five picks of the best palm oil free shower gels available in the UK.
How to Choose a Palm Oil Free Shower Gel
You'd think that learning to read the label on your shower gel would be the easiest way to avoid palm oil, but I'm afraid that it's not that simple
Palm oil can appear under many difference names on the labels of our cosmetics, and the fact that it's often just the scientific name given only adds to our potential confusion!
But don't let that put you off from avoiding that palm oil.
Here are some of the other ingredients you might find on your shower gel that mean they almost certainly contain palm oil.
Vegetable oil
Vegetable fat
Palm kernel
Palm kernel oil
Palm fruit oil
Palmate
Palmitate
Palmolein
Glyceryl
Stearate
Stearic acid
Elaeis Guineensis
Palmitic acid
Palm Stearine
Palmitoyl Oxostearamide
Palmitoyl Tetrapeptide-3
Sodium Laureth Sulfate
Sodium Lauryl Sulfate
Sodium Kernelate
Sodium Palm Kernelate
Sodium Lauryl Lactylate/Sulphate
Hyrated Palm Glycerides
Etyl Palmitate
Octyl Palmitate
Palmityl alcohol
Of course, you might not have time to be scanning the labels to check for palm oil, which is why we've done all the hard work for you.
Here are our top 5 palm-oil free shower gels available in the UK.
Best Palm Oil Free Shower Gels in the UK
1. Green People Scent Free Shower Gel
Do you have highly sensitive skin that needs some daily TLC? Then choose this gentle, unscented, palm oil free shower gel by Green People.
Created using a blend of organic aloe vera, marshmallow, yucca and coconut, you'll leave your skin feeling soft and smooth whilst easing skin problems like eczema and psoriasis too.
It's even gentle enough for the whole family to use.
This wonderful antioxidant-rich shower gel is also vegan, cruelty-free, organic and fairly traded, making it perfect for enjoying a luxurious shower whilst also taking care of our planet.
2. Odylique Aloe Vera Bodywash
For the kindest, gentlest, most luxurious palm oil free moisturiser around, choose rich and moisturising body wash by Odylique.
It's perfect for use in the shower, in the bath or even as a non-irritating facial cleanser.
Enriched with nourishing organic extra virgin oil, soothing aloe Vera and calming calendula, it makes a fabulous skin conditioning bath time treat that doesn't come with any toxic nasties.
Certified organic, cruelty-free and suitable for vegans, this is one of the kindest treats you could ever give your skin.
It's also free from all sulphates and artificial preservatives, perfectly pH-balanced and it even comes in a 100% recycled container.
3. Neal's Yard Rosemary and Elderflower Shower Gel
Neal's Yard makes some of the most luxurious, beautifully-scented products in the world.
This naturally fragranced organic palm oil-free shower gel leaves your skin feeling soft and smooth without forcing you to compromise on your principles.
You'll feel utterly gorgeous after you've treated yourself to this amazing shower gel.
It also comes in a recycled plastic bottle and it's made right here in the UK.
Conclusion
If we had to pick just one of these products to recommend it would be Green People's Scent Free Shower Gel. Not only is it free from palm oil, it also uses natural and gentle ingredients and is cruelty free.
By choosing one of these palm oil-free shower gels, you can avoid using palm oil and help prevent further deforestation, harm to wildlife and displacement of native people across the world.
It might feel like a small step to take, but it all makes a difference.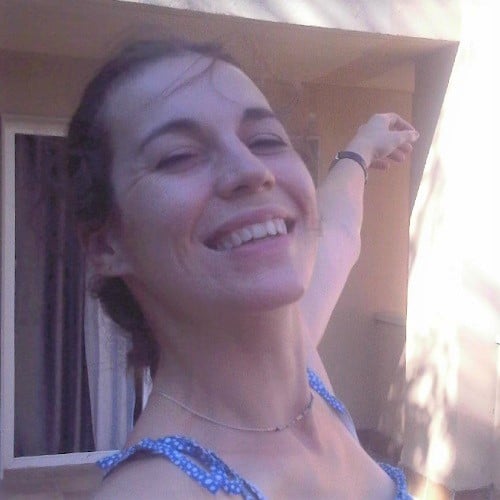 Charlotte Witts is a writer and entrepreneur who wants to show you how easy it is to live a more conscious, zero-waste lifestyle. A confirmed yoga-addict, trail runner and ocean-lover, she currently lives in the Azores where she enjoys the simple pleasures in life.