Everyone uses lip balm, whether it is to protect your smackers from glaring sun rays and frosty weather, or to hydrate your lips and give them that glossy look.
Sometimes it becomes a bit of an addiction, and you find yourself smearing it on every ten minutes!
Lip balm is an everyday staple for pretty much everyone, especially in the winter when the cold weather can dry out your lips.
However, what people may not always realise is that many of our favourite lippy products contain toxic chemicals that are harmful to our bodies.
Best Natural Lip Balms in the UK
Our best bet to keep enjoying one of your favourite makeup products is to opt for natural products that are guilt-free, conscious and also kind to your lips and bodies!
We have made it super easy for you and sourced the best natural lip balms available in the UK.
Keep reading if you want to know more!
1. Burt's Bees 100% Natural Moisturising Lip Balm
Everyone has heard of Burt's Bees. This company has been running for over thirty years, selling products made from unused wax from Burt the beekeeper's beehives.
The brand believes that natural ingredients provide the best answers, and so all of their products are at least 99% natural.
None of their products contain petrochemicals, phthalates, parabens, sodium lauryl sulphates (basically no nasties!) and are also not tested on animals.
Their iconic and exceptionally popular 100% natural moisturising lip balms are no exception.
Each balm contains highly nourishing ingredients including hydrating shea butter, conditioning beeswax and vitamin E.
Their balm is infused with natural peppermint oil for a subtle minty fragrance and taste. Their balms are super easy to use and easily stashed in your purse or makeup bag.
It is especially useful in cold, windy or hot conditions to keep your lips kissably soft and hydrated.
Pros
Very affordable
Long-lasting moisture on the lips
Non-sticky and smooth texture
Cons
Minty taste is not for everyone and may irritate more sensitive lips/skin
Unfortunately not completely cruelty-free as main ingredient is beeswax
2. Burt's Bees 100% Natural Overnight Intensive Lip Treatment
For a more intensive moisture, try this lip treatment for long-lasting hydration and kissable lips.
It is made from 100% natural ceramide oils which are found in your skin and are necessary for lip protection and preventing your lips from getting dry and chapped.
Putting a bit on your smackers overnight is like a DIY spa treatment, so you wake up with healthy looking and supple lips, ready for application of other (Drying) lip products like lipstick.
Hack: try using it on a long airplane flight to prevent that dehydrated "been travelling for hours" look.
Pros
Affordable price
Can treat severely chapped and cracked lips after a few uses
Non-sticky and highly absorbent formula
Cons
Has a subtle minty fragrance and taste that may not suit everyone
Some find the texture too thin for a lip treatment
3. Sky Organics Organic Beeswax Lip Balm
This brand makes lovingly handcrafted organic and natural products that are also not tested on animals.
Their ingredients have all been individually sourced to find the best, most ethically produced natural ingredients that mother nature has to offer.
Their organic beeswax lip balm contains absolutely no horrible chemicals and comes in a pack of several different flavours, from fruity to minty to vanilla – there is something to suit your every mood.
Their balms are made of so much good stuff!
Their emollient is made from ethically sourced beeswax, and they also contain organic coconut oil and pure essential oils including organic rosemary extract, organic sunflower oil and vitamin E to keep your lips soft and hydrated all day.
They are also simple to use and easy to throw into your bag for all day hydration.
Pros
Great value for money
Earth-friendly and attractive packaging
Highly moisturising and can use as an overnight lip balm too
Cons
Not totally cruelty-free as contains beeswax
May need reapplication throughout the day
Flavours may not appeal to everyone, but with a pack of six there are plenty to try
4. Dr. Bronner's Organic Lip Balm
This brand prides themselves on bringing you the purest ingredients and ethically sourced fair-trade products.
Most of their products are also vegan and certified to the same organic standards as food.
You can rest assured you are in good hands with no chemicals. They also strive to build relationships with their organic farmers and promote equitable supply chains.
All their packaging is also 100% recyclable! No complaints from us over here!
Their no fuss lip balm is no exception to their ethos. It is made from organic beeswax, jojoba, avocado and hemp oil to provide extreme moisture.
Use of this balm is also not limited to your lips! You can also use it on your hands, elbows and other dry patches on your skin.
Dr. Bronner's also claim that the balm is ideal for brightening and protecting any tattoos.
Finally, you can even use it as a brow tamer. This lip balm also comes in a few flavours/scents including naked (unscented), lemon lime and orange ginger.
Pros
Affordable product
Easy to use and multipurpose
Thin and light texture that still moistures
Cons
Not vegan because of beeswax
Some find the texture slightly greasy
Keep it out of heat as it can melt
5. Hurraw! Organic Vegan Lip Balm
This brand was created in 2010 specialising in natural, organic, raw and vegan balms!
The company only ships in recycled and recyclable packaging.
Unfortunately, they are currently working on their plastic packaging which they must use in accordance with FDA standards.
All of their balms are highly nourishing and made with a variety of essential oils including almond oil, apricot kernel oil, jojoba oil and pomegranate seed oil.
Their lip balms come in a huge variety of flavours from unscented to earl grey to papaya pineapple, and also tinted versions for a little pop of colour so there is something for everyone!
They come in a fuss-free packaging so you can apply whenever and wherever you want.
Pros
Highly affordable
Completely cruelty-free
Highly moisturising and can use as an overnight treatment
Cons
Some find the texture slightly oily
May need testing a few flavours until you find one you like
May not suit sensitive lips
Ingredients to Avoid in Lip Balm
There is a plethora of yucky chemicals that can be contained within your favourite balm, and so there a tonne of reasons why certain products should be avoided.
Petrolatum – Some balms contain petrolatum derived from petroleum, what is used to run your car! If you're looking to avoid petroleum in particular, we've recommended some petroleum-free lip balms here.
BHA and BHT – Other common lip balm ingredients such as butylated hydroxyanisole (BHA) and butylated hydoxytoluene (BHT), nasty sounding in themselves, are toxic for our organs and have been linked to cancer.
Parabens – Parabens are said to disrupt normal hormone functions and are also linked to breast cancer and reproductive problems.
Chemical sunscreens and synthetic fragrances – Finally, chemical sunscreens and synthetic fragrances could also harm our hormone functions.
Scarily, leading French consumer group UFC Que-Choisir tested 21 of our most beloved lip balms and discovered that 50% contain harmful chemicals including MOSH (mineral oil saturated hydrocarbons) which can inflame the liver and lymph nodes if swallowed. Yikes.
The skin on our lips is super thin so our blood stream absorbs chemicals super easily. Also, you are bound to consume some of the stuff as you eat and drink throughout the day.
It's clear that these chemicals should be avoided.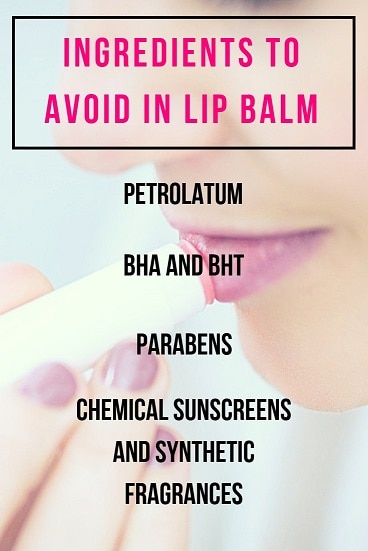 How to Make Natural Lip Balm at Home
If you have time, you can make natural lip balm at home using ingredients such as natural oils (coconut, jojoba, almond, avocado or olive oil), beeswax, honey and vitamin E oil.
One easy way to start making your own lip balm is to get a lip balm making kit—see some on Etsy here.
The basic method for making a DIY lip balm is to warm all of the ingredients in a pan on a very low heat before transferring it to a container and letting it cool and set.
Check out the tutorial below from Ula Blocksage:
Conclusion
It is so obvious that a lot of lip balms are not good for your lips or your bodies.
However, have no fear because we have provided you with five of the best natural lip balms on the market to ensure that you can hydrate, moisturise and nourish your lips whilst being kind to your skin.
A lot of these are available both online and on the high street so there are really no excuses.
One of our favourites is the Organic Vegan Lip Balm from Hurraw! because it is the only balm that is completely vegan, it comes in a variety of flavours and shades and also is an excellent moisturising lip balm with only the best ingredients.
Please let us know if you have tried any of these balms or if you have any other suggestions for us!

Naturaler is a UK website full of tips and recommendations for living a more eco-friendly, chemical-free and natural lifestyle.