Switch to an eco-friendly dishwasher detergent and you will drastically reduce your personal impact on the planet. Period.
We all know that dishwasher detergents are full various chemicals that promise to get out dishes clean.
But most of us don't realise just how harmful these chemicals can be for the environment, especially the marine environment.
Luckily, it's very easy to find an eco-friendly alternative to these regular brands and, contrary to what many people think, they often work better too.
Keep reading to find out why regular dishwasher detergents are so bad for the environment and learn which are the best eco-friendly dishwasher detergents you can buy in the UK.
Why Are Regular Dishwasher Detergents so Bad for the Environment?
The biggest problem with those regular dishwasher tablets, powders and tabs is that they contain high levels of a chemical called phosphate.
Once you've used it to get your dishes clean, it washes straight into the streams, rivers, lakes and oceans of the world.
Algae and phytoplankton in the water will feed on the chemical and will reproduce way beyond normal levels, causing an algal bloom.
This bloom can block out sunlight, cause an oxygen imbalance in the water and ultimately kill marine wildlife.
Certain types of algae such as blue-green algae can be dangerous to humans too and even kill.
However, phosphates aren't the only problem.
Dishwasher detergents also contain a myriad of harmful chemicals including chlorine, surfactants, synthetic fragrances and colours, antibacterial agents like triclosan, and other similar chemicals which are also toxic to marine life.
Then there's also the problem of the packaging: most dishwasher detergents come packed in several layers of plastic including the outer packaging and often plastic wrapping around each tablet.
How Can We Find Eco-Friendly Dishwasher Detergents?
We've included a pick of our top 5 green alternatives in the list below, so you needn't worry too much about figuring out the labels.
Having said that, here are a few tips to help guide you when reading those labels.
Choose a phosphate-free or low phosphate detergent. Look for those with less than 1.6% of phosphates.
Buy a concentrated dishwasher detergent whenever possible as it reduces carbon emissions produced during shipping. You dilute concentrated dishwasher detergent with water.
Look for 100% biodegradable or recyclable packaging.
Make sure you read those labels closely. Even if the brand claims to be eco-friendly, there can sometimes be a few surprises
Avoid synthetic fragrances as they often contain phthalates which can disrupt your endocrine system.
Choose organic, palm oil-free detergents that are free from animal testing. Better still if they're vegan.
***NOTE: Since 2017, the EU have limited the amount of phosphates allowed in household dishwasher detergents. This may be subject to change after Britain's exit from the EU.***
Right, let's get onto our favourite eco-friendly detergents.
Best Eco-Friendly Dishwasher Detergents in the UK
1. Ecover All in One Dishwasher Tablets
Founded back in 1004, Ecover remain one of the market leaders in the eco-friendly household product space and they certainly don't disappoint with these powerful all-in-one dishwater tablets.
Created using biodegradable plant-based ingredients, they'll leave your dishes perfectly clean and free from smears or stuck-on bits of food and leave a lovely citrus fragrance behind.
Using a clever combination of degreasers, salt action and rinse aid, you can just pop the table inside your machine, turn it on and let it work its magic. That's one of the reasons the Good Housekeeping Institute gave it full approval!
Of course, when it comes to green values, Ecover have it covered.
The box is made from 100% recycled cardboard, the wrappers are made from 100% recyclable plastic, the product has never been tested on animals, and it has even been B Corp certified.
Ingredients include:
Sodium citrate, Sodium Carbonate, Oxygen-based bleaching agent, Disodium disilicate, Sodium bicarbonate, Non-ionic surfactants, Fragrance (type: citrus: Citrus; contains: Limonese), Enzymes, Polypeptide, Bleach activator, Sorbitol, Sodium Gluconate, Glycerine
Buy Ecover All in One Dishwasher Tablets on Amazon or Big Green Smile.
2. Bio D Dishwasher Powder
This concentrated dishwasher powder will leave you slightly speechless when you witness its ability to cut through grease whilst also sticking to a ton of eco-friendly morals.
Yes, this eco-friendly detergent isn't just Allergy UK certified, but it's also free from animal testing, vegetarian and vegan-friendly, paraben-free, triclosan-free, phthalate-free and even suitable for septic tanks too.
This innovative, easy-to-use power dissolves better than those tablet dishwasher detergents and requires fewer ingredients to pack a cleaning punch.
We love the fact that it's free from all those toxic nasties like petrochemicals, phosphates, preservatives, enzymes and synthetic perfumes that lurk inside the mainstream brands, so it won't irritate sensitive or young skin.
Whilst the container itself is made from plastic, we can forgive them as it's actually 100% recyclable.
Ingredients include:
5-15%: Oxygen-based bleaching agents, Polycarboxylates, Below 5%: Phosphonates, Non-ionic Surfactants.
Buy Bio D Dishwasher Powder on Ethical Superstore or Big Green Smile.
3. Ecozone Brilliance All In One Dishwasher Tablets
Ecozone is a family business that strongly believes that you don't need to make sacrifices or become a tie-dye wearing hippy to take better care of the environment.
That's why they created these powerful all-in-one lemon-scented dishwasher tabs which have been awarded the EU Ecolabel.
Not only do they cut through grease better than many mainstream brands, they even leave your glasses sparking and smear-free too.
As you'd expect, they're phosphate free, free from harsh chemicals, not tested on animals and they're vegan and vegetarian friendly too.
Unlike many other dishwasher detergents, this eco-friendly version comes approved by Allergy UK so you know that sensitive skins will be absolutely fine.
The brilliant dissolvable wrapper means less packaging waste to dispose of too. Yay!
Ingredients include:
5 – 15% oxygen based bleaching agents, <5% polycarboxylates, non-ionic surfactants, enzymes, perfumes
Buy Ecozone Brilliance All In One Dishwasher Tablets on Big Green Smile.
4. claro Classic Phosphate-Free Dishwasher Tablets
If you have a busy home and you find yourself constantly running that dishwasher, you'll love these phosphate-free dishwasher tabs from claro.
Packaged in 100% recycled cardboard made from grass and with a plant-based self-dissolving film around each tablet, you'll know that you're living life according to your eco-values when you choose to buy these.
Made in Austria with love, these tablets offer high-performance cleaning without using phosphates, chlorine, dyes, fragrances, or any of those other chemical nasties.
It's such an excellent product that we'd highly advise you to give these a try!
Ingredients include:
15-30 % bleaching agents based on oxygen, less than 5% non-ionic surfactants, phosphonates; contains enzymes (amylase, protease), perfume
Buy claro Classic Phosphate-Free Dishwasher Tablets on Amazon or Claro.
5. Ecoleaf Dishwasher Tablets
These easy-to-use eco-friendly dishwasher tablets are by far the best choice if you're vegan or vegetarian and want to ensure that you choose the kindest dishwashing detergent possible.
Made from plant-derived ingredients that are biodegradable and non-hazardous, they're certified cruelty-free, paraben-free, microbead-free, SLS-free, triclosan-free, phthalate-free and synthetic fragrance-free and contain only sustainable palm oil.
They're also made right here in the UK and the outer packaging is made from cardboard so is 100% recyclable.
If that wasn't enough in itself, you also get a ton of cleaning and degreasing power in each tablet.
As they include powerful degreasing agents and cleaners plus a built-in rinse-aid, you have everything you need to make those dirty dishes shine without harming the environment.
Ingredients include:
> 5% – < 15% oxygen-based bleach agents, < 5% plant-derived non-ionic surfactants, enzymes (protease, amylase), lemon essential oil (limonene).
Buy Ecoleaf Dishwasher Tablets on Ethical Superstore.
Conclusion
If we had to pick just one of these eco-friendly dishwasher detergents to recommend, it would be Ecover All in One Dishwasher Tablets as they use biodegradable ingredients, have a nice citrus fragrance and work to clean your dishes effectively.
As you can see, there's no reason to keep using those mainstream dishwashing detergents which can harm the environment when there are so many powerful eco-friendly options available these days.
So next time you need to buy more dishwasher tablets, choose one of these instead. No excuses!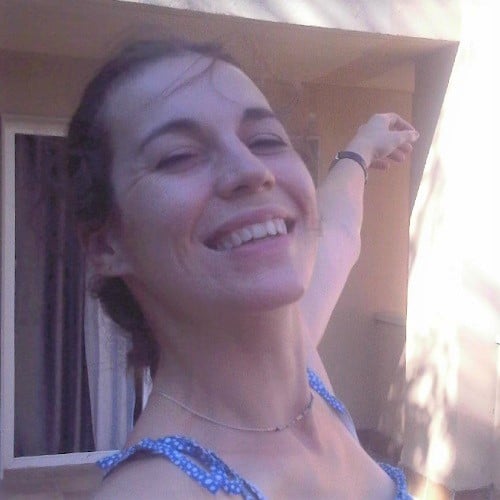 Charlotte Witts is a writer and entrepreneur who wants to show you how easy it is to live a more conscious, zero-waste lifestyle. A confirmed yoga-addict, trail runner and ocean-lover, she currently lives in the Azores where she enjoys the simple pleasures in life.