You may think that switching from plastic dental floss to biodegradable dental floss isn't going to have much of an impact on the world, but it really can.
As we're sure you know, the world currently has a massive problem with plastics and non-degradable products.
Switching any products that you use daily to a biodegradable alternative can massively help with this problem.
Biodegradable dental floss will rot into the earth without leaving behind harmful chemicals.
One of the best things about biodegradable dental floss in our opinion is that it doesn't pose a problem for animals.
As biodegradable dental floss rots and leaves no trace, animals won't eat it or get tangled up in it.
There are plenty of horrible videos showing the effects of non-degradable products on the animal kingdom. Small pieces of plastic and things like dental floss float around the ocean and appear as food to sea life.
They eat this and then it gets trapped in their bodies and causes all manner of serious complications.
Dental floss can be particularly bad for animals as it is long, thin and can easily form knots either in an animal or around it.
You can help prevent this devastation just by switching to a biodegradable version of something like dental floss.
So, just by switching to biodegradable dental floss, you can make a massive impact on how many harmful chemicals are in the water systems and on the land.
You can also reduce the amount of greenhouse gases that we as nation are producing each year. And you can prevent animals suffering.
What's more, biodegradable dental floss really doesn't feel, taste or work any differently to typical dental floss.
So, you can still get all the benefits of dental floss, but the world can benefit too. Of course, this isn't the only change we all need to make, but this simple change can have an impact.
These are just some of the reasons that changing everyday items, like dental floss, to biodegradable versions is extremely important.
To find out more about reducing your plastic use, see our guide to using less plastic here.
For now, though, let's take a look at the best biodegradable dental floss available in the UK.
Best Biodegradable Dental Floss in the UK
1. Georganics Natural Charcoal Dental Floss
This bamboo dental floss is very effective and eco-friendly.
The bamboo provides a gentle way of removing plaque from areas between teeth. The candelilla wax coating provides smooth cleaning and is completely natural and food-safe. Plus, you also get the added addition of charcoal.
Charcoal is one of the best things for whiting your teeth. However, just using charcoal toothpaste means that you can't get into the little areas between your teeth.
So, using this biodegradable dental floss means that you can get all of the pieces of food out of your teeth and achieve a mouth-wide whiteness like never before.
You get 30 metres of this dental floss in plastic-free packaging. The packaging containing the dental floss is glass with a metal lid. And as this dental floss is food-safe, you can then use this container for anything.
So, this dental floss doesn't only do great things for your teeth and the environment, but the packaging does too!
2. Woobamboo Biodegradable Silk Dental Floss
As with the biodegradable dental floss above, the packaging of this dental floss is also biodegradable.
The packaging actually becomes your container. All you do is tear off the top and you are left with a container that keeps your silk dental floss safe and dry.
This dental floss is made from natural silk and is coated with organic mint and beeswax. You get 37.5 metres in this pack so it will last you quite a while.
Woobamboo has worked hard to produce one of the most environmentally friendly dental flosses in the world.
The use of beeswax which is, of course, a by-product of making honey and the use of natural silk for the floss itself makes this an exceptional product that is wonderful to use and makes your mouth feel great.
The organic mint adds a lovely touch and leaves a lovely taste in your mouth.
3. Vegan Dental Floss by TEVRA
This vegan dental floss from TEVRA is another incredible product. Once again, it's designed with zero waste in mind.
The packaging is very similar to the first dental floss on this list, but unlike other biodegradable dental floss, this is completely free of silk making it one of the only vegan dental flosses on the market at the moment.
This dental floss has been developed to be kind and gentle to your mouth while still providing the cleaning power you need.
This cleaning power comes from the corn the floss is made from. It is gentle on your gums but grabs food and plaque between your teeth brilliantly. You also don't have to sacrifice taste with this vegan, biodegradable dental floss.
You can enjoy the wonderful taste of ginger and honey after using this awesome stuff!
4. RADIUS Natural Biodegradable Silk Floss
This dental floss may not be vegan like the one above, but it does still pack an environmentally friendly punch!
It's 100% biodegradable and compostable. It doesn't contain any artificial sweeteners, gluten, preservatives, GMOs, colourings or parabens.
It's also made on a fairtrade farm in Colombia that supports about 80 families.
So, this dental floss is great for the environment and the people that make it, but is it great for the user, for you?
Well, the natural plant wax that this silk dental floss is coated in when it is spun means that it glides around your mouth easily and yet the texture of the silk still shines through to provide the cleaning power you need.
So, in short, yes this biodegradable dental floss will be as good for you as it is for the 80 families making it!
5. Dental Lace
Dental Lace dental floss offers the best value for money out of all of these natural, biodegradable dental flosses.
At the time of writing, you get about double the amount of dental floss in this pack for your money.
What's more, you get the same great zero-waste packaging with this dental floss, but Dental Lace now also offer refills too. So, once you buy one pack of this dental floss, you can just keep refilling the packaging.
At the moment, Dental Lace is the only company on this list (that we know of) that is providing this refill service.
This refillable and biodegradable dental floss is, once again, made from silk which is spun in wax.
Plus, it has a natural fresh mint flavour too. So, this dental floss is very similar to some of the other dental floss on this list, but you get double the amount for your money.
This, along with the refills and the awesomely fun company behind it, make this dental floss one of our favourites on this list!
Dental Floss FAQs
What is dental floss made of?
Regular dental floss is usually made from either nylon or Teflon-like substances, both of which are synthetic polymers derived from petroleum. These materials take a long time to decompose and could also be harmful to our health.
There isn't much information online about how long dental floss takes to decompose, but according to Shia from Wasteland Rebel it takes 50-80 years.
One particularly worrying type of material used in plastic dental floss is perfluorinated compounds (PFCs), which are similar to Teflon and have been linked to a range of health conditions.
Plastic dental floss is very strong and hard to break, which is good for flossing your teeth but potentially deadly to wildlife after being thrown out. Birds, and marine mammals such as seals can easily get tangled in dental floss, and won't be able to get out as it's so strong.
In eco-friendly dental floss, nylon and Teflon are swapped for biodegradable materials such as silk and bamboo. These are coated with natural waxes such as candelilla or beeswax.
What to look for in biodegradable dental floss
Ideally, a biodegradable dental floss would meet the following criteria:
Dental floss is made from natural and biodegradable materials
Comes in zero-waste, plastic-free packaging
Refillable (you only need to buy a dispenser once, so there's less to throw out/recycle afterwards)
However, it can be hard to find products that meet each of these criteria.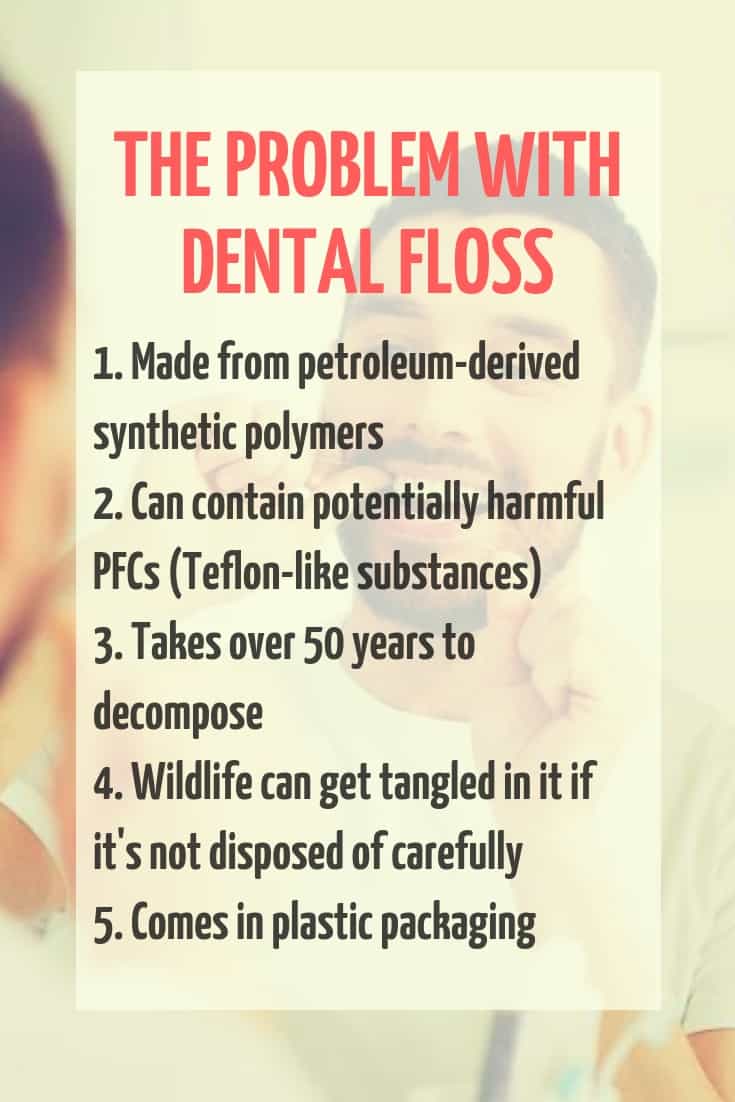 Conclusion
If we had to pick just one of these products to recommend it would be Georganics Natural Charcoal Dental Floss as it's made from all-natural ingredients, is biodegradable and comes in zero-waste packaging.
We hope this list of biodegradable dental floss has helped you find the best floss for your mouth!
It's important that we all act now to reduce the amount of plastic we are using. See our full guide to reducing your plastic footprint here.
For more natural products, please explore our website further. We have loads of skin, hair and health care products on here that are naturally awesome!
For some more eco-friendly dental care products, see these articles: