Dental health can say a lot about your overall wellness; gum and tooth disease are reliable indicators of your heart health, bone condition, and metabolism.
Most conventional dentists and health professionals recommend the use of fluoride to keep teeth in good shape, but this controversial mineral can also be toxic to general health in high doses, and there are concerns about our increased consumption.
About Fluoride
Fluoride everywhere
Not only is fluoride found in most kinds of toothpaste and oral healthcare products, but it's also often put directly into mains drinking water, effectively functioning as forced medication to prevent possible tooth decay among the public.
The UK has relatively low incidents of putting fluoride in the water, with only about 10% of the population drinking fluoridated water, mostly in the Midlands and the North East.
Fluoride is actually a mineral that can be found naturally in food and water, depending on the region, and is safe for the body in small amounts.
However, people are consuming more fluoride than ever these days, as it's not only prevalent in our dental care but also finding its way more and more into our foods chain in the form of pesticides and industrial byproducts.
Some pharmaceuticals also contain the mineral.
In fact, the fluoride added to water supplies isn't the naturally occurring kind, but rather a manufacturing byproduct of the phosphate fertiliser industry.
Why is fluoride added to toothpaste?
Fluoride works to prevent cavities by assisting tooth remineralisation, allowing calcium and other minerals to enter the tooth enamel to keep it strong and prevent decay.
It also reduces the amount of acid in your mouth. Our mouths are often too acidic as a result of sugary diets high in carbohydrates, leading to tooth decay. However, there are some indications that there is more to the story.
One study found that tooth decay actually declined in East Germany once water fluoridation stopped, for example.
Effects of fluoride
Fluoride tends to build up in the body over time and this can result in a range of health complications including dental fluorosis (staining and damage of tooth enamel), bone disease, gastrointestinal disease, stunted IQ, dementia, diabetes thyroid dysfunction, infertility, kidney failure, genetic and cell damage, blood sugar disruption and more.
Fluoride has also been shown to build up brain tissues, calcifying the pineal gland, which is essential for producing sleep hormones, circadian rhythms and is also thought to be the physical "third eye."
One of the most common conditions resulting from fluoride exposure is dental fluorosis. This develops when you are a child if you're exposed to too much fluoride.
When children are exposed to high levels of fluoride in the first six or so years of their life, tooth enamel can become hypermineralised.
The mildest and most common form of dental fluorosis is characterised by small white blotches on the teeth.
One reason why children might consume too much fluoride is that they often swallow toothpaste.
Dental fluorosis is very common in the developed world – this study found that 41% of adolescents aged 12-15 in the US had it.
Fluoride in the UK
It's important to point out that unlike in the USA, most tap water in the UK isn't treated with fluoride.
According to the Telegraph, about 10% of the UK population receive tap water that contains what is considered to be the optimal level of fluoride to reduce tooth decay.
Sometimes this fluoride is naturally occurring, such as in Hartlepool, whereas in other areas such as Birmingham it is artificially added.
Here's a list of some places in the UK where fluoride is added to the water:
Birmingham and surrounding areas
Newcastle and Tyneside
Parts of Cumbria, Lincolnshire, Derbyshire, and Cheshire
Is it safe to go fluoride-free?
Tooth decay is declining all over the developed world, and according to the WHO, it has little to do with fluoride consumption.
Choosing a fluoride-free toothpaste is not only a good step toward reducing your exposure to this toxic mineral but also a way to minimize your overall contact with harsh chemicals, as most fluoride-free kinds of toothpaste are made from natural or naturally derived ingredients.
Best Fluoride-Free Toothpastes in the UK
If you are concerned about the amount of fluoride you may be consuming, a good step toward reducing your exposure is to switch to a natural toothpaste without fluoride.
Here are our reviews of some of the most popular fluoride-free toothpastes on the shelves today.
1. Kingfisher Mint Fluoride Free Toothpaste
Kingfisher's Mint Fluoride Free Toothpaste has a short, simple list of ingredients. A calcium carbonate-based formula gently scrubs teeth, while extracts of peppermint, lemon, and fennel provide freshness.
All Kingfisher toothpastes are vegan, GM-free, and suitable for halal and kosher diets. It is cruelty-free and has been awarded Best Buy status by Ethical Consumer magazine.
Kingfisher specialises in natural dental care and is considered by many to be the UK's leading natural toothpaste brand.
They were the first company to receive approval from the British Dental Health Federation; although this approval only applies to Kingfisher products that contain fluoride. Their non-fluoride formulas are extremely similar, apart from the one ingredient.
This toothpaste doesn't contain any artificial flavourings or sweeteners. Instead, it uses real peppermint to give it a clean mint taste that isn't overpowering.
Kingfisher toothpaste has a nice texture and is a good choice if you're looking to switch to something fluoride-free.
2. Pro Teeth Whitening Co. Activated Charcoal Whitening Toothpaste
Charcoal toothpastes have taken the natural toothpaste market by storm recently, thanks to their apparent teeth-whitening effect.
Pro Teeth Whitening Co. has joined the scene with their Activated Charcoal Whitening Toothpaste.
At first glance, it seems like a strange contradiction that a "whitening" toothpaste could be made from charcoal, but charcoal is thought to soak up stains that can build up on tooth enamel from coffee, red wine, and other substances.
Activated charcoal has long been used in water filtration because of its ability to adsorb (attract and hold) molecular impurities.
The theory is that charcoal has the same effect on the surface of your teeth, but care should always be taken as this abrasive powder can be too harsh when scrubbed vigorously against teeth.
Another possibly abrasive powder in this formula is hydrated silica, a common ingredient in natural toothpastes that is safe when applied gently.
Charcoal should be easily removed from your mouth with water, just be sure to rinse thoroughly after brushing your teeth to avoid a blackened smile!
Other ingredients in this toothpaste include sorbitol, a sweetener that doesn't contribute to cavities, and glycerin, which helps give the toothpaste its pasty texture.
All the ingredients used in this toothpaste are naturally derived.
You might not expect charcoal toothpaste to taste good but this one does. It has a minty taste and leaves your mouth feeling fresh. This product is slightly expensive compared to the other toothpastes reviewed here.
3. Green People Fennel & Propolis Toothpaste
The Green People Company is a leader in natural and organic grooming products, and their fluoride-free toothpaste is no exception.
Anyone who is tired of mint flavoured formulas should try the Green People Fennel & Propolis Toothpaste, which offers a unique taste and mint-free alternative.
This toothpaste contains propolis (a compound produced by bees that has healing properties), as well as oils of fennel, myrrh, cinnamon, and clove, which are known anti-microbial compounds, that can help to fight infection of the gums and teeth that lead to cavities.
Clove oil in particular has long been known in both alternative and mainstream healthcare to help soothe toothache.
This Green People toothpaste has been designed for people with sensitive teeth and gums, making it safe for children and people who have an existing oral disease with symptoms such as bleeding gums and mouth ulcers.
This formula is a standout in that it doesn't contain any harsh binders or soaps.
It isn't a vegan product, as it contains propolis, a resinous substance produced by bees, although it is cruelty-free and suitable for vegetarians.
As we would expect from the Green People line, this toothpaste is 100% from naturally derived sources and a third of the ingredients are certified organic. They also offer a range of toothpastes in different flavours, including citrus and mint.
Unlike the Kingfisher toothpaste reviewed above, this product doesn't contain sodium lauryl sulfate (SLS), which is an added bonus if you are sensitive to this ingredient.
Most people agree that this toothpaste has a very pleasant taste and leaves your mouth feeling nice and clean.
4. Georganics Toothpaste Tablets
Brushing your teeth is one thing you do every single day, it does get boring over time. Toothpaste tablets are a good way to shake things up a bit!
Apart from that, they're also easily portable and heat resistant. However, they are priced higher compared to usual toothpastes. 
The 120 tablets come in a recyclable glass jar. These tablets are made from activated charcoal powder and cream of tartar and are free from fluoride, SLS, and glycerin. They are flavoured with organic peppermint oil.
Georganics also has a spearmint-flavoured variant (no activated charcoal).  
The product is completely cruelty-free and even PETA-certified.
These vegan tablets are suitable for both adults and children and are easy to use – place 1 tablet in your mouth and start chewing, letting it dissolve. Brush as you would usually do for 2 minutes, spit out and rinse your mouth.
5. Auromere Ayurvedic Toothpaste
Ayurveda is a system of alternate or natural medicine, originating from India. Ayurveda literally translates to "knowledge of life".
Auromere is a US-based non-profit that produces ayurvedic toothpaste. Their classic toothpaste combines 24 special herbal extracts including neem (azadirachta indica) and peelu (salvadora persica) to improve oral hygiene and health. 
The toothpaste is not only fluoride, paraben, cruelty, and SLS free, but also has no artificial sweeteners or colours. Moreover, it is vegan too.
Auromere also has a mint-free, a foam-free cardamom-fennel, and a fresh mint variant.
10% of their proceeds go to Auroville, a universal town aimed to realize human unity, based in India.
6. Truthpaste Original Peppermint & Wintergreen
Truthpaste focuses on caring not just about teeth but the whole mouth. They make natural toothpaste for sensitive teeth, and they enable customers to do this using the power of nature.
All of Truthpaste's products produce zero waste, are vegan, and are SLS, GM, paraben, and cruelty-free. This toothpaste is completely fluoride-free and comes in a 100ml recyclable glass jar which lasts about 3 months.
Truthpaste is handmade and has certified organic essential oils due to which it is not suitable for children under 7 or for dogs.
This particular flavour is bold and different from the normal minty toothpaste but leaves you feeling as fresh as you can. Truthpaste is good for sensitive teeth too.
They have a fennel flavour and a charcoal line as well, which is also fluoride-free.
Compared to the other products reviewed here, Truthpaste is a bit expensive. If you are not sure about buying the 100ml pack, maybe start with trying out Truthpaste with their 15ml pack.
7. Aloedent Whitening Aloe Vera Fluoride Free Toothpaste
The Whitening Aloe Vera Fluoride Free Toothpaste from Aloe Dent bases its formula on Aloe Vera gel, a well-established soothing and healing substance.
Tea tree, menthol, and peppermint essential oils provide a potent anti-microbial element and freshen the breath. This toothpaste also contains silica, which could help repair damaged teeth.
Unlike some natural toothpastes, this toothpaste creates a good foam and has a lovely minty taste, giving the same clean feeling as you'd get from regular toothpaste.
Aloe Dent is a subsidiary of the supplement developer Optima Health & Nutrition. Their Aloe Dent range comes in both fluoride and fluoride-free varieties, so be particularly careful to read the label to make sure you get the version that you want.
The product we've linked to is the fluoride-free version.
8. Jason Natural Cosmetics Powersmile Toothpaste
This toothpaste is intended to be a strengthening and anti-plaque formula.
It contains a range of natural substances that gently polish the teeth, including powders of calcium carbonate, silica and bamboo powder to help scrub away plaque and stains.
Calcium carbonate and silica may also help to re-mineralise teeth enamel, bypassing the supposed "need" for fluoride.
On the other hand, these powders may be too abrasive for tooth enamel, so care should always be taken to brush gently.
Although this is a naturally derived toothpaste, it does contain some ingredients that purists may prefer to avoid. Although no JASON products contain Sodium Lauryl Sulfate, this toothpaste does contain Sodium Cocoyl Glutamate, a soap and foaming agent derived from processed coconut, that isn't safe to swallow, making this formula unsuitable for children under 6 years of age.
JASON Bodycare is an award-winning company that has been tried and tested since 1959.
Their products are all vegetarian and manufactured in a certified organic factory in California.
They also use biodegradable and recyclable packaging.
Best Fluoride-Free Children's Toothpaste
Fluoride can be a useful ingredient in toothpaste, but it is speculated that it can also be harmful to our health.
Lots of people now choose to omit fluoride from their dental products, especially when buying for their children.
Natural toothpastes made specifically for children can be a great alternative and are often fluoride-free as well as free from SLS, colourants, and other artificial ingredients.
Keeping your child's teeth healthy is integral to their development and how well their teeth will fare in later life, so consult your dentist if you are unsure about whether to go completely fluoride-free.
Below are some of the best fluoride-free toothpastes for kids available at the moment. As well as being fluoride-free, most of these toothpastes are also safe to swallow.
1. Kingfisher Natural Strawberry Children's Toothpaste
We mentioned Kingfisher's mint toothpaste above and how the brand is committed to improving dental care with natural products.
This Children's toothpaste by Kingfisher made in the British Isles is also cruelty-free, vegan, GM-free, and gluten-free.
Just like the adult Kingfisher toothpaste, this one also does not contain any artificial flavourings or sweeteners. 
It has a calcium carbonate-based formula that gently scrubs teeth and it is flavoured with real fennel, strawberry, peppermint which makes brushing time for children more enjoyable!
Children under 6 years are recommended to use a pea-sized amount to minimize swallowing.
2. Green People Organic Fruity Kids Mandarin Toothpaste
If minty toothpaste isn't your kid's thing, then you might want to check out this fruity mandarin flavoured toothpaste from the Green People Company.
It's made with organic ingredients and free from nasties which could be harmful to your child's health.
The added Vitamin C in this toothpaste has an antioxidant effect on gums which helps to keep them super healthy as well as clean. This fruity paste comes in kid-friendly packaging and is recommended by midwives.
It's suitable for use on babies' gums and milk teeth as they grow in.
All of the natural and organic ingredients are suitable for veggies and vegans and there are no parabens, phthalates, SLS, colourants or artificial sweeteners to be found!
Since it's SLS-free, there isn't a huge amount of lather with this toothpaste, and it has quite a watery consistency.
It also has a strong flavour that might not suit everyone and doesn't refresh breath in the way that mint toothpastes do.
3. Truthpaste Natural Toothpaste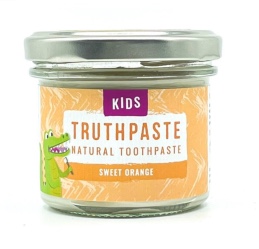 This mild, orange-flavoured toothpaste is made with 100% natural ingredients.
The coconut, calendula, and aloe vera in the toothpaste maintain healthy teeth and gums and protect against early decay. The toothpaste has 16% Xylitol to fight plaque and promote a healthy pH balance.  
It is free from foaming agents, SLS, Fluoride, Triclosan, Glycerine, Titanium Dioxide, Palm Oil, and Gluten.
Moreover, this toothpaste comes in a glass container and produces zero waste.
Although designed with kids in mind, the formula is suitable for adults alike. It is also safe for pregnant and breastfeeding women.
4. Jack N' Jill Strawberry Natural Calendula Toothpaste
Australian brand Jack n' Jill is one of the leaders in natural tooth care products for babies and kids. Their products use natural ingredients, and their packaging is BPA-free and recyclable.
This toothpaste has a strawberry flavour that comes from organic strawberries.
It contains xylitol, a natural sweetener that is good for the teeth.
As you'd hope for in a kid's toothpaste, Jack N' Jill's Strawberry toothpaste is safe to swallow, so you don't need to worry about your kids ingesting dangerous chemicals.
Most children like the taste of this toothpaste but it's not for everyone, so you may need to try a few other products to get the right one.
5. lavera Toothpaste for Kids

This fluoride-free toothpaste has a special formula that prevents cavities for milk teeth.
It is vegan and free from colourants. Moreover, lavera uses certified natural cosmetics with high-quality organic plant ingredients that come from their own production.
The mild, sweet fruity flavour comes from Calendula and babies love it!
The toothpaste's formula is based on calcium that protects the teeth. This toothpaste easily removes plaque (with regular brushing) and protects gums well.
6. AloeDent Children's Strawberry Toothpaste
Another great, fruity toothpaste for children who hate mint, but this time in a strawberry flavour. Containing restorative aloe vera, this toothpaste encourages healthier gums and in turn, cleaner teeth!
Green tea extract attacks bacteria and tea tree oil acts as a natural antiseptic, while silica will help to keep teeth naturally whitened.
The reddish-pink colouring is super fun and should make brush time way more enjoyable for kids (and for parents – no more nagging needed) and with strawberry flavouring, you can't go wrong! However, the strong red colour could discolour some people's teeth, and the taste doesn't suit everyone.
With natural, high-quality ingredients, this toothpaste should benefit your kid's mouth health, protecting against plaque, tartar, cavities, gum disease, just like a fluoridated toothpaste would.
As well as being fluoride-free, this toothpaste is also SLS-free, cruelty-free, and vegan. One downside to this toothpaste is that it has quite a thick, sticky texture, which makes it harder to use.
Conclusion
As you can see from the list above, there are a lot of high-quality fluoride-free toothpastes available in the UK.
If we had to pick just one to recommend for adults and one for kids, they would be the following:

Naturaler is a UK website full of tips and recommendations for living a more eco-friendly, chemical-free and natural lifestyle.