Many of us own and use electric toothbrushes and lots of us have old and broken ones we just don't know what to do with.
Since plastic waste is such as huge and growing problem, just binning old brushes doesn't seem right.
But can you recycle electric toothbrushes in the UK? Thankfully, the answer is yes!
Along with many other electrical goods, you can indeed recycle an old electric toothbrush, as well as any plugs and charging stations.
How to Recycle an Electric Toothbrush in the UK
There are several ways to recycle an electric toothbrush in the UK.
Kerbside collection
Your local authority may collect small electrical items such as electric toothbrushes if you arrange a kerbside collection.
To do this, you will need to ring your council to tell them you want some small electricals to be collected, and then leave the toothbrush along with anything else you want to be recycled on top of or next to your bin on collection day.
Using your local council's collection service could be a good option if you have multiple items to recycle.
Recycling bring site
Some small recycling sites allow you to dispose of electronics such as electric toothbrushes. Use the search tool on Recyclenow.com to find the nearest bring sites to you. You should filter the results to only include places that accept electronics, as most sites won't take electric toothbrushes.
Recycling centre
Another way to recycle your electric toothbrush is just to take it along to your local recycling centre.
Take a peek here to find your local recycling plant and check if they accept electricals.
Currys
At the time of writing, you can take any electricals to Currys PC World stores for free recycling without having to buy anything new.
Shops
Some shops might offer a way to recycle your old toothbrush when you go in to buy a new one.
This service is often free, so always check before you get your new brush!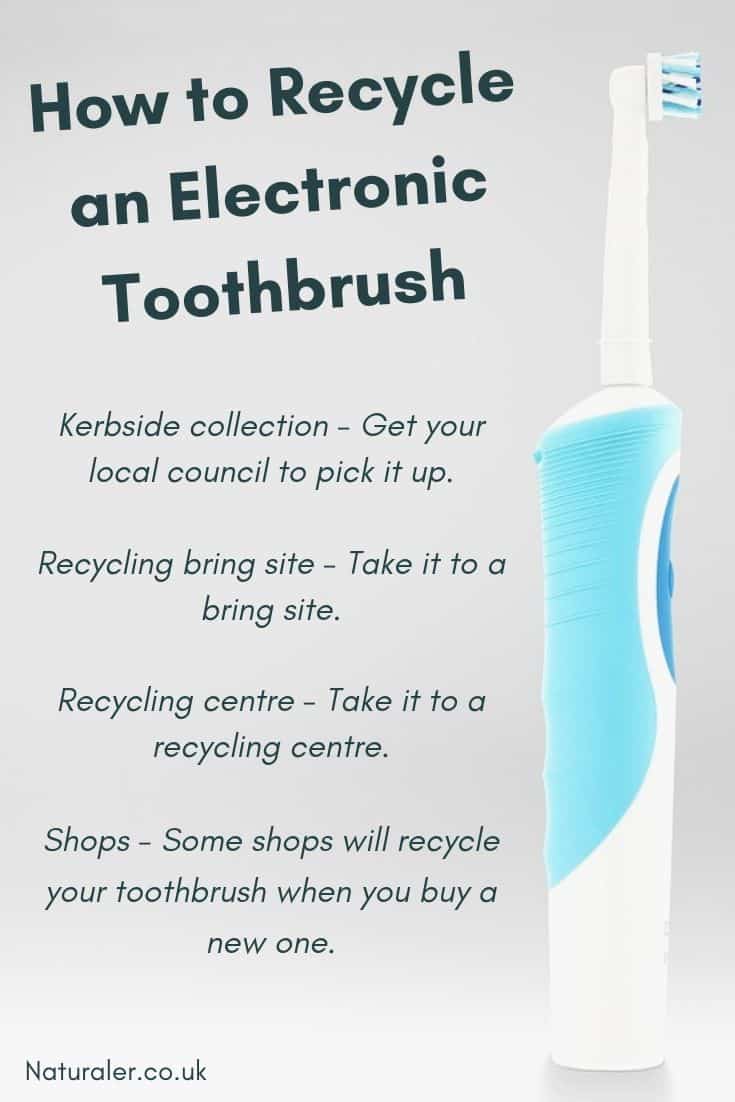 Which Electric Toothbrushes Can Be Recycled?
Almost all electric toothbrushes can be recycled using the schemes listed above.
These include the following popular models:
Oral-B Pro 600
Oral-B Pro 2 2500N
Oral-B Pro 650
Oral-B Genius 9000
Philips Sonicare ProtectiveClean 6100
However, since these products are all made from a combination of materials that can be difficult to recycle, it's unlikely that everything will get fully recycled after you dispose of them.
What About Electric Toothbrush Heads?
Electric toothbrush heads are a bit easier to recycle since they don't contain electronics.
Toothbrush heads can be recycled by Terracycle as part of a scheme launched in partnership with Colgate at several drop off locations across the country (see a map here).
Although the scheme is partly organised by Colgate, they accept any brand of electric toothbrush head.
We've written in more depth about recycling electric toothbrush heads in a separate article here.
What Are Electric Toothbrushes Made Of?
Electric toothbrushes are mainly made of plastic. Polypropylene and polyethylene are usually for the handles, and nylon-6 is used for the bristles on the toothbrush head.
They also have a rechargeable battery, which is usually a nickel-cadmium battery.
Polypropylene is recyclable, as is polyethylene. Nylon-6 toothbrush bristles can be recycled as long as they are separated from other plastics.
Unfortunately, there's no such thing as a zero-waste or plastic-free electric toothbrush. Manual bamboo toothbrushes are the most eco-friendly option on the market, but they tend to use nylon bristles as well.
Why Should You Recycle?
The impact electrical goods can have on the environment and wildlife is massive.
When they end up in landfill, dangerous substances can leak from batteries and cause the surrounding soil to become contaminated.
So, if you want to keep the planet a safe and healthy place for us and animals to live, recycle as many things as you possibly can – this includes something as small as an electric toothbrush!
To find out more about reducing your plastic waste, see our complete guide to using less plastic.

Naturaler is a UK website full of tips and recommendations for living a more eco-friendly, chemical-free and natural lifestyle.