Palm oil has been appearing in the news a lot over the past few months.
That famously banned Iceland Christmas advert did a fantastic job of highlighting the plight of orangutans in the rainforests and made us all think twice about purchasing products which contain palm oil.
So, what exactly is palm oil? Why is it so bad for the environment? And which palm oil products should we avoid in the UK so we can reduce our impact upon the planet?
Let's take a look.
What Is Palm Oil?
Palm oil is a vegetable oil which comes from the fruit of the African oil palm tree. As the name suggests, these palm trees originally grew in Africa, but started to be planted in hot and humid places across the world from the late 19th century.
These days it's mainly grown in Indonesia and Malaysia.
Surprisingly, this palm oil is used in around 50% of all household products.
This includes foods like bread, cakes, cookies and other baked treats, sweets, margarine, chocolate, chocolate spreads and ice-cream, cosmetics like shampoo, shower gel, cosmetics, soap and toothpaste, and in household cleaning agents too.
Palm oil is also used to produce biodiesel.
Palm oil is everywhere.
What's the Problem with Palm Oil?
According to Greenpeace and other environmental protection groups, the production of palm oil is contributing to deforestation, climate change, animal cruelty and indigenous rights abuses in areas where it's produced.
Environmental charity Rainforest Rescue says that palm oil companies are destroying an area of rainforest equivalent to 300 football fields every hour…
This is driving species such as Sumatran tigers, elephants and orangutans further towards extinction.
Time seems to be running out for these species, unless we make better shopping choices and do something about it.
It's time to stand up for what we believe in and buy products which don't contain this environment-damaging oil.
Is Palm Oil in my Product?
Recent European legislation has demanded that 'palm oil' does appear on the ingredients label on products sold in Europe, although it's unclear whether the brands need to use these exact words.
Often the words used on those ingredient labels are completely unrecognisable to most of us, so the task of finding palm oil-free products becomes even more challenging.
Here are some of the ways that palm oil can be listed:
Vegetable oil
Vegetable fat
Palm kernel
Palm kernel oil
Palm fruit oil
Palmate
Palmitate
Palmolein
Glyceryl
Stearate
Stearic acid
Elaeis Guineensis
Palmitic acid
Palm Stearine
Palmitoyl Oxostearamide
Palmitoyl Tetrapeptide-3
Sodium Laureth Sulfate
Sodium Lauryl Sulfate
Sodium Kernelate
Sodium Palm Kernelate
Sodium Lauryl Lactylate/Sulphate
Hyrated Palm Glycerides
Etyl Palmitate
Octyl Palmitate
Palmityl alcohol
Which Palm Oil Products Should We Avoid in the UK?
WWF's Palm Oil Scorecard, published in 2016, analysed major companies' palm oil supply chains to see which had the most, and least, sustainable practices. The following brands received the lowest possible score (1/9), making them the worst offenders out of the brands surveyed:
Costco
Dunkin' Brands (owners of Dunkin' Donuts)
Tayto
The following brands also got relatively low scores:
Campbell's Soup (2/9)
Compass Group (4/9)
Délifrance (5/9)
On the whole, British brands scored well: Boots, Marks & Spencer, Morrisons, Premier Foods, Sainsbury's, The Co-operative, Waitrose and Warburtons all received the top score (9/9), indicating that their palm oil practices are relatively responsible.
In March 2018, Greenpeace published their Moment of Truth report. While preparing this report, Greenpeace asked major companies to disclose details of their palm oil supply chains to see which brands were contributing to deforestation. Some brands refused to disclose which palm oil mills their palm oil came from. These brands included:
Ferrero
Hershey
Johnson & Johnson
Kellogg's
Kraft
Heinz
PepsiCo
PZ Cussons
Smucker's
In September 2018, Greenpeace published their The Final Countdown report, which assessed deforestation by 25 major palm oil producers and identified brands that were sourcing from unsustainable palm oil producers. The report claims that the following brands still source some of their palm oil from unsustainable sources:
Colgate-Palmolive
General Mills
Hershey
Kellogg's
Kraft Heinz
L'Oreal
Mars
Mondelez
Nestlé
PepsiCo
Reckitt Benckiser
Unilever
There are a few ways to make sure you're avoiding the most unsustainable palm oil products:
Is Sustainable Palm Oil Really Sustainable?
Some argue that RSPO-certified sustainable palm oil isn't actually sustainable, and that labelling palm oil products as 'sustainable' gives consumers a false sense of doing the right thing. RSPO certification doesn't completely prohibit deforestation, and one study found that RSPO certification only helped reduce deforestation very slightly.
However, switching to other oils could be even worse for the environment as they have lower yields per hectare, and therefore more land would be required to produce them.
Brands with Good Palm Oil Practices
The following brands and products in the UK are palm-oil free, or use only certified sustainable palm oil:
Rude Health (all cereals are palm oil free)
MOMA (all cereals are palm oil free)
Hodmedod's (palm oil free)
Iceland (all own-brand products are palm oil free)
Amisa (organic palm oil)
Biona (organic palm oil)
Biofair (organic palm oil)
Alara (the distributors of Divine chocolate)
There are hundreds more companies in the UK which offer palm-oil free or sustainably-sourced palm oil products that will help reduce your impact on the environment.
The organisation offer a great printable shopping list which can help you make kinder, palm-oil free or sustainable palm-oil shopping choices.
It's also worth looking out for the certified palm oil free sticker or certified sustainably sourced palm oil stickers you can find on many products.
Conclusion
The use of palm oil across the world is damaging the environment, destroying wildlife habits and endangering many species of animals. But it doesn't have to be like this.
Avoid certain products and brands which contain unsustainable palm oil and choose palm-oil free alternatives instead so you can help make a difference to our planet.
Voting with your wallet in this way will encourage all companies and brands to switch to more sustainable practices.
That small effort could be the difference between our grandchildren knowing what an orangutan is, or not.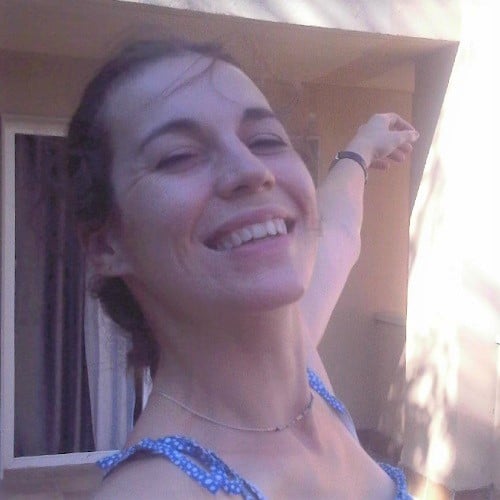 Charlotte Witts is a writer and entrepreneur who wants to show you how easy it is to live a more conscious, zero-waste lifestyle. A confirmed yoga-addict, trail runner and ocean-lover, she currently lives in the Azores where she enjoys the simple pleasures in life.