Baby powder has been used for many years as a nursery and changing bag staple to help prevent nappy rash, and also by adults as a low-cost beauty product.
Baby powder has been around for over 100 years, with Johnson & Johnson selling the product for the first time in 1894. However, there has been concern over its safety since the 1970s.
These concerns mostly focus on claims that baby powder may increase the risk of ovarian cancer following long-term use on female genitals.
According to Medical News Today, over 6,600 consumers have filed baby powder lawsuits against Johnson & Johnson, most of whom were women with ovarian cancer.
What's in Baby Powder?
Baby powder usually contains talcum powder (talc), corn starch, or both.
Talc is a mineral composed of silicon, magnesium, and oxygen, and it is mined from underground deposits.
Some unprocessed talc is known to contain traces of the carcinogen asbestos, and although the cosmetic industry is now aware of the potential dangers and follows guidelines for talc to be free from detectable amounts of asbestos, it's still unclear if asbestos-free talc poses a cancer risk too.
The International Agency for Research on Cancer (part of the WHO), said that talc-based powder use on the genitals and buttocks is "possibly carcinogenic to humans". It also said that talc that contains asbestos which is "carcinogenic to humans".
Moreover, the Center for Disease Control and Prevention, and the Occupational Safety and Health Administration have also said that repeated inhalation of talc might harm the lungs.
What Should You Use Instead?
If you still want to use baby powder without the potential risks, the best option is to try talc-free powders made from corn starch, baking soda, tapioca starch, arrowroot starch, kaolin clay, rice starch or oat flour.
There are some lovely talc-free, soothing baby powders available to buy right now in the UK, and we've listed some of the best ones here for you to try.
Best Natural & Talc-Free Baby Powder in the UK
1. Burt's Bees Baby 100% Natural Dusting Powder
Burt's Bees Baby 100% Natural Dusting Powder is a finely milled powder with an all-natural, gentle fragrance that's perfect for keeping babies' bottom soft and dry.
Made from corn starch and natural bark powder, this baby powder is silky and naturally absorbent without containing any talc.
Like all products from the trusted Burt's Bees brand, this powder is also free from potentially harmful parabens and phthalates and is never tested on animals.
2. Nature's Baby Organics, Silky Dusting Powder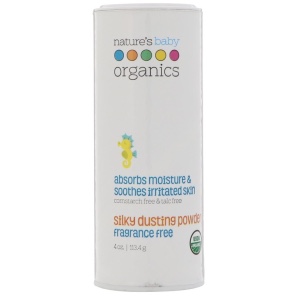 Nature's Baby Organics products were developed by a mother looking for pure and natural products for her children.
The powder is free of parabens, propylene glycol, and gluten.
Although cornstarch-based powders are much better than talc powders, tapioca starch-based powders are another step up. Tapioca makes the powder smoother and softer.
Nature's baby organics powder is talc-free and also cornstarch-free.
The main ingredients are tapioca starch, chamomilla recutita (matricaria) flower extract, echinacea angustifolia extract, and aloe barbadensis leaf extract.
The powder is certified by A Bee Organic and USDA Organic.
Nature's baby organics also transitioned to 100% recyclable aluminum bottles in 2021.
3. Country Comfort Baby Powder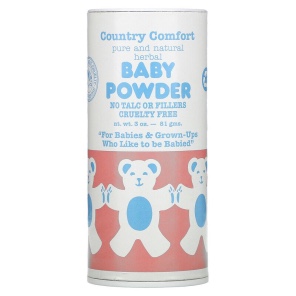 Country comfort is a pure and natural herbal baby powder. It's talc-free, cruelty-free, and has no fillers or preservatives.
The main ingredients are arrowroot, kaolin clay, slippery elm, comfrey root, golden seal, and aloe vera. The oils of orange and lavender give the powder a natural fragrance.
The powder comes in a small 80g non-breakable pack.
It is also well suited to be used as a foot powder.
4. Calming Organic Powder California Baby
The Calming Organic Powder is made by California Baby, a family-owned brand headquartered in Los Angeles.
This is a cruelty free product that does not contain gluten, soy, oats, dairy, or nuts (except coconut).
It does not have synthetic fragrances – the French lavender, clary sage and tea tree pure essential oils gives it a gentle scent.
California Baby focuses a lot on their quality control and testing, so much so that they grow some of their own key ingredients.
This cornstarch based powder works well for babies, kids and sensitive adults alike.
The product comes in a 70g pack and is relatively expensive compared to similar products.
5. Babylabs Organic Unscented Talc Free Baby Powder
Available on Amazon, Babylabs Organic Unscented Talc Free Baby Powder uses organic corn starch as a naturally absorbent alternative to talcum powder.
Organic Arrowroot Powder has also been added to the mix to provide additional absorption power and natural antibiotic properties, along with naturally calming chamomile extract for the perfect way to help you or your baby to feel relaxed and soothed.
Babylabs always avoid using harsh chemicals in their products and use certified organic and cruelty-free ingredients.
6. Little Violet's Natural Baby Powder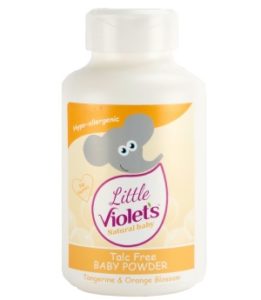 Made in the UK, Little Violet's Natural Baby Powder is available on Babipur, the ethical online shopping site for parents and kids.
Worried about the health concerns around traditional talcum powder, the company developed its own completely natural baby powder made from organic tapioca, corn starches, and kaolin clay.
This lovely, silky baby powder uses 100% natural essential oils and comes in three varieties: tangerine & orange blossom, sweet fennel & geranium, and unfragranced.
This delightful baby powder is biodegradable, contains no parabens or phosphates, and also vegans.
7. Natures Child Baby Organic Powder

Natures child organic baby powder is an Australian product which is talc free, preservative free, palm-oil free, gluten free and absolutely cruelty free. It has no synthetic fragrance either.
It is certified as 100% organic by the ACO organization (Australian Certified Organic).
The powder is tapioca starch based. Other ingredients include kaolin (Australian white clay) and lavender oil.
The product comes in a 100g cardboard tube with a BPA-Free recyclable plastic lid.
8. Neal's Yard Organic Baby Powder

Neal's Yard Organic Baby Powder is made from organic corn starch and chamomile and is completely talc-free.
The fine, soft texture of this powder is perfect for your baby's delicate skin, although Neal's Yard recommends only using it on newborn babies that weigh 6lb 10oz and over.
Neal's Yard is a pioneer in natural & organic skincare, so it's not surprising that this baby powder is made from 95.7% organic ingredients and contains no nasty chemicals.
9. Baby Kingdom Collection Talc Free Baby Powder

The Baby Kingdom powder is soft, talc-free, vegan and suitable for sensitive skin. It has an airless pump which makes application easier by providing even distribution.
The powder comes in a 25g pack and is relatively costlier compared to similar products.
It is zea mays starch-based and the key ingredients are aloe vera, chamomile, nettle extracts and vitamin E, the powder also has quite a few other ingredients. Check their website for the list.
The product has traces of nuts which may cause an allergic reaction.
10. ReisCare Baby Powder Natural

ReisCare is a Thai brand making non-GMO rice starch-based baby powder.
The powder is hypoallergenic. It is also water repellant, oil absorbent and gives natural UV protection.
They have two options available in 50g packs in the UK – extra mild and floral sweet (perfumed).
It is recommended that you don't use this powder on the navel.
DIY Talc-free Powder
Making your own talc-free powder at home is a fairly simple process. This is all you need:
3/4 cup Arrowroot powder
1/4 cup Kaolin Clay
Up to 10 drops Calendula, Lavender or Chamomile essential oil
First, blend the arrowroot and kaolin clay in a bowl. Then add the essential oil and mix it well. Store the powder in an air-tight container.
Although this powder will be very gentle, we recommend consulting a paediatrician before using it on a baby or a child.
Conclusion
If we had to choose just one talc-free baby powder to recommend, it would be Burt's Bees Baby 100% Natural Dusting Powder as it smells lovely and is made from natural, non-irritating ingredients.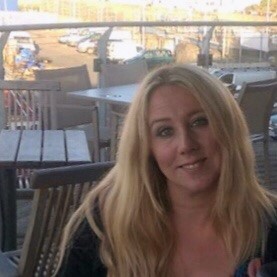 Clare began her career as a technical writer, but since having her boys has worked mostly from home writing content for various websites, including health and beauty and educational resource sites.