Mosquitos are one of the deadliest creatures on Earth.
In addition to the skin irritation, redness and swelling they cause with their bites, they can also carry diseases such as malaria, dengue fever, Zika virus, yellow fever, encephalitis which account for over a million deaths every year.
While we're more likely to suffer the milder side effects of bug bites here in the UK and Europe, those travelling to hotter places take precautions. This includes getting a decent insect repellent.
However, over recent years we've seen plenty of controversy relating to DEET- one of the chemicals used in insect repellent.
This leaves us wondering if the risks of using these products is really worth the benefit, and whether it would be a better idea to choose a natural product instead.
In this article we hope to dispel some of the myths around insect and mosquito repellents, and help you choose the right natural product to protect you and your family.
We'll share more about DEET, explain what the alternatives are, review our favourite products and even share three easy DIY mosquito repellents that you can rustle up in a jiffy!
Are regular insect repellents toxic?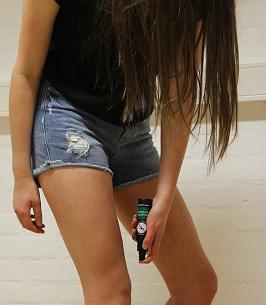 Good question. Let's start with the facts.
Most of the 'regular' insect repellents you'll find on the shelves of your local pharmacy or supermarket contain a chemical called DEET (N,N-diethyl-m-toluamide).
This chemical was developed by the U.S. government during the second world war to deal with jungle warfare and prevent insect bites and therefore diseases such as malaria and dengue fever.
The chemical works as a neurotoxin on bugs and blocks their ability to smell us. And of course, if they can't smell us then they won't bite us.
Although it is approved for use by the U.S. Environmental Protection Agency (EPA), and recommended by the NHS, British government and the London School of Hygiene and Tropical Medicine, there remains some controversy around it's use.
This started in the 1980s when several fatal cases of encephalopathy (swelling of the brain) were reported.
However, many scientists say that these cases were purely speculative and when taken in balance with the overall use of DEET across the world, the frequency of cases was very small.
However, while it appears that DEET is safe to use occasionally and in low concentrations, regular use may pose more of a health risk.
A  study by the Everglades National Park from 1986 found that a quarter of employees using DEET on a regular basis experienced adverse symptoms including rashes, skin irritation, nausea, headaches, sleepiness and impaired cognitive function, dizziness, breathing problems and numb or burning lips.
Additionally, in one study from a 2002, a Duke University pharmacologist found that rats exposed to DEET suffered from brain cell death and behavioural changes. He suggested that while acute reactions to the chemical are rare, there may be a build-up of less obvious symptoms that often get attributed to other sources.
Should we use DEET or find a natural alternative?
DEET happens to be a highly effective insect repellent and can help prevent the many severe and life-threatening diseases that you can contract via mosquito bites. Whether or not you use the chemical should be a personal decision which you carefully think about.
If you do decide that the reliability of the chemical is worth the potential risks, go for a lower concentration product. Anything from 10-30% DEET is considered to be reasonably safe and effective for occasional use.
What is the natural alternative to DEET?
If you'd prefer to avoid DEET and opt for a natural insect repellent instead, there are several options available to you.
You can treat yourself to one of the natural insect repellents or you can get creative and make your own.
One chemical that has been shown to rival DEET for effectiveness in clinical trials is oil of lemon eucalyptus. Specifically, it contains a chemical called p-menthane-3,8-diol (PMD) which repels disease carrying mosquitoes as well as DEET. That's why you'll often see it as an ingredient in many natural insect repellents.
There's also a synthetic version of PMD which is usually created in a lab. Both the synthetic version and the plant-extracted version are sold in 'natural' insect repellents.
Both versions are thought to be safe, although long term studies haven't yet been done on the effects of the synthetic version. So far, eye irritation is the only known adverse effect of the chemical.
There are also certain plants and essential oils that mosquitos hate. These have long been used to combat biting insects and could provide you with protection too. This includes citronella, lemongrass and lavender essential oil, oranges, lemons, neem oil, coconut oil and soybean oil.
You might have heard that taking vitamin B12, eating Marmite yeast extract or downloading a smartphone app can help keep the bugs at bay, but unfortunately there is no evidence that any of these methods work.
Best Natural Insect Repellents
First let's take a look at the pre-made insect repellents you can buy in the UK.
We'll investigate important factors such as smell, texture, ease of use and effectiveness to assess whether each natural insect repellent would be worth buying. Some of the products on our list contain traditional botanicals, while others incorporate newly discovered chemicals such as PMD.
While these products may be 'natural' to varying degrees, they should still be used with safety precautions in mind.
Let's have a look at some of the market leaders in the natural insect repellent world today.
1. Para'kito All Natural Deet Free Anti Mosquito & Tick Repellent Spray
Para'kito specialise in natural insect repellent products. Made in France, this is completely natural product that lists very few ingredients.
The main ingredient of the Para'kito All Natural Mosquito & Tick Repellent Spray is oil of lemon eucalyptus, though Para'kito claims to use a completely natural form of the oil rather than the synthetic form of PMD.
Instead of PMD, this spray contains naturally sourced PMD rich botanical oil (PMDRBO), extracted directly from the eucalyptus tree. This makes it not only an effective insect repellent but a genuine natural alternative.
PMDRBO is a great choice for the environment too; PMD in all forms is biodegradable, but according to Para'kito, the production process of the PMDRBO version actually supports healthy tree growth and maintenance.
The packaging for this spray is made from sugarcane fibre, making both the product and the packaging eco-friendly and renewable.
While the long-term effects of PMD are still uncertain, it appears that it is indeed gentle enough for use on children and Para'kito claims that their spray can be used on children over 6 months.
Despite this, care should always be taken when applying insect repellent and always avoid contact with the eyes as PMD can cause serious eye irritation.
A bit more expensive than the other formulas reviewed here, the spray is effective for 8 hours against mosquitoes and 4 hours against ticks. This product can be used safely in tropical or temperate regions worldwide. It is also free from animal-testing.
2. Incognito All Natural Deet Free Anti Mosquito Insect Repellent Spray
If you like to support local businesses, the British-made Incognito brand isn't a bad way to go. The company specialises in insect repellent products including sprays, roll-ons and combos such as anti-mosquito shampoos and sunscreens.
The active ingredient used in the Incognito Insect Repellent Spray is PMD, although as it's not labelled as a plant derived version it's likely to be synthetically created.
While Incognito advertises itself as a fully natural alternative, it does include some synthetic chemicals; most PMD is produced synthetically in a lab.
According to Incognito, this spray is just as effective as DEET and it certainly seems as if they have some evidence to back up this claim. Clinical trials suggest that PMD is indeed effective at preventing mosquito bites for up to 12 hours.
It should also be noted that just because a product is 'natural,' that doesn't necessarily make it safe.
Despite the brand's claim that this spray is safe for use on children older than 3 months, it does contain some harsh ingredients which could be irritating to children.
The main ingredient is alcohol, which can irritate the skin and can sting when applied over cuts or abrasions. This spray also includes camphor, which is known to be toxic, especially when ingested. High doses of camphor can also be irritating when applied to the skin and may cause seizures.
If using this product on children, be very careful not to get it on their hands or anything they might put in their mouths.
This spray should also be kept away from eyes, as PMD is also known to cause eye irritation.
Incognito has a good reputation as a sustainable and environmentally friendly manufacturer and all of its products as certified by the Vegan Society.
They also donate 10% of their profits to charity, making them a good option for people who are not only looking for a relatively natural insect repellent, but who also want to support a great business model.
3. The Body Source Mosquito Repellent Bracelets
The Body Source have come up with an interesting alternative to slathering your whole body in insect repellent: why not just wear a colourful accessory to do the same job?
These mosquito repellent bracelets are an attractive, natural version of the DEET infused bracelets. They contain only 100% natural essential oils of geraniol (actually an essential oil component), citronella and lemongrass, which has been applied to a plastic one-size-fits-all bracelet band.
These bands are a great alternative for people who suffer from sensitive skin, as there is minimal skin contact with the repellent, compared to spray or roll-on products.
They can be a good option for babies too, as they can be attached to prams or cots, and do not need to be directly applied to the skin at all.
The bracelets come in a range of bright colours, making them appealing to kids who may otherwise be reluctant to coat themselves in stinky lotions or sprays.
Unfortunately, it's also kids who are most likely to fiddle or play around with the bracelets, which can easily be removed and lost.
Another drawback is that one bracelet may not be enough to protect your whole body from mosquitoes and, depending on the severity of the bug infestation in your area, you may need to wear multiple bands on your wrists and ankles.
Each bracelet is supposed to last for up to 250 hours (10 days) of use, and some individual storage bags are included to keep the bands 'fresh' when not in use.
If you and your family will need to wear multiple bands at a time, you could potentially be going through a lot of plastic very quickly. This is not an especially environmentally friendly solution to the problem of mosquitoes.
Nevertheless, they are probably less irritating to the skin than many insect repellents and can be used when swimming or wading through swampy terrain, thanks to the waterproof materials.
4. Avon Skin So Soft Original Dry Oil Body Spray with Jojoba
This body spray isn't as natural as it could be, but it's DEET-free and is very popular, so it deserves a mention.
It uses citronellol, which is a naturally occurring lemon-like scent that works as a natural insect repellent. Skin So Soft is especially popular as a midge repellent and was apparently used by Mel Gibson while filming Braveheart in Scotland.
While this product is DEET-free, it does contain some other ingredients that you may want to avoid.
These include Isopropyl Palmitate which can clog pores when used in large quantities and butylated hydroxytoluene (BHT), which is a preservative that is generally considered safe when applied topically but is somewhat controversial as a food ingredient.
You spray the insect repellent onto damp skin after showering or taking a bath. It isn't too greasy, and it absorbs well into the skin, so it doesn't leave marks on your clothes. It also doubles as a skin conditioner, leaving your skin softer thanks to the moisturising effects of the jojoba oil.
It's also pretty effective at keeping mosquitos and midges away without having an unpleasant or overpowering smell and comes in a 150ml bottle with a convenient pump dispenser.
5. Naissance Citronella Essential Oil
Citronella is a type of grass originally native to Sri Lanka but is now also grown in tropical regions including Indonesia, Vietnam and Central America.
It's a common ingredient in many insect-repelling products, but unfortunately this essential oil is often mixed with toxic ingredients in mosquito coils and incense sticks.
A pure oil, such as the Naissance Citronella Essential Oil is a great way to get the benefits of the oil, without any of the questionable additions.
Not only can you use it pure as an essential oil, you can also use it as a raw ingredient in any number of DIY products. This makes it highly versatile and well-worth the money invested.
To keep insects out of your living space, put a few drops into an oil burner or electronic diffuser with some water and leave to diffuse throughout the room.
You can also apply citronella directly to the skin, although you will need to dilute it first in a carrier oil. While adults can handle a higher concentration of essential oils, a lower dilution of around 1% should always be used for children. Neem, soybean and coconut oil are all potential insect repellents in their own right and are also suitable for mixing with essential oils.
One drawback of this product is that you will definitely need other equipment in order to use it, such as a diffuser or a carrier oil. This can be a little inconvenient during travel. Having said that, you could pre-mix it and place it into a small bottle to carry around with you.
For even greater effects, try combining citronella with other insect repellent essential oils, such as lavender, peppermint and eucalyptus.
Travelling to moderate or high-risk areas
There are certain parts of the world where mosquitos carry diseases such as malaria. If this is the case, you will need to take particular care. Malaria is found in over 100 countries, mainly in the tropics (not in Europe or the UK).
If you'd like advice for travellers about travelling to these areas, visit the NHS Fit for Travel information pages.
Not all of the products mentioned here will suffice if you're travelling to a medium or high-risk area.
The NHS only recommends using mosquito repellent that contains one of the following three ingredients:
DEET (see above)
Picaridin (20%): synthetically made by chemists but modelled on a naturally occurring chemical found in black pepper plants.
Lemon eucalyptus extract (PMD): extracted from the gum eucalyptus tree so can be considered natural.
Applying mosquito repellent is just one of the methods you should employ to keep mosquitos at bay in tropical countries. You should also put a mosquito net over your bed and wear light clothing that covers your arms and legs when possible.
How to make your own DIY natural insect repellent
As mentioned, you can also make your own natural insect repellent if you're aiming for zero waste or you love getting creative.
They're all very quick and easy to make and use ingredients that you probably have at home anyway. Here are three great 'recipes':
1. Geranium and Citronella DIY Bug Spray
Ingredients
30 drops geranium essential oil
30 drops citronella essential oil
20 drops lemon eucalyptus essential oil
20 drops lavender essential oil
10 drops rosemary essential oil
1 tablespoon vodka
120ml natural witch hazel
120ml water or vinegar
Method
Place the ingredients into spray bottle.
Screw on the lid then shake well.
Use and enjoy, giving it a shake before each use to combine.
2. Bye Bye DIY Mosquito Repellent Roll-On
Ingredients
30 drops citronella essential oil
20 drops rosemary essential oil
20 drops lavender essential oil
1 tablespoon vodka
120ml witch hazel
120ml water
Method
Find a refillable roll-on bottle (or use a spray bottle if you'd prefer)
Add all the ingredients then shake well.
Use and enjoy, giving it a shake before each use to combine.
3. Lavender and Lemon Homemade Mosquito Repellent
Ingredients
2 tablespoons witch hazel
2 tablespoons jojoba or neem oil
½ teaspoon vodka (to preserve)
55 drops lemon eucalyptus essential oil
15 drops cedarwood essential oil
15 drops lavender essential oil
15 drops rosemary essential oil
Method
Place the ingredients into spray bottle.
Screw on the lid then shake well.
Use and enjoy, giving it a shake before each use to combine.
Conclusion
If you really want to make the most out of your summer or holiday abroad, make sure that you are taking precautions against mosquitoes. More than a minor annoyance, they can carry certain serious diseases which they can then transmit to you when they bite.
To protect you and our family, you'll want to ensure that you get a good balance between using natural products and choosing the right option for you. It is worth taking the time to research which products will fit in best with your lifestyle and your principles.
However, if we had to recommend just one of these products it would be Para'kito Natural DEET free Mosquito & Tick repellent spray as it's one of the safest and most natural insect repellents on the market at the moment.