Noticed a red and itchy rash appear suddenly after you use a particular cosmetic?
Skin feel very irritated after you do the washing up?
You could be sensitive to methylisothiazolinone, a chemical that is found in the majority of cosmetics and many household cleaning products like washing up liquid and laundry detergent.
Luckily, there's an increasing number of methylisothiazolinone-free products available in the UK that can help you take good care of yourself and your family, look gorgeous and perhaps even protect the environment too.
The only problem is, how do you even get started finding these products?
The good news is that we've done all the hard work for you and created a list of our favourite methylisothiazolinone-free products, including shower gels, shampoos, baby wipes, makeup and more. We've tried to keep these as natural, cruelty-free, vegan-friendly and sustainable as possible.
However, in order to help you as much as we can, we've also added suggestions of more mainstream brands that you might like to try.
Keep reading to find out more about methylisothiazolinone including what it is, the allergy symptoms you should watch out for, how to find a methylisothiazolinone-free product in the UK and which ones we recommend.
What is methylisothiazolinone (MI)?
Methylisothiazolinone (also known as MI, MIT and various other names) is a synthetic preservative that is used in the cosmetics and household cleaning industries to stop products going mouldy.
Although it only appeared in cosmetics and household cleaning products in the last 20 years, it's now extremely hard to avoid this chemical as it is used so widely.
Worryingly, this chemical can trigger uncomfortable, and in some cases, dangerous allergic reactions in a large proportion of the population. This even true for those without other existing allergies.
According to a BBC Watchdog programme on the topic, (see video below), this chemical can cause an allergic reaction in as much as 10% of the population.
This might not seem like a lot, but this equates to about 10 in every 100 users and is much higher than the allergy figures for other similar substances (around 1-2%).
As the BBC documentary explains, it's unclear why methylisothiazolinone is still legal in the UK and Europe as other chemicals that had an allergic reaction rate of 4.5% have already been banned.
Other names for methylisothiazolinone
In an ideal world, methylisothiazolinone would always be named clearly on a product label, so we know exactly what we're getting.
However, this isn't the case.
The preservative can appear on a label under a few aliases. These include:
Methylchlorisothiazolinone (MCI or MCIT)
Benzisothiazolinone (BIT)
Chloromethylisothiazolinone (CMIT)
Octylisothiazolinone (OIT, OI)
2-Methyl-4-isothiazolin-3-one
5-Chloro-2-methyl-4-isothiazolin-3-one
Acticide
Algucid
Amerstat 250
Euxyl K 100
Fennosan IT 21
Grotan TK2
Kathon
Kathon CG
Mergal K7
Metatin GT
Mitco CC 32 L
What are the symptoms of a methylisothiazolinone allergy?
If you suffer from an allergy to methylisothiazolinone, you are likely to know about it pretty quickly. The symptoms are likely to develop immediately and worsen over the course of several hours unless treated.
Symptoms can include:
Itchy skin
Redness
Swelling – predominantly of the eyelids but sometimes of airways too
If you develop severe symptoms of an allergic reaction, it's always a good idea to visit your nearest A&E department for treatment immediately.
You should also contact your GP or dermatologist if you suspect that you might have an allergy to MI. They can arrange for a controlled patch test to formally identify an allergy.
How to find a methylisothiazolinone-free product in the UK
When you first start looking for products that are free from methylisothiazolinone, it can feel like you're fighting a losing battle. You might even start thinking that you have to stay smelly and dirty for the rest of your life!
But don't worry, there are actually plenty of companies that make methylisothiazolinone-free products in the UK, and they're not to hard to find once you know where to look.
Brands like The Green People, Lush, and The Body Shop are great places to start as their products are free from the preservative (although do double check to be sure). Many other mainstream brands such as L'Oréal, Timotei and Clinique do make methylisothiazolinone-free products, but again, it's always good to check before buying.
In the next section, we'll give you a quick review for many of our personal favourite brands which are all natural and cruelty-free.
However, for the sake of being as comprehensive as possible, we've also includes other mainstream brands to help you avoid this chemical. Use your own discretion when buying and be sure to read all the labels.
MI-Free shampoo
Green People Daily Aloe Shampoo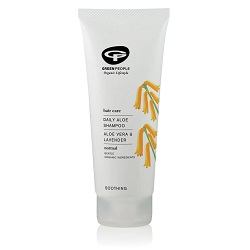 Daily Aloe Shampoo from Green People is one of the best daily-use shampoos on earth and not just because it is natural!
It leaves your entire family's hair feeling beautiful, is gentle for the whole family and lasts ages. On average, a 200 ml bottle of this stuff lasts about 3 months! A little of this stuff each day will keep your hair looking great naturally.
We also love the fact that Green People don't add any nasty chemicals into their products. As you are about to see, they feature a lot on this list for that very reason! They're hands down one of the best natural companies in the UK.
If you like shampoo that goes a long way and that makes your hair feel and look naturally healthy, this is the product for you.
Lush shampoo bars
Stop whatever you're doing and order one of the amazing shampoo bars from Lush. Seriously! We'd heard so much about them and were utterly impressed when we tried them ourselves.
Not only are they free from methylisothiazolinone, they are completely plastic-free, helping you to reduce your impact on the planet and make better choices for your health at the same time.
Lush are also very ethically minded, great for vegans and don't test on animals. Most importantly of al, they lather brilliantly and leave your hair feeling squeaky clean and nourished. They have a range of shampoo bars available- we love Jumping Juniper the best.
Although they do cost more than regular types of shampoo, each shampoo bar lasts ages (up to 80 washes). This means if you wash your hair three times per week, it should last you about 3-4 months!
You might also like…
Shampoo
Radox Refresh Shower Gel & Shampoo
Timotei Pure Shampoo
Dr Organic range
Moroccan Oil Shampoo
Eubos Sensitive Shampoo
Matrix Bioloage Normalising Clean Reset Shampoo
Conditioner
Timotei Pure Conditioner
Moroccan Oil Conditioner
Australian Organics Nourishing Restorative Conditioner
Charles Worthington Brilliant Brunette Travel Mini
MI-Free makeup
Green People Volumising Mascara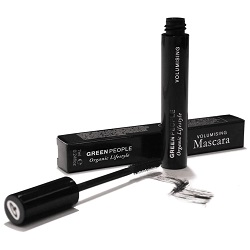 Green People's mascara utilises natural mineral pigments to offer a wonderful looking mascara that is 98% natural. It doesn't only provide you with luscious looking lashes, it also nourishes them and leaves them feeling soft and conditioned.
It also uses a fantastic brush that allow you precise control so you can get even those tiny lashes defined.
This mascara is far more than just a 98% natural alternative to other mascaras, it is truly one of the most remarkable mascaras on the market today.
You might also like…
Lush
The Body Shop
La Roche- Posay
Vichy Laboratories
VMV Hypoallergenics
Proactive
Clinique
L'Oréal
Wet and Wild
Maybelline
MI-Free baby wipes and cleansing wipes
Natracare wipes
If you're looking for a natural wipe that is free from the majority of those toxic nasties, look to the wonderful Natracare brand.
Offering methylisothiazolinone-free baby wipes, intimate wipes and makeup remover wipes, they're pH balanced, alcohol-free, GMO free, and also free from things like sodium lauryl sulfate (SLS), parabens and methylisothiazolinone (MIT).
We love the fact that they're also approved by the vegan society and certified organic by the Soil Association and they've won a ton of awards for their ethical policies. They also make several other organic, methylisothiazolinone-free products that are worth checking out.
See their products on Amazon UK and in your local branch of Waitrose.
You might also like…
Simple
Nivea Gentle Facial Cleansing Wipes for dry and sensitive skin
Natures Gate products
Lubriderm
Neutrogena
Oil of Olay
Rodin & Fields
MI-Free moisturising creams and lotions
Burt Bees Radiance Night Cream
Burt Bees have been around for several decades now, and they continue to create outstandingly good products that are natural and free from many of those potentially toxic nasties.
Although it's not suitable for vegans as it contains bee pollen, it's a beautiful methylisothiazolinone-free moisturiser that will leave even the driest of skins feeling nourished. It's also gluten-free, coconut-free, nickel-free, lanolin-free and paraben-free, to name just a few.
We also give it extra points for coming in a glass jar (although the lid is plastic, which is a shame.)
You might also like…
Cetaphil Moisturizing Lotion
Lush moisturisers
The Body Shop moisturisers
Diprobase
Aqueous Cream
Aveeno Body Lotions
Body Shop Hemp Creams
Weleda Skin Food
Aveeno Relief Moisturiser
Aveeno Daily Moisturising Lotion
Aveeno Moisturising Lotion with Colloidal Oatmeal
Body Shop Hemp Hand Protector Cream
La Roche Posay Toleriane
MI-Free sun cream
Green People Scent-Free Facial Sun Cream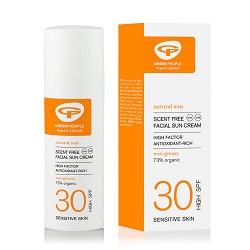 This natural sun cream by The Green People has an SPF of 30 and is perfect for sensitive skin. It protects your skin against any harmful UVA and UVB rays, like most sun creams, but it does much more than that too.
It also contains antioxidant-rich plants and plants that promote anti-ageing, giving you added skin protection from all the elements.
You can even wear this sun cream under makeup if you like so you can look great and stay safe at the same time.
If you have sensitive skin, want to naturally protect your family from the sun or just fancy being able to wear your makeup over your sun cream, grab a bottle of this stuff, it is exceptional!
MI-Free shower gel
Green People Neutral Scent Free Shower Gel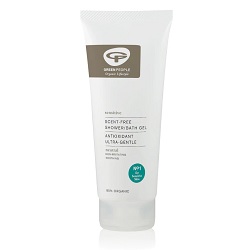 This scent free shower gel from Green People provides a gentle and soothing clean for even the most sensitive skin.
If you struggle to find a shower gel that doesn't make your skin dry and nasty after a shower, try this. The aloe vera, yucca and marshmallow will leave your skin feeling wonderful!
We do admit that marshmallow in a shower gel is a slightly odd concept, but it works! It has natural bubbles, it is kind to sensitive skin, and you only need a little to achieve a lot!
Plus, as this is scent free, it won't interfere with your perfume or aftershave so you'll smell great for your next date!
You might also like…
Original Source
Lush
The Body Shop
Halos N Horns
Oriflame
MI-Free washing powder (laundry detergent)
Fysio Natural Washing Powder
This natural washing powder is made from 100% olive oil soap flakes, enriched with lavender, chamomile, calendula and chlorophyll. That's why it smells so wonderful!
It's a completely natural washing power that is great for anyone with sensitive skin or skin conditions such as eczema, dermatitis ad psoriasis. It's also very versatile and works brilliantly hand washing your clothes and in the machine too.
If you're struggling to find a washing powder fit for your family's needs, give this a go.
You might also like…
Ecover (but check the label because they're not all MI free)
Persil Colour Protect Capsules
Morrisons Colour Protect Capsules
Surecare Sensitive Super Concentrated Laundry liquid
MI-Free washing up liquid and surface cleaner
Bio D Washing-Up Liquid
Bio D washing up liquid comes highly rated because it doesn't just get your dishes clean, help remove tough, burnt-on food and leaves a shine on your glassware.
It's also excellent for the environment because all ingredients are sourced from sustainable sources wherever possible.
It's also amazing value for money because you can buy 5 litres of Bio D washing up liquid for very little money and it's very concentrated. This means you don't need much to clean your dishes with. Five litres of this stuff is likely to last you 6 months to a year, depending on how much washing up you do!
This is an excellent washing up liquid for anyone wanting natural products from renewable sources that work brilliantly.
You might also like…
Faith in Nature
Sodasan
Surcare
Violet's
Humblestuff
Mangle and Wringer
Conclusion
If you're looking at this list and feeling worried that it will take some effort to replace your products, don't be. Over time it will get easier and you will find some incredible methylisothiazolinone-free products that you adore.
Remember, always read those labels, contact manufacturers if you're not sure and always, always take care of your health.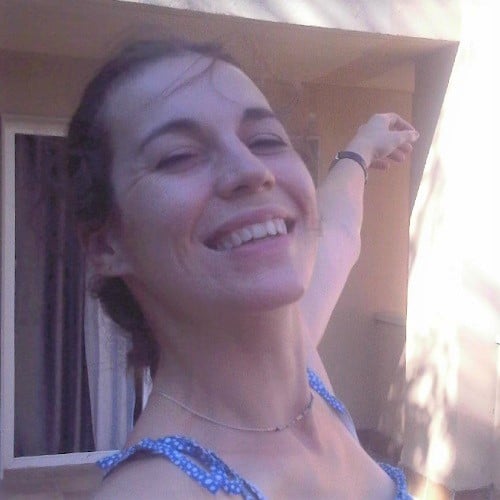 Charlotte Witts is a writer and entrepreneur who wants to show you how easy it is to live a more conscious, zero-waste lifestyle. A confirmed yoga-addict, trail runner and ocean-lover, she currently lives in the Azores where she enjoys the simple pleasures in life.