Many of us are looking to reduce the amount of plastic we use around our homes, and so the kitchen is usually one of the first places we tackle.
Out goes the plastic wrap and in come beeswax food wraps.
We get rid of the plastic storage containers and welcome stainless steel and glass containers into our lives.
We say goodbye to plastic sponges and hello to compostable natural bristle brushes.
But we tend to get a bit stuck when it comes to the humble plastic washing up bowl.
Can there really be a decent plastic-free alternative that does the job without harming the planet?
We hunted high and low to find the best plastic-free washing up bowls available in the UK, so you don't have to.
We're sure you'll love the eco-friendly and very stylish alternatives we discovered including stainless steel, enamel and rubber washing up bowls.
Read more about them below, plus find out which ones we think are the best buys.
Stainless Steel Washing Up Bowls
A stainless steel washing up bowl is one of the best alternatives to regular plastic washing up bowls.
Easy to clean, very hygienic and boasting a stylish and very modern appearance, it will look fantastic in your kitchen and speak volumes about your ethics and taste.
We love the generously-sized 10 litre stainless steel mixing bowl from Dexam (shown above).
With a flat base that settles perfectly into your sink, it's around the same size as a regular washing up bowl and it's very easy to clean.
This stainless steel washing up bowl is affordable, durable and well worth the investment for your plastic-free kitchen.
Rubber Washing Up Bowls
The extremely unique bowl by Normann Copenhagen might seem a little bit pricey, costing over £50 at the time of writing.
However, it's durable, strong and flexible enough to fit into practically any sink.
Made from coloured rubber and available in bright red, black and grey, this award-winning washing up bowl also comes with a natural wood washing up brush, it's dishwasher safe and it's a very special replacement for that old plastic washing up bowl.
Unlike stainless steel or plastic, you won't have to worry about scratches or fading, although be aware that you do need to be careful with tea and baked beans as the bowl can stain.
Enamel Washing Up Bowls
If you'd like to inject a touch of retro into your plastic-free kitchen, you're going to adore enamel washing up bowls.
Based on the enamel wash bowls that were popular in the 1940s and 1950s, these bowls are light, easy to care for and very versatile too.
You can find these gorgeous washing up bowls in a variety of places.
We love Etsy for its wide selection of enamel bowls in all shapes and sizes, plus the fact you can find them in quirky colours and designs.
Bear in mind though that lots of products on Etsy are shipped from the USA or Canada, which can be pricey and isn't very eco friendly. Filter the results to look for shops in the UK to avoid this.
Amazon is also a great place to find retro enamel bowls, as is eBay.
Just be sure to measure your sink and double check the dimensions of the enamel washing up bowl before ordering, just to make sure it fits before you part with any cash.
Conclusion
As you can see, though it's hard to find a plastic-free washing up bowl, there are several great options available.
And if all else fails, why not ditch the washing up bowl completely and switch to using a plug in the bottom of your sink instead?
It might not be quite the same as using a washing up bowl, but it's a good plastic-free alternative in the meantime.
If all else fails, go a bit retro and just use a well-fitting plug!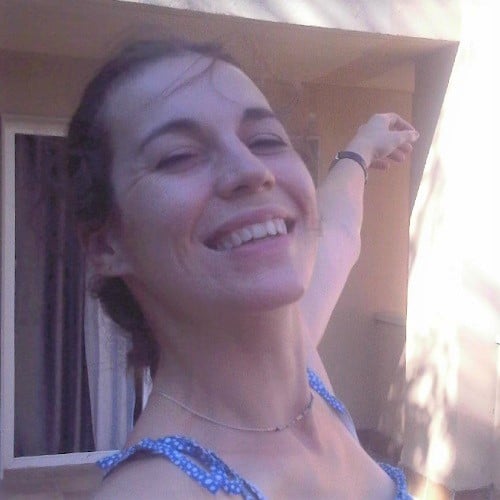 Charlotte Witts is a writer and entrepreneur who wants to show you how easy it is to live a more conscious, zero-waste lifestyle. A confirmed yoga-addict, trail runner and ocean-lover, she currently lives in the Azores where she enjoys the simple pleasures in life.