Nanoparticles are tiny particles which can be found all around us in the natural and man-made world.
You can find organic nanoparticles in volcanic ash, ocean spray, fine sand and dust and even in viruses and the synthetic kind in makeup, cosmetics, suncream and other health products, to name just a few.
Measuring between 1-100 nanometres (1/8000th of the width of a human hair) they're so tiny that they're unnoticeable by the human eye and go largely undetected.
And in themselves, they're not a bad thing at all.
When used intelligently, they could hold the key to treating numerous health problems and even developing technologies to a new level in the future.
However, the problem lies with synthetic (manmade) nanoparticles which were never meant to be ingested.
This includes those found in our makeup, cosmetics, sunscreens and personal care products that we apply regularly to our skin. These same products have been linked to numerous potential health problems.
That's one of the reasons why increasing numbers of people are turning their backs on regular brands of makeup and cosmetics and opting for those nanoparticle-free, toxin-free, eco-friendly versions instead.
To help you out, we've gathered together our favourite of these brands to help you make healthier choices for you and your family.
But before we dive in, let's take a quick look at why nanoparticles could harm our health.
What's the Problem with Nanoparticles?
Nanoparticles are used in makeup, cosmetics and health products to improve the finish and texture of the product, to kill microbes and to lengthen shelf life.
The trouble is, they're also small enough to be absorbed by the body.
Once absorbed through the skin or inhaled, they can cross cell membranes and get into the blood stream, our vital organs and other tissues.
As well as the short-term irritation that this can cause such as coughing, sneezing and wheezing, these nanoparticles can also accumulate in our bodies and lead to serious long-term health issues.
Worryingly, there's an increasing body of evidence which links nanoparticles found in zinc oxide with an increased production of free radicals and DNA damage which can cause disease.
Different types of nanoparticle found in makeup include bismuth oxychloride, mica and talc (talcum powder). There's a small risk that asbestos could end up in makeup via low-quality talc.
But it's not just humans that can be affected by nanoparticles.
Nanoparticles are so small that they can end up in our rivers, streams, oceans and even in our soils.
One study conducted in 2012 showed that soya bean plants absorbed zinc oxide nanoparticles from makeup and cosmetics into their leaves, stems and beans.
The long-term impact of all this is unsure, but evidence so far suggests that we would be better off avoiding personal care products that contain these microparticles and instead choose something natural and safe instead.
1. bareMinerals
View this post on Instagram
BareMinerals create some of the best natural makeup and skincare products on the planet.
Not only are their cosmetic products free from nanoparticles, they're also free from harsh chemicals, phthalates, parabens, palm oils and chemical sunscreens too.
They don't test on animals either and their prices are affordable, making them a great eco-friendly make up brand to choose.
Boasting everything from a stylishly packaged range of makeup products to a deliciously scented, extremely healing range of skincare products they'll provide you with everything you need to take care of your skin, your health and the planet too.
As a vegan, I particularly love the fact they've included a totally vegan range which will give you everything you need to feel at your best without causing animal suffering.
Buy BareMinerals makeup and cosmetics here.
2. Benecos
Benecos believe that cosmetics shouldn't only be free from potentially harmful ingredients like nanoparticles and parabens, they should also be fun, modern and always cruelty-free. That's one of the many reasons we love them!
Using only 100% organic ingredients in their cosmetic products, they proudly harness the power of natural plant oils and waxes to achieve that hydrating, nourishing, protecting and regenerating effect on the skin.
They're also free from mineral oils or derivatives, silicones, parabens, synthetic emulsifiers or their derivatives (PEG/PEG derivatives), synthetic colourants, synthetic fragrances and aromatic substances.
They even produce body-friendly nail varnish! Yay!
Find out where you can buy Benecos here.
3. INIKA
View this post on Instagram
What we love most about this award-winning Australian brand's gorgeous range of natural makeup products isn't just the fact that they're free from nanoparticles, although that is brilliant.
Nor is it the fact that their products are 100% vegan and certified by the UK Vegan Society.
Nor is it the fact that their organic makeup and cosmetics are free from almost any potentially harmful ingredient you might ever expect to find.
It's because you can find detailed information about every single one of the ingredients used in their skin-friendly products (along with pictures) on their website!
Unlike many other natural cosmetics brands you'll come across, their products are absolutely awesome too. They don't just add a splash of colour or coverage when you need it most. They actually help you feel great!
Buy Inika makeup and cosmetics here.
4. Lavera
Lavera is one of the oldest natural cosmetics brands on this list- they started back in 1975 in Germany. Since then they've grown an avid following across the world with people who don't want to compromise on skincare, beauty, health or the environment.
With their astonishingly large range of makeup, skincare, tanning, hair and bath products, and organic cosmetics products for men, they can provide almost anything your heart desires, but without any of the potentially harmful nanoparticles or harsh chemicals.
They're also certified to comply with Ecocert standards which means no GMO, parabens, phenoxyethanol, nanoparticles, silicon, PEG, synthetic perfumes and dyes, animal-derived ingredients (unless naturally produced by them: milk, honey, etc.) are allowed.
We love the fact that all their packaging is either biodegradable or recyclable too!
Buy Lavera organic cosmetics and makeup here.
5. Odylique
View this post on Instagram
If you want to tick as many eco-friendly boxes as possible whilst you find a nanoparticle-free makeup, buy local with the award-wining brand Odylique.
Started back in 1984 in Suffolk, they still create their certified organic products by hand just a few miles where it all started.
Combining knowledge of herbal medicine and aromatherapy, today they offer a stunning range of Fairtrade, GM-free and cruelty-free products that effortlessly combine conscious skincare and beauty.
Although they don't have a huge range of products, that's not a problem when you know your makeup won't clog your skin, harm animals or the planet, and that it has been made with 100% natural vegetarian ingredients.
Buy Odylique makeup and cosmetics here.
6. RMS Beauty
RMS Beauty prove that you can stay on-trend with your makeup habits without harming your health or the planet in the process.
Created by leading make-up artist Rose-Marie whose work has appeared everywhere from Vogue to Calvin Klein ads, this nanoparticle-free cosmetics use raw, food grade, organic, wildcrafted and natural ingredients that are as close to their natural state as possible to help you feel amazing.
With non-toxic organic natural makeup products that aim to heal and nourish your skin, and minimalist, stylish packaging, you'll feel like you're being utterly spoiled with RMS Beauty.
Buy RMS Beauty makeup and cosmetics here.
7. PHB Ethical Beauty
Handmade with love in the UK, PHB Ethical Beauty are a family-run business who create an award-winning range of 100% natural skincare and cosmetics.
Boasting everything you could ever need to look great whilst keeping nanoparticles out of your bathroom, you can choose from mineral foundations, blusher, mascara, eyeshadow, eyeliner, make up remover, vegan brushes and much more besides.
Free from nanoparticles, palm oil, parabens, synthetic ingredients, GMOs, alcohol and harsh chemicals, halal, vegan friendly and fair trade, they certainly boast an impressive range of eco-credentials.
We love the fact that they use recycled packaging and donate 20% of their profit to charity.
Buy PHB Ethical Beauty cosmetics and makeup here.
8. ZAO
View this post on Instagram
Want plastic-free, refillable make up packaging made from sustainable bamboo?
Want conscious, vegan, cruelty-free, gluten-free, organic, utterly gorgeous cosmetics that are also nanoparticle free? ZAO have you covered!
100% natural and free from toxic nasties and talc, they offer long-lasting makeup that will take care of your skin without costing the earth.
They certainly don't compromise on quality either- their range of eye shadows, mascaras, eye liners, foundations, and nail polishes is bright, flattering and actually works better than mainstream brands of cosmetics.
Buy Zao nanoparticle-free make up here.
Conclusion
To recap, the jury is still out on the safety of nanoparticles in our makeup and cosmetics. But it seems that these microparticles are an ingredient that we're best avoiding.
Instead of your regular brands, choose one of the nanoparticle-free brands on our list and protect your health from potential problems.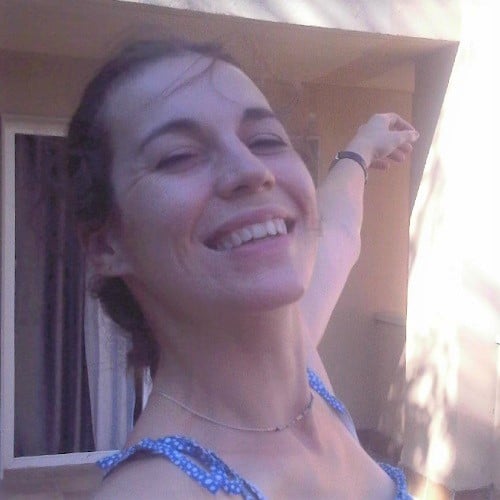 Charlotte Witts is a writer and entrepreneur who wants to show you how easy it is to live a more conscious, zero-waste lifestyle. A confirmed yoga-addict, trail runner and ocean-lover, she currently lives in the Azores where she enjoys the simple pleasures in life.