Tinned tomatoes are one of the most versatile cooking ingredients of all time. From delicious pasta sauces to hearty stews, spicy curries, and pizza bases, canned tomatoes are a staple for all home cooks. But did you know there is often more lurking in the can?
That's right, most tinned tomatoes (and almost all other canned products, for that matter) use the synthetic chemical bisphenol A (BPA) in their linings. The chemical acts as a sealant, preventing whatever is in the can from degrading the metal.
However, this chemical is known to leach into the food over time, turning your tinned tomatoes into a potential health risk.
Thankfully, some brands have found new ways to seal cans without using BPA. But which canned tomatoes are free in the UK? Keep reading to find out, and discover other tips to keep this nasty synthetic chemical out of your body.
What Brands of Canned Tomatoes Are BPA-Free?
In the UK, several brands promise BPA-free packaging for their tinned tomatoes, as listed below.
Many of these brands are available at most British supermarkets, so look for them next time you shop to keep bisphenol A out of your recipes:
1. Biona

Biona is an organic brand whose entire tomato range is produced on an organic Italian farm. All their tinned tomatoes are BPA-free, so you can rest assured that you're not consuming any nasty chemicals.
Biona grows all their tomatoes organically, with no harmful chemicals, pesticides, or fertilisers used in production. They're naturally delicious!
The brand offers several types of BPA-free canned tomatoes, perfect for a range of cooking purposes. Their canned selection includes chopped tomatoes, chopped tomatoes with basil, whole cherry tomatoes, whole plum tomatoes, chopped tomatoes with garlic and oregano, and several multipack varieties.
2. Mr Organic

Mr Organic's tinned tomatoes are another BPA-free option available in the UK, helping to ensure you don't accidentally consume this hazardous chemical. Their tomatoes also have no added sugar and don't use citric acid as a preservative. You can rest assured that you're only putting natural, juicy, sun-ripened tomatoes into your recipes.
Additionally, the Mr Organic range is 100% organic, so no nasty herbicides or pesticides are in sight. They're also a product from Italy but flow to the UK using carbon-neutral methods. You'll find them on the shelves of some British supermarkets, including Waitrose, Holland & Barret, and Ocado.
3. Essential Trading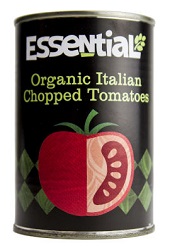 Another brand that sells BPA-free canned tomatoes in the UK is Essential Trading. According to their bisphenol A policy, all products from the co-operative are "BPA non-intent." This means that there is no additional BPA in any of their cans as a sealing agent, but some natural amounts from the environment may be present in some of their products.
Unfortunately, Essential Trading tinned tomatoes are not for sale at UK supermarkets such as Tesco and Morrisons. You can only purchase this brand wholesale through their website, so you might find these products at smaller independent retailers or online.
4. Suma Organic

Suma ensures the packaging for all its organic products is BPA-free, including their organic canned tomatoes.
There are several types of tinned tomatoes in their organic range, including cherry tomatoes, chopped tomatoes, basil tomatoes, and peeled plum tomatoes. This should be more than enough choice to satisfy all your delicious recipes!
Like Essential, Suma organic tomatoes are sadly only available at wholesale through the Suma website. Online health stores such as The Vegan Kind and smaller independent retailers also stock Suma products if you don't want to buy in bulk.
How Do You Know if a Can of Tomatoes is BPA-Free?
As BPA is not added to the food directly, UK brands do not legally need to state whether the chemical is used in their product packaging. Therefore, the only way to tell whether a can of tomatoes is BPA-free is to check the product packaging for a "BPA-free" label. But not all brands will list this!
If you cannot find the information, try speaking to the brand directly and asking for clarification. You can also check for BPA policies on their websites.
The four brands of canned tomatoes listed above are the only BPA-free options we could find in the UK. Unfortunately, they are more expensive than non-organic products and not as widely available.
A good alternative is to purchase glass bottles of tomato passata. Glass is BPA-free, so it's an easy way to protect yourself and your family from consuming this unwanted chemical.
Napolina Tomato Passata in glass is a good option available at major British supermarkets, including Tesco, Morrisons, Asda, Sainsbury's, and Ocado.

Hannah is a freelance content writer passionate about natural health, mindfulness, and the environment. She shares her enthusiasm for a conscious lifestyle on Naturaler, inspiring others to take the steps towards a more natural and fulfilling life