Microbeads are those tiny, solid pieces of plastic that you can find in cosmetics, beauty scrubs, toothpaste, makeup and many cleaning products found in the home.
They're added to products to help exfoliate, control a timed release of ingredients, add extra bulk and to help prolong the shelf life of a product.
However, these plastics are completely non-biodegradable and very harmful for marine life, the environment and human health too.
Thankfully, many countries around the world are getting wise to the dangers and banning the manufacture and import of microbeads and products which contain microbeads.
In this article, we'll explain why microbeads are so bad, which countries have already banned them, which countries are still working on it, and what you can do to help.
What's So Bad About Microbeads?
Microbeads might seem innocent-looking when you see them in that tube of face scrub, but they pose a significant threat to the health of our planet.
When you use one of these products, the microbeads get washed down drains and then washed out into the streams, rivers, lakes and oceans of the world.
As they're so tiny (usually smaller than 5 mm in diameter), they're usually not captured by water treatment systems and instead get eaten or inhaled by animals, ultimately ending up in the food chain.
List of Countries That Have Banned Microbeads
Several countries across the globe have taken positive action to protect the oceans and marine wildlife by banning the sale, manufacture and import of microbeads. These include the following:
Canada: Canada was the first country in the Americas to ban products which contain microbeads. However, at the time of writing, this ban only applies to microbeads smaller than 5 mm.
France: France banned the sale, manufacture and import of microbeads at the beginning of 2018.
New Zealand: New Zealand is the first Australasian country to ban microbeads in rinse-off cosmetics. This came into effect in June 2018.
Taiwan: Like France, Taiwan banned microbeads at the beginning of 2018. This includes their import and manufacture.
South Korea: South Korean also banned the use of microbeads that are smaller than 5mm from their cosmetics. This happened on 1st July 2017.
UK: The UK ban on microbeads started on 19th June 2018. It's one of the strictest bans in the world, prohibiting sale, manufacture and import of microbeads across England, Scotland, Wales and Northern Ireland.
Proposed Microbead Bans
When you consider that there are 195 countries in the world today, the above list doesn't seem as extensive as it should. However, there are many countries which have promised to ban microbeads over the next couple of years. These include:
Australia: Although Australia did promise to ban microbeads by 2017, this has yet to come into effect. Fingers crossed it will happen soon.
Finland: Following a citizens' campaign, Finland also look set to ban microbeads in the next few years.
Republic of Ireland: Ireland has declared that it aims to ban microbeads from sale towards the end of 2018 and fully supports the EU-wide ban of this microplastic product. At the time of writing, the ban is yet to come into effect.
India: India is another country which plans to ban microplastics over the next few years. The date they've set is 2020.
Italy: According to recent legislation, Italy will ban microbeads by 1st January 2020.
The Netherlands: The Netherlands was one of the first countries in the world to declare it's plans to be free of microbeads. Whilst many large companies there have gone microbead-free, there still isn't sign of a full ban in the country.
South Africa: Following the discovery of microplastics in the South African tap water in August 2018, a microbead ban has been proposed. No dates have been set as yet.
Sweden: The situation is looking much more positive in Sweden as they've already implemented a ban on the import and manufacture of products which contain microbeads. A full sales ban is due to come into effect in January 2019.
USA: Whilst the USA banned the manufacture of products which contain microbeads in 2017, it's unclear whether the microbeads themselves continue to be manufactured in the US, or whether products that contain microbeads can continue to be sold.
What You Can Do to Help Beat the Microbead Problem
If you're lucky enough to live in the UK or another country with a full ban on microplastics, it's easy to make the most eco-friendly choice.
There are so many natural alternatives to these microbeads so finding an exfoliating product without them shouldn't be an issue.
However, if you live somewhere without a full ban, it's up to you to make better shopping choices. Find somewhere that sells plastic-free cosmetics or campaign in your local area for a full ban.
There's a wonderful campaign run by Beat The Microbead which is a great source of information and inspiration.
Choose your products carefully, support the bans and you can make a difference to the health of the planet too.
For some more ways to help reduce the impact plastic is having on the environment, see our guide to reducing your plastic usage.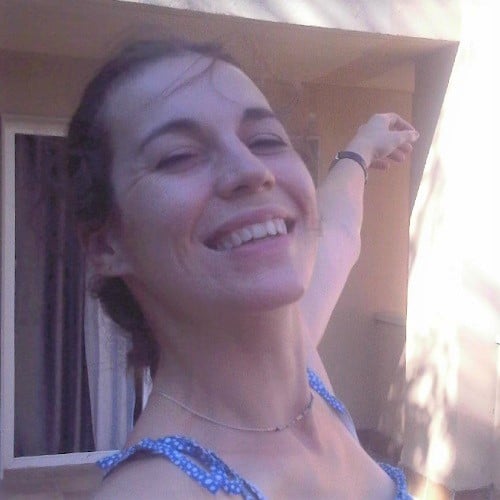 Charlotte Witts is a writer and entrepreneur who wants to show you how easy it is to live a more conscious, zero-waste lifestyle. A confirmed yoga-addict, trail runner and ocean-lover, she currently lives in the Azores where she enjoys the simple pleasures in life.