In this day and age, it couldn't easier to get your hands on quality natural and organic skincare products.
With extensive research and innovation, we are in an age with great understanding of what is and isn't good for our skin.
Unlike many chemical skincare products, natural and organic skincare products are rarely harmful to the skin.
They don't contain any parabens, synthetic fragrances or toxic chemicals, and are developed without animal testing.
Plus, they are sustainable and good for the environment. It is in all of our best interests to ensure we care for the environment, and of course, ourselves.
List of Organic Skincare Brands
Here is a list of organic skincare brands whose products you can buy in the UK:
Best Organic Skincare Brands in the UK
It is incredibly important to take care of one's body, and with these top brands, it has never been simpler or more cost-effective.
Here are some top UK brands for natural and organic skincare…
Evolve Organic Beauty
View this post on Instagram
Evolve Organic Beauty has been in business for around 12 years and traces its history back to when Laura (the founder) found a love for natural ingredients. Together, she and her partner have over 30 years' experience in creating natural products.
Based in Hertfordshire, England, they design and create their wonderful products by hand.
They are an independent British company that brings the "freshness of the precious antioxidants in the natural oils, butters and extracts."
Due to the handcrafted skincare products, and of course their natural and organic origins, their products are always fresh and beautiful.
Why choose Evolve Organic Beauty for natural and organic skincare products?
They use recyclable glass and card packaging
Their PET bottles are made of 75% recycled plastic and are recyclable
Products are 100% vegan
Ingredients are 100% cruelty-free
Buy natural and organic ingredients from as close to home as possible and from fair-trade and sustainable sources
Website: evolvebeauty.co.uk
Green People
View this post on Instagram
Green People started its journey towards natural and organic skincare products in 1994, after the founder's daughter suffered with multiple skin allergies and eczema.
Charlotte (the founder) started Green People in 1997 with the aim to produce natural and organic skincare products that would be able to help people with similar issues to what her daughter was suffering with.
She developed a relationship with European manufacturers that she trusted, and they began to produce.
"With a promise to never use aggressive ingredients or synthetic chemicals such as sodium lauryl sulphate (SLS), parabens, phthalates, petrochemicals, alcohol (ethanol) or synthetic fragrances or colourants, and to never test on animals, Green People was born."
In 1999, Charlotte was invited to be on the Soil Association committee to help redesign standards for organic beauty, which Charlotte had noticed were dreadfully askew.
Charlotte, and later Green People's Cosmetic Scientist Ian Taylor, played a crucial part in setting natural and organic cosmetic regulations.
Green people are known for great skincare products, haircare products, beauty products, and more.
Try out their No.1 cleansers, serums, moisturisers and eye creams.
Why choose Green People for your organic skincare products?
Against animal testing
All products are vegetarian
The majority are certified by The Vegan Society
Use organic plant actives like Aloe Vera, Green Tea, and Rosemary which are high in antioxidants 99% active natural and organic ingredients
Charlotte has turned down offers from leading pharmacies and retailers who did not follow her ethical standards
Website: greenpeople.co.uk
Herbfarmacy
View this post on Instagram
Since his childhood, founder Paul Richards has been inspired by plants, so it's not surprising he started an organic, natural business.
Herbfarmacy is located in Herefordshire, England, and Paul Richards has had his own organic farm for over 32 years.
"From the hydrating Marshmallow, to the calming Calendula and soothing Comfrey, each plant we grow goes into our products so that you get the very best organic skincare around."
Their products cover organic facial products, body products and wellbeing products.
Why choose Herbfarmacy for natural and organic skincare products?
They oversee every stage of the plant's journey, sowing and harvesting each flower by hand and blending the herbal oils to create their organic skin care products
Free from any parabens, phthalates, SLS, artificial fragrances, formaldehyde, nanoparticles or propane/petroleum
Against animal testing: registered as a certified cruelty-free company with PETA's Beauty Without Bunnies Program
Certified organic by the Soil Association.
Friendly to the Earth: cardboard boxes are printed by a local company using only soy-based vegetable inks. The boxes are recyclable, biodegradable and sourced via sustainable methods that are certified under the Forest Stewardship Council (FSC). Uses only green energy on the farm, harnessed from renewable sources, such as sunshine and wind.
Certified Ethical Company after a full ethics audit by The Ethical Company Organisation
Fair Trade
Supports local charities
Website: herbfarmacy.com
Neal's Yard
View this post on Instagram
Since 1981, Neal's Yard have been providing natural skincare products to the public with an aim to aid beauty in an organic way.
Located in London, Neal's Yard has received numerous awards for its excellent natural skincare products.
Romy (the founder) opened the store in 1981, quickly developing a trusted product called Frankincense and Myrrh Skin Cream. Another product became a customer favourite, the Wild Rose Beauty Balm which is also a multi award-winner.
They have since expanded outside of London due to an increase in popularity and demand.
Newer locations include Oxford, Cheltenham and Brighton.
Why choose Neal's Yard for organic and natural skincare?
100% vegetarian
PETA and FRAME recognised
Sustainable
Approved under BUAV's humane cosmetic standards
Launches bottles made from 100% post-consumer recycled plastic
Planted over 700 native trees and shrubs for the woodland trust's diamond jubilee in Peacemarsh
Supports organic farming, sustainable wild-harvesting and fair trade programs
Website: nealsyardremedies.com
Rawgaia
View this post on Instagram
Jessica Michael had a vision to develop pure, cold-pressed/raw, organic, natural, superfood skincare products. Jessica and her team hand-make the products in small collections near the ocean in Brighton (UK).
They strive to produce "pure, organic, plant derived skincare by blending the highest quality raw botanical ingredients gently together under low (cold processed) temperatures to formulate exquisite, nourishing skin food."
Their product range includes: toners, cleansers, exfoliators, moisturisers and creams, face packs, eyes and hair care, beauty rituals, ritual kits, and much more. Everything you will need for your natural and organic skincare routine.
Why choose Rawgaia for natural and organic skincare products?
Registered to COSMOS Organic Standards with Soil Association certification, Cruelty Free International (Leaping Bunny) and also the Vegan Society.
Strictly against animal testing
Favour locally resourced ingredients
Packaging chips in your order are 100% biodegradable and can be added to your compost heap, or these have been recycled from previous packaging
Website: rawgaiabyjessica.com
Odylique
View this post on Instagram
Margaret, the founder of Odylique, started to make natural ingredient skincare products over 30 years ago.
Due to her allergy-prone skin, she was resolved to find a remedy for her family's eczema problems.
She launched her business with her daughter and her husband in 2003 in Suffolk, with a dedication to natural, healing minerals.
With her experience and qualifications in herbal medicine and aromatherapy, she was able to produce excellent skincare products that work.
Their philosophy is "all ingredients must have therapeutic value, and the product must be a joy to use."
They cover products for body, face, mothers and babies, make-up, hair, and skin concerns – all organically made.
Why choose Odylique for natural and organic skincare products?
Use actives: herbs and essential oils in therapeutic concentrations for optimum benefit. Plant oils must be virgin and cold-pressed so that they have their full antioxidant vitamin-content intact, so as to actively nourish the skin and protect it from premature ageing.
Adheres to Soil Association standards
Products tested on human volunteers with sensitive or allergy-prone skin; no animal testing
Excludes lanolin, wheat, dairy and soya derivatives, salicylic acid, peanut oil, common allergen tree nut oils, and more
Website: odylique.co.uk
Affordable Organic Skincare Brands
Organic skincare products are often more expensive than their non-organic counterparts.
Here are a few affordable brands if you want to switch to using organic products without having to spend a lot of money:
Best Organic Skincare Products in the UK
Our skin is super important – we're stuck with it for our entire life, so we should treat it with the utmost respect!
Using a whole bunch of lotions and potions on our bodies is all very well, but are the ingredients in your favourite products actually helping your skin, or stopping it from looking and feeling its best?
Organic is the buzzword of the moment and plenty of cosmetic companies have started creating their own 'organic' products, with new brands popping up all over the place.
From face creams to serums and oils, here are some of the best organic skincare products in the UK at the moment.
1. Green People Anti-Ageing 24-Hour Cream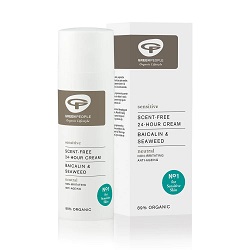 If you want a cream which can be used day or night and that will reduce the look of wrinkles while keeping your skin silky soft, then look no further.
Green People's 24-Hour Anti-Ageing cream contains only the most natural of ingredients – vitamins and minerals from seaweed and avocado help to keep your skin naturally moisturised and jojoba and squalane maintain a good level of skin hydration.
The anti-ageing properties come from a natural Baicalin which protects the skin cells and prolongs cell life.
This cream is also suitable for those who suffer from dry or sensitive skin.
Pros
Scent free
Anti-ageing
Suitable for day and night use
Free from harsh ingredients
Cons
May not be suited to all skin types
Mild scent of product may not suit all
2. Optima Organic Raw Virgin Coconut Oil

Coconut oil is the ultimate multitasker. Not only can it be used to cook, but you can use this on your skin, hair and even teeth!
Optima's 100% organic coconut oil is completely raw, made from non-GM coconut flesh (not dried copra product) and is produced using a cold processing method to retain vital nutrients and omega fats.
Coconut oil has amazing moisturising benefits as well as being naturally antibacterial.
Coconut oil on its own can substitute body butter, body oil, cuticle oil, moisturiser, body scrub (just add sugar)… the list goes on.
This jar is very generously sized, so it should last for plenty of applications.
Pros
100% organic
Non-GM
Antibacterial & anti-fungal
Multi-purpose product
No artificial scent
Cons
Relatively expensive
Scent may not be strong enough for some
Risk of jar breaking in transit
3. BeYouthful 100% Pure Organic Cold Pressed Rosehip Oil
BeYouthful has created an organ cold-pressed rosehip oil made from 100% pure, natural ingredients.
This oil is perfect for daily use on your face and neck – just a couple of drops are needed on your palms before smoothing it into your skin.
This organic oil is said to keep your skin supple and looking fresh and young, so it can also be used to help reduce the look of wrinkles, scars and stretch marks on the body.
Rosehip oil is not only great for softening your skin, it is also amazing for nails and hair, as it contains a multitude of vitamins (A, C, D and E) and antioxidants – rejuvenating hair and strengthening nails.
Kate Middleton is said to be a fan of using rosehip oil in her beauty routine and her skin and hair look pretty flawless!
Pros
100% organic
100% pure, natural ingredients
Filled with vitamins and omega fatty acids
Works for all skin types
Easy to apply
Multi-use
Cons
Relatively pricey
May cause allergic reaction in some people
Scent may not be suited to all
Might not suit sensitive skin
4. Green People Hydrating Firming Serum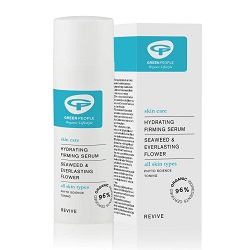 Perfect for those who are looking for smoother, firmer skin, Green People's Hydrating Firming Serum is made from a whole host of great natural ingredients.
Enteromorpha Compressa (seaweed) helps to boost collagen levels in the skin, plumping and reducing signs of wrinkles, while chamomile and marshmallow calm redness or inflammation.
This small but mighty serum should be used sparingly, as a little goes a long way – apply morning and night after your usual cleansing routine to benefit from the firming and hydrating properties of this serum.
Scented with rose geranium, your skin will not only look good, but also smell delightful, making application a pleasure.
The rose geranium ingredient also helps to balance the production of sebum, so this product would work wonders on oily skin types as well as dry.
Pros
96% organic
Pleasant floral scent
Reduces wrinkles
Hydrates skin
Suitable for many skin types
Good for dry or sensitive skin
Cons
Expensive
May feel sticky on application
Slightly runny consistency – could end up applying too much
5. Sky Organics Organic African Black Soap
African Black Soap has been used for hundreds of years by the women of West Africa, who would make this soap to clean their skin and hair.
It's now a readily available product which has been said to help reduce acne, eczema and rashes as well as keeping skin looking younger and softer.
This Fairtrade soap from Sky Organics is made in Ghana using palm oil, coconut oil, shea butter, cocoa butter, plantain skin and natural vitamin E.
With so many great ingredients, it's no wonder this product does wonders for your skin.
If you want an all-round cleanser, moisturiser and toner, then African Black Soap could be the product for you.
It also has anti-ageing effects too!
Pros
100% natural
Cruelty-free
Fairtrade
Fragrance-free
Additive and Chemical-free
Good all-rounder (cleansing, toning, anti-ageing, moisturising…)
Cons
May have natural debris in it – stones, hay etc. from production
Handmade – each bar will differ
Might not suit all skin types
Natural smell may not be suited to all
Could be messy due to plantain ash ingredient
6. Fysio Organic Beeswax Cream
Fysio Organic Beeswax Cream is a natural moisturiser for repairing dry or damaged skin, from hands to elbows to knees.
Made using beeswax, olive oil, coconut oil and shea butter, this cream should help to smooth skin with prolonged use while aloe vera helps to reduce redness or inflammation which can be caused by dry, patchy skin.
You can use Fysio's cream on problem areas regularly to benefit from the intense moisturising properties – elbows, knees, heels… anywhere that takes a lot stress and abrasion.
Beeswax cream helps to lock in moisture without feeling greasy and will deter skin from drying out quickly and becoming chapped or irritated.
Fysio Organic Beeswax Cream should be suited for use on all skin types, including oily and sensitive and could be used in addition to after-sun if you have sunburn.
Pros
100% natural & organic
Additive and chemical-free
Great for different skin types
Good for family use
Intensive natural moisturiser
Pleasant scent
Cons
Relatively expensive
May be a little greasy when using on hands – takes a while to sink in
Could contain allergens for some people
May be hard to apply – temperature will affect consistency
7. Naissance Organic Cold-Pressed Virgin Neem
Neem is rich in essential fatty acids, is an antioxidant and contains vitamin E, so it's perfect for keeping skin healthy, soft and supple.
Naissance Organic Cold-Pressed Virgin Neem would be a great addition to your skincare routine, especially if you suffer from particularly dry skin or have more mature skin.
It fights free-radicals which can cause damage to the skin and also acts as a great skin conditioner – a light coating of neem oil will help to seal in moisture.
Neem oil is also great for your hair and can be mixed with coconut oil to create a nourishing hair mask, helping you to achieve soft, shiny locks and a healthy scalp.
It's recommended that neem be used with a carrier oil to get the best results and reduce the potent scent – coconut oil is perfect for diluting neem before applying it to your skin or hair.
It's actually a great pesticide, so could be used to get rid of your kid's nits or mites and ticks on your pet, but always consult a vet before trying something new on your pet.
Pros
Good value
100% pure, natural ingredients
Additive and chemical-free
Suitable for all skin types
Cruelty-free and vegan-friendly
Multi-use
Cons
Smells potent/bad
Needs to be heated lightly before use
Doesn't look very appealing
May not be suited to all skin types
Organic Skincare FAQs
What is organic skincare?
Organic skincare refers to skincare products that contain some organic ingredients. Very few skincare products are 100% organic, as sourcing organic versions of each ingredient can be difficult and expensive.
Is organic skincare the same as chemical-free or natural skincare?
Everything is made up of chemicals, so the term "chemical-free" is a bit of a misnomer. However, it's a useful shortcut for referring to products made without harmful artificial chemicals.
Organic skincare products are usually "chemical-free" according to this definition, though some products can combine organic natural ingredients with potentially harmful synthetic chemicals, so it's a good idea to scrutinise the ingredients list.
Is organic skincare the same as zero-waste skincare?
No. Zero-waste refers to products that come in recyclable or biodegradable packaging. Zero-waste products are usually plastic free, whereas lots of organic skincare products come in plastic packaging.
Conclusion
There are so many great, natural products which can be used to effectively improve skin quality (and hair).
It is important that we all start to make a move towards natural and organic products in order to save our planet and ensure we have healthy, happy bodies.

Naturaler is a UK website full of tips and recommendations for living a more eco-friendly, chemical-free and natural lifestyle.