It seems these days like we are surrounded by toxins.
There are endless news stories about new pollutants in our food, in our air and in our water. But is this true?
Tap water is cheap and plentiful in the UK, but a percentage of Brits are turning to bottled water as an alternative.
What's behind this trend, and what impact does buying bottled water have?
Advocacy group Tapp Water asked the British public where they get their drinking water from and found that:
66% drink the water directly from the tap.
34% use a filter of some kind.
15% mainly drink bottled water.
While most of people still rely on good old tap water for drinking, in today's chemical-laden world we are increasingly asking, is that a safe choice?
Ultimately what is the better, safer option: tap water or bottled water?
Can Tap Water Make You Sick?
The safety of tap water varies from country to county and from area to area. Luckily for Brits, the water in the UK is among the safest in the world, in terms of bacteria at least.
You are unlikely to get ill from drinking British tap water, as it has undergone a long and involved process of decontamination and sanitation before it reached your tap.
Water treatment facilities put water through several rounds of filtration, targeting different contaminates with different filtration processes before it is finally disinfected with chemicals such as chlorine.
This means that the water coming out of your tap should have been cleared of most foreign substances and bacteria.
Tap water is subject to regular testing, with a high set of standards, by the Drinking Water Inspectorate (DWI).
2014 testing showed a compliance rate of 99.96% in England, 99.98% in Scotland and 99.86% in Northern Ireland.
According to Professor Paul Younger, from Glasgow University, "Water coming from UK taps is the most stringently tested in the world."
Are There Harmful Chemicals in UK Tap Water?
Safe, clean tap water is something most of us take for granted here in the UK.
But in the past, our water supply wasn't as safe and healthy as it is today.
In the summer of 1849, 10,000 Londoners died in one cholera outbreak.
A scientist named John Snow proved the link between cholera and contaminated water in London, and as the link between water quality and good health became more obvious, improvements were made to how the city supplied and managed water.
Scientists also discovered that adding certain chemicals could improve water safety through disinfection, and began to add chlorine to UK tap water in the late 1800s.
From the 1960s onwards, many areas in the UK also added fluoride to their water supply to help compact tooth decay in children.
UK tap water can contain up to 14 different chemicals.  Here's a little information about some of the most common chemicals found in our drinking water, and the problems they may or may not pose to our health.
Chlorine
Chlorine is added to tap water to kill bacteria that can lead to cholera, dysentery, hepatitis A, typhus and other water borne diseases.
It is normally added in low concentrations, below the World Health Organisation (WHO) limit of 5mg/l.
Adding chlorine to tap water is currently the cheapest and most effective method for treating the bacteria found in drinking water supplies, and chlorine successfully kills most water-borne diseases.
The low levels of chlorine found in our tap water (0.5 mg/l or less) is not considered to cause any health problems, and the World Health Organisation (WHO)  assures that "any risks to health from chlorination by-products are extremely small in comparison with the risks associated with inadequate disinfection" (source).
The Drinking Water Inspectorate (DWI) claims that the levels of chlorine added to UK tap water are perfectly safe, however, there are some concerns that chlorine is actually linked to cancer.
A 1980 report from the Council on Environmental Quality fond "significant evidence" of a higher cancer risk among people who drink chlorinated water, a finding not disputed by chlorine manufacturers.
As reported by The Washington Post, "The studies found risks among chlorinated-water drinkers to be from 13 percent to 93 percent higher for rectal cancer and around 53 percent higher for colon and bladder cancer."
A US study conducted found that women with breast cancer have 50-60% higher levels of chlorine by-products in their breast tissue than women without cancer, reported Scientific American, which said "The link between chlorine and bladder and rectal cancers has long been known, but only recently have researchers found a link between common chlorine disinfectant and breast cancer."
There are known health risks associated with consuming high levels of chlorine such as headaches, dizziness, and breathing difficulties.
It's extremely unlikely that the level of chorine in tap water would ever pose a threat due to the stringent testing here in the UK, but if you're ever worried that your water may have an increased amount of chorine (you might notice the "swimming pool" type smell or taste), it's advisable to contact your local water supplier.
Even if you're not worried about chlorine, you might not like the taste of it.
You can either use a water filter to remove it (see more about water filters later in this article), or simply let a glass of uncovered water sit on a bench for 24 hours to allow the chorine to evaporate.
Fluoride
Fluoride is a naturally occurring mineral found in water, but in some areas of the country additional fluoride is added to tap water in an attempt to help reduce tooth decay (a controversial process known as fluoridation).
It's over 50 years since fluoridation was first introduced and many people have strong views either for or against its use in tap water.
Many countries ban fluoride from being added to the water supply.
The water supply in some countries such as China and India is naturally high in fluoride, so fluoridation could be dangerous.
Fluoride consumption has been linked with numerous health conditions from hypothyroidism to cancer.
In particular, a bone cancer called osteosarcoma is thought to be more prevalent in areas with fluoridation, although studies made in this area have had conflicting results.
But does fluoride really help prevent tooth decay?
The Oral Health Organisation believes it does, and states that fluoridation is the "most important single measure that the UK Government can take to bring a substantial change in the nation's oral health" (source).
However, other experts believe that fluoride in water isn't really helpful for preventing cavities, and is not as effective as other methods such as improved dental hygiene.
Pesticides
Other chemical dangers in modern tap water include pesticides and herbicides that have seeped into the water supply from agriculture, and pharmaceutical residues from current medical practices.
According to the DWI, groundwater may contain traces of pesticides, as a result of agricultural and non-agricultural use, that water companies attempt to remove with carbon filters, sometimes with ozone processing.
Water companies are legally required to assess the risk of pesticides in their water sources and meet testing requirements according to the European Drinking Water Directive standard of 0.1μg/l (microgrammes per litre) or one part in ten billion.
The chemical metaldehyde, used in slug pellets, has been a particular issue, with Anglian Water claiming in 2016 that it would need £600 million to treat the substance – making it the only water company in the UK to operate a metaldehyde treatment facility.
Some providers like Severn Trent Water and Wessex Water work with local farmers to minimize the amount of agricultural chemicals that end up in the water. In the opinion of Water UK, voluntary action and stewardship has been somewhat effective in reducing metaldehyde on a small scale, but that wide reaching regulation is required for large scale success.
Lead
Many of us in the UK live in homes that were built before the 1970s, which can mean water enters our homes through lead pipes.
Lead is extremely dangerous if consumed in significant amounts, and babies and children are particularly vulnerable.
The levels of lead found in water will depend on factors such as how long the water is exposed to lead pipes, and the level of corrosion of the pipes.
You can learn more about how to check if the pipes in your home are made of lead on the WaterSafe website here.
If you do find lead pipes in your home, WaterSafe recommend contacting a plumber to replace them as soon as possible.
If you're waiting to have lead pipes replaced, the safest thing you can do in the meantime is always run your taps to remove any water that has been standing overnight or for any length of time.
Aluminium
Water companies often use aluminium as a water purifier to make water look and taste better.
It's the third most plentiful element on the planet, so it's also cheap and easy for water companies to get hold of.
But worryingly, there is "some circumstantial evidence to suggest that aluminium may play a part in the deterioration of brain cells and consequential dementia in humans, such as might cause the onset of Alzheimer's disease" (source).
Scientists do not yet fully know the effects of exposure to low levels of aluminium over a long period, but there is growing concern about a possible link between aluminium exposure and the development of neurological diseases.
Pharmaceuticals and hormones
Modern pharmaceuticals and hormones are also making it into the water supply, due to the fact that they are designed to be stable and long lasting, therefore not breaking down after being excreted.
According to Brunel University London, "Every time you enjoy a cool, clear glass of tap water, you could be drinking a cocktail of other people's second-hand medications."
That's quite a dramatic statement, but what does it mean exactly?
A US study published in the journal Environmental Science and Technology Letters, tested the water from 59 small streams and found the anti-diabetic drug, metformin, in almost every one.
But this isn't only an American problem. As reported in The Guardian, rivers around the world are being polluted with residues from drugs such as analgesics, antibiotics, anti-platelet agents, hormones, psychiatric drugs, antihistamines, and this flow could increase by two thirds by 2050.
A York University study analysed water from the rivers Ouse and Foss and found traces of 29 different medical drugs, including compounds used to treat antidepressants, antibiotics and medicines to treat epilepsy and diabetes.
Hormones from the contraceptive pill have also been detected in waterways, with concerns about endocrine-disrupting properties on wildlife and humans.
According to the DWI, endocrine disrupting chemicals from the pill are easily broken down during water filtration and do not pose a risk to tap water, although they can be damaging to wildlife and the environment.
Currently, Water UK has not recommended any measures be taken to introduce standards for pharmaceuticals in drinking water.
The DWI has also come to the conclusion that drugs do not pose a significant public health risk at levels found in tested samples.
Not every member of the public may be willing to take that risk, however. As said by Dr Klaus Kuemmerer, professor of sustainable chemistry at Germany's University of Luneberg, "We don't know what it means if you have a lifelong uptake of drugs at very low concentrations."
Is Bottled Water Better?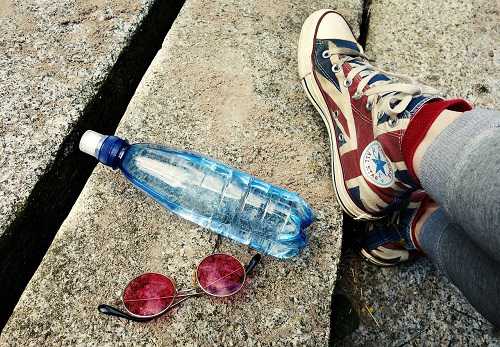 While most people still rely on tap water, Packaging News revealed that "UK consumption of water drinks rose 7% in 2017 to nearly 4,000 million litres, with a retail value of £3.1bn, while sales of plain bottled water in retail packs increased by 8% to over 3,100 million litres, and volume through bottled water coolers grew a more modest 2% to 310 million litres."
The UK bottled water industry is worth over £2.4 billion per year.
We all know that bottled water is far more expensive than the cheap stuff you get from the tap, but did you realise that bottled water retails at least 500 times the price of tap water?
That cost adds up fast and the fact is that most Brits could do without the financial strain of relying on bottled water.
And of course the environmental impact of all that plastic has become a huge problem.
The so-called Great Pacific Garbage Patch of plastic floating in the ocean has recently alerted many to the dangers of single use plastic waste on our environment.
But despite these reasons not to buy water in a bottle, The Telegraph reported in August 2017 that sales of bottled water has exceeded cola sales for the first time, as people have become more aware of the health dangers of sugary drinks.
But why did those people turn from fizzy drinks to bottled water, instead of good old tap water? Is bottled water simply healthier and safer than tap water?
When travelling, bottled water may well be the safer option as some countries do not have adequate water treatment facilities, or you may just find yourself sensitive to unfamiliar microbes.
But at home in the UK, there is no evidence to show that bottled water is the healthier option.
In fact, it may well be the opposite.
A Telegraph report from 2013 surprised many when it revealed that bottled water is actually far more likely to be contaminated than tap water in the UK. As we saw earlier, tap water undergoes stringent daily testing and inspection.
Bottled water does not have to live up to this standard, with manufacturers only obligated to perform monthly testing at the source.
Also, bottled water doesn't contain added disinfectants like chlorine.
While a bottle is sealed, this may not be a problem, as long as the source water was clean, but once opened, bottled water is more likely to play host to bacteria and pathogens than water from the tap.
While chlorine in tap water may be a mixed bag in terms of costs and benefits, it does at least keep pathogens at bay. In order to stay safe, bottled water should be drunk within a day, as it can pick up bacteria from your hands, face or the general surroundings.
Another problem related to bottled water relates to plastic packaging. Plastic, as a synthetic product, is full of chemicals, many of which have an unknown effect on human health.
Although manufacturers rarely inform consumers about what chemicals may be hiding in the plastics used to package food and beverages, one well-known substance in Bisphenol A, otherwise known as BPA.
BPA is known to have endocrine-disrupting properties and has been shown to cause cancer in rats. It's difficult to tell how much BPA leaches into food and drink, but we know that it does because it has been detected in human urine, blood and sweat.
In fact, BPA has been found in the urine of 95% of Canadians.
Heat is one factor in leaching, as is storage time. While tap water reaches you within hours or days after treatment, bottled water could be sitting on the shelf for months before you even purchase it.
BPA is still a controversial chemical and while Breast Cancer UK has called for its removal from all food and drinks packaging, the European Food Safety Authority (EFSA) has ruled the substance poses no risk to human health at the levels currently regulated.
Due to public concerns, some bottled water manufacturers have switched to BPA-free packaging, but as reported in New Scientist, these alternatives may contain even more dangerous chemicals.
There are many reasons to avoid bottled water, whether you are worried about your health, your wallet or the environmental impact of plastic packaging.
Is it Safe to Drink Tap Water from the Bathroom?
It may be safe to drink the water in some bathrooms, but not others; the answer to this question depends on your house and its plumbing setup.
While kitchen taps are generally connected directly to the mains water supply, ensuring that you are getting relatively fresh water every time, some bathroom taps are connected to a storage tank that can hold water for a long time, making contamination more likely.
Older houses in particular may have a water storage tank in the attic that is connected to the bathroom taps; the longer water is stored, the greater opportunity there is for bacteria to grow and potential contaminants like leaves or even small animals and rodents to find their way in to your water supply—the final episode of classic TV comedy Fawlty Towers even featured two dead pigeons in the water tank as a health code violation.
According to the Dee Valley Water company, the hot tap is the one most likely to be connected to a storage tank for heating purposes and may not be as fresh as the cold-water supply.
If you've ever been on a plane, you may have noticed that the water in the restroom is labelled "non-drinking water" – this is because the water has been stored in a tank on the aircraft and may have been subject to contamination during this time.
According to the Independent, onboard staff are not informed when or how often these tanks are cleaned.
Air hosts and hostesses avoid drinking tap water (including the water used to prepare tea and coffee on the flight), and perhaps you should do. "I won't drink the tap water," Jenny, a career air hostess for a major U.S. airline told Time magazine, "I just don't always trust the cleanliness of the aircraft and the testing of it."
The U.S. Environmental Protection Agency (EPA) found that one in every eight planes fails the agency's water standards testing and that 12% of tested tap water samples from planes contained coliform bacteria (found in faeces), including the potentially deadly e-coli bacteria, despite water safety regulations enacted in 2011.
One study published in the International Journal of Environmental Research and Public Health in 2015 found that aircraft water tanks are "conducive for microbial growth," especially on long-haul flights where the water is likely to sit for a longer period of time.
Hotels and other public facilities may also provide washing water labelled "non-drinking water" for the same reason. Stored water is more likely to be contaminated and is not necessarily safe to drink.
Another factor in the safety of your bathroom water is the material of your pipes.
Houses built before 1970 often have lead piping that can contaminate our water, and even newer houses can also have copper pipes that have been joined with lead solder.
While you are unlikely to suffer from lead poisoning using bathroom water to wash, if the pipes are made from lead, the water may not be safe to drink.
Again, a tank can pose a problem here, as stored water may have been sitting in the pipes absorbing lead and other contaminants, while water coming in straight from the mains is unlikely to have time to absorb lead from your pipes.
In order to find out whether your bathroom water is safe to drink, the most important step is to find out whether your taps are connected to the mains or a storage tank and heater.
Is Tap Water Safe to Drink in London?
The water in London is as safe as any other water in the UK; it won't make you acutely sick and has been treated thoroughly with disinfectants. While it may be safe, the water in London and the south of England has a bad reputation for its flavour.
70% of London's water comes from reservoirs that have been filled with water from the river Thames and is subsequently treated to remove impurities. Yes, that means some of that water is from recycled, treated sewage.
That may sound disgusting, but all of London's water is treated and tested for safety and purity before it gets to your tap.
Thames Water, a supplier for much of London's water, takes over 500,000 water samples each year and tests them according to independent legal standards overseen by the Drinking Water Inspectorate (DWI) and designed to manage the microbiological, chemical and aesthetic integrity of drinking water.
A 2008 study by the DWI even found that London's drinking water was the safest in Britain, finding that water in the Thames region passed its tests 99.98% of the time.
30% of London's water supply is from groundwater that comes from deep wells. Groundwater is typically "hard" or rich in minerals, also known as chalks or limescale.
Particles of calcium, magnesium and other minerals are suspended in the water and causes no harm to the human body, though it can affect the taste negatively, especially if you are used to softer water.
One easy solution is to use a simple carbon water filter to remove some of those particles and give your water a "sweeter" flavour, as well as reducing the severity of limescale build-up on your kettle and other appliances.
On the other hand, some native Londoners love the taste of their local water, so it all depends on what you are used to…
Should You Filter Tap Water?
Whether or not you decide to filter your tap water is a personal choice.
In the UK, there is no need to filter drinking water for the purpose of removing harmful bacteria, but there are other reasons that people may choose to filter their water.
One reason is taste. Some areas of the UK have very hard water that is flavoured with minerals suspended in the water, and can have a slightly metallic taste that some people may not like.
Filtering hard water before putting it in a kettle or using it to clean up can also reduce the build-up of watermarks and limescale (mineral deposits) around the house.
Another reason to filter tap water is the possible presence of chemicals like disinfectants, as well as pesticides, herbicides and pharmaceutical residues that may have found their way into your local water supply.
Tap water is treated with chemical disinfectants like chlorine that can affect the taste of your water, as well as posing potential unknown health implications when consumed.
The controversial chemical fluoride is also added to tap water in some areas of the UK.
While consuming water straight from the tap won't make you acutely sick in the UK, low levels of chemicals consumed over time may build up in your system and can undoubtedly affect your body in ways that have not yet been identified.
Filtering your water can remove or reduce such chemicals in your water before you drink it, but water should be drunk fairly soon after filtration, before bacteria have a chance to start growing.
The type of filter you use would depend on what substances you are hoping to remove from your water. The cheapest and most widely available options are carbon filters, which use activated charcoal to trap pollutants via a process called adsorption.
Carbon filters can remove some bacteria, sediment and various chemicals including chlorine by-products, and some pesticides and herbicides.
While it's thought that carbon filters can't remove dissolved minerals or salts, water that's been filtered in this way generally tastes "softer" than hard tap water. Carbon filters can't remove fluoride.
Common water filtration jugs like the Brita utilise carbon filters, as do many units that can be attached directly to your taps or shower head.
For people considering a more drastic water filtration step, two options are reverse osmosis filtration or ion exchange filtration.
Both systems require installation into your plumbing, normally under the kitchen sink, and each has its own pros and cons.
Reverse osmosis is extremely effective at removing contaminants and chemicals, including chlorine, fluoride and 95-99% of total dissolved solids.
However it causes a lot of waste, as around a third of the water used in processing is discarded.
It also softens water by removing minerals which our bodies need in moderation and which are often consumed in water.
Reverse osmosis can't remove particles smaller than water, such as pesticides and herbicides, but some units include an additional carbon filter to adsorb these chemicals.
Ion exchange filtration is generally used to soften water and can be used in conjunction with other filtration systems if further purification is needed to remove bacteria and chemicals.
Where Does UK Tap Water Come From?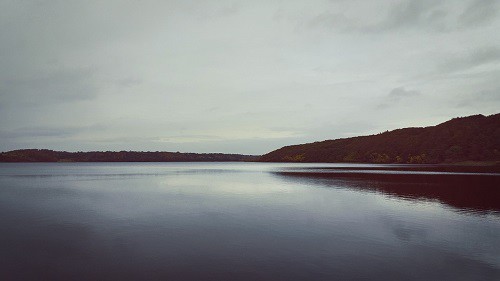 Drinking water in the UK typically comes either from aquifers (underground sources of water filtered through rock, also known as groundwater) or surface water, found in rivers, lakes and reservoirs.
Groundwater is typically access via boreholes or deep wells with pumps that draw the water up from the earth – this water is typically cleaner that surface water, but is also likely to be "hard water," containing lots of minerals.
Surface water is typically more "soft water" but is more likely to be contaminated with harmful bacteria.
The proportion of your water type depends on where you are located and which water supplier you use.
Water sources vary according to region; while most drinking water comes from surface sources, the southern UK gets a significant amount of water from aquifers, while the northern UK relies almost exclusively on surface water.
The BBC even conducted a taste test to finally settle the question, "Is there really a north-south water taste divide?" based on the hardness and qualities of water from different sources and regions of the UK.
England and Wales get about a third of their water from aquifers, while Northern Ireland gets 6% of its water from underground and Scotland only 3%.
Overall, surface water from rivers, lakes and reservoirs accounts for around 68% of the UK's tap water.
But the origin of the water that comes out of the taps in your home can vary even according to your county or district.
For example, Southern Water supplies Sussex and Kent with 70% groundwater, 23% river water and 7% from reservoirs owned by the company.
Meanwhile, Anglian Water provides 50% each of groundwater and surface water and Yorkshire Water uses 45% from reservoirs, 33% from rivers and 22% groundwater.
To find out where your water comes from, contact your local water company or check out their website.

Naturaler is a UK website full of tips and recommendations for living a more eco-friendly, chemical-free and natural lifestyle.