Many people use fake tan to keep their summer tan going all year long.
Just by slathering the stuff on your skin every so often, you can keep your body looking bronzed without getting exposed to harmful UV rays.
However, a lot of fake tan products contain chemicals and other nasty stuff that are actually far more damaging to you than UV rays.
There are some fake tans that use natural products to recreate the bronzed summer feeling all year long, though.
If you are looking for a natural self tanner, here is a list of the best available in the UK.
We'll be going into detail about the nasty stuff in fake tan a little further into the article.
So, if you're interested in what makes fake tan so bad, stick around. But first, here's a list of what we consider to be the top 3 nearly-natural tanning products.
These products still contain some of the harmful stuff found in other fake tanning procuts, but not as much.
Best Natural Fake Tan Products in the UK
1. Green People Self Tan Lotion
This self-tan lotion uses DHA, which is a sugar that turns your skin brown.
This tanning lotion is quick-drying for easy application no matter when you need a tan the most. It is also non-greasy unlike other tanning lotions and leaves your skin nice and supple.
One of the loveliest things about this self-tan lotion is that it is scented with natural oils. This is only a light scent, but it is a very nice touch.
Green People avoid using harmful chemicals as much as possible. They make great products, just like this self-tanning lotion that really do their job just as well as the non-natural products on the market.
2. TanOrganic Certified Organic Self-Tan Lotion
TanOrganic is the first self-tanning company to be "Eco-certified". This means that their tans don't contain any synthetic ingredients at all. So, this is as natural of a fake tan that is possible.
This lotion goes on very nicely, doesn't leave any streaks and doesn't have a smell at all. It is also anti-ageing and provides a perfect fade.
What more do you need to know? This self-tan is fantastic; it provides the bronzing that your skin needs and doesn't contain any harmful chemicals or synthetic ingredients.
If you are looking to go natural and don't fancy using the sun's rays to get your tan, use this self-tan lotion, it's the next best thing.
3. VITA LIBERATA Organic Gradual Tan Lotion
This self-tan lotion applies clearly and then develops into a lovely looking tan. This can take a while to get used to if you aren't used to this sort of self-tan already, but you'll soon see the tan you want appear.
With regular use, the tan from the lotion can be deepened and make just about anyone look beautifully bronzed.
VITA LIBERATA has used completely natural ingredients to make this self-tanning lotion. This makes the lotion gentle on the skin, hydrating enough even for the driest of skin and yet it is still anti-ageing thanks to the aloe vera extract!
This self-tan is perfect for anyone looking for a natural way of extending and preserving their natural tan, and for anyone looking to hide tan lines, of course!
What is DHA and Is it Safe?
Fake tan lotions usually work by using DHA (dihydroxyacetone). DHA is a colourless chemical that reacts with dead skin cells to produce the sought-after brown colour.
Because this reaction occurs with dead skin, shedding will mean the effects usually only last around a week or so.
The general consensus seems to be that DHA is generally safe for external use (as in fake tans), but should not be ingested, inhaled or used cosmetically near the eyes, on the lips or any other mucus-covered membranes which are classed as internal.
See the US FDA's advice here.
Since DHA is harmful when it gets into your body, applying fake spray tans is potentially dangerous, as DHA could get into your system. Some scientists believe that applying fake tan sprays containing DHA could allow DHA to get into the lungs, and then into the bloodstream.
A panel of experts reviewing scientific studies for ABC news said that DHA could cause genetic alterations and DNA damage.
For external use, DHA shouldn't pose a problem, as long as the application process is done carefully and avoids inhaling the fake tan or contact with eyes, nose and lips.
Precautions should be taken by the salon or whomever is applying your spray tan, for you and for themselves.
There are also many other products in fake tanning lotions that can be harmful. For example, sodium hydroxymethylglycinate.
In high concentrations, this chemical is a skin and eye irritant. It is also found in formaldehyde and can break down into formaldehyde once it soaks into the skin which I think we can all agree is bad!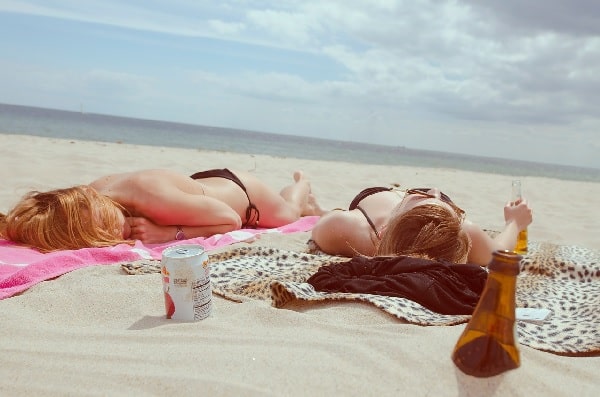 Which Ingredients Do Natural Self Tan Lotions Use?
Natural self tan lotions can contain a multitude of ingredients, some to help with moisturising the skin for an even application and others to help create the bronzed look.
All ingredients are of plant origin, including DHA which can be derived from sugar. As we know, DHA is the ingredient that will give you your all over glow and make you look like you spent the summer on a beach in Tahiti! But what about the other ingredients?
Of course, DHA is not the only ingredient involved in the making of natural self tanners, there are many others which will appear frequently and help to make the application of your tan neater, smoother and generally more successful.
As a general rule, you should always exfoliate your skin regularly before self tanning, this will help you get a more even finish.
Some other natural self tan lotion ingredients include:
Rosehip oil
Rose geranium
Sandalwood
Macadamia oil
Orange peel oil
Coconut oil
Aloe vera
Argan oil
Avocado oil
Chamomile
Many of these improve the look of skin (lines, wrinkles, blemishes), have healing effects and can also help reduce redness or inflammation.
Tanning Foods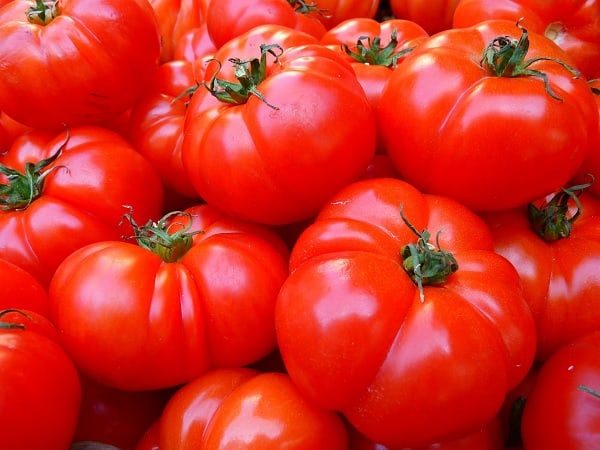 Oddly enough, you don't actually need to use fake tan at all. You can the same tanning effect just by eating vegetables.
A rather strange result of one study published in Evolution and Human Behaviour found that by eating tomatoes and carrots, you can actually achieve a very healthy skin glow that is very comparable to the glow achieved with fake tan.
If you buy all your veg from farmers markets and the like too, you are cutting the risks of eating pesticides and anything like that too.
So, you'll be able to tan your skin completely naturally.
Conclusion
If you need to use a fake tan product to cover up some embarrassing tan lines or to get yourself ready for the winter months, try the nearly-natural products above.
They are going to do the same job as other fake tans, but without any of the serious health problems.
If we had to pick just one product to recommend it would be Green People Self Tan Lotion as it is free from harmful chemicals such as SLS, SLES, and methylisothiazolinone and is made by a respected manufacturer of natural products.
We hope you've found this look at nearly-natural fake tan products insightful.