Having glossy, great-looking hair makes most of us feel fabulous and boosts our confidence, but soft, manageable hair isn't always easy to achieve.
Several factors can determine the condition and appearance of our hair, including our natural hair type, and how we treat our hair.
Colouring, chemical treatments and also environmental factors (such as extreme weather or swimming in chorine/salt water) can all cause damage to our tresses.
Our demand for healthy, shiny hair means that the haircare market is a huge business, with product ranges including shampoos, conditioners, hair masks, oils, styling products and serums.
Many of these products help us achieve shiny locks by using ingredients known as silicones.
Over 50 percent of all new cosmetics (including hair products) introduced globally in the last 10 years contain at least one silicone (source). But are silicones potentially harmful and do we really need to use products containing them to maintain beautiful hair?
What Are Silicones and What Do they Do?
Silicones are synthetic chemical compounds (polymers) made up of silicon, oxygen and other elements, such as carbon and hydrogen.
Due to their molecular structure, silicones can be easily manufactured in many different forms, and are used in all kinds of household products such as adhesives and lubricants.
Silicones are heat-resistant and water-proof making them ideal for use in all kinds of hair products.
They were first widely used in hair products in the 1970s, in products such as hair colourants and conditioners.
In the 1990s, 2-in-1 shampoo and conditioner products were developed with silicones added as a major ingredient.
There are several reasons why silicones are used in haircare products:
Smoothing – Silicones are helpful for smoothing and reducing frizz, as they leave a water-proof seal on the hair.
Retaining moisture – They can be beneficial for dry hair, as they help to retain moisture after washing and conditioning.
Adding volume – Products containing silicones can help fine hair look thicker, as they increase in size when heated.
Preventing split ends – Silicones help to reduce the friction between strands, preventing split ends and helping to detangle wet hair, reducing breakage.
Problems with Silicones in Hair Products
We've talked a little about the benefits of silicones in hair products, but what are the potential problems?
Firstly, silicones alter the appearance of your hair, but don't actually make it any healthier. In fact the smoothing effect of silicones can mask the true condition of your hair.
Silicones can also build-up in the hair causing it to become greasy and lank. To counteract this, people may try to remove build-up using shampoos containing sodium lauryl sulphate (SLS), a harsh foaming agent which in turn removes natural healthy oils from hair so it becomes dry, damaged and brittle.
The temptation is then to repeat the cycle by using more silicones to make the hair appear healthier again.
There is also the potential environmental impact of silicones. Although silicones are said to be safe to use on our hair and skin, there are concerns that they can build up in the environment over time, and may potentially accumulate in aquatic organisms.
Although silicones are said to be safe to use, and shouldn't cause any seriously conditions or harm, they can have possible side effects.
One of the most common silicones found in hair care products, dimethicone, has several possible side effects including allergic reactions, and " those prone to acne or with oily skin are more likely to see increased blackheads and breakouts when using products containing this ingredient" (source).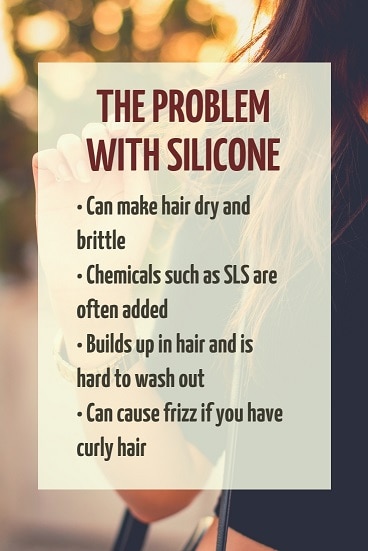 List of Silicone Ingredients in Hair Products
Before checking out our list of silicones found in hair products, it's worth noting that the properties of silicones are not all the same, and some silicones are much easier to remove from your hair than others.
One type of silicone evaporates when exposed to the air and will only stay on your hair for a relatively short time before evaporating (often as little as half an hour) – cyclomethicone is one of the most common silicones of this type.
Other silicones are designed to be water-soluble and easy to wash off. These silicones can still build up over time, but not to the same extent as silicones that are more difficult to wash-off. Many water- soluble silicones have the word 'methicone' in their name.
Non-soluble silicones are the hardest type of silicone to remove and cause the most product build-up because they don't dissolve in water. Often, these silicones can only be removed by using a cleansing shampoo.
The most commonly found non-soluble silicone is dimethicone, and other hard-to-wash silicones often contain the word 'stear' (stearyl methicone, for example).
Silicones on hair product labels generally end in '-cone,' '-conol,' or '-siloxane.
We've included a list of some of the more commonly found silicones here, split into three groups: evaporative silicones, easily washable silicones, and non-water-soluble silicones.
Evaporative Silicones
These silicones typically start with "cyclo" and end with "-xane" and may include the following:
Cyclomethicone
Cyclopentasiloxane
Cyclotetrasiloxane
Cyclohexasiloxane
Water-Soluble Silicones
Water-soluble sillicones include any silicone listed with PEG as a prefix, and also the following:
Dimethicone Copolyol
Disiloxane
Hydroxypropyl Polysiloxane
Lauryl Methicone Copolyol
Phenyltrimethicone
Silica
Silicone resin
Silsequioxanes
Siloxysilicates
Trisiloxane
Non-Water Soluble Silicones
These are the most difficult kind of silicones to remove and cause the most build-up:
Amodimethicone
Behenoxy dimethicone
Bis-Phenylpropyl Dimethicone
Dimethicone
Pheryl Trimethicone
Ceteraryl Methicone
Dimethiconol hydroxystearate
Polysilicone-18 Cetyl Phosphate
Propyl Dimethicone
Dimethiconol
Amodimethicon
Stearyl Dimethicone
Stearyl methicone
Silicone-Free Alternatives
If you prefer to ditch hair care products containing silicones altogether, there are now many more silicone-free hair-care products available. You could also try using natural ingredients such as coconut oil or argan oil to condition and care for your hair.
See some natural and silicone-free shapoo here.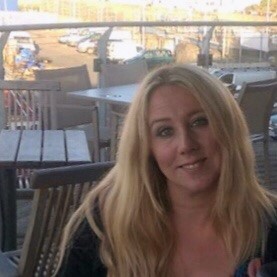 Clare began her career as a technical writer, but since having her boys has worked mostly from home writing content for various websites, including health and beauty and educational resource sites.