When it comes to doing something as pure as yoga, we need to be aware of our actions and align ourselves with the right energy. For years, fast fashion has been destroying our planet and exploiting the people involved in production. It's time we start making informed choices!
"Man is made by his belief. As he believes, so he is." ―  Bhagavad Gita
When we care about the environment, our good deeds will come back to us in multifold, as the law of karma states. It's important to practice yoga in action just as well as on the mat.
What Is Fast Fashion and Why Is it Bad?
Have you noticed how the fashion industry has been defying inflation and offering clothes at increasingly cheap prices?
This is called fast fashion ― low-quality, trendy clothes are produced in astonishing qualities and priced at extremely competitive and cheap rates.
Big brands are able to price clothes low because the clothes are made from cheap, low quality, and unethically sourced raw materials which are damaging to the environment.
Moreover, to price the product low, the labour involved in the process is underpaid and often made to work in unsafe and poor working conditions.
The True Cost documentary talks more about these unethical practices.
Almost 30% of these mass-produced clothes end up never being sold off or worn at all. They go straight to the landfills. Like single-use plastic, fast fashion is designed to be disposable.
Read our article on ethical clothing to know more about fast and slow fashion.
What Does "Ethical Clothing" Mean
Ethical clothing aims to work on the issues that fast fashion poses. Ethical clothing brands try to do the following :
Create good working conditions in factories
Curb exploitation and pay fair wages to their workers
Source materials ethically
Use raw materials which are sustainable and/or ethically produced
Have a transparent supply chain
Are open and provide information regarding their operations
Facilitate fair trade
Are involved in sustainable production
Support animal welfare
Ethical clothing brand can't always resolve all of the problems mentioned above. However, ethical brands are mindful of their activities and aim to make their processes better.
Ethical brands envision providing the best for consumers while caring about the welfare of the planet and the people involved in the process.
Where to Buy Ethical Yoga Clothing in the UK
Yoga can be meditative and relaxing but can also be physically demanding. Yoga clothing should be comfortable, breathable, stretchable and minimalistic to enable you to practice with ease.
We've listed some of the best ethical and sustainable brands offering yoga clothing below. While some of these brands are yoga clothing brands others are clothing (or activewear) brands with a dedicated yoga clothing line.
1. Asquith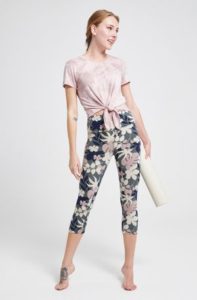 Asquith is one of the few clothing brands that admit that they're not perfect but are trying their best to be as ethical, responsible and eco-friendly as possible.
In 2015, Asquith created a special fabric, bambor, that they trademarked. The fabric is a blend of organic cotton, bamboo and a bit of elasthane. This blend makes the fabric soft, breathable, durable and flexible.
The cotton used in bambor is organic, chemical-free and ethically grown in Turkey. This cotton is also Oeko-Tex and GOTS certified.
Asquith also has activewear made from Oeko certified bamboo which is grown in a sustainably managed forest.
Apart from being an ideal raw material for activewear, bamboo also has a low impact on the environment, it grows faster needs little water and absorbs more carbon dioxide compared to hardwood trees.
Their factory in Turkey has passed a Sedex Members Ethical Trade Audit which means that they are sensitive toward environmental conditions, conduct business ethically and the adherence to health and safety procedures.
Asquith also follows a plastic-free packaging policy. Their mailing bags are made of recyclable and biodegradable kraft paper. For every tree used in the process, two are planted. Their garment bags are made from corn, sugar cane and potatoes and so are biodegradable.
2. Carrot Banana Peach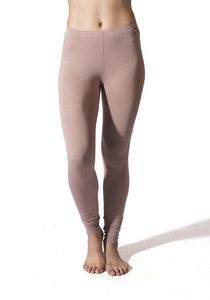 Carrot Banana Peach is a 20-year-old organic, plant-based clothing brand. In 2000, designer Nigel Thomas was recovering from a rugby injury using yoga therapy, he was then inspired to create a yoga focused collection.
Over the years, the brand has diversified its yoga clothing to include clothing made from bamboo, banana, soybean, and recently aloe vera too!
We recommend trying out their leggings made from aloe vera as they are light, soft and comfy.
Their soybean groove leggings are also quite popular and have been featured in magazines.
3. Gossypium by Yogamatters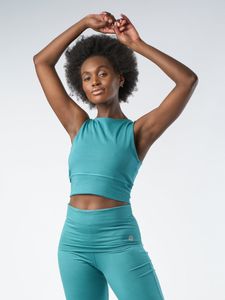 Yogamatters is a brand established way back in 1999 by two yoga teachers. In 2019, Yogamatters joined hands with Gossypium, one of the pioneers of ethical yoga and activewear clothing.
Gossypium was one of the first clothing brands in the UK to focus on the environmental and social issues faced globally.
Gossypium uses organic cotton and beechwood fibre for their activewear, sourced from within the UK itself. It follows a sustainable model with clothing being produced in small batches within the UK.
Although the Yogamatters website has a range of yoga clothing products from a few different brands, we suggest buying from the range by Gossypium.
4. BAM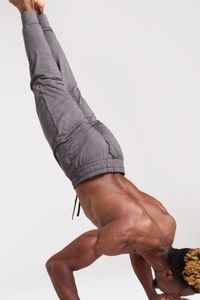 BAM's founder, David, was motivated to create an environmentally sustainable business, when he came across bamboo, he knew that was it.
Bamboo, as a raw material for clothing, is great for the environment considering that it absorbs five times more carbon than hardwood trees do, produces 35% more oxygen, and needs only half the land compared to cotton.
Bamboo performs much better as a clothing material too. It stays fresh for longer so it needs less washing, this can reduce your carbon footprint drastically.
BAM has a dedicated activewear range for yoga. Check out the men's balance pants pictured above.
One of the best things about buying a product from BAM is that for every product, they have a section where they mention the estimated positive impact of the product. BAM is also on its journey to reducing its carbon footprint to zero by 2030.
5. Forevernoon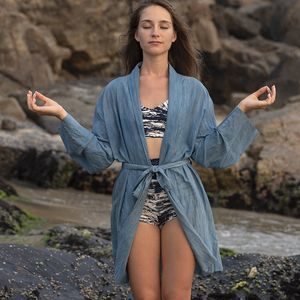 Forevernoon truly aspires to be a yoga brand, it derives its basics from the word yoga itself and is created by founders who are modern-day yogis. The Sanskrit word yoga can be closely translated to 'yoke', or 'union' in English. Forevernoon forms the union of the 5 elements – air, water, fire, earth and ether, to create clothing.
Forevernoon has a wide range of yoga wear for men and women which is made from Oeko-tex certified raw materials and is recyclable.
The brand also has an interesting Ayurwear range based on the ancient science of Ayurvastra, a branch of Ayurveda. This range features clothes made of 100% handloom organic cotton, they are dyed naturally and manually. The clothes are infused with medicinal plants and herbs during the dying process.
Apart from these clothes being gentle on the skin, Ayurvastha-based clothing also helps in the treatment of skin diseases like eczema and psoriasis.
Forevernoon is based in France, however, they deliver to the UK for orders above €100.
6. Jilla Active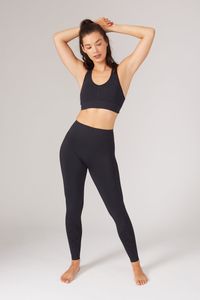 Jilla Active is an activewear brand based in London which makes comfortable clothes from bamboo, modal or polyamide. They specialize in circular knitting (using Santoni knitting machines) and creating seamless designs which are comfortable, flexible and breathable. They also make use of GRS (Global Recycled Standard) raw materials wherever possible.
Jilla Active has a range dedicated to yoga and pilates clothing. The leggings pictured above are made from 69% recycled polyamide, have a smooth waistband and are delivered in paper mailing bags.
The brand is motivated to create an ethical environment and ensure good working conditions in its factory which is based in the Zhejiang Province in China. They are transparent about the policies and practices followed in the factory which regularly undergoes checks like the annual SEDEX (Supplier Ethical Data Exchange) report and WRAP (Worldwide Responsible Accredited Production).
Conclusion
We highly recommend Asquith as their soft and breathable bambor fabric is something everyone should give a try, they use ethical raw materials, and are sensitive towards the environment, but most of all, they're honest about their journey in ethical clothing.
It's important to be mindful of every action we take in life as consumers and as human beings.
"The ultimate goal of yoga is to always observe things accurately, and therefore never act in a way that will make us regret our actions later."―  T.K.V. Desikachar

Anahita is a Yoga Instructor and Content Creator who is determined to help each individual shift to a healthier and eco-friendly lifestyle.