Do you know what your swimwear is made of and how bad it is for the world?
Before you get out there and buy yourself a rocking new swimsuit this summer, read on to understand what exactly are swimsuits made of and how you can be more sensitive towards the environment.
What Is Swimwear Usually Made Of?
Swimwear is made of some of the worst raw materials – nylon, polyester, and spandex. These are perfect for swimsuits because they're stretchable, wick moisture and reduce friction in the water. Moreover, they're inexpensive.
Nylon
Nylon is made using carbon-based chemicals found in coal and petroleum. Producing nylon creates nitrous oxide which is a greenhouse gas 300 times more potent than carbon dioxide.
Producing nylon also requires large amounts of water and energy.
Nylon is completely non-biodegradable although it can be recycled.
Polyester
Producing polyester is an energy-intensive process which needs wood and oil, contributing to global warming.
Synthetic fabrics and especially polyester constantly shreds high amounts of microfibres (invisible to the eye) into the air and into the wastewater system through which it eventually reaches our rivers and oceans.
To top all this, polyester cannot be recycled at low costs. Hence, it is hardly ever recycled and is most likely to end up in landfills for potentially hundreds of years.
Spandex
Spandex is made from petroleum and so uses up non-renewable energy while contributing to deforestation, biodiversity loss, and methane emissions.
Spandex production uses toxic chemicals which can pose health problems. It is made from polyurethane, which has volatile organic compounds (VOCs). Prolonged exposure to this can lead to cancer, damage to the central nervous system, and liver/kidney damage.
The toxic chemicals in spandex can cause irritation on the skin. The latex contained in spandex can cause allergic reactions. Furthermore, spandex is non-biodegradable.
What Is Econyl?
Econyl is regenerated nylon made from recycled synthetic waste like industrial plastic, waste fabric, and fishing nets gathered from the oceans.
The regenerated nylon yarn solves waste problems and has the same quality as virgin nylon. It also uses less water and creates less waste than virgin nylon production methods.
Luckily there are quite a few UK companies making ethical swimwear from econyl these days.
What Is Ethical Swimwear?
When looking for ethical and sustainable swimwear, we suggest you look into these points:
No virgin plastic is used as a raw material
Go for swimwear which is made of either recycled raw materials or natural/plant-based fibres (for example, hemp)
Avoid chemical dyes
Avoid synthetics
The brand stands for the ethical treatment of its workers
Best Ethical Swimwear Brands in the UK
If you're looking for ethical and eco-friendly swimwear for men and women in the UK, we've listed some of the best brands below.
1. Ruby Moon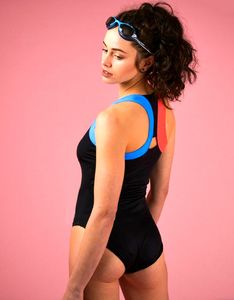 Ruby Moon is a non-profit swimwear and activewear brand for women created by women. They recycle ocean waste into stylish swimwear.
They started their journey with a collaboration with Healthy Seas, an NGO gathering ghost fishing nets from the ocean to protect biodiversity. These nets are recycled to create econyl.
Compared to similar products, Ruby Moon has certified its product to use 42% fewer carbon emissions. They use only renewable energy.
They're also working with UK universities on R&D for a new 'superfibre' textile.
Ruby Moon has helped 2200 women to date, 100% of their profits are donated as microloans to women entrepreneurs globally. Through their collaboration with Lendwithcare, they also give business trainings to small women entrepreneurs to break the cycle of poverty.
2. Finisterre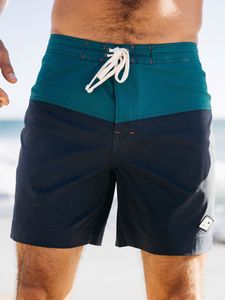 Finisterre is a swimwear brand for men and women created by hardy British surfers in 2003. Although they majorly list swimwear and wetsuits, they also have apparel on their website.
Finisterre is a registered B Corp, which means that they're focussed on prioritising the environment and society throughout their business processes. They are transparent in their supply chain and hold their partners up to high standards as well.
Finisterre's mission is circular sourcing, so they use renewable and recyclable textiles and biodegradable natural fibres and finishes. Some of the raw materials they use are yulex natural rubber, recycled ocean plastics, organic cotton, regenerated or natural fibres, etc. The packaging used is water-soluble and meant to leave no trace.
The brand has a take-back programme where you can send in your old Finisterre clothing for credit. These are reconditioned and sold in their pre-loved line.
Moreover, you can send back your garments to Finisterre for repairs for a small cost.
3. Stay Wild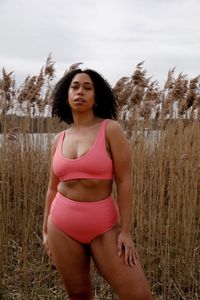 Stay Wild is a London-based company created by two women who feel a strong connection to the sea. Its mission is to create swimwear with a purpose which has cut styles designed to flatter every woman and is also created using regenerated ocean plastic.
Stay Wild is a certified B Corp, its social and environmental impact has been evaluated and they meet high standards of sustainability, ethics and transparency.
They source econyl yarn from Italy which has high durability and is a sustainable techno-fibre, which makes it perfect for making high-quality swimwear which is meant to last long.
Their factory is based in London itself. It has high ethical standards, higher wages and world-class working conditions. They follow a zero-waste approach.
They're also currently working towards a circular production system which will be rolled out soon.
4. Riz Boardshorts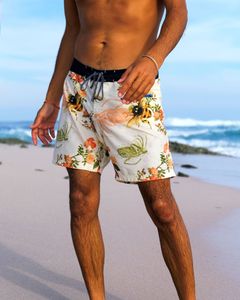 Riz Boardshorts is a London-based brand that makes only one product – men's shorts. They believe that making one thing gives them the time to become masters of it. They offer great swimwear for men.
Through their Rizcycling programme, they're moving towards a circular future. Riz focuses on sustainability at every stage of a shorts' life cycle. To start with they use recycled materials for production and to ensure a long life of each pair of shorts they create, they offer free repairs for a lifetime!
When you're ready to part with your shorts, you can send them back to Riz and they will either repair and resell or recycle them and give you a 25% discount on a new pair.
5. Batoko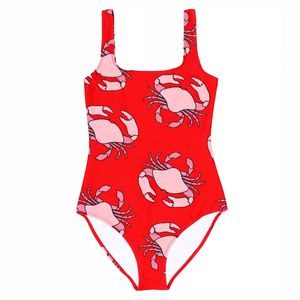 Batoko is a small brand based on the North West coast of England which creates fun and comfy swimwear. Their products are made from intercepted plastic waste heading to landfills.
Batoko is aware of the plastic problem in our oceans and so they were determined to turn sea trash into sea treasure. They want to help people reconnect with nature and the wild instead of chlorinated waters.
Their supply chain is small and so it's easy for them to keep a check on it. Their manufacturing is in China as it is one of the biggest recyclers in the world. They're transparent about their supply chain, you can read more about it here.
Batoko also makes contributions toward environmental conservation, restoration and regeneration.
6. Natasha Tonic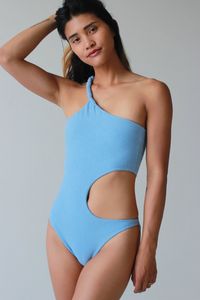 Natasha Tonic is one of the few brands that makes swimwear from hemp. The result is anti-microbial, UV resistant, and durable swimwear which is a healthier alternative to polyester for your skin and our oceans. It also reduces microfiber pollution.
Using hemp has many environmental advantages – it's a fast-growing corp that produces 250% more fibre than cotton and 600% more fibre than flax, it requires 1/4th of the amount of water needed for cotton, it enriches and detoxifies soil, doesn't need pesticides and even absorbs more CO2 than trees.
Natasha Tonic is a US-based brand manufacturing in LA but delivers to the UK too.
7. Davy J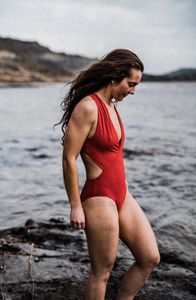 Davy J makes study swimwear for women that can survive a dive, a cliff jump or waterfalls. They use econyl yarns to make swimwear from recycled ghost fishing nets.
The brand designs durable, double-lined swimwear to beat the trend of throwaway fashion.
Davy J is working on setting up a closed-loop resource system within their brand. Currently, you can send back your used swimsuit and avail a 15% discount on your next one.
8. Away That Day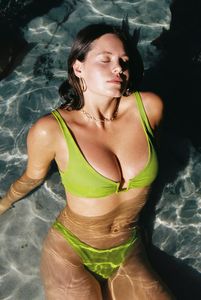 Away That Day makes ethical and sustainable garments in the heart of London. Producing in London means that their carbon emissions are lower and that ethical practices are maintained in their factory.
They use econyl for the swimwear they produce. Your order will be packaged in a compostable and biodegradable bag made from corn starch.
Their initiative 'Recycle your swim' ensures a sustainable way of letting go of your old clothes and getting new ones.
Away That Day is partnered with Canopy Planet which means they reduce their risk of sourcing from ancient and endangered forests.
9. Made Of Water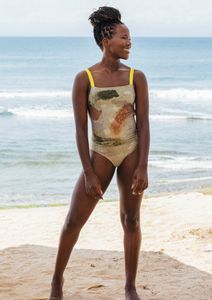 Made of Water is a wild and cold water enthusiast swimwear brand based in Cornwall. The brand is built by people who have a strong love for the sea, and so, they also wish to protect it.
They make sustainable swimwear from 100% organic cotton and also stock from two eco swimwear brands – Winki and Ohoy. At Winki, swimsuits are made by women who have been rescued from human trafficking. However, these swimsuits are made from 1mm neoprene fabric. Ohoy makes swimsuits which are Oeko-tex certified or made from econyl.
Mad of Water's raw materials are high quality and fair trade while their packaging is supplied by noissue, a sustainable packaging company that also contributes to global reforestation.
Conclusion
We recommend buying women's swimwear from Ruby Moon because they're a non-profit supporting women entrepreneurs, use recycled raw materials for production, and only use renewable energy.
If you're looking to buy swimwear for men, we recommend Finisterre because they're a registered B Corp, have established a circular sourcing model, use recycled raw materials and also provide repairs for their swimwear.

Anahita is a Yoga Instructor and Content Creator who is determined to help each individual shift to a healthier and eco-friendly lifestyle.