A whopping 22 billion shoes end up in landfill every year. Of these, 149 million are from the UK. Astonishingly, 90% of the shoes produced this year will end up in landfills, many of them within 12 months of their purchase.
Slippers seem harmless, but they're a part of the unethical and wasteful fast fashion industry. Buying slippers is cheap and they have a short lifespan, so they end up in the bin incredibly fast and easily.
Where to Buy Eco-Friendly Slippers in the UK
Although greenwashing is a common practice by brands, buying ethical and long-lasting slippers is still easier than you think. Check out some of the brands selling ethical sippers below.
1. Clearwaters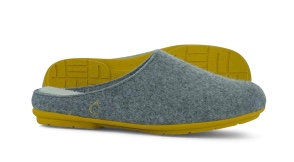 Clearwaters is an environmentally friendly brand that makes slippers from recycled plastic bottles which are cleared from the ocean. The raw material for each pair of slippers uses up to five post-consumer recycled plastic bottles.
This reduces and diverts waste from landfills and also reduces the dependency on fossil fuels. So you can be assured that your slippers are eco-friendly.
Clearwaters has minimalistic designs that are sustainable yet affordable. This specific design is inspired by minimalist Scandinavian styling and yet has a pop of colour. The cotton sock part of it is also organic.
Pros
Made from post consumer plastic
Helps in ocean plastic cleanup
Designed and developed in the UK
2. Vivobarefoot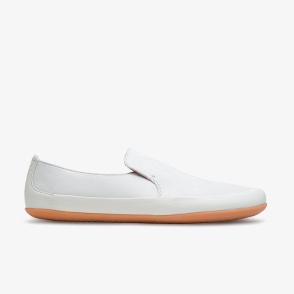 Vivobarefoot is a popular brand that makes excellent shoes. Their aim is to make their shoes feel as natural as possible on your feet to connect you to nature.
Shoes by Vivobarefoot give more stability and balance and make you feel grounded and connected to the floor.
They have a very limited range of slippers. We recommend the Opanka men's slip-on which has a minimalistic and sophisticated design.
One of the best things about Vivobarefoot is that they offer a 100-day trial. So if you don't like the shoes, you can send them back for a refund.
Vivoarefoot also has a take-back programme for their shoes. When you're ready to part with them, instead of throwing your Vivobarefoot shoes in the trash, send them back. Vivobarefoot will either refurbish them for resale or store them until an end of life solution is found for them. These refurbished shoes are available for sale on the Rivivo website.
Pros
Grounded feel
100-day trial
Take back program
Cons
Comparatively highly priced
3. Mercredy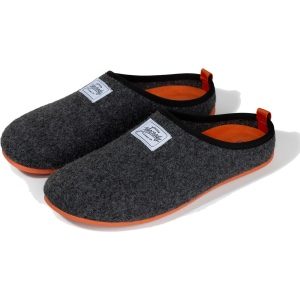 Mercredy makes classic mule slippers from recycled plastic bottles collected from the ocean. Their products are available to buy from the slipper shop which is a website that has a diverse range of slippers, from classic sheepskin slippers and moccasins to colourful fluffy sliders and boot slippers.
Every shoe makes use of at least 2 recycled bottles, Mercredy's aim is to keep oceans clean. They also have the seal of global recycled standards.
The outsoles of the shoes are made from 100% natural rubber which comes from sustainable sources and it is vulcanised without glues or solvents, cutting out pollution and harmful waste.
Pros
Made from recycled bottles from the ocean
Suitable for vegans
Complies to global recycled standard
4. The Natural Slipper Shop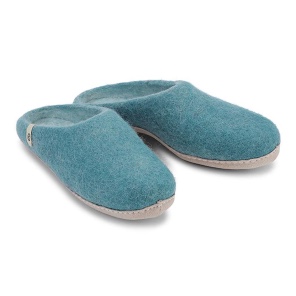 The Natural Slipper Shop makes some of the most comfortable felted wool slippers. All of their slippers are handmade, mostly from Nepal.
The slippers are fair trade certified and the brand also provides financial support to local orphanages and development projects.
The wool for this slipper is sourced from New Zealand and the slippers are dyed with eco-friendly colours.
The slipper is breathable and takes the shape of your foot. It is also suitable for sensitive skin and is said to stimulate blood circulation.
Their website also has some slippers made from recycled plastic bottles.
Pros
Suitable for sensitive skin
100% handmade
Fairtrade certified
Financial support provided to local Nepalese orphanages
Cons
Wool sourced from New Zealand
Not vegan
Made in Nepal
5. The Small Home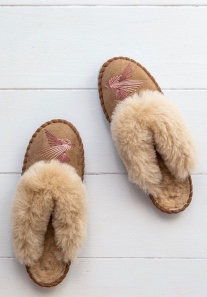 The Small Home makes incredibly soft, handmade sheepskin moccasin slippers. All their designs are luxurious and aesthetic. Each pair of the women's sheepskin slippers are handmade in Poland's Tatra mountains, and so, no two pairs are exactly alike.
Sheepskin is appropriate for all seasons – it keeps your feet warm in winters and cool in summers.
The sheepskin lining comes from the offcuts of Rolls Royce car interiors so it reduces waste and is also top quality.
Pros
Good quality and comfortable
Handmade
Sheepskin is from offcuts of Rolls Royce car interiors
Cons
Not suitable for vegans
Expensive
Made in Poland
6. Giesswein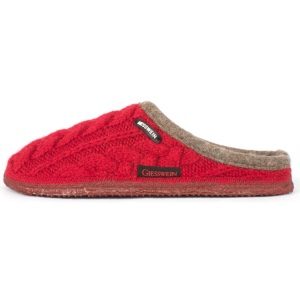 Giesswein uses their resources thoughtfully in the production process. They try to use natural and organic materials, recycle scrap metals, use mulesing-free wool, and use 100% renewable resources to operate their machinery.
Moreover, Giesswein uses 100% of their wool scrap materials and recycles 90% of their water.
This slipper has a minimalistic design and is made from 100% pure virgin wool which is great for regulating the temperature of your feet. The sole is non-slip and the slipper is a good mix of the feelings of being barefoot and having a light cushioning.
Pros
No wool wastage
Renewable resources used in manufacturing
90% water recycled
Sheep not subjected to mulesing process
What to Do With Your Old Slippers
Slippers age easily, but instead of throwing them in the bin, try to recycle or donate them. Why?
Reduces waste in landfills
Reduces your carbon footprint
Will bring new life to the shoes by upcycling
Donate them to the needy
Conclusion
We recommend buying slippers from Clearwaters as they produce shoes from recycled plastic bottles that are cleaned up from the oceans. Buying from companies like Clearwaters will lead to more ocean cleanup projects.
If we're mindful and informed about our purchases, buying ethical and eco-friendly products becomes easier.

Anahita is a Yoga Instructor and Content Creator who is determined to help each individual shift to a healthier and eco-friendly lifestyle.