Most rugs available in the market are synthetic, contain harmful chemicals, and are toxic to the environment as well as to humans/animals.
If you have children and pets or if you're planning to create a healthy and happy home it would be beneficial to invest in a natural, ethical and non-toxic rug.
What Are Rugs Usually Made Of?
Regular rugs are created from plastics like polypropylene, polyester, acrylic, nylon, synthetic rubber and other synthetic materials. These contain high levels of potentially harmful chemicals from dyes, chemical treatments, backing, glues and also VOCs.
These chemicals can affect your family's health. Moreover, when disposed off, these rugs end up in landfills where they can remain for hundreds of years, releasing potentially harmful chemicals which affect the soil, water and air of the ecosystem.
To know more about how rugs are toxic and unethical, check out our article on synthetic rugs.
What to Look For in an Ethical Rug?
Go for rugs made with natural materials such as organic cotton, coir, wool, seagrass, hemp, mohair, jute or sisal. Read more about the best materials for rugs here.
Make sure that the raw materials are grown without chemicals such as pesticides, herbicides, etc.
Try to buy a rug with a natural finish or one which is dyed with natural dyes. Avoid glues in a rug too.
Natural backings made from hemp, organic cotton or natural latex are preferable.
The exploitation of workers and child labour is common in the textile industry, make sure you buy from a company that ensures ethical treatment of workers in the production process.
Look for Rugs with the GoodWeave Certification
GoodWeave is a nonprofit organization founded in 1994. It is a leading global institution today with the mission to stop child labour in global supply chains.
GoodWeave has rescued over 6,700 children and provided education to thousands more.
Look out for GoodWeave certification to be sure that no child labour was involved in the making of your rug. A few rug brands mentioned below have collaborated with GoodWeave.
The Best Ethical Rug Brands in the UK
Finding the perfect rug which is ethical, non-toxic and stylish can be difficult, but we've listed down the best brands in the UK for you to choose from:
1. Hug At Home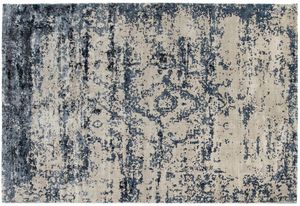 Hug At Home is owned by British manufacturing company Phoenox Textiles that makes products from natural or recycled materials in the UK. The family-owned business sends zero waste to landfills.
The materials they use for production include 6.5 million recycled cotton garments, 16 million recycled plastic bottles and 190 tonnes of post-industrial plastics every year. They also recycle water whenever possible and use renewable sources of energy.
They have different ranges of products made from bamboo, choir, recycled materials and natural wool.
Hug At Home also supports a number of charities.
2. Weaver Green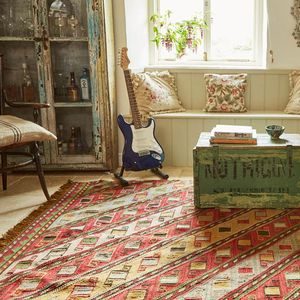 Weaver Green makes rugs and textiles using recycled plastic bottles. Almost 40% of the plastic bottles they recycle have been cleared from streams, rivers or coasts. The company has recycled more than 200 million plastic bottles.
Weaver Green was founded by a cider maker and a flooring specialist that came across a fishing rope made from recycled plastic and contemplated resolving the world's plastic problem by turning bottles into yarn.
By using recycled plastic, they use 70% less power and 90% less water in the production process. Their rugs are so soft that it's hard to believe what they're made of.
Usually, washing sheds unwanted microfibers that damage the environment, however, Weaver Green has specifically worked on this issue. Their yarn has the highest possible tensile stability and strength which makes it less prone to shedding. They also avoid the usage of toxic dyes.
3. Knots Rugs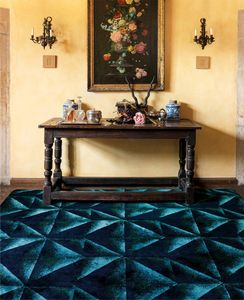 Knots Rugs is a London-based company creating exquisite and aesthetic rugs. The three generations Knots have been in the rug business since 1930.
They are transparent about their production process and use natural fibres to make hand-knotted durable rugs that will last long. Their rugs are made in Nepal or Jaipur, India.
Knots are licensees of Label STEP, a non-profit organisation ensuring fair trade and the welfare of weavers/workers in the carpet industry. They focus on universal human rights, prohibition of child labour, safe working conditions, fair wages for workers, and sustainable production.
4. The Rug Company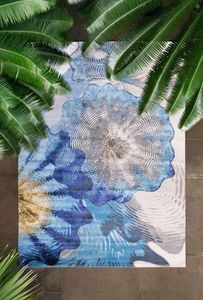 The Rug Company supports traditional rug artisanship and their rugs are made in Nepal following the tradition of Tibetan weaving. Each rug is completely handmade.
They use natural materials for their rugs such as soft Tibetian wool, soft and lustrous hand-spun Indian silk, strong bamboo silk, etc.
They respect and care for their weavers and aim to be as transparent as possible about their products. The company is a part of GoodWeave.
The Rug Company is all about good designs. You'll find some of the prettiest and most stylish rugs on their website.
5. Second Nature Online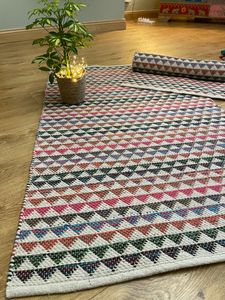 Second Nature started back in 2008 with just one eBay order. They're a Scotland-based company and have their own brand products but they do sell some rugs from other ethical GoodWeave suppliers on their website too.
This brand ensures an ethical supply chain while supporting small-scale production and the use of traditional artisan methods. They make use of recycled and sustainable materials to be eco-friendly.
If you're looking to add some colour to your home, they have some excellent vibrant rugs like the one pictured above.
They also have a special sale section where they offer discontinued products, one-off samples and products with minor defects for a lower price.
6. Organic Weave Shop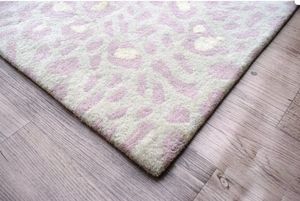 Organic Weave Shop is a Candian brand with its manufacturing based in India. They make organic and ethical rugs and deliver them all over the world.
Their rugs are GOTS-certified organic which makes them good for the environment, artisans' health and for the indoor air quality in your home.
Linda, the founder of Organic Weave Shop was also one of the founding members of Goodweave.
The brand has a special range of rugs made for houses with children and babies. These rugs are dyed with organic dyes. They have no harmful chemicals, no detergents, no flame retardants and no mothproofing.
7. Natural Rug Company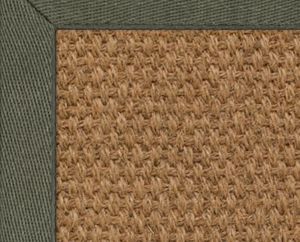 Natural Rug Company makes rugs with many different kinds of natural materials like seagrass, sisal, coir, jute, etc. These rugs are non-toxic to the environment and your home.
Coir is one of the best choices of materials for a rug, it's durable, water-resistant, made from a renewable source, and is 100% biodegradable. Check out Natural Rug Company's coir rugs here.
Try out the rug builder on their website to create exactly what you're looking for and order a sample.
Their website does not talk much about how they source their material or about the production process.
Conclusion
A rug is something you're going to use in your home for the next decade so it's crucial that you take the time to select the right one.
We suggest you ask yourself these questions when selecting the perfect rug:
How sustainable and ethical is the rug?
How does it affect the indoor air quality of your home?
Is it aesthetically pleasing and appropriate for the room?
We recommend Hug at Home because it makes its rugs from natural or recycled materials, recycles water, sends zero waste to landfills, uses renewable energy and has great designs!

Anahita is a Yoga Instructor and Content Creator who is determined to help each individual shift to a healthier and eco-friendly lifestyle.