Truly ethical and sustainable men's fashion can be hard to find these days. Consumers in the UK and further afield are moving away from wear-it-once fast fashion in search of more environmentally-friendly, caring clothing.
This article showcases established and up-and-coming UK fashion brands selling ethical and sustainable men's clothing online.
We've hand-picked brands to fit every man's budget, style, design preferences and clothing size.
1. Rapanui
(Best All-Round Ethical Men's Fashion Retailer)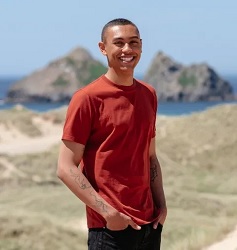 Rapanui is a UK fashion brand that prints items from a renewable energy-powered factory. They stock a whole host of men's items from t-shirts and coats to towels and pyjamas.
Much of their clothing centres around the outdoors, exploration and beach lifestyle. Among their best-selling products are multipacks of three, organic cotton t shirts (available for just £25 at the time of writing) and long-sleeved t-shirts, which retail for around £20 each.
Rapanui are big believers in circular fashion, the belief that when items reach the end of their life, they should be recycled back into the production chain to make new products, saving time and energy.
Rapanui clothing can be returned once it has reached the end of its life, granting you a £5 discount voucher for each item returned.
2. Natural Collection
(Best Ethical Retailer with Own-Brand Fashion Products)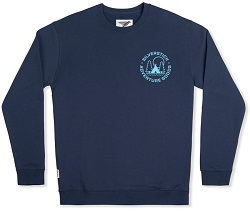 Natural Collection is a sustainable living powerhouse of a company. They stock a huge range of items from soaps and cosmetics to fashion and lifestyle accessories. You can even order fresh, organic vegetables from them!
Natural Collection offers a wide range of men's fashion items; they sell tops including jackets, jumpers, t-shirts and shirts (formal and casual) as well as men's trousers, pyjamas, underwear and socks.
Natural Collection also regularly discounts selected items across all of its associated brands and occasionally lists clearance items at very low prices.
Much of the clothing featured on Natural Collection's website is made from ethically-sourced, earth-friendly materials including 100% cotton, hemp and sustainable linen.
Ethical living is at the heart of the company and they currently have over 1,000 eco-friendly products listed on their website.
They currently offer free UK delivery on all orders above £50 and provide great customer service.
3. Beechfield
(Best for Sustainable, Low-Cost Men's Hats and Caps)

Beechfield is a UK headwear brand. They have over 950 unique products available for next-day delivery via Amazon.co.uk. If you're seeking headwear of any style and colour, there's a good chance Beechfield are currently making it.
Their most popular items are knitted pom-pom hats, classic baseball caps and unisex beanie hats. Among Beechfield's vast list of products is a range of entirely natural, super-soft 100% OCS certified organic cotton yarn.
Beechfield is a major UK ethical fashion brand, their most-popular products have hundreds (sometimes thousands) of verified reviews. They can't be beaten for price when it comes to headwear, even when competing with fast fashion.
The brand has grown to be a major distributor of headwear in the UK and internationally – despite their size, Beechfield remains committed to ethical practices.
They regularly audit their supply chain to ensure that everyone involved in the production and packaging of their products is treated according to their "ethical policy that protects and rewards every individual".
4. Boody
(Best for Budget-Friendly Ethical Socks and Underwear)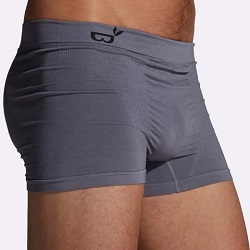 If you want to look like a million dollars (by spending only a few pounds), then look no further.
Boody (sometimes written as Boody UK) is a sustainable fashion brand that specialises in bamboo fibre clothing.
Their products are made with bamboo yarn. All Boody products are packaged exclusively with recycled boxes and printed with vegetable-based inks.
Boody is perhaps the most budget-friendly sustainable UK brand featured on our list. If you're looking for men's fashion that's low-cost but committed to sustainability, Boody is a great option.
Most Boody products are one solid colour (including black and grey) and feature a small, discrete logo.
They don't print patterns or designs onto their products, which no doubt helps to keep their prices low and competitive to other sustainable UK mens fashion brands.
5. BAM
(Best for Sustainable Men's Jeans and Trousers)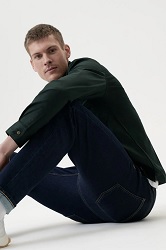 A good pair of jeans should last for years without significant wear and tear or colour fading. BAM creates bamboo-based clothing that does exactly that. The sustainable fashion brand was launched in 2006 and has grown exponentially to a dedicated team of 70.
Bamboo contains incredibly strong fibres. It's technically a grass and is one of the fastest growing plants around.
Bamboo is fast-growing, incredibly strong and an excellent natural alternative to synthetic fibres and traditional denim materials.
Traditionally, the processes used to make the humble pair of jeans wastes massive amounts of water, a resource that's only getting rarer.
However, clothing produced using bamboo fibres uses "74% less water than conventional denim". BAM's bamboo fibres are more breathable and UV resistant than traditional denim jeans.
While we've picked out BAM for their sustainable jeans and trousers, the company creates a wide range of men's apparel.
They sell men's tops, socks and underwear as well as waterproof jackets and "activity wear" for runners, hikers and yoga-enthusiasts. Additionally, BAM sells a limited range of seasonal men's clothing including scares and hats.
Customer reactions to BAM's clothing and customer service is overwhelmingly positive – they currently hold a coveted Feefo Platinum Trusted Service Award for "consistently delivering excellence" to their customers.
6. Heiko Clothing
(Best Family-Owned Brand for Men's Clothing in the UK)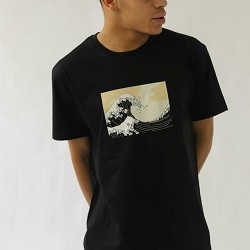 Heiko Clothing is a small, UK-based clothing brand producing t-shirts, long sleeve t-shirts and sweatshirts. They're a family business based in the South East of England.
An automatic donation of 50p is given to environmental and animal activist charities with every purchase made.
Heiko Clothing stands out among other ethical men's fashion creators; despite their small size, they're able to sell top-quality clothing made from 100% organic cotton at relatively low costs.
T-shirts start at £19.00 (at the time of writing), with delivery across mainland UK from Wearth London.
All Heiko products are ethically-sourced, organic and made in the UK using sustainable materials. Orders are sent within 3 to 5 business days in biodegradable/recyclable packaging.
Their ethical designs are sleek and simple, centred around small designs. Various colours are available including grey and black.
Many Heiko Clothing products are unisex and available in sizes from XS to XXL. According to customer feedback, their clothing is well-fitted, durable and generally very well received. As well as shirts and other men's tops, Heiko Clothing sells printed tote bags.
7. All Riot
(Best for Ethical Political T Shirts)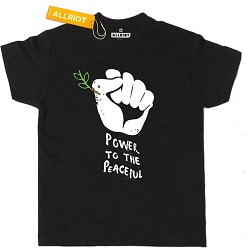 All Riot is a London-based clothing company selling political t-shirts, baseball shirts, hoodies, jumpers and more.
It's rare for clothing to be designed, produced and packed within the UK but All Riot proudly does exactly that.
Founded in 2012, they've expanded from a bedroom printing press to a medium-to-large sized company. In their own words, their ethical clothing offers "equal emphasis on style and substance".
The brand stocks a wide range of colours and design choices; their clothing is centred around activism, the environment, philosophy, slogans and political themes.
Uniquely, many designs have more than one colour option available and they print clothing in sizes from XS (extra small) to 3XL (triple extra large).
Their trendy clothing is made using Californian cotton, which is grown to strict ethical standards.
All Riot's clothing is made in accordance with 16 different ethical certifications including verification by the Fair Wear Foundation, PETA and WRAP (Worldwide Responsible Accredited Production).

Dylan Kitson is a freelance writer and researcher based in Brighton, England. He's a passionate promoter of all things health, working with supplement companies, health & fitness blogs and consumer review websites.